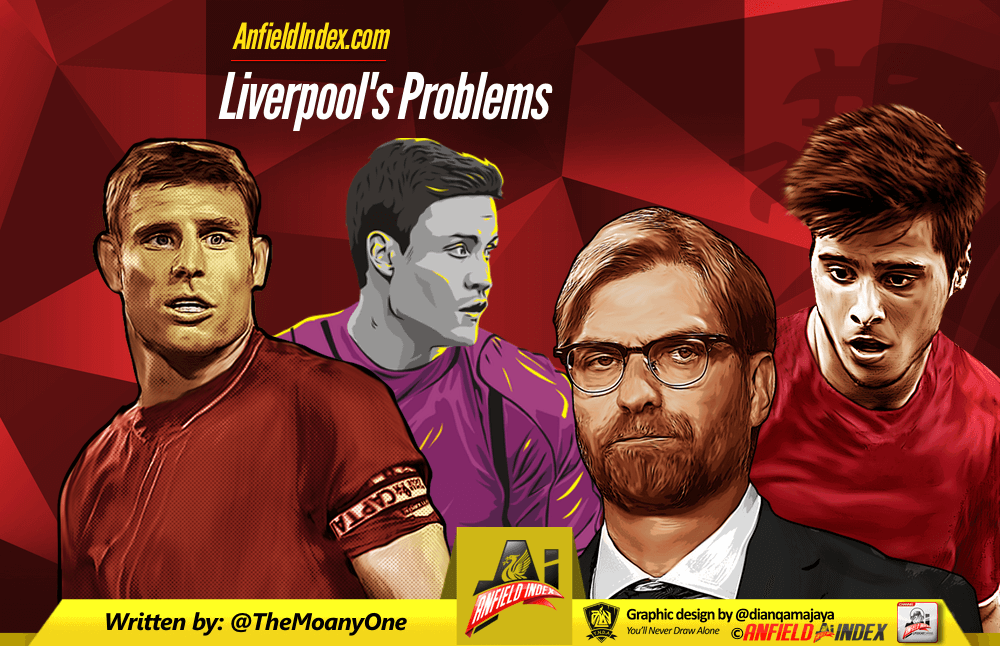 Liverpool's Problems
Liverpool have problems at the minute and that's about the only thing that all of the Liverpool fanbase can agree on at the minute. Every position on the pitch seems to be problematic, and there doesn't seem to be an end in sight or a way to solve these problems before the end of the season. I'm sure if fans read other Liverpool websites they'll see the one thousand and one different writers expressing their opinions and views on where the current problems are for Liverpool, what players are and aren't good enough to play for Liverpool, some go as far as pretending they know better than Jürgen Klopp when it comes to players starting games, who Liverpool should buy and who Liverpool should sell.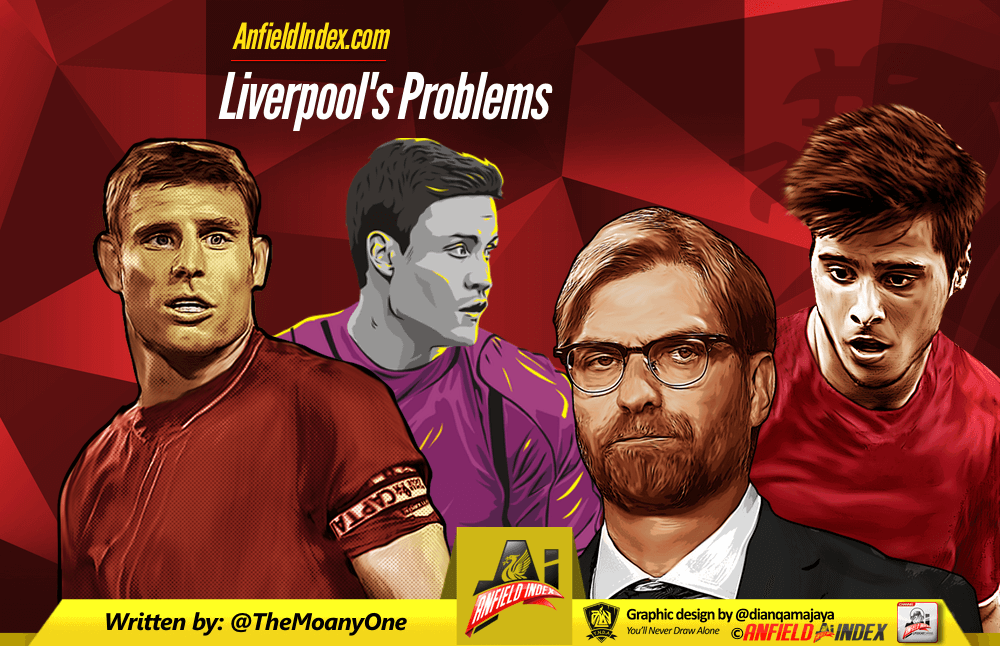 I watch these debates all the time that occur on the likes of Twitter and Facebook (sad I know) and I regularly see the abuse that gets levelled at some fans if they stick up for players like Adam Lallana or Simon Mignolet or the cardinal sin of all stocking up for Dejan Lovren. Yes some fans don't like these players. I recently experienced a thread on Twitter where fans were tweeting their hate for Adam Lallana. Christ above what ever happened to supporting a player because he plays for Liverpool? Are those days gone? In the short term is there anything that Jürgen Klopp can do to sort out the team and give the fans one less thing to argue about and maybe something to cheer about? I think there is and it's a very simple thing, and that's play some of the younger less fancied players over the more senior players who are under performing week in and week out.

I personally would start with dropping James Milner indefinitely. For me he doesn't offer anything to Liverpool. If you watch him during games he regularly loses the ball, slows down attacks or when he is on the ball he tends to run in circles, something that he did time and time again against Manchester United last weekend at Anfield. He has played the majority of Liverpool's games when he's fit but so far this season has only scored three goals and has only four assists to his name which is a poor return I'm my opinion for a player of his so called calibre. I would consider replacing him with either Jordan Ibe or Sheyi Ojo. Both to me are better players than Milner and offer more when the ball is moving forward. Ojo especially for me looks like he is going to be a fantastic player. His confidence on the ball and the way he always looks to go forward is not only refreshing but a joy to watch. His assist for Brad Smith's goal against Exeter City recently in the FA Cup third round was an assist you would expect from a more seasoned player not a young kid making his debut for Liverpool.  Then there's Jordan Ibe. Ibe hasn't started as many games this season as he would have liked but in the twenty two games he's either started or came on as a substitute he has scored three goals and has one assist to his name. Given a decent run in the team I think he could get to double figures for both goals and assists something I can't see Milner doing.
Another player who Klopp needs to seriously think about dropping is Simon Mignolet. I can hear the collective hooray as you read this. His constant errors and lack of communication in and around the Liverpool box is a massive massive liability. Out of the twenty seven games he's played this season he's only kept a total of seven clean sheets. And up until Adam Bogdan had his calamitous concentration lapses against Exeter City and Watford I was all for giving him a chance to impress the fans and maybe stake his claim as Liverpool's number one goalkeeper but I think fans have seen the last of him in a Liverpool shirt especially when you see that Jürgen Klopp has recently recalled young Danny Ward from his loan spell at Aberdeen.
Whilst playing north of the boarder, Ward had established himself as Aberdeens number one goalkeeper and endeared himself to their fans. So far this season he already has twelve clean sheets in all competitions including six in the Europa League. He in my opinion deserves a chance to prove that he has what it takes to become Liverpool's number one goalkeeper by not only starting Liverpool's next game in the FA Cup replay but also in the Premier League game at the weekend.
Look I'm aware that fans are going to argue no matter what Jürgen Klopp does, its the nature of football but for the rest of the season to quell some of these arguments I think that players like Tiago Ilori, Danny Ward, Sheyi Ojo, Jordan Ibe, Joao Teixeira all deserve to be playing more regular for Liverpool. I would like to see an attacking line up including Philippe Coutinho, Roberto Firmino, Jordan Ibe and one of either Joao Teixeira or Sheyi Ojo. These players can't do any worse than the senior players who currently occupy places on the Liverpool starting eleven at the minute.
As it stands it's yet another season of transition for Liverpool (what is it, the second or third one in a row now) and this transition has to in my opinion include the younger players. Because I don't think FSG are going to allow Jürgen Klopp spend the same amount of money as Brendan Rodgers did. I think they're finally beginning to see that unnecessarily throwing money at the manager isn't going to fix the problems Liverpool are currently experiencing on the pitch. Those problems iny opinion can only be fixed by Klopp getting rid if the deadwood currently at the club and having a mix of enthusiastic young players and experienced playets playing week in week out together, getting the camaraderie back and boosting the the players confidence in each other.