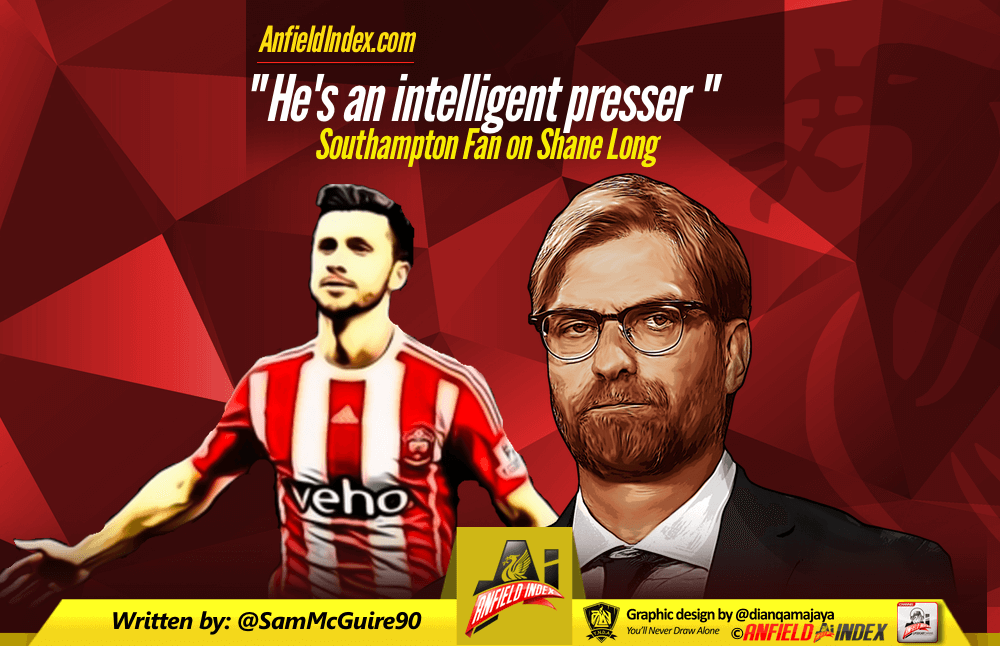 "He's an intelligent presser" - Southampton Fan on Shane Long

Irish media reported last week that Southampton's Shane Long was a Liverpool target. Since that news broke the South Coast club have signed a striker, Charlie Austin, to potentially pave the way for a Shane Long move.
I spoke with Aidan Small (@FreshSaints) to find out his opinion on the forward.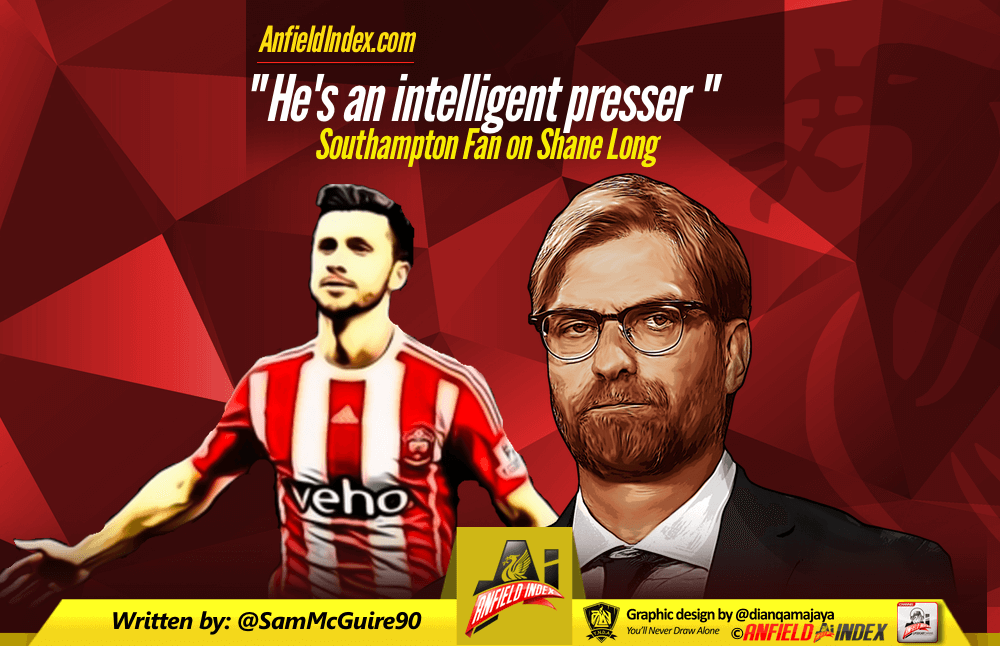 So Shane Long, what are his strengths and weaknesses?
Shane Long is a real fan favourite. Unsurprisingly, his work rate and commitment to each and every 50/50 is quite incredible. With a burst of pace and a tremendous leap, its fair to say that his greatest strengths are physical. You know as a fan that Long will give 100% every single week.
As for his weaknesses, Long struggles with close ball control and situations under pressure. In crucial moments and typically one on ones, Southampton fans have been left frustrated by the Irishman scuffing his shots. However, his smart and persistent movement will ensure that he always finds space and opportunities; he will never shy away from any task on the field.
Do you think he'd suit Liverpool?
In theory, yes, Long would suit Liverpool. His hard work and commitment would allow him to slot effortlessly up front. He would also flourish under service from players such as Coutinho and Firmino.
However, would he work at Liverpool? Not a chance. Fans would grow tired of his insufficient technical ability and in order for Long to be at his best, he needs complete trust of the manager. One game in and one game out wont bring out the best in Long. The drop in quality from a player such as Daniel Sturridge to Shane Long would send Liverpool fans into meltdown.
He's known as somebody that works hard off the ball, but is he an intelligent presser or a headless chicken?
Shane Long will chase anything and everything. Best of all, it doesn't even seem to work his lungs. If they need pressing, you can be sure that Long will already be chasing them down. He's certainly an intelligent presser.
What's his time been like at Southampton?
Long has been unfortunate so far during his Southampton career. Graziano Pelle was the clear favourite of Ronald Koeman last season and this forced him to only play as a right winger if Pelle was starting. Only once Pelle became a victim of injury was Long chosen as a guaranteed starter. This has seen the rise in Long's superb form as of late.
Its hard to see how Pelle can possibly return to the starting XI given this form.
Will he be missed if he leaves or is he one the fans want rid of?
We would certainly miss Long if he were to leave, especially if these recent performances are anything to go by for the future. Not just that, allowing Long to leave would make Southampton look powerless in the market. Unless an offer of £15M+ was offered to Southampton, we wont even think about letting the deal go ahead.