As many of you are aware (well those of you who follow me on Twitter) I'm not a big fan of Liverpool's Belgian forward Christian Benteke. But at the same time I'm also not a fan of supporters giving him abuse and grief just for the sake of it, jumping in on the bandwagon. My reasoning behind why I'm not his biggest fan is simply this: I don't think Benteke is suitable to the new Jürgen Klopp style of football. For me he's too static as a forward and doesn't do enough when the team is moving forward. If you need any proof of this, look at his positioning for Jordan Henderson's recent goal against West Bromwich Albion. As Henderson ventured into the box to score, Benteke was outside the box meandering into position on the left hand side of the box.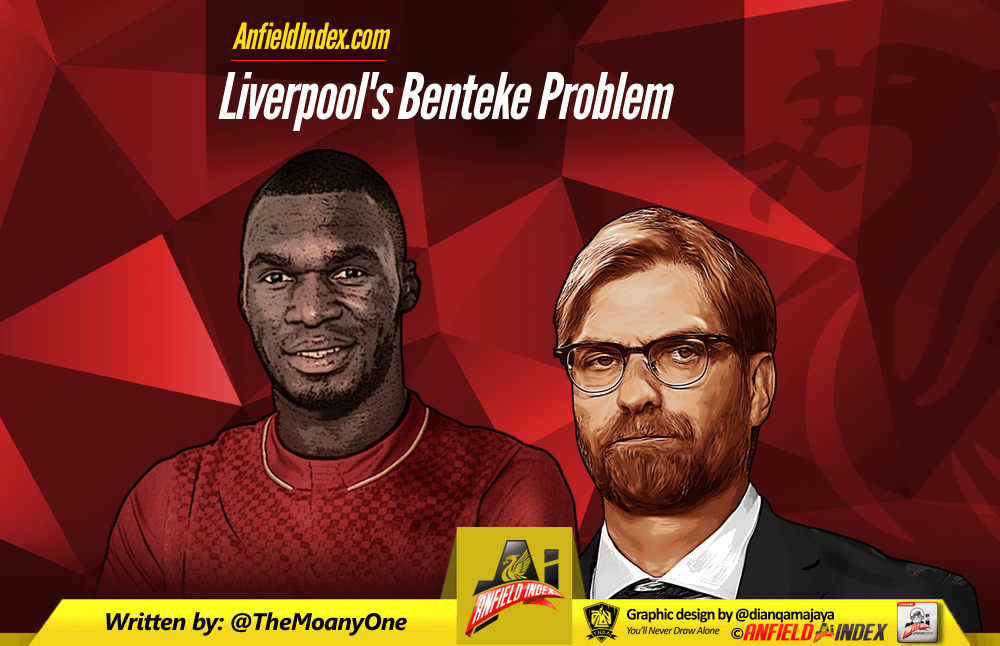 There's no doubt Benteke has great skill and ability. He's a proven goal scorer, (he's scored seven goals in all competitions this year for Liverpool), something Liverpool seriously lacked last season with the inured to Daniel Sturridge and the fact that Mario Balotelli misfired so much in front of goal.

Fans of Benteke will look at how well he did during the last couple of seasons at Aston Villa, for me the difference was that Aston Villa built its team and style of football around him. For me though he's not the type of striker who'll run after the ball, chase it down, defend from the front. Yes some might say he's only young (he's twenty five after all) and if any manager can get him moving it's Jürgen Klopp but for me I think it's a waste of Klopp's talents trying to get him to change. For all his attributes, if Klopp turns him into a Daniel Sturridge type player he'll nullify Benteke's current strengths. He's a target man and I think when Brendan Rodgers forked out £32 million for him last summer, that's what he had in mind for Benteke and how he was going to operate the Liverpool team around him. This baffles me because when Liverpool had Andy Carroll, who in my opinion is a similar type of player to Benteke, Rodgers alienated him from the team and couldn't wait to offload him to West Ham United.
But now that Rodgers is gone and Klopp is in, I think Benteke's time at Liverpool maybe drawing to an end. He's already been linked with a move to Chelsea this January to help them out of the predicament they find themselves in this season. For me so far this season he has frustrated me more than he has impressed me. Yes he's capable of scoring superb goals (his goal against Manchester United springs to mind) and yes I know he is Liverpool's top scorer this season so far. Yes he scores important goals (the winning goal he scored against Leicester City is proof of that), I just get the feeling that he doesn't have the trust of players like Phillipe Coutinho and Roberto Firmino. I think they see him as a liability, being too slow and because of this will bypass him when they're sweeping forward. This then leads to fans moaning about Benteke (myself included) and his performances at times on the pitch.
As I write this (and this fact makes me shudder) Benteke is Liverpool's only fully fit striker. He's the only one fully capable of playing ninety minutes on a regular basis for the Reds. He's got Premier League experience, something Divok Origi (who I think will turn out to be a better striker than Benteke, given time) doesn't have. And maybe I'm being a bit too harsh on Benteke but knowing he's Liverpool's only fully fit striker I think he'll use that to his advantage and maybe get Klopp singing to his tune until the likes of Sturridge and Origi are fit again.
Speaking of Origi he impressed me more against Leicester City than Benteke did (yes I know Benteke scored the winning goal but look at the chance he fluffed at the end). Given time and maturity I have a feeling Origi could become something special for Liverpool. He's movement was amazing against both Leicester City and Southampton. He gave both defences something other than a static striker to worry about. The space he created allowed Adam Lallana, Phillipe Coutinho and Roberto Firmino to drift into space and attempt numerous shots on target. He defended from the front and was always snapping at the defender's heels. He also gave those around him a boost of confidence which then allowed Coutinho, Lallana and Firmino to concentrate on their own game. And unlike Benteke, Origi in my opinion is better suited to being a lone striker, he can play in the hole and isn't afraid to move around the forward line.
Whatever happens in the future, Benteke still has to prove a lot of doubters wrong. And I'm not so sure he can do this. I think even if he can go on a run of scoring in ten games in a row, the one game he doesn't score he'll be vilified by fans. He's stuck between the proverbial rock and hard place at the minute.