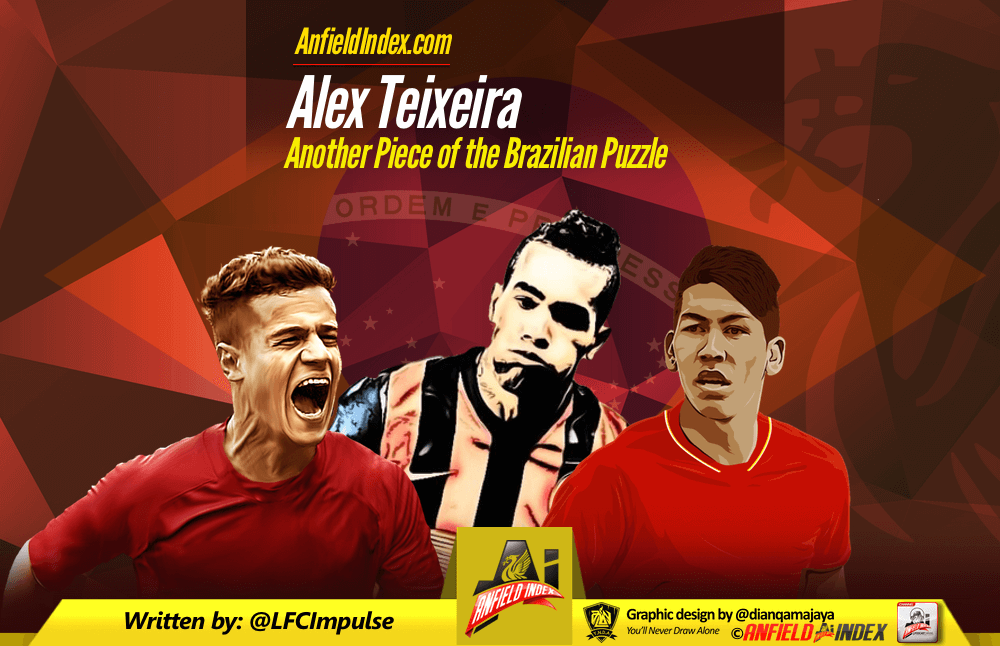 Alex Teixeira – Another Piece of the Brazilian Puzzle
Philippe Coutinho took the Premier League by storm when he first joined Liverpool FC from Inter Milan. Even at a time when the Reds weren't short of stars, "The Magician" won over the Anfield crowd in stunning fashion with the archetypal Brazilian trickery and his unparalleled vision whilst passing.
It took some time, but he was finally partnered with Roberto Firmino – another Brazilian who was widely regarded as a coup when Liverpool signed him in the summer of 2015. Unlike Coutinho, "Bobby" had a rough start to his Premier League career and somehow had a tough time convincing the Anfield faithful of his quality. Stellar performances against some of England's top teams, however, have turned doubters into believers.
Just when you thought that the Brazilians had stopped invading Liverpool FC, another one gets thrown in the fray.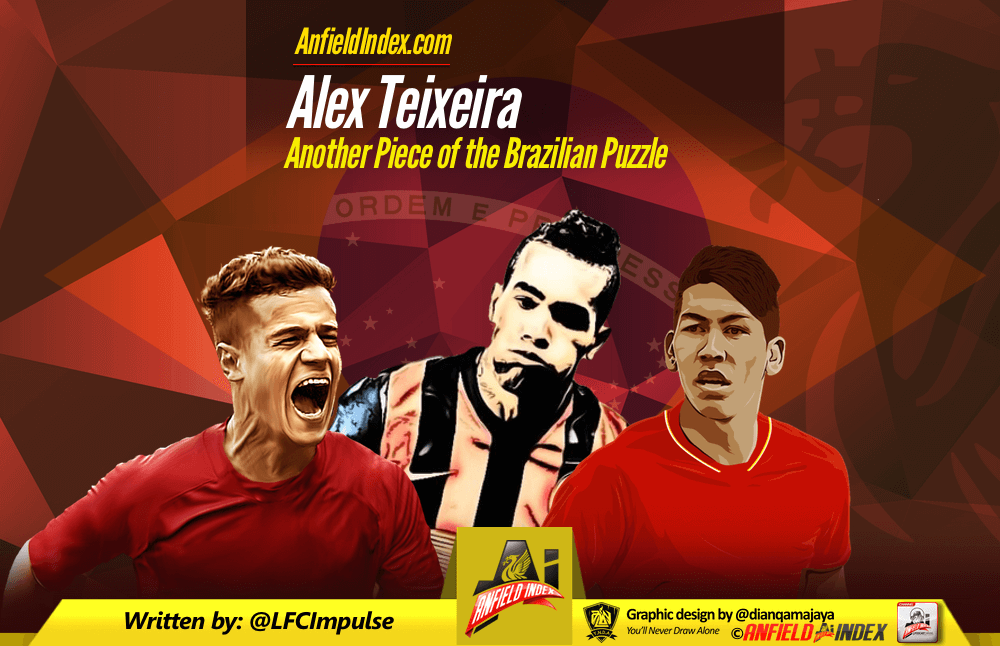 Overview
Alex Teixeira from Shakhtar Donetsk primarily plays as an attacking-midfielder, but has been played in multiple roles throughout his footballing career. Now I'm not going to bore you with a biography about his birthplace, his primary school, his favourite song to samba to – no; let me just start off by saying that he's scored 26 goals in 26 games in all competitions this season, including three goals in six games in the Champions League, two of which were against Real Madrid.
He's what you'd expect in a goal-scoring, attacking-midfielder. Excellent ball control, not shy of dribbling abilities, a wide range of finishing techniques, smart in reading his defenders' movements and acting accordingly, quick feet, and a good passer of the ball. Basically, we could be getting Luis Suarez 2.0 if he continues to develop under Jürgen Klopp (which isn't the hardest thing to do) and if he adapts well to the Premier League.
For more of an overview of Alex Teixeira, have a read of Sam McGuire's article on him and James Nalton's write-up of him on the World Football Index website.
Which Piece of the Puzzle is Alex Teixeira?
In other words: Where does he play?
When he first joined Shakhtar Donetsk, Alex Teixeira formed part of what would now be a terrorising attacking-midfield trio of himself, once Liverpool target – Henrikh Mkhitaryan, and Douglas Costa who has since excelled at Bayern Munich. Additionally, Chelsea's Willian and former Shakhtar attacking-midfielder Jadson were also among the choices for the three spots in the 4-2-3-1 often deployed by the Ukrainian side.
As such, he played as an inverted winger or a wide playmaker for the most part during that time frame, but was never far away from the middle of the pitch where he's most at home at. With the ability to rapidly kick up a gear and pairing it with his ball control, seeing him cut infield was never a rare sight.
Subsequently, as Shakhtar's stars slowly left one-by-one, he started to make the switch to a more influential role in the middle of the pitch where he replaced Henrikh Mkhitaryan as the attacking-midfielder of the team. This is where Alex Teixeira started to really shine as his skill-sets have clearly shown to be well-suited in more of a free-role, a position that allows him to take up several positions and drift interchangeably between different zones. There was also a brief period where Fernandinho, the team's staple defensive-midfielder, suffered from an injury and Alex Teixeira was deployed in a much deeper role than normal; a central-midfielder. Unsurprisingly, he slotted in seamlessly and still performed considerably well.
Two's Company, Three's a Crowd?
With that said, where does Alex Teixeira fit in Liverpool's squad – one that is seen to be top-heavy, filled with attack-minded players, including four strikers (injured or not)? Would another Brazilian attacker make it one too many?
Like a puzzle – it's all about knowing which piece goes where; not forcing a piece to fit into a spot that simply doesn't fit.
The instant, safest way of introducing Alex Teixeira into the Liverpool front-four would be to play him in his most comfortable position – as a '10'. This opens up a wide array of options and variations to the typical 4-2-3-1 template that Jürgen Klopp has based his team around for many years.
Slotting In the Piece for the Big Picture
As One-of-Two Creators
As seen many times in a 4-2-3-1 or a midfield structure that resembles a box-midfield, Coutinho is prone to drifting slightly more infield after receiving the ball in slightly deeper areas of the pitch and slightly to the left of centre. In the same 4-2-3-1 structure, Alex Teixeira playing in the middle of the attacking-trio means that not all of the creating duties and burden would fall on Coutinho.  Alex Teixeira's intelligence and vision, as well as being a considerably good passer of the ball allows for him to step in and be the orchestrator if need be.
(The movement of Philippe Coutinho moving infield means that it is more likely for two creators to have a go at making vital passes for the team – either into the areas where players could run into as per the yellow arrows, or to more potent final third areas like the left-wing which is a favourite spot of Alberto Moreno's or to areas inside the box for other players to pounce on to.).
The above ultimately opens up a variety of options for the pairing. They could pass it out wide in the same direction where Philippe Coutinho came from – to Alberto Moreno, who loves to roam around on the left-wing. They could opt to head the other direction and switch play to the right-flank. They could also look forward and play a through-pass to the perpetually-moving Roberto Firmino who always looks to make off-ball runs behind the defence.
Speaking of Roberto Firmino…..
As the Decoy for the False-9 (and vice-versa)
Playing just behind the dedicated striker in recent years has allowed Alex Teixeira to play a huge part by contributing goals to his team. With only a handful of goals from penalties and a handful of goals coming from rebounds, his contribution from open-play cannot be underestimated or ignored.
Being a nimble player and having a respectable shot also means that Teixeira can double-up as a goal-scoring player on top of being a creator. This in turn pairs well with Roberto Firmino who has been deployed as a false-nine multiple times by Jürgen Klopp. Similar to Alex Teixeira, Firmino has the intelligence, anticipation, and awareness in terms of off-ball movement that propelled him to be a well-known goal-scorer.
(A brief look at how a false-nine operates, and how an attacking-midfielder can advance into a more goal-threatening position.)
As discussed here, a false-nine's duty is to start off in a position where a striker would normally play at before drifting wide or pulling deeper down the pitch in order to be part of the build-up rather than just be the end to its means. At the same time, as Teixeira can easily take up the role of the false-nine himself, this could see a straight-swap in roles – Alex Teixeira now becomes the false-nine and Roberto Firmino becomes one of the creators.
(Roberto Firmino can now execute the play-making duties with ease, such as pulling back from the typical 'number 10' spot and drag even deeper down the pitch to assist in build-ups, like as seen versus Leicester City, without compromising on quality up-top as Alex Teixeira can take over as a striker).
This also sees a swap between the two Brazilians leaving their respective defensive zone and going into the others', possibly resulting in disruption of marking set-ups.
At this point, the opposition defence has to make a decision with regards to resuming to mark Roberto Firmino and to prepare the marking on Alex Teixeira – do the centre-backs step-up and form a three-man defence together with the defensive-midfielder? Only one centre-back pushes up, or none at all?
So let's assume the defence takes up the above defensive set-up. The left diagram shows that the right-sided centre-back has pushed up to mark Roberto Firmino as he drops while Alex Teixeira enters the defensive zone covered by the defensive-midfielder and the left centre-back. This movement has already caused players – the right-centre back especially – to be in a position they wouldn't normally take up.
The problem for them now is that given the similar skill-sets between Firmino and Alex Teixeira, even after exchanging roles, they may interchange yet again as seen in the diagram on the right. If Alex Teixeira decides to drop back deeper down the pitch again, the million-dollar question is: who follows him? Extendedly, the defence has to also worry about Roberto Firmino – what if he cuts wide-left, or makes a run into the box, or roams around the edge of the box?
Needless to say, having two capable and fairly like-for-like attacking players who can interchange between positions can be a headache for defences who are not well-equipped for it. Both are equally capable of creating if they happen to be deeper in midfielder, both have the intelligence and positional awareness to know when and where to make off-ball runs to in an attempt to break down defences, and both have the goal-scoring abilities to be threatening both in and around the box.
Combining the trio of Phillipe Coutinho, Roberto Firmino, and Alex Teixeira – all three who are creators and playmakers in their own right, two of them having some of the most intelligent movements you'll see, all three of them being able to score wonder goals out of nowhere – they could be magical for Liverpool. With or without a potent striker up-top, these three Brazilians can be the perfect blend for a successful Liverpool side under a world-class manager.
Priorities, Necessities, and Expectations
With the Reds' ongoing issues with defending, one might question just how necessary Alex Teixeira is, especially when the funds could have gone into investing in better components to build a more reliable defensive unit. A paper-thin list of first-team midfielders may also be a cause for concern when all four of Liverpool's midfielders are all of different ilk; injury to one may cause a whole new midfield structure to be in place.
However, one (like me) may argue that Alex Teixeira is exactly what the Reds need and that is goals from midfield players. Ever since the ageing of Steven Gerrard, the squad has been crying out for a consistent, 10-goal-per-season (attacking) midfielder, and the Brazilian from the Ukrainian league may just be that player. Twenty-two goals in 15 league games in the 2015/16 season is one to behold, so perhaps it isn't unrealistic to say that Teixeira could fulfil those requirements. Plus, without a proper in-form striker, who could argue against Alex Teixeira?
The key to unlocking his potential at the club would be similar to that of with Roberto Firmino – ignoring the transfer fee (at least for now) and being patient with him. Alex Teixeira has shown huge amounts of potential in the past and has slowly become what is nearly a finished product during his time at Shakhtar. It may be a different ball-game altogether, but almost 50 games in the Champions League as well as scoring (and performing) against footballing giants like Real Madrid, Chelsea, and Juventus indicates that he might not just be suited for a "poverty league".
Who knows, to be honest? A certain Uruguayan came from one of those leagues!