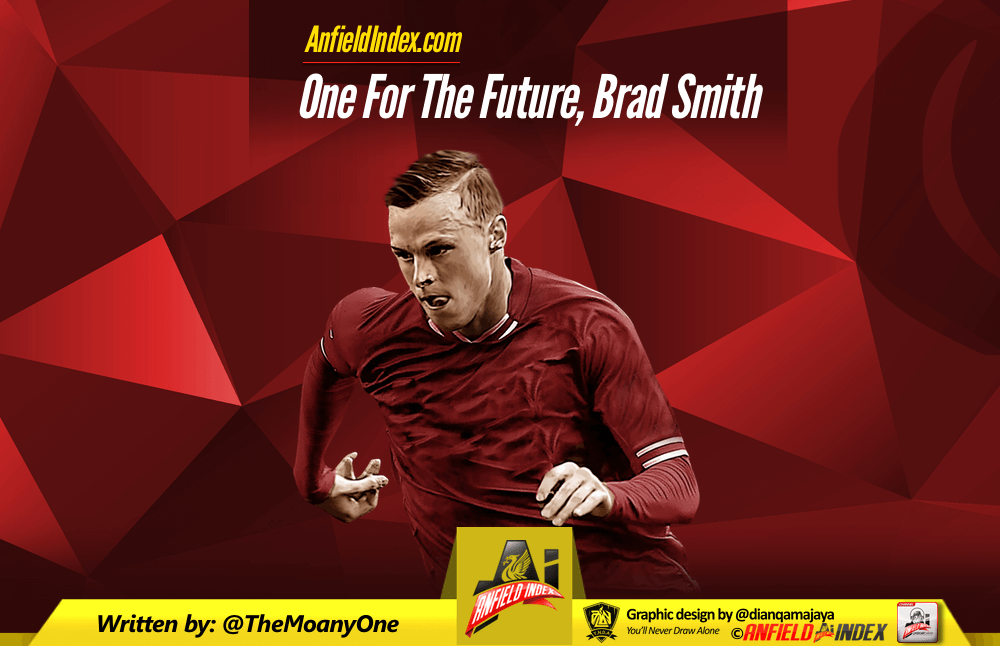 One For The Future, Brad Smith
Who would have thought that four games into his Liverpool career, young Australian left-back Brad Smith would have two assists and a goal for Liverpool. After initially rejecting a new contract with Liverpool last year, Smith's Liverpool career has gone from strength to strength. He is one of the academy players who has been really impressive for Liverpool since Jürgen Klopp took over as manager. I recently mentioned in an article I did for Anfield Index called Klopp's Kids  (go have a look at it, it's a good one even if I do say so myself) that I felt Smith will displace Alberto Moreno in the Liverpool defence sooner rather than later if he keeps playing the way he has recently.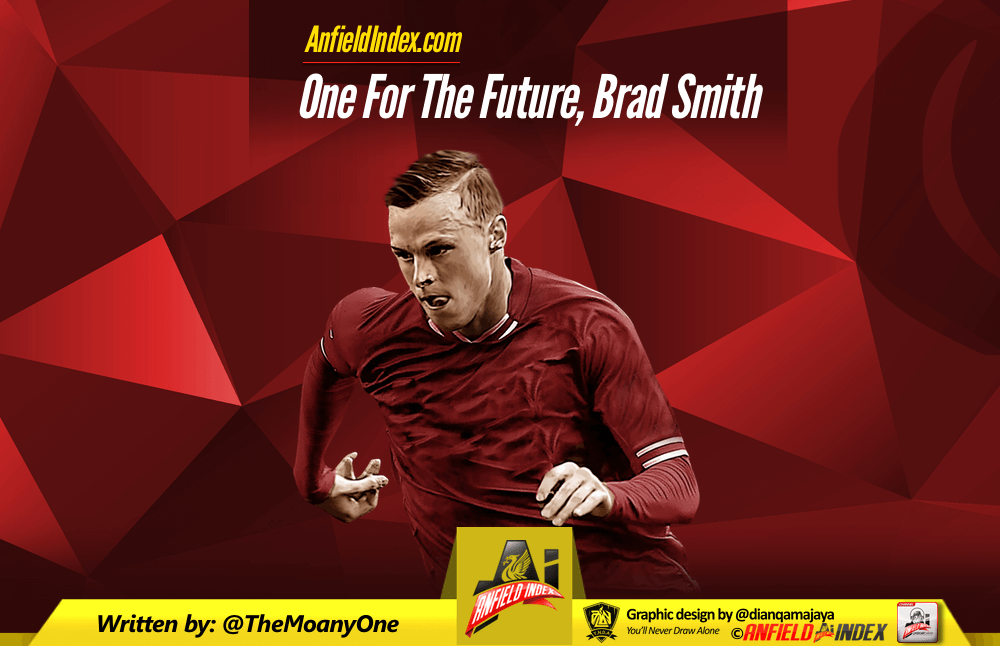 I'll throw my hands up in the air and happily admit that before this season I didn't know who Brad Smith was. I vaguely remember his debut for Liverpool as a substitute against Chelsea. His performance that day didn't make him stand out for me and I expected him to go the same way as ex Academy players like Conor Coady and Adam Morgan. Make one or two appearances for the Liverpool first team in meaningless games before being shipped off either on loan or for a nominal fee. But I'm beyond happy that he has made the step up rather seamlessly into the first team.

Smith is a versatile defender, who is as comfortable playing as a left wing back as he is a left-back. Ideally I would love to see Jürgen Klopp somehow fit both Smith and Moreno into the Liverpool team. I think they would both be electric down the left for Liverpool. I would go with Smith as the left back because he is a lot more defence minded and play Moreno as the wing back, simply because I think if Moreno didn't have to worry about defending he would be a massive edition to the Liverpool attack and in my opinion he has the potential to have ten or more assists a season for Liverpool. This season Moreno has been deployed as a left wing back and on the left of midfield. While playing these positions he has two assists in twenty six games for Liverpool.
Smith is at the age in his career where he needs to nail down a regular position in the Liverpool team. Otherwise he could end up being another washed up ex Academy player. While he may find it hard to dislodge Moreno this season, I think he will eventually. My reasoning behind this comes down to Moreno's defensive lapses which happen on a regular basis. For proof of this look at his poor performance recently against Norwich. It was arguably his worst game as a Liverpool player and to be honest that performance has been building for a while. While I'm not moaning or complaining about Moreno (he's one player who has upped his game this season) I think though if Moreno continues to make silly mistakes Jürgen Klopp will eventually get fed up of them and i can see him spending a bit of time on the bench. Smith on the other hand has made very little mistakes in his three games this season. Yes he has been caught out of position on a couple of times, you can put that down to inexperience and his eagerness to impress by bombing forward every opportunity he can get.
The battle for the left back position this season is a sight for sore eyes for beleaguered Liverpool fans. Liverpool haven't had two left backs of decent quality in the team in the last few years. Let's not forget that for a time this season young Joe Gomez was playing as a left back and did himself proud and held his own in what was an unfamiliar position for him. Smith is one of Klopp's Kids who in my opinion will only get better. If Klopp can manage him correctly and keep him happy with game time I can see him going to have a long and successful career at Liverpool. And for this to happen I think Klopp might have to consider selling Moreno (am now hiding under my coffee table for fear of being hit by a stray missile from the Moreno lovers), if he does it wouldn't be the end of the world. Liverpool have enough quality players in the squad who can play left back. Unlike the centre back position this is one position I don't forsee Klopp strengthening unless both Moreno and Smith suffer from a season ending injury.
I'm hopeful that Smith can go on have a career at Liverpool unlike the last two Australians who have played at the club. And if he keeps going the way he has been of late I've no doubt he will.