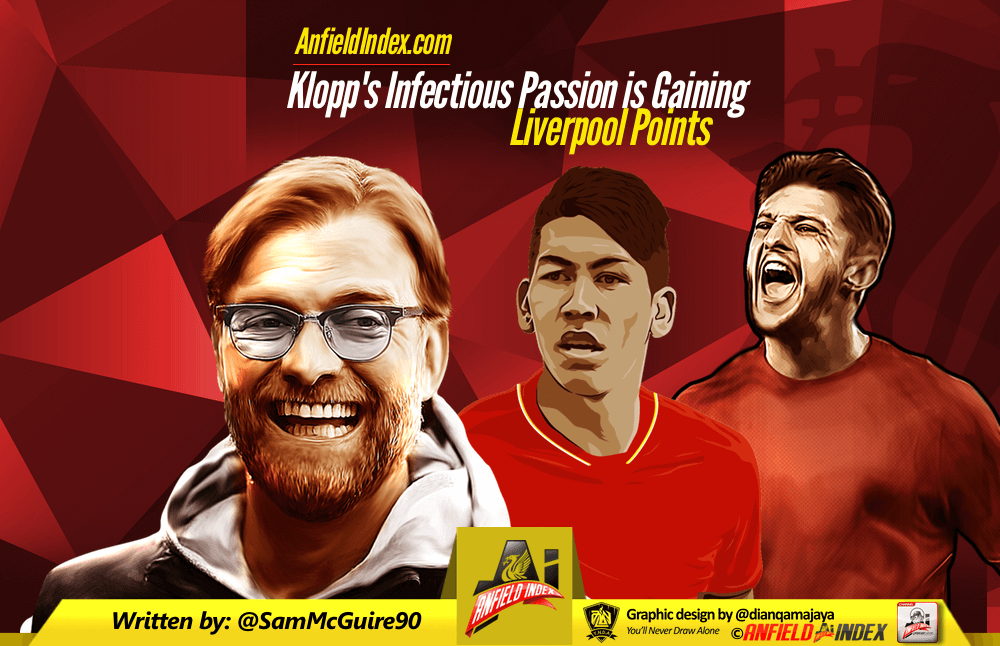 Klopp's Infectious Passion is Gaining Liverpool Points
In an era where managers are supposed to be cool figureheads on the touchline, it's a welcome change to see Jurgen Klopp sticking two fingers up to what's expected and just letting his emotions rule his head. He's once again showing why he is 'The Normal One', because what did every Liverpool fan do when that Adam Lallana shot went in? Exactly what Klopp did..minus hugging the shirtless, wispy chest-haired number twenty. Normal people celebrate goals, so why shouldn't the manager?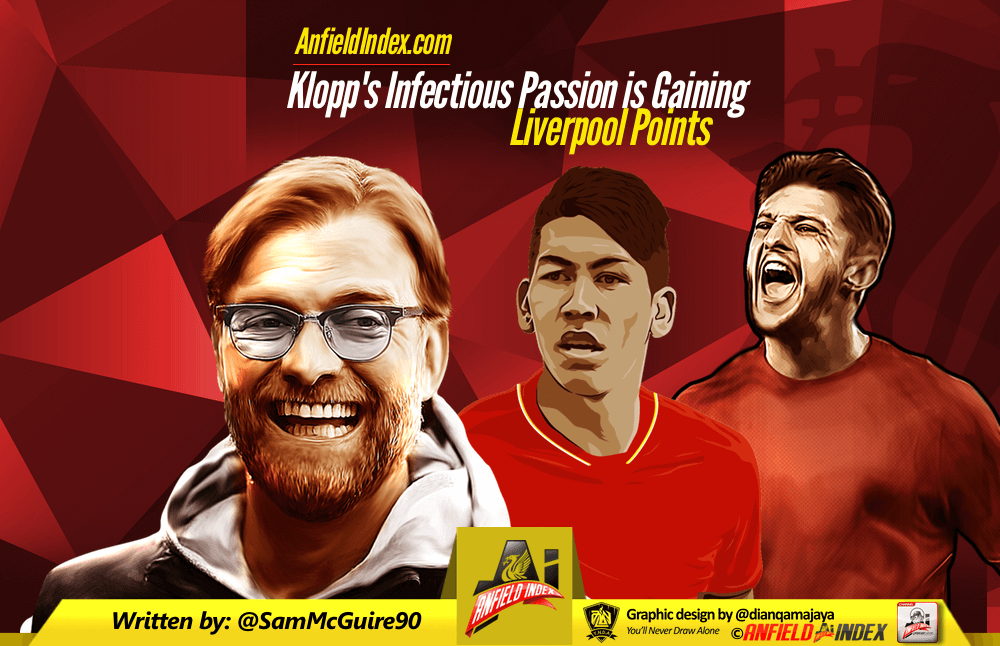 No mind games. No snide underhand tactics. Just pure passion.

https://vine.co/v/ieLxYinZxvH
Klopp didn't make his way down the touchline to incite the fans. He didn't shush the Norwich fans like Jose Mourinho used to do. It wasn't a show for the cameras. You know for a fact Jurgen would have celebrated like that had he been managing a Sunday league side.
He wanted to be involved with the celebrations like every single Liverpool fan wanted to be.
People will over analyse the celebration like they always do because they are boring dickheads. "Oh look at them celebrating a 5-4 win against Norwich after being 4-3 up. It's embarrassing". Much like they criticised him for 'celebrating' a 2-2 home draw with West Bromwich Albion.
Everyone is jealous that Jurgen Norbert Klopp is our manager.
Don't know about you, but I want my manager celebrating a 95th minute winner. Celebrations shouldn't be kept to a minimal. If anything I was disappointed at Klopp's understated celebration. I thought he'd have his top off whirling it around his head so he could chest bump Lallana.
When Jurgen Klopp was appointed as Liverpool he spoke about playing emotional football. He vowed to instil a "very emotional, very fast and very strong" playing philosophy; one similar to the one he was famed for throughout his time at Dortmund. We have seen glimpses of the very fast and very strong aspect of his philosophy since taking charge but one constant seems to be the emotion. It's the emotional football that will really make a difference. It will unite a fanbase.
Klopp himself has been the symbol for this. Celebrating every goal like he's the scorer and vehemently claiming every throw-in as though he knows for certain it's a Liverpool ball. He's a fan on the sidelines and he's building a relationship with the fans that will be unparalleled in the Premier League.
Competition makes us all passionate. We all want to win and we all hate losing. It's in our DNA. Klopp's clever and he knows this sort of mentality needs something they can all get behind, you need a symbol and an icon, and if the players aren't performing yet the next best thing is to get everyone behind him.
At the minute Klopp's like that long jumper that starts the slow clap before his jump and eventually the entire crowd is behind him. The crowd witness him put his all into it and on his next jump they're a little bit noisier and passionate. As he steps up for his last attempt at the jump, the crowd are firmly in his corner.
Klopp's only on his first jump at the club. As the confidence slowly ebbs back into Anfield and the belief is restored, the German will be weighing up his final jump with a raucous crowd behind not only him but the players to. A last minute goal won't be needed to evoke that sort of passion.
The Klopp movement is slowly gaining momentum. The 2-2 draw with WBA after a last minute goal along with the 3-3 draw with Arsenal after a last minute goal. The players believe they can snatch points away from the jaws of defeat. Fans will get behind this and it will snowball and soon Liverpool fans and players  will be going into games feeling invincible . Liverpool may still be conceding goals but they're no longer accepting defeat. Five points gained from goals in injury time since Klopp took over, is seeing to that.