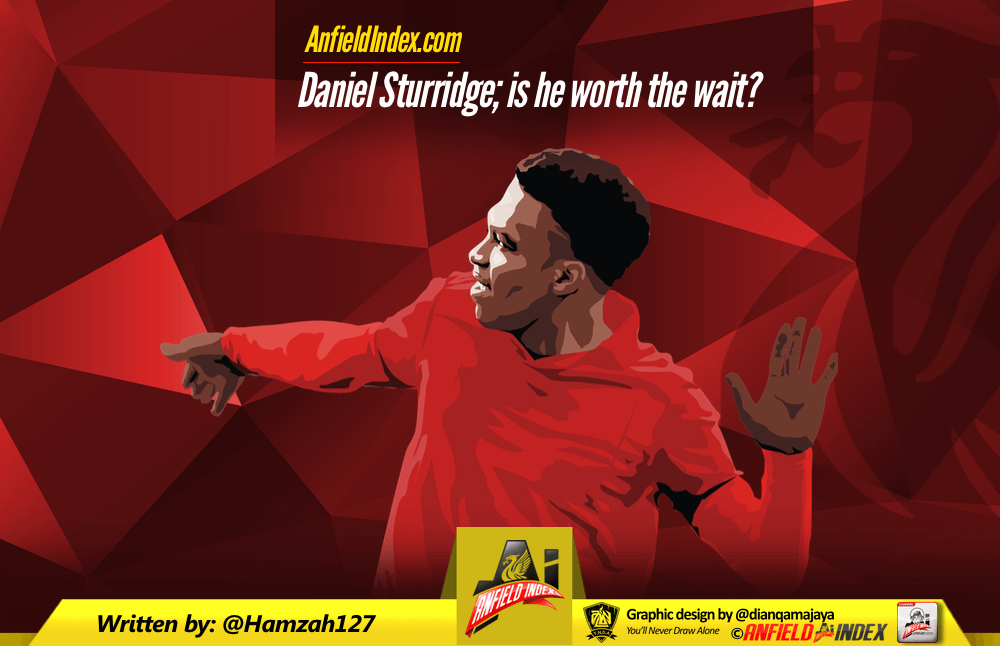 Daniel Sturridge; is he worth the wait?
Following the most recent setback in Daniel Sturridge's recovery plan, social media was flooded with angry Liverpool fans, fuming about the 'obscene wages we pay to a professional hospital patient', venting their obvious frustrations at both the club, for not pushing upwards in the league, and at Sturridge who suffered his tenth injury whilst at Liverpool.
Sturridge's quality is undoubtable, when fully fit, he is only second to Sergio Agüero in terms of strikers within the Premier League.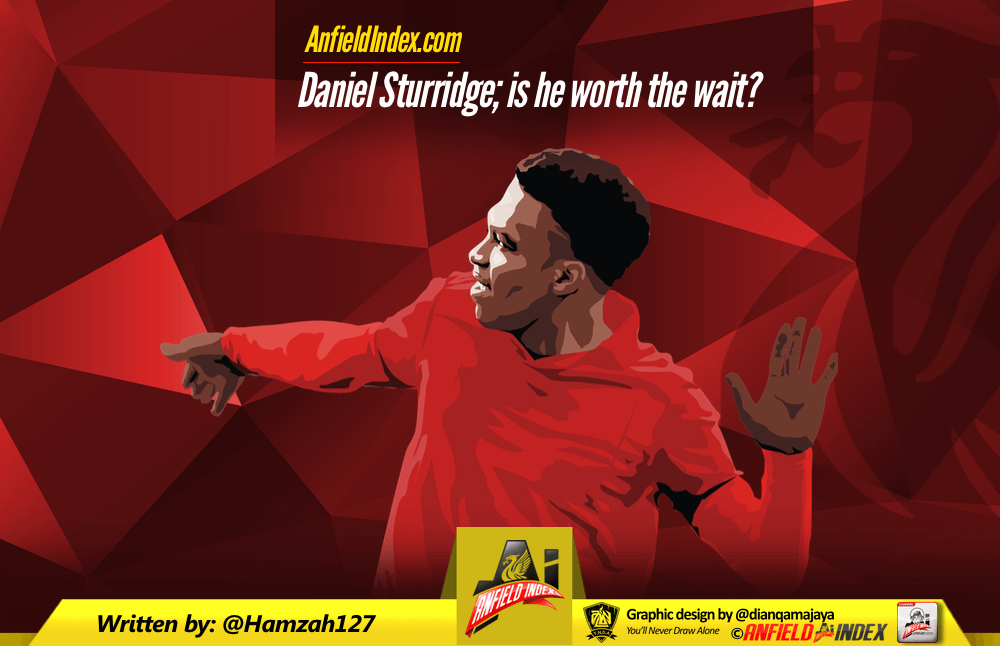 Considering Sturridge's appearances in recent months have mainly been comprised of substitute appearances, to understand his influence on the team, it makes logical sense to look at his goals/starts ratio:
Last season, Sturridge started 12 games and bagged six goals, whilst in the previous season he amassed a stunning 27 goals in 31 starts alongside Luis Suarez, so far during this campaign he has only managed 4 starts and scored 4 goals. Over his entire Liverpool career he has only made 60 starts, but in those games he has managed to score 48 goals – a fantastic return, with a goal scored every 1.25 starts as an average.
In the Premier League, since 2014-15 (excluding the recent game versus Norwich) Liverpool have played 17 games with Sturridge, with a win percentage of 58.8%, whilst without him over the same period, have played 43, with a win percentage of 37.2%.
When considering this, it would appear to be clear that Liverpool should hold onto an asset like Sturridge as steadfast as possible; but when a reported approach was made by West Ham to sign Sturridge, for a cut-price fee of £18million, there were especially vocal calls for a counter-offer to be made of c.£25million and then be rid of him, as some of the fanbase have had enough of his longstanding injury issues.
The argument from this side is that all of the injuries that Sturridge have suffered will have taken their toll and there is no way he can recapture the form and fitness that he had two seasons ago, where he was a runner-up for Premier League golden boot despite missing the entire jam-packed December and January period; alongside this is the cost of Sturridge via his wages, which are reportedly £120,000 p/w, which is no small change, even for Liverpool. Some fans have even questioned his attitude and Klopp took the same stance a few weeks ago, calling for him to play through the pain – but this was an error as Sturridge suffered another setback due to being rushed back to help the team. Whilst the point that he cannot recapture the form we saw two seasons ago is refuted by his two performances against Southampton & Aston Villa this season, in which he twice determined the outcome of the game.
The problem with the injuries that Sturridge has suffered, along with several of them being serious, is that they can all link to each other – a simple ankle ligament strain can impinge on a calf or knee injury and both increase the recovery time, but also increase the likeliness of that injury recurring or becoming even more serious. Personally, I would be raising these issues with the physio department at Melwood, who have had a poor record with managing injuries, notably so since the departure of head doctor Zaf Iqbal in January 2015, with multiple players accumulating hamstring injuries in recent weeks – the fixture list can be blamed, but most other teams have a similar fixture list and have suffered less injuries.
Ian Wright penned a piece recently for the BBC, he noted:
When you are out for a long time it becomes a nightmare that you live every minute of every day… There is nothing to be happy about, even seeing your wife & kids… The life of an injured player is not an enjoyable one and it is hard to escape the feeling of being down… It is frustrating to watch everybody else train day after day when you are nowhere near being able to do it yourself, so you need people to talk to and help cheer you up.
The treatment of Sturridge by some Liverpool fans has been disappointing, to say the least; at every home game, the 40,000 faithful sing along to the club's anthem, 'You'll Never Walk Alone', but fans often do not show the support which that specific mantra would suggest. Impatience and frustration towards the players may be the hallmarks of most modern football fanbases – but for a fanbase like Liverpool, who pride themselves on being a 'family' of sorts, the impatience, frustration and anger towards injured players like Sturridge or out-of-form players like Benteke – who is low on confidence – is embarrassing at best, and disgraceful at worst. It would serve the club well if the fanbase recognised the contribution of Sturridge and his plight with injuries, and decided to offer support during his tough times, especially for a player who has served the city and the shirt so well over the past 3 years.
It has never been Sturridge's quality that has been doubted, merely the consistency of his appearances, but when faced with Danny Ings out for the season, Origi out for an unspecified period of time, and Benteke both out of form and favour with the manager, it would be a ridiculous move to give into calls to offload Sturridge for a cut-price deal; especially if Liverpool progress well in the Europa league, in which they'll need their best team available to beat competition like Borussia Dortmund.
Also when considering selling Sturridge, it needs to be noted which clubs would be after his services, and it would almost certainly be rivals of Liverpool – teams like Arsenal or Tottenham, or clubs looking to establish themselves in European competitions – hence the bid from West Ham. Could Liverpool really afford to let Daniel Sturridge move to a rival club, where he could potentially score over 20 league goals, all at the expense of Liverpool themselves?
When considering whether Liverpool should actually let Sturridge go, it is also essential to understand where Liverpool currently stand as a club; Liverpool are not a top four side, have limited spending power -especially when compared with Liverpool's traditional rivals – have an average squad at best, with a only few good points – namely the manager, the expansion of the stadium, the growth comercially and internationally of the club and lastly two leading players – Daniel Sturridge & Phillipe Coutinho.
When taking this into account, can Liverpool really afford to let a striker who can score over 20 league goals per season go? Not only does he score goals, but he brings the best out of other players – linking up delightfully with Coutinho, but also suiting Liverpool's style of play, something players such as Benteke, Balotelli and Carroll notably struggled to do. The money must also be taken into consideration, for the £18million allegedly offered by West Ham, who can Liverpool buy that can score as consistently as he can or suit the team as well as he does? The answer is nobody – strikers who can score over 20 league goals per season do not come cheap, and sometimes can arguably not even suit the team – evidenced through Liverpool's acquisition of Benteke over the summer; and let alone one the age of Sturridge – 26 – with foreseeable years ahead of him at the top level if he can overcome these injury problems.
In recent seasons, Liverpool have struggled to find replacements for outgoing players, Torres & Suarez were not replaced adequately, nor were Alonso, Mascherano, Reina and most recently Gerrard. If Liverpool can only attract players such as Benteke, Balotelli, Lallana etc. as their big-money marquee signings, whilst teams such as Arsenal sign Sanchez & Özil, or City sign De Bruyne & Otamendi, how can they possibly afford to sign a replacement – when any 20 goal per season striker heading to the Premier League would most likely choose a Chelsea, Manchester City or Arsenal over Liverpool at this current point in time – despite the attraction of a manager as respected as Klopp. The struggle for Liverpool to sign adequate replacements is summed up perfectly by the ongoing Alex Teixiera transfer saga (perhaps at the time of publishing the deal may have been approved, or be ongoing, or god-forbid, another team has swooped in); Liverpool have failed to sort out the deal efficiently, and their unwillingness to budge over valuations could be the undoing of the squad in the long-term, having missed out on players such as Dele Alli over discrepancies in valuations.
It stands to reason then, that Liverpool, in their current predicament, in need of a goalscorer who suits the team, and can raise the entire level of the team, cannot afford to let Sturridge go, and even more so as the club has a track record of flummoxing up potential transfers – such as Sanchez – and not bringing in adequate replacements for outgoing players. It is now incumbent on the medical staff to get Sturridge fully fit and not rush him back, and for the management team to carefully plan his playing time in order to get the best out of him, whilst it is also incumbent on the supporters to proverbially 'get-off' Sturridge's back regarding all his setbacks, and get behind him, so he is in a fit mental state to perform on the pitch. If all these criteria are satisfied, Sturridge, in the hands of Klopp could quite easily propel Liverpool to the Champions League spots and beyond.