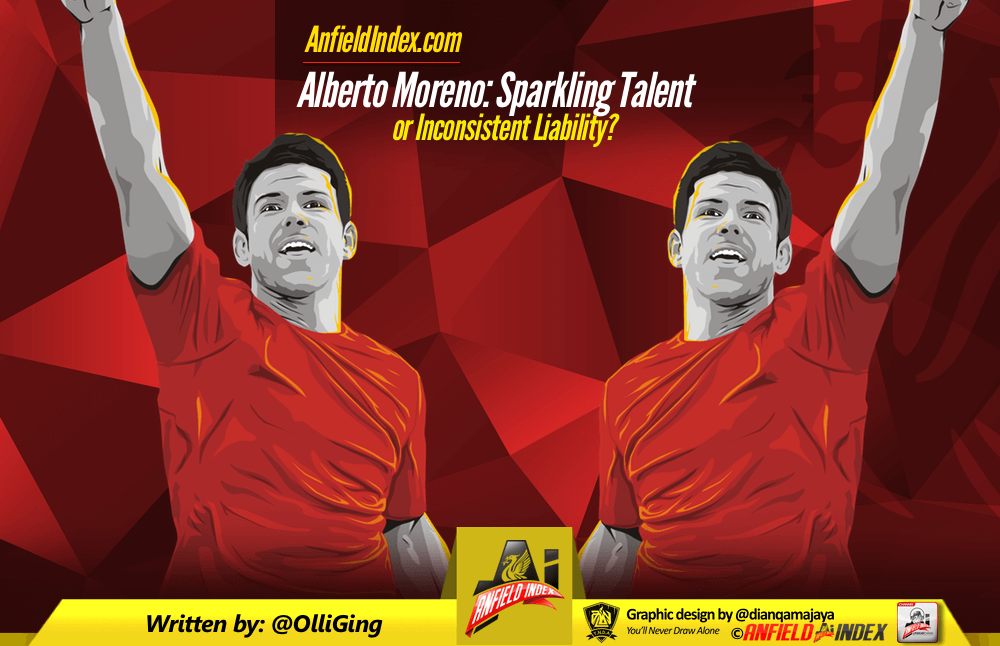 Alberto Moreno: Sparkling Talent or Inconsistent Liability?
It's fair to say that much of Liverpool's enthralling 5-4 victory against Norwich City will be forgotten, given time.
Steven Naismith's debut goal will probably be solely remembered by Everton fans, whilst Roberto Firmino's mouthwatering performance won't be forgotten, should he continue to make good on his obvious talent. And of course, nobody will forget Adam Lallana's winning goal and the euphoric pandemonium that followed, peaking when a certain Mr Klopp lost his glasses.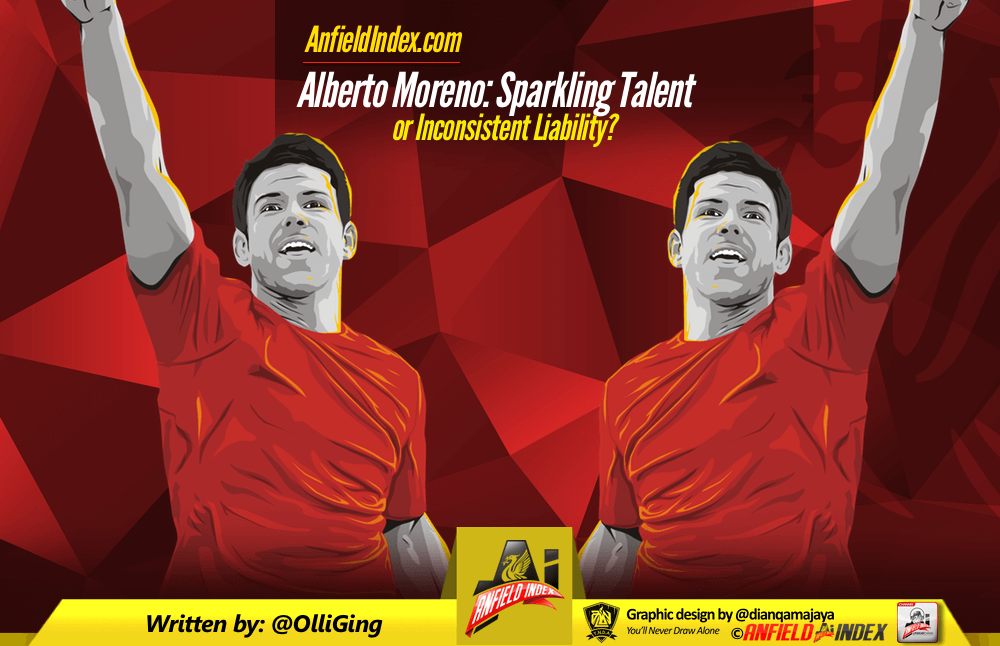 At the other end of the spectrum, James Milner's spurned attempt early on will be swiftly forgotten, after he made it 4-3. As will Emre Can's failure to track Naismith for the aforementioned goal, with many hopes resting on the German to become the linchpin of Liverpool's midfield for the next five years.
One moment of madness that will be forgotten by some and clung on to by others, would be Alberto Moreno's rash challenge on Naismith, conceding the penalty that saw Wes Hoolahan put the Canaries 3-1 ahead.
The reason for that, being that Moreno is a player who splits opinion amongst Liverpool fans like few others do. Many will put the challenge on Naismith down to youthful enthusiasm, whilst others will use it as a further stick to beat him with, offering the foul as further evidence that the Spaniard isn't the long term answer to the left-back slot.
After an inconsistent first season under Brendan Rodgers, the youngster was kept out of the first team for the first few games of the season, with everybody's favourite defender, Joe Gomez, impressing in an unfamiliar left-back role. However, with Gomez injured, Rodgers was forced to bring Moreno back in, but didn't see much more of him as the Ulsterman was sacked in October.
Jürgen Klopp came in, and improved the defence as a whole early on, the Reds only conceded seven goals in the German's first 10 games. Moreno had undergone something of a renaissance, only to fall off a cliff in recent weeks. Taking Naismith down once against the Canaries was bad enough, but for Moreno to lunge in again and concede the penalty, showed a naivety that would have cost his team on another day.
Whilst it was a completely different incident, the foul on Norwich's new signing brought back memories of a situation last season where Moreno was hugely criticised, allowing Hector Bellerin to float past him on the way to scoring in a 4-1 win for Arsenal. Not so much for the nature of the mistake, but for the way it was made, with the full-back showing a complete disregard for basic defensive know-how.
With Brad Smith emerging from the ashes, and Jon Flanagan returning from injury, options at left-back are now fruitful. Whilst it's very arguable, and most probably true, that Moreno is much better than these pair, there is a case for him to be taken out of the team for one of them – at least for a few games.
Smith is developing a reputation for being something of a kamikaze defender, but a fine player going forward, and the Australian could make the case that he's more likely to get the best out of Christian Benteke, should he be let loose down the left wing.
At the other end of the spectrum, Flanagan is an uncompromising defensive full-back who would certainly add a sense of toughness to the Liverpool backline, with the Englishman well capable of making things uncomfortable for forwards who have had things far too easy at times against a brittle defensive line this season.
Moreno's come under huge scrutiny recently due to his dip in form, leading to him being blamed for goals that may well not be his fault. From my point of view, he had a fine game against Stoke City in the League Cup on Tuesday evening, but was blamed for the Potters' goal, labelled as being out of position as Bojan slipped in an offside Arnautovic.
However, looking at replays, the reason he was forced out of position was in an attempt to cover for players ahead of him failing to to their job. Still, the point stands that he's been blamed for much recently, meaning a few games on the bench could take him out of the limelight, similarly to the way Gomez's rise to stardom did at the start of the season.
That, at least, is a slightly more positive way to look at things. After all, even his biggest critics would struggle to argue that Moreno is a hopeless case. For many, he's one of the most exciting players on Liverpool's books. As the saying goes, statistics don't lie, and there are a few that show Moreno in a particularly strong light. The main one being, that he's created the most chances out of any Premier League defender this season.
Continuing to look the Spaniard in a better light, it's not like left-back is Liverpool's biggest problem area. Looking to his right, Moreno will find more problems in central defence. Should he cast a glance back towards who's playing in goal, and he'll find similar. Even going further forward, the lack of shielding from the midfield and no regularly fit, quality striker, are all much bigger concerns.
He has also shown some defensive talent, albeit in short spells. Lauded for his recovery challenges, Moreno has often been praised for using his pace to sprint back and slide the ball away from onrushing attackers. That's just one of the qualities that saw him become one of the most sought after young defender's in Europe, part of the Sevilla team that claimed the 2014 Europa League. So, it's obvious that he can't ruin a defence single handedly.
One thing that few have considered, is that what Moreno is being asked to do for the team could offer partial explanation for his defensive downfall. Many great teams opt to use a system where you have one attacking minded full-back, and one defensive minded one. Think Barcelona 2010, with Daniel Alves and Eric Abidal. Looking closer to home, you'll find that Liverpool didn't do too badly with John Arne Riise and Steve Finnan, just 10 years ago.
Whilst it's unfair on Nathaniel Clyne to say that he's comparable to Steve Finnan going forward, there are echoes of that left-back, right-back pairing. As well as the aforementioned chance creations, Moreno's level of pressing also shows that he's much more forward thinking than his counterpart.
Since Jürgen Klopp's arrival on Merseyside, Moreno has pressed 157 times compared to Clyne's 89. That's once every 7.3 minutes, with Clyne way behind with 13.1 minutes per press. Whilst that is in no way a criticism of Clyne, it does offer the idea that Moreno may well be instructed to get forward more than the right-back, and therefore press more.
Whilst his efficiency is below Clyne's, 80.1% compared to 90%, you can't deny that Moreno does offer an added dimension when going forward, his extra width and eagerness to press helping the Reds when they attack.
Taking all of this into account, it's fair to say that for some teams, Moreno fits perfectly. Whether or not Liverpool are one of those teams, remains to be seen.