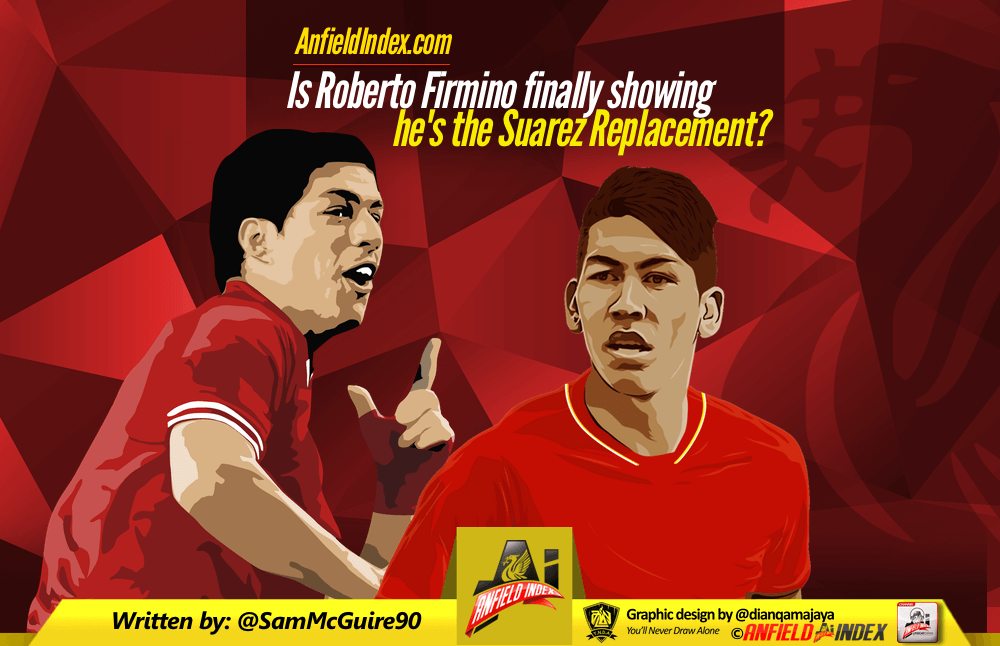 Is Roberto Firmino finally showing he's the Suarez Replacement?
Replacing Luis Suarez was an almost impossible task. The sort that nobody wants to take on because you knew it was going to be thankless. The Uruguayan sensation lit up Anfield during his time with The Reds. The goals, the controversy, the desire to win and the spectacular moments that will live long in the memory. The Suarez shadow has been lingering over the club ever since he left. Was anybody going to step out of it?
Daniel Sturridge was supposed to be that player. The expectations and hopes of the season were firmly on his shoulders but his body wasn't up to the task. Raheem Sterling was destined to take over the number 7 shirt in the future but his head was turned by the opportunity to play in the Champions League. Philippe Coutinho, our little Phil, he's more of the supporting cast as opposed to the main event. That's no disrespect to the Liverpool number 10 it's just inconsistency has meant he's never managed to get over that hurdle.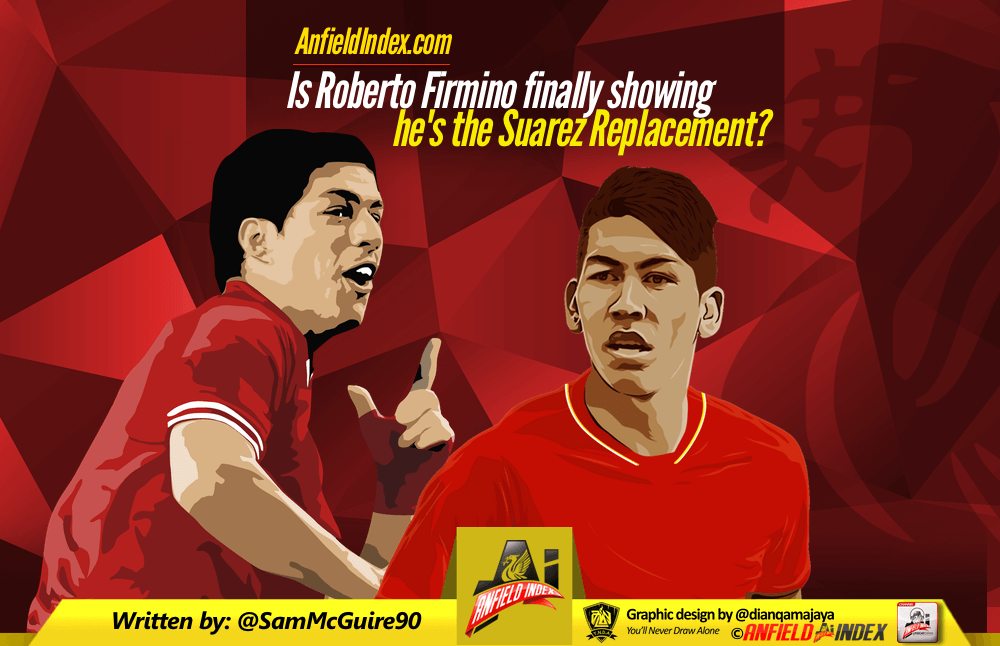 Much like Liverpool missed the opportunity to replace Xabi Alonso and Javier Mascherano in years gone by it looked set that Liverpool fans five years from now would be talking about 'still not replacing Suarez'. This was until the club surprised the masses in the summer of 2015 by signing Hoffenheim attacker Roberto Firmino. The 24 year old arrived for an initial £21 million with potential add-ons taking it up to £29 million.
His start to live with Liverpool wasn't the best. Injury and being misused positionally meant many 'fans' grew impatient and starting to compare him to Lazar Markovic. A player who only seemed to be rated by those that watch football outside of the Premier League. If these fans want to live in their own little Match of the Day bubble then that's fine but judging a player after a few months in a new country after cracking a bone in his back, slightly premature no?
The signs of his quality were there for those looking hard enough. His left footed effort against West Ham which rattled the woodwork literally came out of nothing. Dare I say it, it was Suarez-esque. His performance off the ball against Arsenal was extraordinary for a first start. Brendan Rodgers set that side up to press early on and Liverpool had Arsenal hemmed back, the shift Firmino put in that day goes under the radar. Had Benteke put away that glorious chance then the Liverpool number 11 would've had an assist on his full debut. That's was the story of his season up until the turn of the year. Firmino was creating chances but these weren't being put away.
"Bundesliga fraud."
"Firmino the flop."
"Brazilian Downing."
"Elegantly shite."
All insults and observations aimed at Firmino after half a season at the club, playing different roles under different managers. Patience is clearly overrated.
The real Roberto Firmino has stepped up in recent weeks. His starring role as Liverpool dismantled Chelsea at Stamford Bridge was supposedly a one off. His performance as Liverpool destroyed Manchester City seemed to anger fans and left them wondering why he couldn't do that on a regular basis. Now he's recently tormented Arsenal helping Liverpool to a 3-3 draw and followed it up 10 days later with an instrumental role in the 5-4 victory against Norwich.
In those four games mentioned the Brazilian managed to score 5 goals and grab 3 assists.
Is he the catalyst for a good Liverpool performance or is he simply benefitting from good team performances? He's been a constant in the Liverpool attack in all of those big league wins, so how long before people start to really take note of his impact on the team? When will people see he's having a Suarez like impact?
Plenty aren't fans of stats without context so this has been kept pretty basic. Roberto Firmino's stats are those collected over this season so far whereas the Luis Suarez stats are from the 2013/14 season, his most destructive.
These stats are per 90 mins to make it fairer as the Luis Suarez sample is bigger so doing totals would be unfair. Chances created, Firmino is only 0.31 less than Suarez and if you remember the stats for the latter are from when Liverpool were flying, scoring plenty of goals and going for the title. Put Firmino in a confident side and he'd arguably create even more chances.
Assists. Once again, Firmino is only 0.03 behind Suarez. I'd also like to reiterate the fact Suarez was lining up alongside Sturridge, Sterling, and Coutinho every single week whereas Firmino is supplyig the likes of Christian Benteke (missed 12 clear cut chances this season) Adam Lallana and Jordon Ibe.
Shot accuracy. A negative being levelled at Firmino lately is his wastefulness yet as you'll see from the stat he gets 52% of his shots on target, a mere 1% less than Suarez did. If Firmino is wasteful was Suarez?
Tackles won. Liverpool played a pressing game under Brendan Rodgers in 13/14 and they play one under Klopp now. The strikers are supposed to press the ball so they can regain possession higher up the pitch and there's a better chance of them scoring whilst the opposition are transitioning from potentially attacking to having to defend. Luis Suarez was often praised for his work rate off of the ball and how he got Liverpool forward but as you can see, Firmino wins over 2 more tackles than Suarez  per 90.
Successful take-ons. Luis Suarez used to beat a man and either score or assist. That's how I remember 2013/14 but looking at these stats he only managed to beat a player successfully 39% of the time as opposed to Firmino who manages to beat his man 58% of the time.
These are numbers from Luis Suarez's third full season at the club, when he's settled and injury free playing in the best attack in the league compared to Firmino entering only his 8th month at the club.
Slightly naive to write off Firmino like many had done when in reality if his teammates could finish he'd be on 5 goals and 10 assists for the season. If you don't watch the Bundesliga though It's hard to know how good Firmino could be, but should ignorance excuse those that readily criticised him from the off?
I'm fairly certain I could hide my Granddad's glasses, mute the TV and have him watch the highlights from the Norwich game and tell him that was Luis Suarez and he'd believe me. They're eerily similar and that can only be a positive for Liverpool.
With rumours of the potential arrival of Alex Teixeira could Liverpool have finally found their Luis Suarez replacement(s)? Roberto Firmino could end his debut season with double figures for both goals and assists without actually playing alongside Daniel Sturridge. That'd be some achievement.