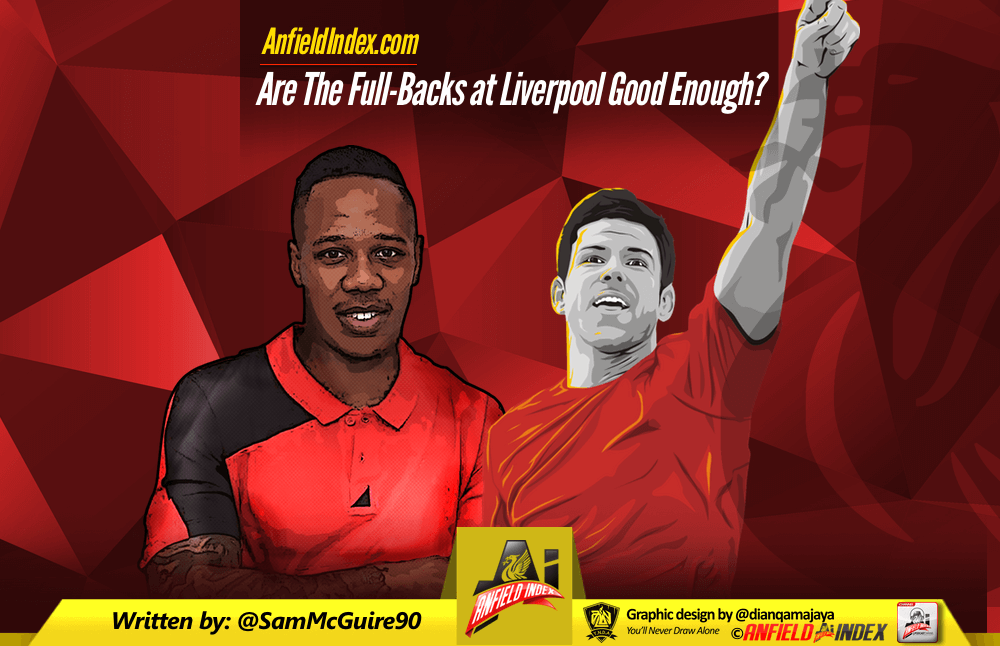 Are The Full-Backs at Liverpool Good Enough?
The full-back position has been a problem area for Liverpool since the days of Alvaro Arbeloa/Steven Finnan and Fabio Aurelio. Some may call it bad luck, others may say it's a cursed position, whatever the case Liverpool full-backs seem to have faults.
Fans have witnessed the likes of Glen Johnson, Javi Manquillo, Jose Enrique, John Flanagan and recently Alberto Moreno and Nathaniel Clyne all fill the two jinxed positions with varying success. Glen Johnson's decline as a footballer happened quicker than Wayne Rooney's latest hair transplant failing. Javi Manquillo didn't offer enough offensively and seemed pretty poor in the air. Jose Enrique decided to retire from football and take up professional gaming. Jon Flanagan is pretty limited at what he does but you know what you're going to get from him, if he had more pace we may see Klopp use him more but he doesn't, so.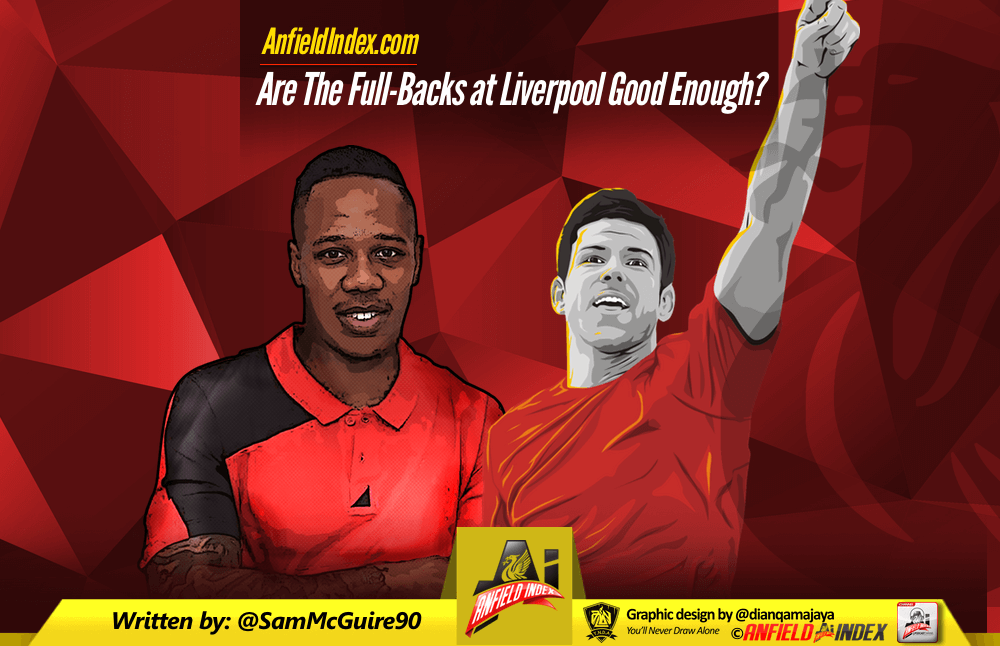 Then we come onto the current incumbents for Liverpool; Alberto Moreno and Nathaniel Clyne. These two arrived at Liverpool for a combined fee of £24 million and on paper it seemed Liverpool had solved their full-back problem for the foreseeable future. That dream didn't last long.
Alberto Moreno decided to do his biggest brain fart to date in the 5-4 victory against Norwich by not just fouling Steven Naismith in the penalty area once, but twice. Not satisfied with getting away with the first reckless tackle he nudged Naismith over giving the referee no alternative but to award the penalty which put the Canaries 3-1 up at the time.
In a week were many Liverpool fans were calling for Brad Smith to replace Alberto Moreno as starter this wasn't the way to convince them otherwise. It was stupid, it was reckless and it wasn't necessary. In a positional sense Moreno is questionable at times and he does have lapses in judgement, but all attacking full-backs do. That's why it's so important to have a defensive midfielder in situ so the defence are able to cover for the marauding full-back.
This video below done by Leroy (@LFCImpulse) shows exactly why it often looks like Alberto Moreno is out of position. Why he's always doing those last gasp recovery tackles.
The poor marking before Moreno's tackle:
1) Smart run by Naismith;
2) Ibe/Lucas doesn't track;
3) Both look away. pic.twitter.com/cnyb5C9HbH

— Leroy | LFC Impulse (@LFCImpulse) January 25, 2016
You can't excuse the Moreno tackle, but why is he the one tracking Naismith?
The video clearly shows Moreno squaring up the Norwich right-back, Pinto, and Naismith running off both Jordon Ibe and Lucas. If Lucas pushes over, as he should, then Sakho fills the area Lucas was stood in.
As Moreno fouls Naismith look at Hoolahan free in the Liverpool penalty area because both Henderson and Lucas aren't tracking runners.
Just as Moreno was culpable for a goal against Norwich it turns out Nathaniel Clyne could, and should, have done much better for the opener.  Images are taken from a very interesting thread on Reddit looking at the goals conceded against Norwich.
Apologies for the quality of the picture.
As the initial ball comes into play it's evident that Clyne is the player marking Steven Naismith.
As the ball is headed away you see Naismith making his way back into the danger zone and Clyne going to take up his position at right-back, this despite the ball not being away from danger. Clyne's man is now free in the 6 yard area.
Then the ball comes back into the Liverpool penalty area you can see Naismith, Bassong and Mbokani up against Sakho pretty much. Sakho should have done better with the ball into the area but he's in quite the predicament having been left 3 vs 1 in the penalty area because Clyne switched off and let his man go even though the danger wasn't cleared.
It's not as blatant as the Moreno error but it's still an issue and it still played a part in a goal being conceded and it's not the first time this season Clyne has switched off and a goal has been conceded.
Comparing the two isn't ideal but these stats indicate Moreno is an attacking full-back who wins a high amount of tackles (Liverpool fans love a tackle stat), creates chances and is fairly confident on the ball averaging an 80% pass success rate.
You knew what you were getting with Moreno, an attacking full-back much like Jordi Alba, why so many of you are shocked at how he is confuses me. If you want an attacking threat from full-back then he's perfect.
On the other hand you can see Clyne doesn't really offer much going  forward in terms of creating chances. He commits less fouls than Moreno but also wins less tackles too. He has been attributed with 0.07 less defensive errors than the Spaniard and averages 77% successful pass rate.
Clyne is a solid defence first full-back who is getting criticised for not offering more offensively. Liverpool seemingly have one full-back that attacks too much and one that doesn't attack enough. Will fans every be happy with what's on offer? Are they being over critical or are these full-backs not good enough if you want to challenge for top 4?