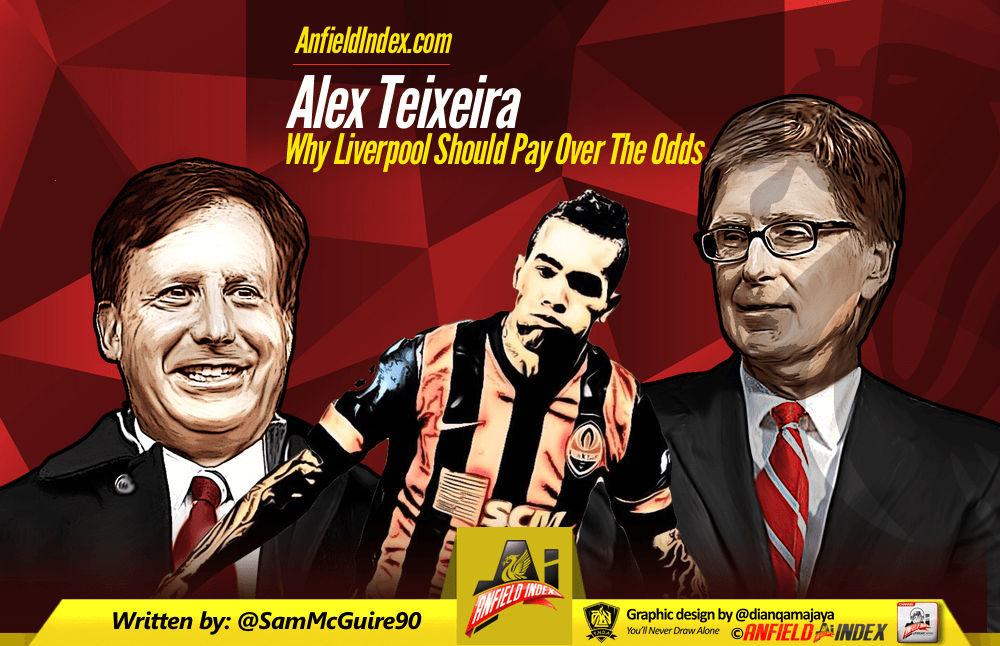 Why Liverpool Should Pay Over the Odds for Alex Teixeira

Value for money.
Paying over the odds.
Cheaper alternatives.
It's quite common now for fans, and the media, to believe they know the value of players and what their club should be spending when they they're looking to bring somebody in. The latest player to be put under a microscope is Shahktar Donetsk's Alex Teixeira. Plenty of people weren't too familiar with the attacking midfielder before he was linked with Liverpool, but now they're all certain the club shouldn't be paying £38 million that the Ukrainians want. Why?
There's no value for money in that deal. You're paying over the odds for the player. There are cheaper alternatives out there.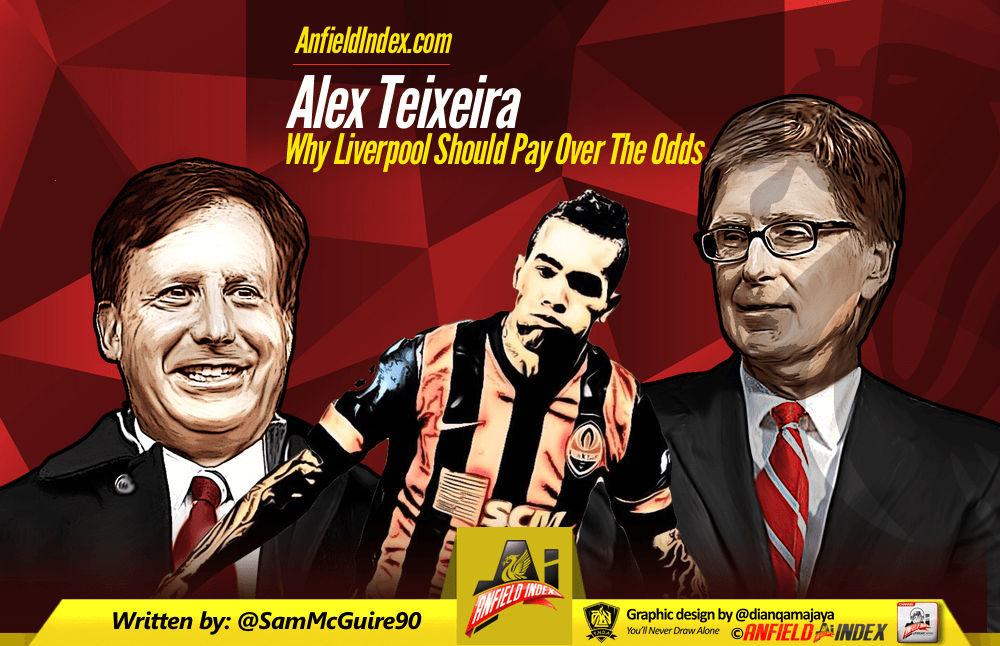 I'm guilty of doing it too. It's human nature to want to find a bargain.
The player only has two and a half years left on his deal, he wants to move and his market value will only decrease from now on. In an ideal world Shakhtar wouldn't be asking for £38 million for an uncapped 26 year old, but then when is the transfer market ever ideal? The selling club set the price. If the buying club believe the player enhances the squad enough to warrant such a fee then they pay it. The final price isn't always representative of the quality of the player.
There will be cheaper alternatives out there but they're cheaper for a reason, right? You have to pay over the odds for players of real quality. There won't be many, if any, attacking midfielders with a goal scoring record that rivals his. If he's being brought in to improve us in that department then he's probably the best out there at doing what he does. However, we've been here before haven't we? In the summer with Christian Benteke when many fans seemed to believe the deal was a no brainer because 'he scored goals and Liverpool needed goals'. I said it at the time that a history of goals isn't transferable, he may have delivered for Villa but there's no guarantee he'd do the same for Liverpool. You need to buy players to suit your style.
Teixeira, on paper, suits the style Liverpool are looking to play and he brings with him a history of goals. He ticks both boxes with is a rarity in today's world. Therefore he's worth the extra money, surely?
I was recently buying a new television. I went to a shop, it was Tesco, I'm a bit of a clubcard points fiend, anyway I went there during the post-Christmas sales in the hope of picking up a bargain. I wanted a Smart, 43 inch plus TV with plenty of HDMI ports and a decent HZ rate. They were my requirements. A TV profile, much like a player profile. If a TV ticked the boxes I'd run it by my transfer committee, also known as my girlfriend, and we'd go from there. Cut a long story short I'd narrowed it down to two LG TVs, one had everything I wanted and the other had everything apart from the Smart TV bit. There wasn't much difference in price, the smart tv-less one was about £50 less in price and I didn't really need the internet function on the TV because I've got one of those Android boxes.  I still went with the more expensive one because although there wasn't much of a difference it was still better. I was willing to pay that little bit more because the TV had everything I wanted.
Teixeira may have everything Jurgen Klopp wants to improve this squad so you he's willing to pay that little bit extra.
Obviously in the Teixeira deal we aren't talking about a fifty pound difference but tens of millions, that's football though. If you're a big club, which we still are, what can you actually get with £10 million? There are rarities which sees you buying an Emre Can or a Philippe Coutinho but this isn't all that common. In today's market £10 million gets you a squad player at best, and Liverpool have enough of those.
Arsenal systematically improved their squad with these sorts of buys. They had 'too many attacking midfielders' but still went out and paid over £70 million for Mesut Ozil and Alexis Sanchez when there were cheaper alternatives out there, especially in the case of the former. These signings worked though. Successive FA Cup victories, a top four finish and a real push for the title this season. Would they have had as much 'success' going for the 'cheaper' options?
Liverpool have been burnt paying over the odds many times in the past but the club can't be hesitant in the transfer market. If Jurgen Klopp really feels as though Teixeira is the man to help Liverpool unlock these deep sitting defences then he'll repay that money in helping the team to victories.