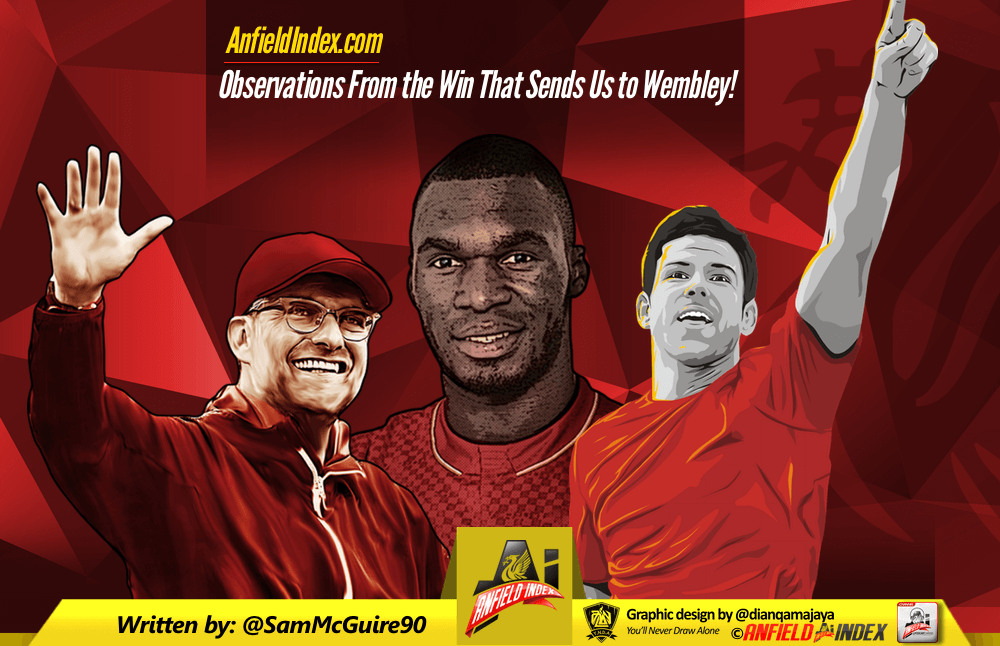 Observations From the Win That Sends Us to Wembley!

"Man City or Everton, it doesn't matter. We'll win the Cup."
– Jurgen Klopp
Our manager is fanning the flames. He's bringing back a trophy in his debut season.
It wasn't particularly pretty and it won't be remembered as a spectacle but Liverpool once again dug deep to take something away from a disappointing performance. It's been a recurring theme over the past few weeks, Jurgen Klopp's never say die attitude is rubbing off on the players and although Liverpool probably didn't deserve to go through to the League Cup final, that's exactly where they are. We're not invincible but we as a team don't seem to know when we're defeated and it's such a drastic change when compared to the end of the 14/15 season.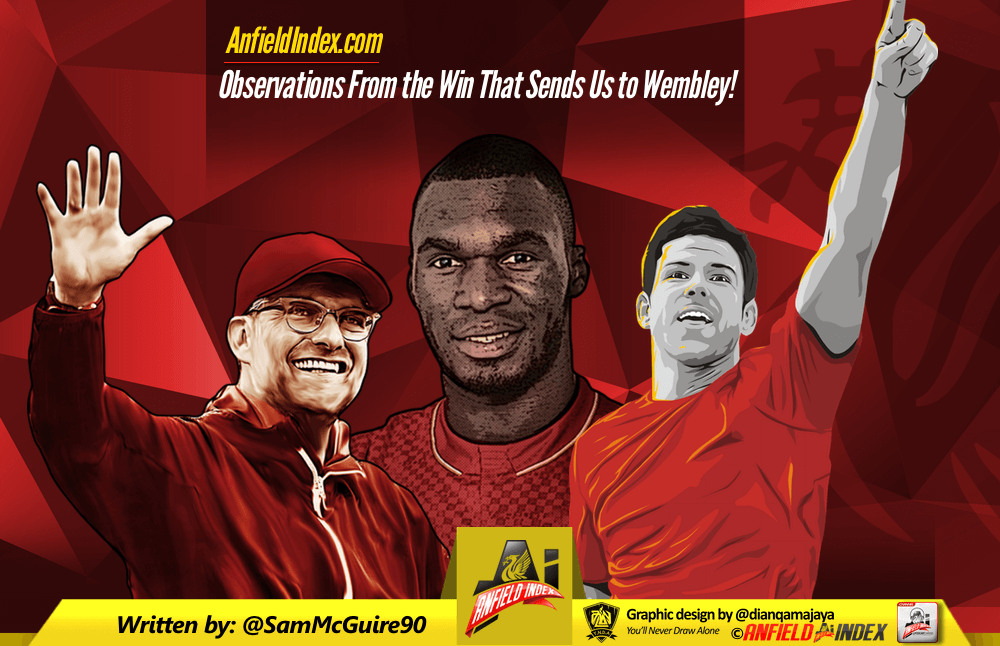 So, positives and negatives?
Klopp's taking us to Wembley. He was brought in to not only help us challenge for the top four but to also bring trophies back to the club. We're Liverpool FC, we should be winning trophies. Regardless of how the League Cup is viewed by many, winning it gives the squad a taste of success and a platform to build on. Older generation fans used to taking winning trophies for granted, let's hope the club get back to that stage.
Alex Teixeira can't sign soon enough. When the opposition is doubling up on Roberto Firmino, much like Stoke did, it's clear to see the team is missing a partner in crime for the Brazilian. Another player to take some of the burden off the number 11. Currently he's viewed as our creative spark, goalscorer and match winner; he needs some help. If reports are to believed it seems as though the Shakhtar manager has implied he's accepted that Teixeira will leave this January and his arrival on Merseyside will be a welcomed boost for Firmino and friends.
Liverpool need midfield reinforcements. With Jordan Henderson's heel still giving him grief Liverpool are left with the bearded Adonis – Joe Allen, Emre Can, James Milner and Lucas as their midfield options. Although all four have strengths you'd not look at them as being the most creative and in games like tonight that bit of quality was definitely lacking. Can Liverpool navigate their way through to the end of the season with these midfield options plus some of the academy lads or should the club be looking at bringing in a different type of midfielder before the window closes?
Christian Benteke. The big Belgian came on as a substitute and gave a peculiar performance. He seemed to have vertigo whenever the ball came into the box, almost like he was afraid to jump for the ball but then when the ball was played into the channels he was chasing it like he was doing early on in the season. It was like an inside out Benteke performance. If he carries on doing the latter I can see plenty more fans warming to him.
He tucked away his penalty with supreme confidence and hopefully begins the foundations for him to push on this season and really make a positive impact.
The Alberto Moreno agenda. A handful of fans and certain parts of the media have decided Alberto Moreno isn't good enough for Liverpool. There's no reasoning with them and they have continue to view him with tunnel vision. Take the Stoke goal tonight. Moreno pushes out to intercept the ball but is beaten to it by Bojan. It happens. Liverpool have enough men back to cover for the full-back. The goal scorer, Marko Arnautovic is playing left-wing, as Bojan wins the ball the Austrian is being tracked by John Flanagan. The Liverpudlian doesn't track the run, Kolo Toure tries to play the offside trap despite nobody else in the line doing so and we're left with a defensive fuck-up.
Yes Marko Arnautovic was offside but that was due to luck, not a good defensive line and yet it's Moreno getting the criticism for it? Had roles been reversed and it was Flanagan trying to intercept the pass and the goal scorer ran off Moreno it'd be the Spaniard getting the blame there too.
Pack it in. It's embarrassing.
How outdated is the away goals ruling? Why do away goals count in extra time? Why should the opposition get an extra 30 minutes to attempt to score another goal? I mean they play a home leg and an away leg so it's fair and then don't sort this massive farce out? They got rid of the silver goal shit but kept this ruling? Even my 8 year old nephew said "well that's not fair is it?". Primary School children can see it but the FA/FIFA can't? Hmmm.