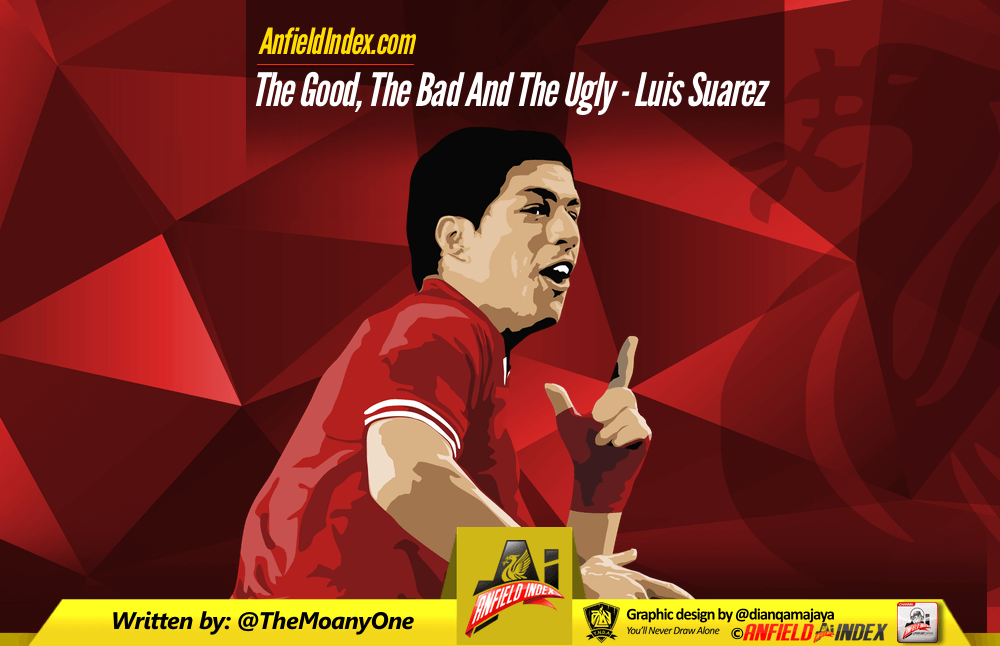 The Good, The Bad And The Ugly - Luis Suarez
I don't get it, I really just don't get it. I don't get the love affair some Liverpool fans, sorry the majority of Liverpool fans, still have with ex-Liverpool striker Luis Suarez. I for one am glad he's gone from Liverpool and that he is now plying his trade in La Liga. Some of his on field actions were slowly dragging the good name of Liverpool Football Club through the mud. Let's not forget that until Standard Charted got involved it looked like Suarez was not going to apologise for not shaking the hand of Patrice Evra after the pair met after his suspicion ended for racist slurs against him. I'm not going to pretend that having him at Liverpool, at times, wasn't a joy to behold. But, I go back to this again, his actions at times on the pitch for me soured his time at Liverpool. We as fans gave him all the love and support we could but for me time and time again he threw the love and adoration back in to our faces with his antics.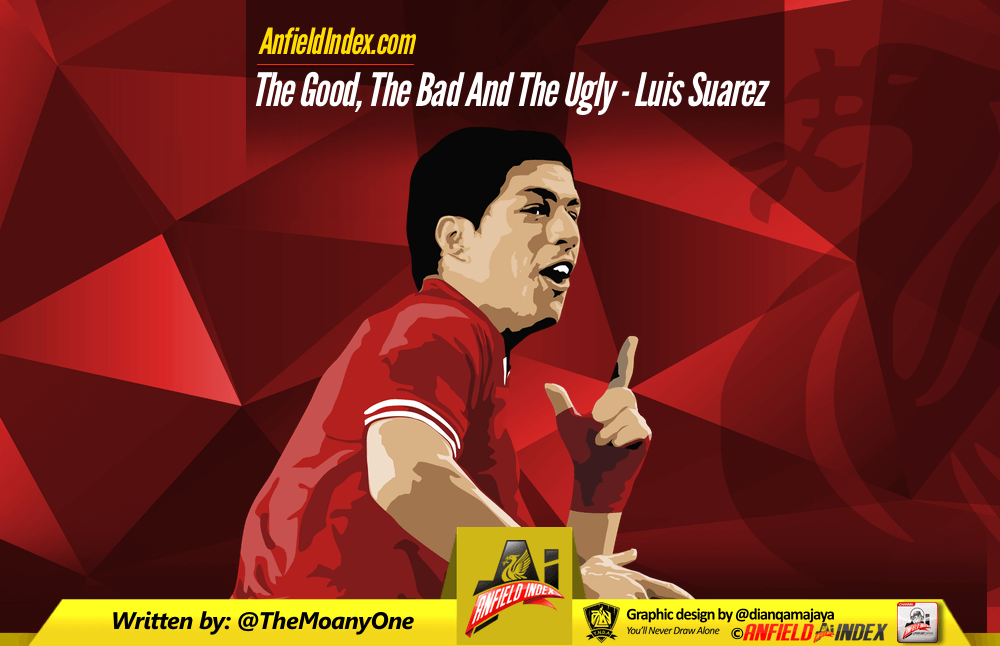 Suarez came to Liverpool in January 2011 from Dutch club Ajax, after Liverpool sold Fernando Torres to Chelsea for £50 million. He went on to play for Liverpool in 132 games scoring 82 goals that's a goal every 1.62 games. That's a ratio, in recent times, that only Daniel Sturridge can get close to, who has scored forty four goals in the seventy three games games he has played for Liverpool (1.66). But whilst playing at Liverpool, we as fans got to see the other side of Luis Suarez. The side of him who acted like a spoiled child on the pitch and who did things that shocked and sickened even the most loyal of Liverpool fan.

Suarez never missed a game for Liverpool in his time at the club through receiving a red card but did miss a whole raft of games due to his behaviour on the pitch. It's not as if Suarez came to Liverpool under a cloud. For him it was probably his last chance saloon, his last chance to get the big move to Real Madrid or Barcelona. And that's exactly what he did in the summer of 2013. This is the summer things went sour for me. I had defended him over the whole Patrice Evra affair, in fact I had almost forgiven him for associating our club with racism. The fact that the players supported him so much probably swayed a lot of the fans to support him, myself included, and thought that maybe his actions were a once off. Maybe the pressure of a Liverpool vs. Manchester United game got the better of him.
If Liverpool fans thought things couldn't get any worse for Suarez he decided he'd try and take a piece out of Branislav Ivanovic. This was to earn him a ten match ban. So Liverpool were without Suarez for the end of the 2012/2013 season and for the start of the 2013/2014 season. As bad as the bite was, and as a Liverpool fan it was hard to defend and hard to justify his actions to fans of other clubs, what happened in the 2013/2014 season for me was the last straw.
Suarez had the season of his life in the 2013/2014 season as he attempted to show football clubs around the world that he was rehabilitated, that yet again he had learned his lesson and if a club was to take the risk and sign him he could be trusted and wouldn't let the club's name down. That year he let his football do the talking and he scored a total of thirty seven goals and assisted in another fourteen goals as Liverpool went on to finish second in the Premier League behind Manchester City. So what exactly has annoyed me about Suarez that season? Well, for me he had only one thing on his mind that year and that was playing his way out of Liverpool, just like Xabi Alonso did in the 2008/2009 season and Javier Mascherano did in the 2009/2010 season. While I know Suarez has showed since he left Liverpool that his performances that season were no fluke, I wonder would he have been so prolific if he wasn't angling for a move away from the club? I somehow doubt it.
What happened next shocked me but at the same time didn't surprise me. Uruguay played Italy in a group game of the 2014 World Cup and in the seventy ninth minute Luis Suarez took a chunk out of Italian defender Giorgio Chiellini. For me like the bite on Ivanovic this was a calculated move. Why? Well after the season Liverpool had in 2013/2014 season it was clear that Liverpool were never going to allow Suarez to leave. The only way Suarez would be allowed leave the club would be if he did something that forced the club's hand and a bite in the World Cup was that incident.
I know some fans will say what I'm saying is out of order but didn't he do the same at Ajax to force the move to Liverpool? So now you can see why I can't understand the love affair fans have with Suarez. Except for one good season he did his best to sully the name of our club and truth be told I'd rather have Fernando Torres back at the club instead of Suarez. At least Torres only broke fans hearts not the clubs good name.