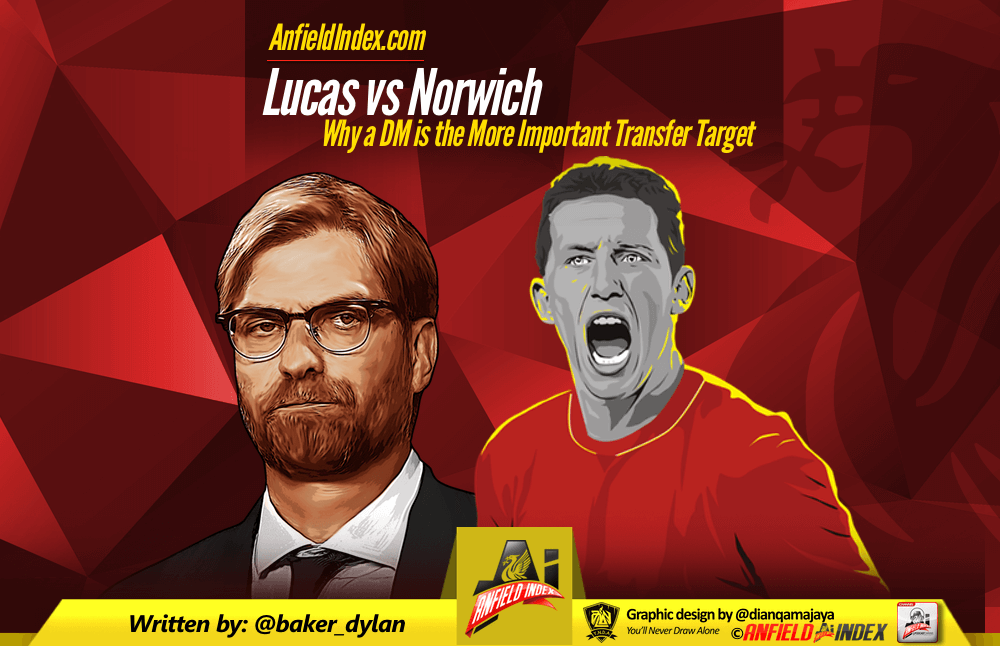 Lucas vs Norwich - Why a DM is the More Important Transfer Target

11:00 p.m. GMT, 1 February is just around the corner, and little transfer business has been done by Liverpool this year.  Marko Grujic is bought and loaned back to Red Star Belgrade while Steven Caulker, believed to be a centre-back while actually, secretly being a centre forward, is loaned in from QPR.  Yes, yes, the Alex Texiera saga rages on – some say he's coming, others that he's not, and still others with more twisted, vague theories about the issue.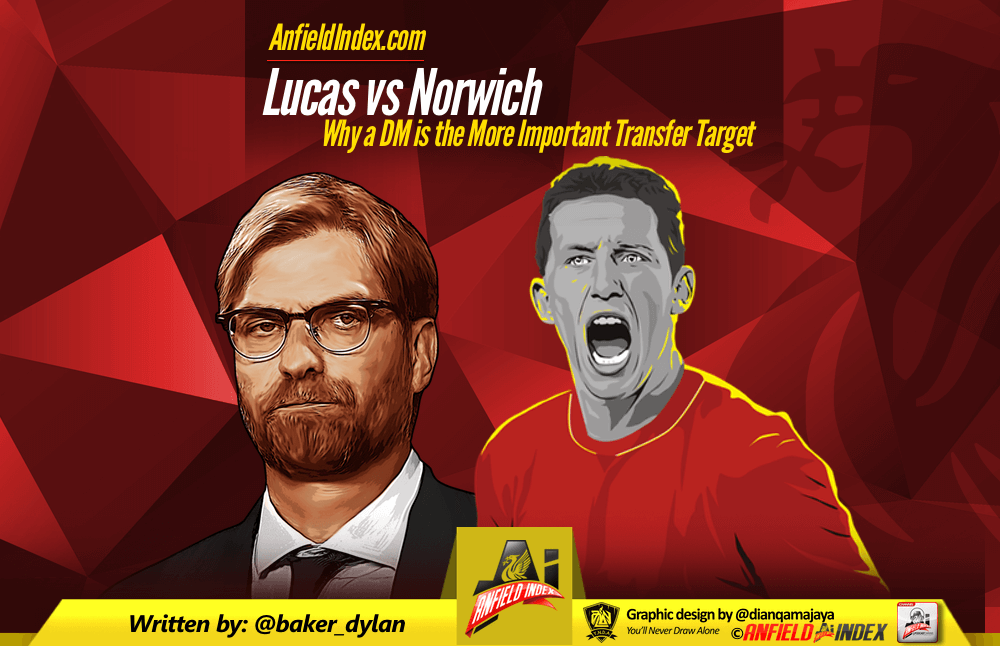 But this article focuses on none of them.  Reaching back to the 5-4 thriller against Norwich City last weekend, there's a particular position that I want to highlight before the transfer window closes.  Oh, yes, folks, I'm going back to that age-old argument – Liverpool might have done themselves well to go out this winter and grab themselves a defensive midfielder of better quality that one Lucas Leiva.
Before there are any shouts for my beheading by lifelong Lucas fans, allow me to present the evidence.  While every footballer as poor matches, few (though still some – see: Jan Kirchoff debut) are almost 50% culpable for three goals in a match.  3.  III.
Lucas can be counted among those faux-hallowed selected after the Norwich match, and that creates a problem for Liverpool, who've now entered the back half of the 2015/16 season.  There needs to be solidarity in the defense, and much of that comes from an effective defensive midfielder to assist the back line by winning the ball high and transitioning the ball into the attack.
Blah, blah, lecture, lecture, blah.  Let's get to the meat of it, shall we?  You fair folk know what defensive midfielders do.  So allow me to show you what they don't do.
Not Mark on Set Pieces
The ball is preparing to come back into the box.  Lucas sees Steven Naismith in front of him, and has a quick glance back to see Sebastien Bassong behind him.  In most situations, there's a choice to be made for a defender: who to guard, and who to allow free?  There's always the option of shouting to your teammates, "HEY YOU LOT THERE'S TWO FOLK THIS-A-WAY," but it doesn't look like Lucas is much up for talking at that point.
Instead of Lucas choosing one to cover and fans watching the repercussion, they see something else entirely – Lucas stands completely still.  Finally, he decides to take two steps towards Naismith, who played the ball back into the box for Chris Martin.  Mignolet then punches the ball away and concedes the first corner against Liverpool, ultimately leading to Norwich's first goal.
Set pieces have been the bane of the Redmen's existence for a few years now.  I've heard the players, their training, 'zonal marking,' and many other things cited as the reason our record is so poor on set plays.  But, in some situations, this is the simple explanation – someone doesn't track their man, or gets stuck with two attackers in a bad situation.  In Lucas's case, I blame the lack of tracking.
It's inconceivable that Klopp would see the film and allow that to stand.  But wait, there's more.
Stand Completely Still against Runners
This is my least favorite of the three videos that I'll show you.  It's also the argument that I'll get most pelted for, but hear me out.
Of course, other things could have been done here.  As in every football match, less often is any one single person the sole cause of a goal than a collective of players.  At the beginning of the video, Henderson is the primary defender against Wes Hoolahan.  Moreno, slightly out of position, is deciding between covering Graham Dorrans out wide for a deep cross and coming in as a second presser.  That's when Naismith takes off on his run inside.
Can could've covered, Moreno could've pressed Hoolahan quicker, Henderson could've tackled the ball.  Heck, Mignolet could've used his feet to save the goal, opting and failing to use his hands instead.  But the above video is the most frustrating.  Lucas is standing, watching for a run by Hoolahan, at the top of the 18-yard box. When Naismith starts sprinting towards the open space between the opposing players, Lucas doesn't even recognize that it's happening.  His eyes are locked on Hoolahan, who plays the assisting pass through to Naismith.
Due to that complete lack of awareness, only when the yellow, green, and pale white Naismith blasts past him does he realize that something bad has happened.
His response?  Walking towards the centre of the 18-yard box, probably thinking to himself, "Aww, man, that's not good."
Indeed, Lucas, it's not good.
Not Cover the "Danger" Players
Sometimes in the game of football, there are players that are better at some things rather than others.  Simultaneously, those players adjust to their strengths.  Per Mertesacker is not fast, so he does not run.  Phillipe Coutinho is small, so when he doesn't win a header, he does not feel sad.
As a defensive-minded player, it's part of the job to a) recognize these things, and b) adjust your judgment calls based on another's strengths and weaknesses.  That's Ivo Pinto standing behind Lucas in the video above.  Allow me to be present how dangerous the Portuguese right-back has been since 2009 in front of goal:
In front of Lucas is forward Sebastien Bassong, whom you'll remember from the first video presented.
The choice here for Lucas is 1. Cover Mr. No Goals, or 2. Cover the Forward.  Technically, he does neither, but we'll say he was tracking a run from Pinto that was unnecessary to track.  Though a bit unlucky for Liverpool on the goal, the players in the line for the set piece have "header the sucker away" duty.  Meanwhile, Lucas is meant to stop the potential for a second ball.
He does not, and Norwich level the score line for the third total time in the match.  Thank goodness Lallana had his boots laced correctly in the end.
My point after all this is simply put: I'm bringing the defensive midfielder argument back to the forefront.  Grujic is not the answer because that's not what I believe he was purchased for.  So, instead of waiting on the 19-year-old to mature into a player that he's not, Liverpool need something quick to shore up the defense.
Though Texeira would have made my heart flutter, it might have been more prudent to chase another position before fighting for a Brazilian we probably won't get.  Klopp said it might only be loans in January, and that's fine.  But an attempt, a whisper, a soft-spoken "maybe" for a defensive midfielder might have made the difference come season's end.
*Credit to Reddit user /u/pubfreeloader for the videos used in this article*