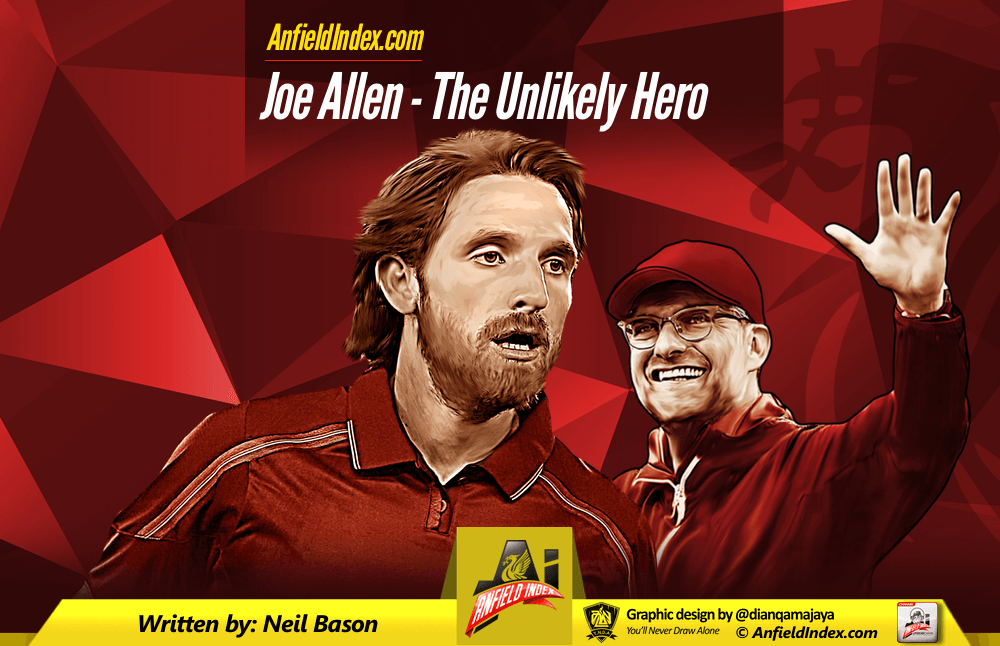 Joe Allen: The Unlikely Hero
I've always had a soft spot for the underdog, or the less fashionable if you will. For the full backs of the world whose 90 minute endeavours flit by largely unnoticed aside from the occasional errors that cost us. For the unsung midfielder, trudging from a mud-filled pitch, steam rising from sodden kit and heart thumping after another solid display that laid the foundations for a win delivered by the golden boot of the star striker and his still pristine shirt. I don't know why I've always been drawn to these players over the big names, big passes and big goals of the star men, but I do know that at one point, David Burrows, was my favourite player.
Following that admission, and before I get my coat, I want to talk about Joe Allen.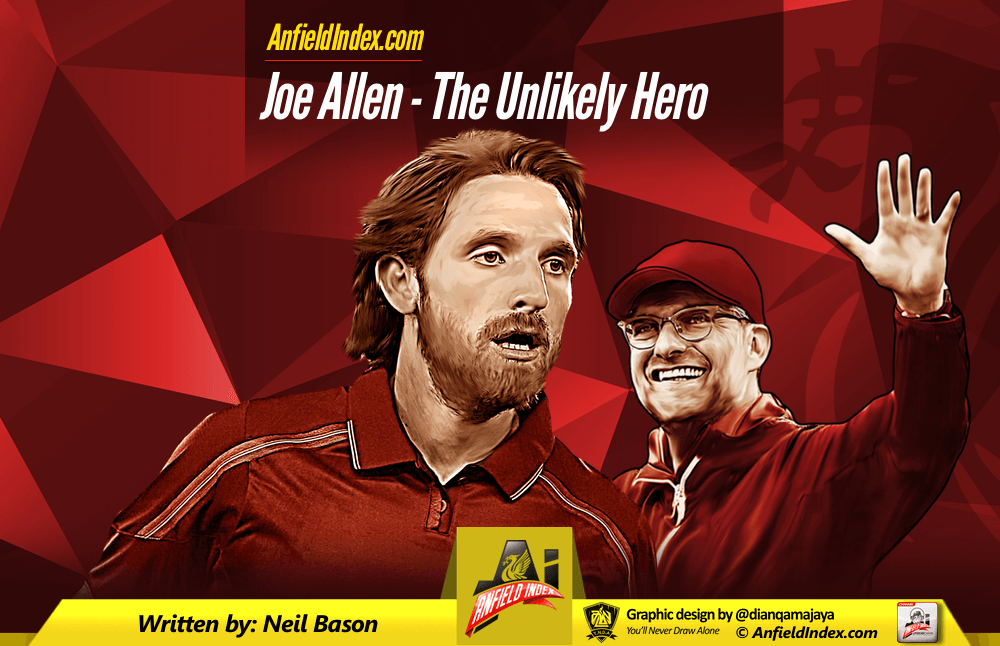 As currently unfashionable players go, Joe has been up there with the best of them, and it's nothing to do with his ever expanding beard and windswept hair. For me and I'm sure many others, Joe Allen was a player destined to fail at Liverpool. A promising start declined and sank into a sea of mediocrity. He failed to capture the imaginations or hearts of the fans, failed to live up to Brendan Rodgers top billing, and with a run of performances that were at best, forgettable, it looked for all intents and purposes that Joe Allen was heading for the substantial list of Liverpool's also-rans.
For myself, I had become tired of watching the diminutive Welshman getting knocked around by more physically imposing players, of which there were many (where's Juninho when Joe needs him?), and putting in performances that lacked the impact to affect the game. Too many ten yard passes, little penetration and no physical presence. The combination of dipping form and growing unrest within the fans ranks looked to be weighing ever heavier upon his frame. When he stood up from the bench and strode to the sideline ready for action, inside I was groaning, confused as to how he was expected to turn the game back in our favour or give us a stronger foothold under increasing pressure.
And then he scored against Arsenal.
A late, late leveller that sent me into euphoric delirium and made me question my previous disdain for Brendan Rodgers Welsh wonder. For a moment every forgettable performance was forgotten…erm, again.
Knee jerk reaction? Absolutely. But sometimes it takes something like that to change the landscape, and that sweet strike in a crowded box had turned despair to joy and made me see our midfielder in a different light.
I watched him intently from the Main Stand as he captained the young side that faced Exeter. A game that I'm sure many first teamers might have taken lightly, but not Joe. He covered every blade of Anfield green, linking play, chasing the lower league opponents like it was the FA Cup Final itself, hitting tackle after tackle, and of course scoring the opener. His work rate was matched only by his desire, and for the first time I felt I finally understood how much Joe Allen wants to make his time at Liverpool a success.
He cemented the fact after coming on to firm up a Liverpool side struggling under the weight of a semi-final and a Stoke side buoyed by a dodgy offside goal (had to mention that it was offside and dodgy), he did a job, a great job in fact, and then capped it by knocking the crucial sudden-death penalty into the top corner. My own delight was immense. Delight for the team, for Klopp, for myself as a fan, and most of all, for Joe.
Opinion within football is a constantly shifting sea of changed minds and hurried backtracking and I've been guilty on many an occasion. In the blink of an eye, and usually coinciding beautifully with a stroke of genius or madness, heroes and villains are born, or reborn as is often the case. With Joe it was different, there was no instant hero, it was rather a case of having my eyes opened to the player he was. The grafter, the scrapper, the trier, the passer, the passionate midfielder with the unflinching desire to win both the match at hand, and the hearts of the Liverpool fans who he must have thought he'd already lost.
I never really expected to be going to bat for Joe Allen, but here I am, swinging for him. Hoping he doesn't leave in January after all, hoping the corner has been turned and the player Rodgers promised he was, is what he eventually proves to be. We're a fickle bunch us football fans, me as much as any, but, I might have just found my new David Burrows, and that's praise indeed!