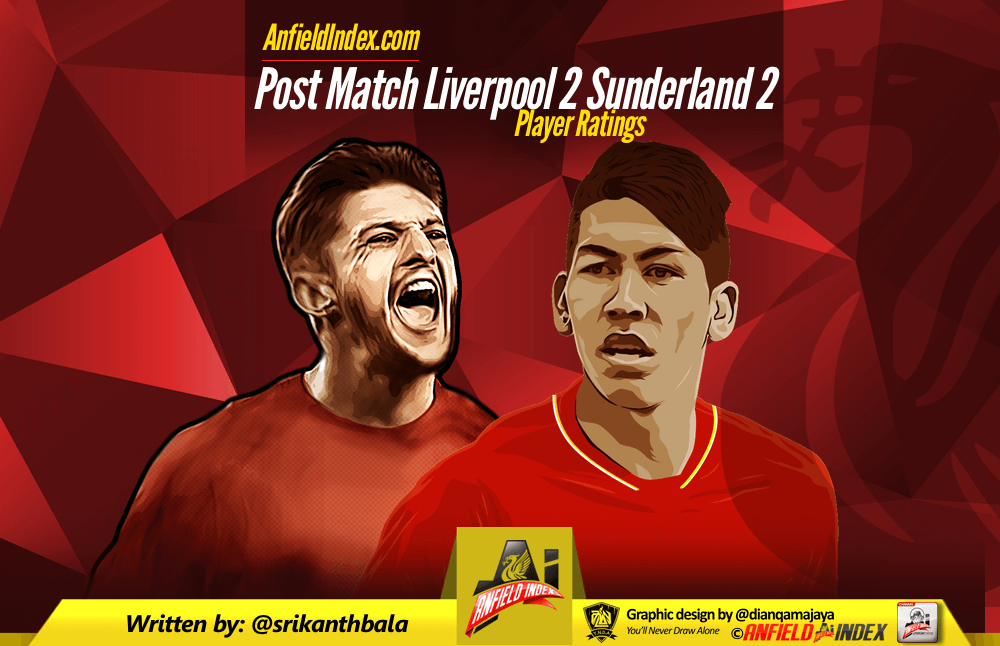 Liverpool 2 Sunderland 2: Player Ratings
Liverpool were yet again left to rue errors from a shambolic defence as the home team gifted away two precious points at home. Liverpool needs a win, and they need it now.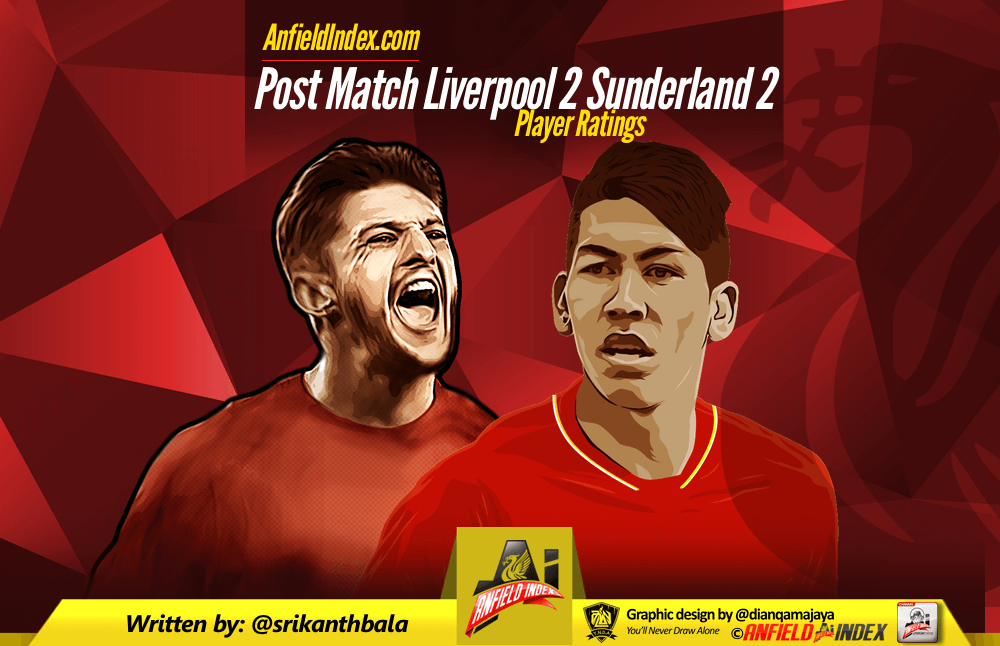 This is how the players fared:
Simon Mignolet (4.5) – Simon Mignolet was a passive spectator in the first half watching couple of wayward shots go by. The crowd were very unhappy with his dilly-dallying on distribution, but he proved them wrong with his horrendous early release in the second half that almost caused trouble. A typical Mignolet error on the Johnson free kick cost Liverpool points again. The new contract looks fool- hardy with every passing game.
Alberto Moreno (6.5) – With Liverpool dominating possession and the team willing to get the ball wide as early and often as possible, Moreno was presented with a couple of good chances in the first half which he could not capitalize on. He stayed very high up the pitch as Liverpool constantly won the ball early and played it wide. He also played a great ball across the box early in the second half which went begging. Overall a solid performance from Moreno.
Dejan Lovren (N/A) – The Croatian's day was cut short very early due to an injury. A real blow to him as he had just returned from time out from injury. The injury curse continues at Anfield.
Mamadou Sakho (4.5) – Sakho had couple of nervous moments in an otherwise lacklustre first half defensively for Liverpool. He constantly stepped up to midfield to pass the ball deep into the attacking midfield. His closing down of Jermaine Defoe for their second half left a lot to be desired. A sequence of poor performances now from Sakho.
Nathaniel Clyne (6) – Clyne had a very good first half as he saw lot of the ball and his unpredictability in terms of staying wide or cutting in often helped Liverpool to dominate the wider areas. His end product could get a lot better though. A good performance from Clyne.
Emre Can (6.5) – With Lucas dropping to the bench, Emre Can played as the deepest midfielder, often tasked with cutting out any potential attempts from Sunderland and get the ball back into the attacking areas. The German was far more attacking in the second half as Liverpool went in search of goals.
Jordan Henderson (5.5) – Not a very good first half from the Liverpool captain. The passing and decision making was sloppy, with the captain shy from shooting at target in the first half. The second half began in the other extreme with couple of wasteful efforts.Not a good sign if the injury is hampering his game-play.
Joe Allen (7) – Joe Allen was clearly the best player in the first half before he had to be taken off with yet another injury to a Liverpool player. Allen relished playing the advanced midfielder role, with excellent off the ball movement and harrying off the Sunderland players. His one touch one-two move with Firmino was a refreshing sight.
Adam Lallana (6.5) – Lallana was decent on the ball with his neat touches and turns, but had no end product in the first half. The goal was put on a plate for him by a self-less Firmino. He also could have been more braver on their second goal and needs to contribute with far more goals though.
James Milner (6) – James Milner, yet again cannot be faulted for his effort but the constant non-ability to make use of the ball on the box efficiently hurt Liverpool in the first half. His delicious delivery in the second half for Firmino's goal made amends though.
Roberto Firmino (8.5) – Had a very good first half with his first touch often taking out the Sunderland defenders. Liverpool's star player had a good attempt on goal which just went above the goal and he continued his good form in the second half with his touch and turn creating an early chance. Ultimately he got his well deserved goal with a clever spin to get away from the marker and headed it across the keeper. The Brazilian then created the second goal all on his own with his endeavour to close down Jones and win the ball. He was selfless enough to pass it to Lallana who was in a better position, a rare good decision making situation.
Substitutes :
Kolo Toure (6) – Had a quiet first half but was constantly troubled by Defoe's movement off the ball. He stuck to his task and made some vital interceptions and clearances.

Jordon Ibe (6.5) – Ibe was a bright spark in the second half providing the pace and directness from wide areas which caused havoc in the Sunderland defence. A solid performance from Ibe and more of the same would be welcome.

Lucas Leiva (N/A)