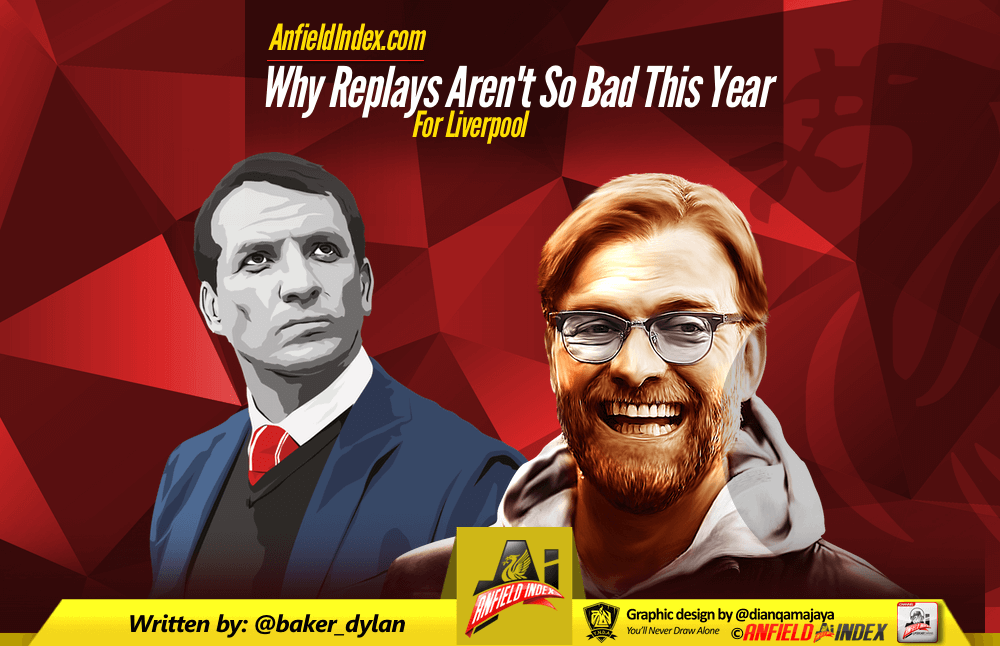 Why Replays Aren't So Bad This Year For Liverpool
The most recent result is in – after a fair performance by a young Liverpool squad against a full West Ham side, the FA Cup Fourth Round came to a nil-nil close.  West Ham confirmed the replay date shortly after the match: 9 February.
Replay.  It's a word Liverpool fans have grown to loathe in seasons past.  There is, of course, plenty of evidence why a replay is not ideal.  Dan Kennett recently stated on the Under Pressure podcast for Anfield Index that Liverpool are averaging only 4.03 days per match under Klopp since he arrived on Merseyside.  Which, in case it hasn't quite registered yet, is absolutely ridiculous.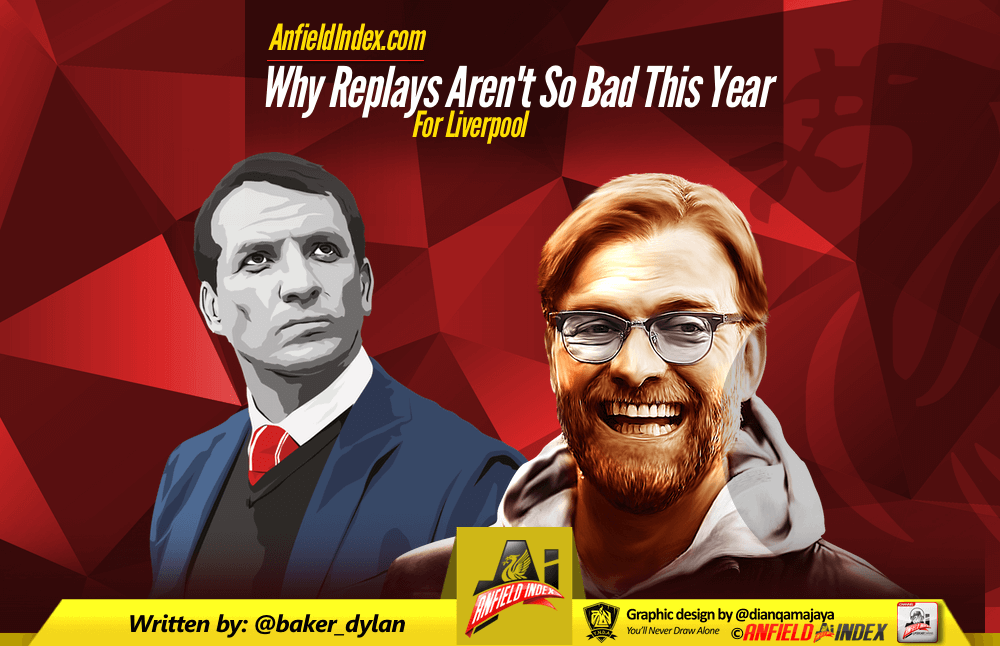 Last year, replays made life difficult for Reds and Reds fans.  For the players, it offered fixture congestion in a crucial second half of the league campaign.  For fans, Liverpool were forced to a replay against sides that should've been dismantled easily.  Same story, different season.
So why are replays OK this year?  With a higher number of injuries, which seem to come primarily from high levels of stress on the muscles, one might think that Liverpool should be less accepting of domestic cup replays.
The difference, like many things since 8 October, is Klopp.
Now, even Liverpool fans have to be getting tired of "Klopp does this thing and it's better than Rodgers because Klopp."  That's not what's being offered today, no worries.
In the 2014/15 season, wear-and-tear was damaging to the Reds, no doubt.  A quick look at the worst periods of fixture congestion shows that, in many ways, the replays were unnecessarily putting extra stress on the squad.
Just to throw some numbers around, the month-long span from 5 January to 4 February, 2015 was a madhouse.  The January period is always a bit rough, with the beginning of the FA Cup always throwing a wrench in the gears for Premier League teams.  For Liverpool, it also meant the two-leg Capital One Cup semi-final, creating havoc in the last week of the month.
First, then-bottom-half Bolton Wanderers forced a FA Cup Fourth Round replay after a nil-nil draw at Anfield (sound familiar?).  Surrounded by the Capital One Cup matches, the replay was scheduled for 4 February, which saw a Coutinho wondergoal send Liverpool on to the next round.
Though Blackburn, another bottom-half Championship side, also forced a nil-nil result, the replay was not scheduled in such damaging fashion – a month lay between the two matches.  But, considering the 4-1 drubbing by Arsenal four days prior to traveling to Ewood Park, there was a strong chance of missing out on a positive result.  While that didn't end up being the case, it also wasn't a necessary addition to the schedule.
But why does this matter?
With the trip to the Boleyn Ground just over a week away, it's important to look at the teams sent out for the domestic cup matches.  Injuries at this stage during both campaigns were crucial factors for Rodgers and Klopp when it came to team selection.  Even with that taken into consideration, their choices could not be more fundamentally different.
Since 1 January 2015, Liverpool have competed in nine FA Cup matches.  Of them, only two were not in any way related to a replay: the 2-1 Third Round win against AFC Wimbledon and the 1-2 loss to Aston Villa in the semi-final last year.  Every other match has either forced a replay or been that replay.  Listed above are those fixtures, and the kind of players selected by the respective managers.
Rodgers went into the domestic cups with the intention of winning strong.  After having a poor start to the 2014/15 season, there was a transition of focus that allowed for much more attention to be paid to non-league competitions.  And fair enough – reaching two semi-finals is nothing to laugh at.  Liverpool performed admirably against Chelsea, but went out rather abysmally to Villa.
The data above shows just what kind of team Rodgers opted to select.  Phillippe Coutinho, Raheem Sterling, and Mamadou Sakho featured in each match, with Emre Can, Jordan Henderson, Steven Gerrard, and the oft-maligned Daniel Sturridge appearing in others.  Rodgers wanted to ensure success in the cups, so his heavily-stacked first team selection for those fixtures reflects that attitude.
Current manager Jurgen Klopp, on the other hand, clearly has a different idea.  Against Exeter the first time of asking, he used Christian Benteke from the first team, Adam Bogdan from the squad, and longtime fringe "footballer" Jose Enrique among a side of kids.
Academy players.  Kids from the U21s.
In response to conceding twice, he replaced Bogdan with Simon Mignolet, inserted Joe Allen and Jordan Ibe to bolster the attack, and walked out of Anfield two weeks later with a 3-0 win.
The just-past match has forced a nil-nil replay, but among those that shined were Cameron Brannagan, Joao Texeira, and Connor Randall.  Had the opponents not been fellow Premier League team West Ham United, Klopp might not have chosen as many first team players as he did.  But even considering the higher quantity of senior squad players, anyone who needed a rest got it.  In their stead, Benteke, Ibe, Allen, newly-revitalized Dejan Lovren, and loanee Steven Caulker strengthened a Liverpool XI that was unlucky to come away without advancing.
Klopp put together a team that he believed could win, and they only narrowly managed to not do so.  But the side from Saturday won't be the same one Leicester will face on Tuesday.  The rotation of players depending on the situation, individual player health, and fitness is the key for success this season.  With Klopp's rotation approach to a campaign that sees the Reds still in four competitions, it's hard to be upset about the replays.
Because we simply go again…just with some of the kids.