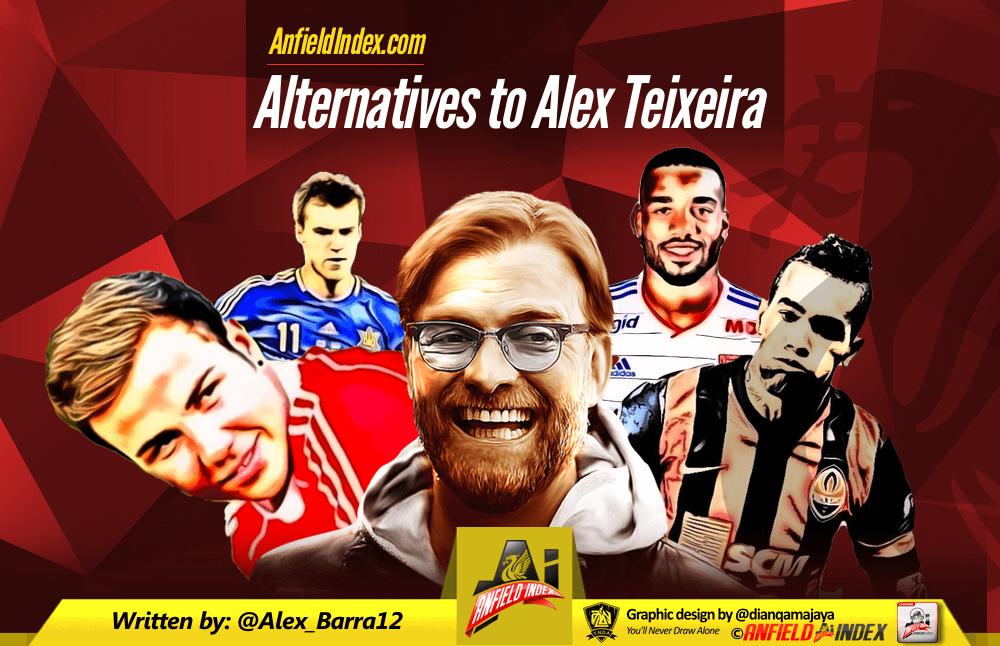 Alternatives to Alex Teixeira
With the looming figure of deadline day hovering beyond the next horizon, and Sky's ever-present coverage seemingly set to focus on whether Liverpool will be successful in their pursuit of an attacker, specifically of Shakhtar's devastating little Brazilian, questions are abound. Will Liverpool re-enter negotiations? Will Shakhtar be convinced into selling their prize asset? Will Liverpool agree to pay an astronomical fee, and if not, will they do any alternative business on deadline day?
It is posing that last question that brings us here; is Alex Teixeira worth the price the Ukranian side are demanding? If Jurgen Klopp doesn't think so, then here are a few alternatives to the little Brazilian that could well do the job.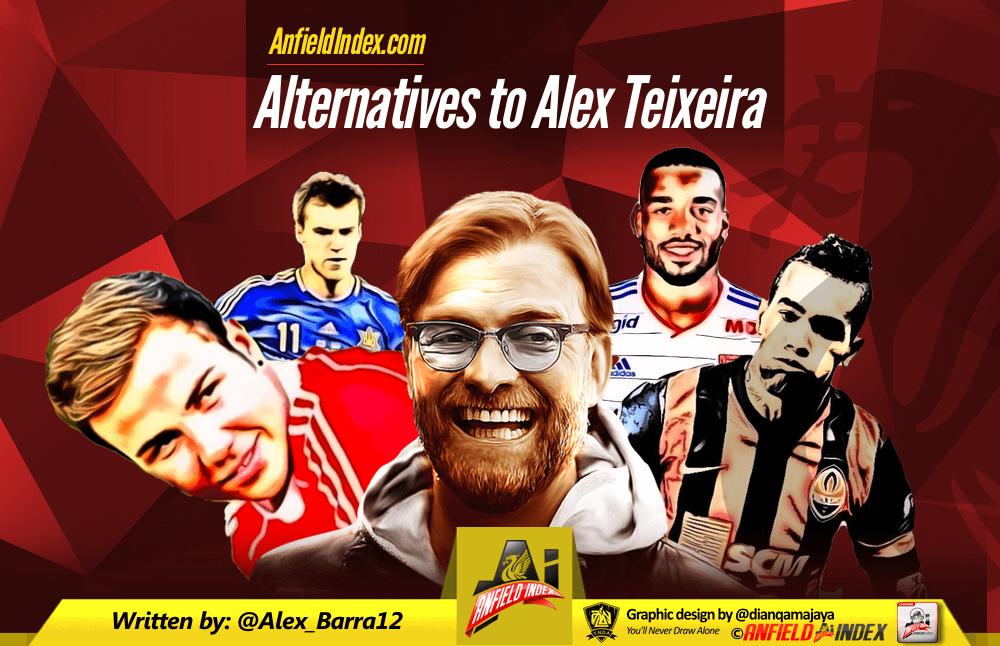 Mario Gotze
Okay, so humour me.
If Shakhtar are demanding upwards of €50 million for a player who is yet to earn a cap for an admittedly shambolic Brazilian national team, who has scored all of his goals in a league of weaker quality and who is already 26 years of age, then what's to say that astronomical sum of money, when attributed to Teixeira, is not too huge a gamble? Why not spend it on star power? If we're willing to go that high, then there's one star that immediately fits into the limelight.
Jurgen Klopp's golden child.
In his most monstrously dominant seasons at the helm of Borussia Dortmund, one man stood out amongst the masses as the fire burning the brightest within a collective inferno. That of Mario Gotze, who was integral to Jurgen Klopp's blistering gegenpressing system, and who combined with his fellow attacking midfielders to extremely devastating effect. The idea of Gotze combining with the likes of Roberto Firmino, Phillipe Coutinho and even Daniel Sturridge (if you can be optimistic about our chances of getting Gotze, you can certainly be optimistic about seeing Sturridge again) is simple tantalising, whichever way you look at it.
The obvious twist comes with the pricetag; Gotze plays for Bayern Munich, who will demand a pretty penny for someone they prized away from their rivals Borussia Dortmund before their meeting in the Champions League final in 2013. But then Gotze has not had the best time in Germany due to an unfortunate injury and the tendency to be played out of position. A reunion with the man that made his career could well be one hell of a motivator.
So, here's to optimism then.
Andriy Yarmolenko
Speaking of the Ukrainian League, a talent who's developed in the same setting as Alex Teixeira but with a different context, is Andriy Yarmolenko. Where Teixeira, at 26, is yet to achieve a cap for his country, Yarmolenko, along with his opposing number in Yehven Konoplyanka, pulls all the strings for the Ukrainian national team. Yarmolenko, at 26 years of age(the same age as Teixeira) has an impressive goalscoring record of 22 goals in 55 appearances for Ukraine – a team, who in all honesty, is not a powerhouse in world football. Similarly, since 2011, Yarmolenko has not gone a season without scoring at least 13 goals, including a 21 goal haul in 39 appearances in 2013/14. This season, he has scored 13 goals in 22 appearances; all this from a goalscoring wide midfielder. Where Teixeira's goalscoring record in Ukraine is phenomenal, Yarmolenko's is certainly impressive and what Jurgen Klopp desperately needs other than a striker, are goals from his midfielders.
In Andriy Yarmolenko (for a considerably cheaper transfer fee; approximately £21 million) Liverpool would obtain a fantastic talent who would tactically offer them width as well as a tremendous goal threat. It's a no brainer, should the Teixeira deal not represent value for money.
Kevin Volland
It's the age old adage; the partnership is broken up, one of the pair goes off to chase pastures new, chasing success at a bigger club, but the partnership is never the same. It's the story of Kevin Volland and Roberto Firmino at Hoffenheim. Volland's season is hanging by a thread after a disastrous start, compounded by a lack of goals; a problem mainly attributed to the lack of Roberto Firmino's presence in the side. Volland is now plying his trade in the central striker position at the helm of Hoffenheim's attack, and is the only real shining light in the German side's season. One which has seen one manager departed and the replacement, Huub Stevens, under intensifying scrutiny.
What this season has done is shown Kevin Volland to be a versatile weapon who's capable of carrying the goals burden of a side. These are all traits which epitomise Jurgen Klopp's checklist for his barren Liverpool side. In Volland, who has managed 5 goals and 2 assists in 16 Bundesliga appearances so far this term, and two man of the match awards to his name, Volland would be able to combine with his former partner in crime and provide a welcome goal threat to an otherwise desperate Liverpool side.
Alexandre Lacazette….in the Summer
Although most Liverpool fans would be more content with an immediate boost to this season,  the truth of the matter is that Jurgen Klopp is yet to have a proper pre-season with his squad. He is averse to spending big money on transfers  (his most was £19m on Henrikh Mkitaryan) and would be better served analysing and scouting proper transfer targets that he can spend time mulling over, rather than take what would be a sizeable gamble for over €50 million pounds, when better value alternatives may be present in the summer. With all the talk of Alexandre Lacazette's ridiculous links to Newcastle, the fact of the matter is Lyon will not sell such a prized asset until the summer; when the feeling is they will look to cash in on said asset.
With the underwhelming season he's currently having with a struggling Lyon side, Lacazette has found goals much more difficult to come by. Missing his partner in crime, Nabil Fekir, who suffered an unfortunate knee injury, Lacazette's goal tally stands at 7 goals in 19 appearances for the French side, and should they want to cash in on that asset in the summer, the opportunity is ripe for the taking for Liverpool to try and get what would be a superb coup. Lacazette is a proper Jurgen Klopp striker; linking up with his dynamic attacking midfielders, lethal inside the box and quick in tactical mind. 27 goals and 6 assists in 33 Ligue 1 appearances is the sign of a potent striker when deployed correctly. Should Jurgen Klopp opt for sensible patience, it would certainly pay off.
Either way, here's to optimism. Remember, we have Jurgen Klopp. Things will turn out alright.