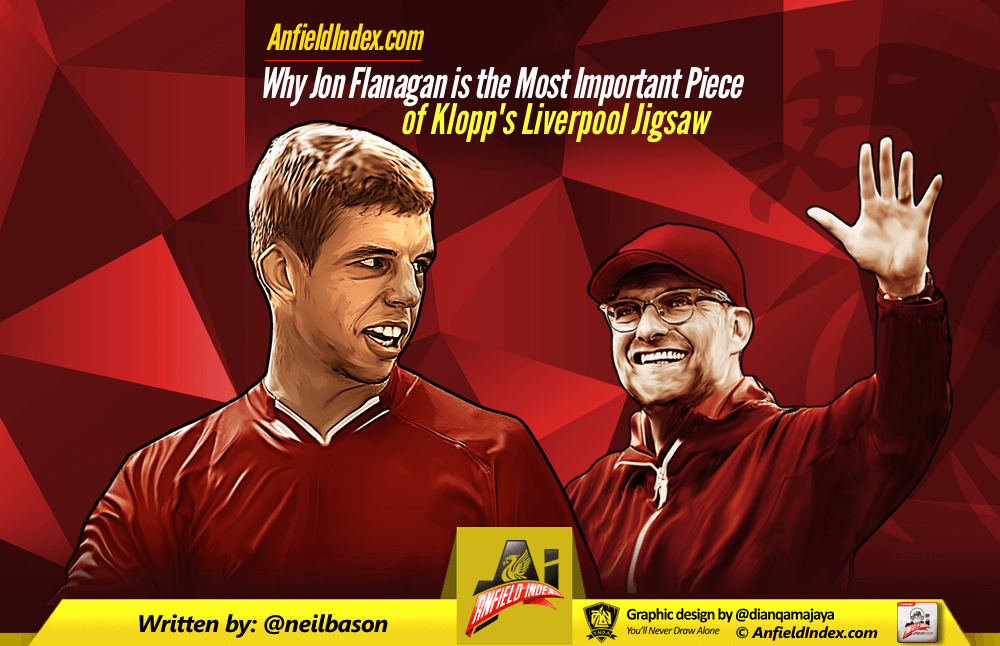 Why Jon Flanagan is the Most Important Piece of Klopp's Liverpool Jigsaw

When Stoke were welcomed to Anfield for the League Cup second leg clash last week the resulting game from a Liverpool perspective could only be described as drab and disjointed. The performance of the team lacked any of the fluid, free flowing football that rears its head every so often but seems to have become an ever more rare sight when the reds take to the pitch of late. Instead, the lads had to grind out what resulted in a hard fought 1-0 defeat over 120 minutes, before booking the Wembley trip via the lottery of the penalty shoot-out.
But, within the bleak backdrop of that semi-final performance, and just before the euphoric rush of Joe Allen's penalty hitting the net, there was a beacon of light shining bright throughout. That beacon went by the name of Jon Flanagan, and he's a player I consider to be the most important piece of the Liverpool team jigsaw Jurgen Klopp is trying to assemble.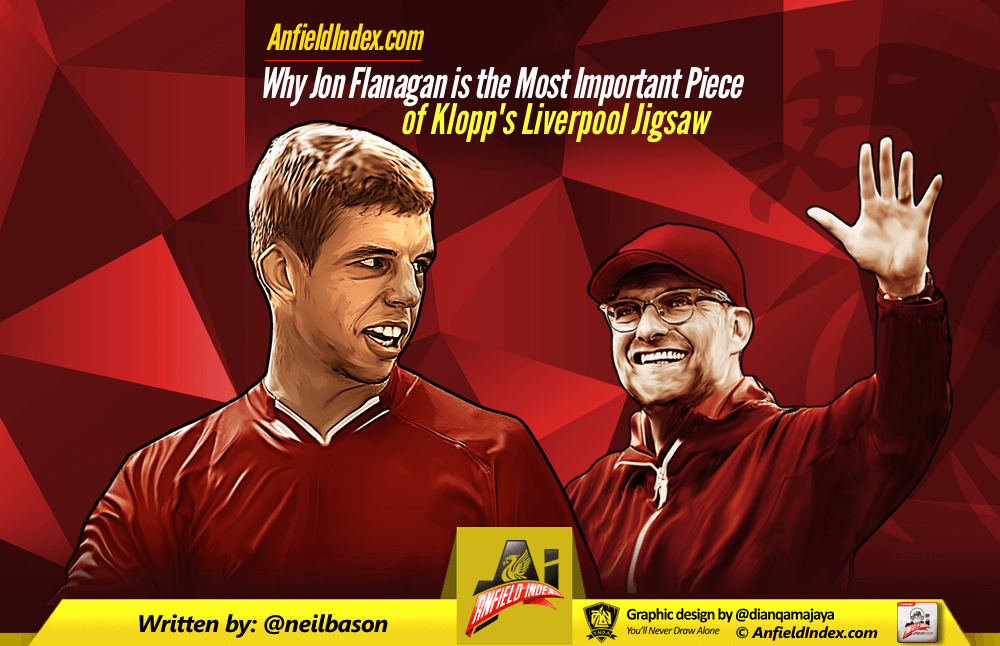 What Jon Flanagan produced for the team that night was incredible. A player just back from a 20-month injury lay-off who visibly pushed his body firmly beyond the pain barrier for the club he loves. It was a performance that reminded me of Carragher in Istanbul, I know, I know, that was in dramatically different circumstances and was a very different performance, but what I mean is, here was a lad willing to go to levels of pain and discomfort for the club where others would have lay down and prayed for a nod from the subs bench.
And I can honestly say I wasn't a bit surprised.
From his early performances, Flanagan, left me with echoes of Rob Jones. A real defender, a throwback almost, to when full backs took pride in playing out of tight situations rather than hitting the deck and hoping to buy a freekick from today's gullible referees. His calm head under pressure and ability to hit with ferocious yet, mostly, fair tackles instantly had me taking a shine to this local lad.
I began looking out for him in every game, watching him walk out onto the pitch with so much pride I almost expected it to burst from his chest, the crunching challenges, the never say die attitude, the vastly underrated ability on the ball, and deceptive pace. He acquired the 'Scouse Cafu' moniker along the way, but for myself he was then, and is now more than ever, far more important to Liverpool than that. Here was the most natural full back I'd seen in red for years, the long overdue natural successor to Rob Jones, and a future club captain.
In recent months a lot has been written about Liverpool's lack of on pitch leadership. To be honest I've always been unsure how we draw the conclusion that Henderson lacks the captains ingredients, or anyone else for that matter. As far as I can see it's all hearsay based upon our impressions of each as a character. But, what can't be denied is that we have lacked someone with the level of unquenchable thirst for victory that filled Gerrard, Carragher and Suarez. When those three left the club we lost more than the sum of their incredible abilities as players, we also lost players whose desire to succeed was impossible to ignore. Players whose drive to win rubbed off on all those around them. Jon Flanagan is a player harbouring that same fire in his belly. He loves the club and knows exactly what it means to the fans, and this is wonderfully evident every time he takes to the pitch.
Klopp highlighted Flanagan's efforts against Stoke and rightly so. For a player making a first start after such a dark period in his life, to then push himself so far without a second thought of risking further injury was both astounding, and, a massive credit to the heart that beats in Jon Flanagan's chest.
We need our home grown full back in the team more than ever right now. He's the most important member of the Liverpool squad. We need his determination to fire up others around him, to inspire them, to elevate their performances to his level. Can you imagine how much less flak Christian Benteke would be taking right now if only he'd show the level of desire and work rate that resides in Jon Flanagan. We love grafters at Liverpool and local ones even more so, if they can also hit with a bone crunching tackle and pass like a dream then a love affair is on the cards. The reception awarded to Flanagan as he came off the subs bench against Exeter spoke volumes about how highly he's regarded by the fans, and it's imperative that Klopp recognises that and keeps the local heartbeat in the side.
Some have suggested Flanagan plays at left back, with Clyne at right back. Guaranteed he would do a job there as he has in the past, but for me, his name is first on the team sheet and Clyne, or Moreno, or whichever full back arrives in the future, fits in around him. Jon Flanagan provides more than just the local connection, he also brings the sort of attitude that blossomed in Carragher, in Hyypia, in Jones, in Hansen, and Smith. He's a true defender, a throwback player in a modern game and I absolutely love him for it!
Is Flanagan's future at Liverpool FC? Will he make it into the first team? Use a promo online to have a punt on whether or not he will make it!