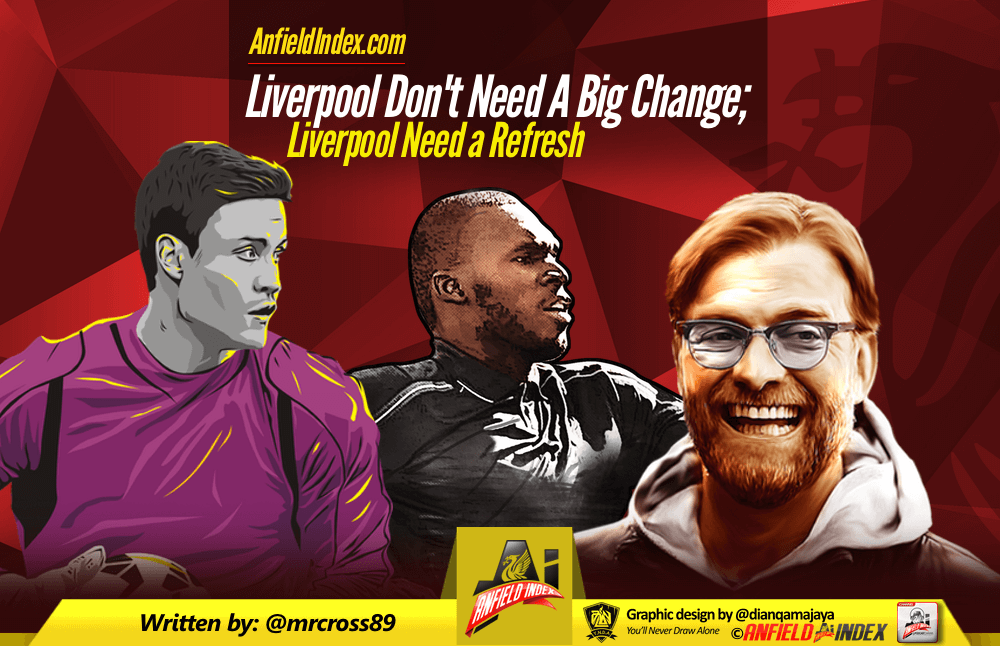 Liverpool Don't Need A Big Change; Liverpool Need a Refresh
It's been the debate that has raged on since for some time under FSG ownership, is this Liverpool squad good enough to compete with the best the world has to offer?
Quite frankly not according to the likes of Souness, who has labelled Klopp's current crop as average with fans agreeing that there needs to be a clear out in the summer. But Klopp sees things in a different way, stating that quick fixes will not solve much and that he is happy with the squad.  Quietly, though, he will know that the teams he picked for the FA Cup shone a light on Liverpool's lack of depth in certain areas of the pitch.
He is right to suggest that Liverpool do have a good squad and it has been a bad run of injuries to key personnel that has unbalanced the squad. A fully fit Liverpool with all 18 key players available for selection has been something of a pipe dream for Liverpool supporters this season.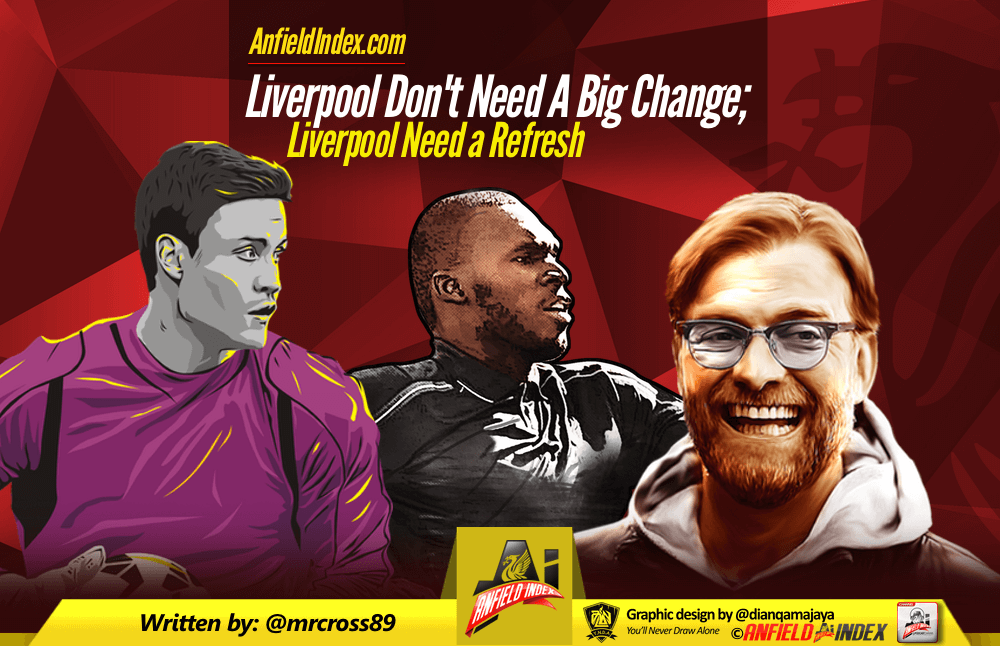 Defensive depth
Liverpool's Defenders kept 13 clean sheets in total so far this season, with notable stop outs against the likes of free-scoring Leicester, away at Arsenal and Tottenham and an away win at Stoke City. Much maligned Simon Mignolet, despite keeping more clean sheets that any other keeper last year still doesn't seem to have the confidence of the Kop. For every clean sheet made, there is sure to be a howler to follow. Jurgen Klopp has faith in him and there are worse keepers out there, the question remains if Danny Ward will prove to be good enough competition  threaten his place
Those who argue that consistency is key will feel sorry for Simon, because he has rarely had a consistent team of centre backs to work with this season. Between Dejan Lovren, Mamadou Sakho and Martin Skrtel, 32 games were missed due to injuries in this campaign. An unsettled back two which is disrupted by injuries will always cause the team problems, not least because it takes our defenders a few games to settle back into their rhythm. It will be interesting to see how Tottenham will fair without Jan Vertoghen now that he is out injured. It's the first time this season that Spurs have had an injury strike their solid Belgium wall.
Mamadou Sakho and Dejan Lovren have started to prove that they could be the first choice pairing moving forward, so long as they give us more Leicester (at home) style performances and less West Ham type performances. Martin Skrtel is a good option for cover, although if an attractive offer was to come in for him, then it might be a good chance to freshen up the defence and let him go. Steven Caulker had a confident and impressive game against West Ham and could be a candidate if he continues with performances like that, and Kolo Toure still puts in a shift when required.
An intriguing battle has begun between Nathaniel Clyne and Jon Flanagan, which is perhaps one of few selection headaches Klopp has had to deal with since becoming Liverpool manager. Both players are very good and this healthy competition may see the two players get the best out of each other. On the left side of the defence,  the jury is still out on Brad Smith, who has impressed in patches in the games he has played but still some way off the ability of Alberto Moreno. This is a position where Liverpool have been left light due to the unfortunate injury of Joe Gomez.
Midfield and Attacking Depth
The absence of Jordan Henderson ( who has missed 23 games due to his persistent heel injury) has caused an unbalance in the midfield where the alternatives have not been good enough to replace him. James Milner, Lucas Leiva and Joe Allen have been useful options alongside Emre Can, but the reality is that there are not enough goals, assists or any real quality to warrant a place ahead of Henderson.
Kevin Stewart, Joao Teixeira and Cameron Brannagan showed a lot of promise against West Ham, demonstrating signs that they could step up to the plate against Premier League opposition shortly. Marko Grujic will be another young, exciting young player who will add to the mix in the summer. A refresh will be inevitable if Klopp has any plans to use these youngsters moving forward, with Lucas and Allen perhaps coming to the twilight of their Anfield careers.
Ahead of the midfield is the front three that has shown potential but has seen injury rob them of the chance of playing consistent matches together. Coutinho, Fiminho and Lallana have shown signs that they can be very effective in the final third, so it's a shame that just as they were starting to get some games under their belt, Coutinho pulls up with an injury in the Britannia Stadium. Coutinho joined an injury list of forward players including Ings, Origi and Sturridge, all players who have shown great attacking performances this season. 
Unlike Benteke, whose poor run of form hasn't helped during Liverpool's striker shortage with the Belgium apparently affected by the pressure of the price tag. With Ings out until the end of the season and Sturridge proving unreliable, the pursuit of Alex Texiera made sense, but with Liverpool unwilling to pay the asking price, an alternative must be sought out before the end of the transfer window. A lack of width has also been an area of concern, with Jordan Ibe being the only natural winger in the team whose form has also dipped in the last few games. Lazar Markovic has been proving useful for Fernabache, but the jury is still out as to if he will want to come back.
A lack of width has also been an area of concern, with Jordan Ibe being the only natural winger in the team whose form has also dipped in the last few games. Lazar Markovic has been proving useful for Fernabache, but the jury is still out as to if he will want to come back.
A major clear out in the summer may not be needed, but an injection of new players is. There are players on this current team who are coming to the twilight of their Liverpool careers and other players who must ask whether their style suits the team's way of playing.  The spine of the team is still excellent and an injury free squad is a lot more capable than some may think, but the alternatives to the first team players do need improving if Liverpool want to be in a position to challenge for major honours.
Liverpool need signings that will make an impact as our squad is full of promising talent and squad players. Let's hope that by the summer, Klopp will use his appeal to attract some talented, established players to join a promising group of players and FSG will dip into the millions coming their way to make this happen.