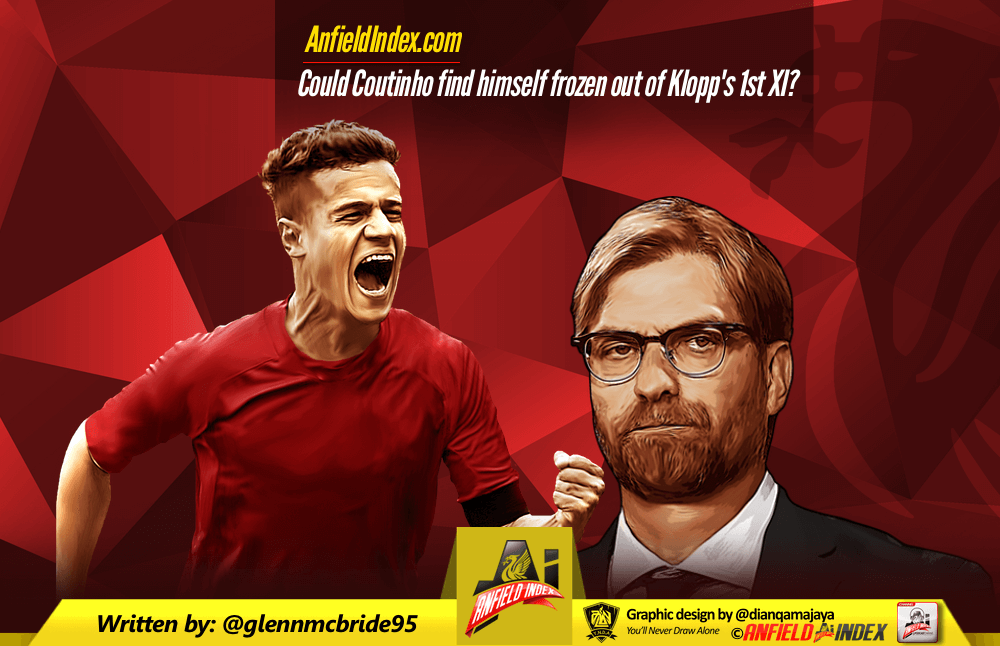 Could Coutinho find himself frozen out of Klopp's 1st XI?
Could Coutinho find himself frozen out of Klopp's 1st XI?
To say that Philippe Coutinho is a top footballer would be a criminal understatement. The diminutive Brazilian has the kind of ability that can bamboozle defenders and leave spectators speechless, his touch is a thing of unrivalled beauty, his long-range strike a sight to behold. Ever since he strolled into Liverpool he has been nutmegging and jinking by players with the sort of ease one imagines he also ties his laces or combs that hair. Nobody who has watched him ply his trade over the last few seasons would argue that he is not a special talent. His efforts against Southampton, Bolton et al last season were one of the few bright spots in an otherwise bleak period for the club, giving us a glimmer of hope where none should have existed. That is the calibre of player he is.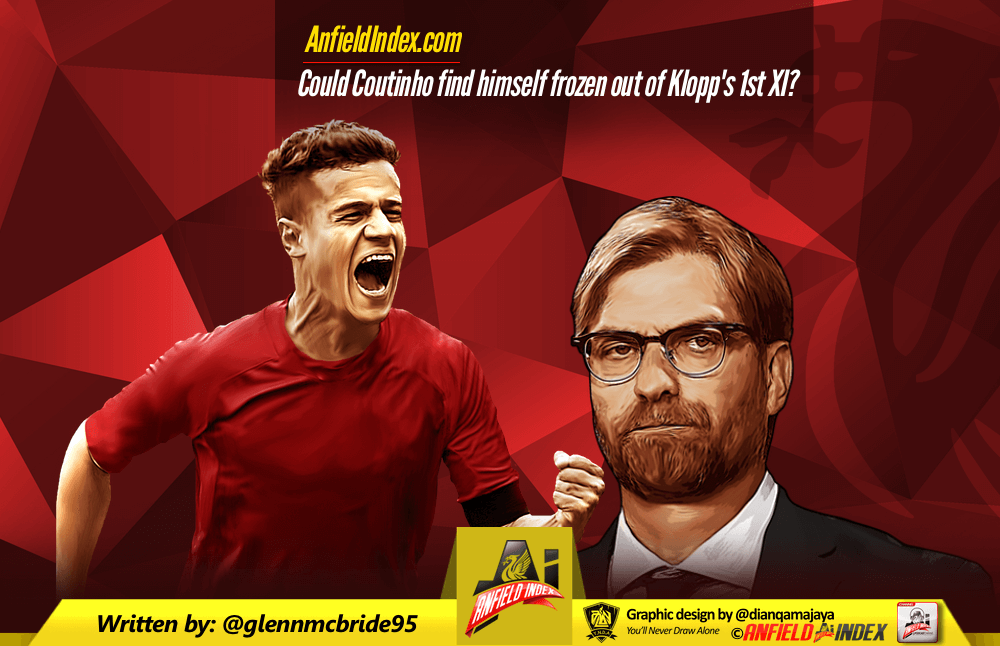 However, since the conclusion of the 2013/14 season, Philippe has blown both hot and cold in equal measure. Played in a variety of positions in a variety of systems understandably his form fluctuated somewhat. Too often we have seen him played out on the wing, where his contribution to build up play is minimal and his impact on the game is softened. This is squarely down to the previous manager- Coutinho can hardly be blamed for that- but too often (when played in a central position) have we also seen the player himself waste a promising move with a speculative 25 yard effort, or hesitate to pull the trigger on a killer pass. At times it can appear that he does not trust his team-mates, that the lack of Sterling or a Suarez unsettles him and allows doubt to creep into his mind, but the cause of his somewhat temperamental form could lie in the fact that despite looking like a typical number 10, his optimum position actually lies deeper.
During the latter half of the aforementioned 2013/14 season, Coutinho mostly operated on the left side of the diamond, this meant that when he had the ball at his feet, he had passes on to Henderson, Suarez, Sturridge and Sterling on, the protection that Stevie offered behind him meant that he was also free to try and beat his man if he wanted. This meant that Coutinho had a plethora of options available to him whenever he was in possession. All of this combined to allow Phil to play the best football of his career to date as the Reds came so tantalisingly close to winning the league. Fast forward 18 months and Phil has never had the chance to play in that deeper role again, the diamond midfield seemingly forgotten by Rodgers during a time of tactical tumult. When Coutinho receives the ball in the hole now, he only really has one passing option, that being towards the lone forward. When he receives the ball on the edge of the box, he very rarely picks the pass to unlock a packed defence. He has never been the David Silva type playmaker, who can dominate games by spreading play and picking the right pass at just the right moment to get his man through on goal- Phil requires space to run in to and more than one option on the pass. In other words, his best position probably isn't as a number 10, but as a number 8.
While some of us (this writer included) would argue that Coutinho has been our best player since Suarez swapped Merseyside for Catalonia, it is not too much of a stretch to imagine he could end up on the fringes of Liverpool under Jürgen Klopp.Since taking over from Rodgers way back in October, Klopp has experimented with his formation frequently, mostly due to the extensive amount of injuries that the squad have suffered during his brief tenure. We have seen variations on his widely used 4231 as well as a False 9 433, however neither of these set ups really accommodate a position like the one Coutinho thrived in during 2013/14. Normally I would expect Klopp to work with and develop Phil in the same manner he did Gotze and Kagawa at Dortmund, moulding him in to the type of player Klopp loves; one that will press and harry the opposition backline from the first whistle to the last, turning over possession high up the pitch and generally being a nightmare for a defender to deal with. However, where things get a little problematic for Phil is that his new manager already has a Brazilian number 10 that can do all that and more in Roberto Firmino.
Bobby has been deployed in a few positions recently but seems to have settled as a False 9 in a 433 position. He has put in some impressive performances in this role away to Norwich and at home to Arsenal; as well as away at City earlier in the season, where he has looked every bit the player that Liverpool fans hoped they'd signed back in the summer. While we will have to wait until the summer to see what kind of player Klopp recruits and then speculate on his preferred formation, but I would hazard a guess that he will revert to his Dortmund 4231 as soon as he has the personnel to do so. Firmino has all the qualities that Klopp desires for his starting number 10 so where exactly does that leave Coutinho? He has never shown enough out wide to suggest he could regularly fill that role, and he simply doesn't possess the physicality to play as one of the pivots in the aforementioned 4231. Klopp has shown considerable interest in Alex Teixeira this window and despite looking like missing out in this window I would expect the club to resume their pursuit in the summer, meaning that Klopp would possess an option to play as a lone striker in front of Bobby or alongside him on one of the wide positions, either way it's pretty clear that Jurgen feels like he needs to supplement his front line. This leaves Phil as the odd man out in either situation, despite his obvious and prodigious talent I would not be surprised to see the club attempt to cash in on the player's immense value- either as a straight transfer or as a possible makeweight for a big target in the summer. It may sound ridiculous seeing as the player has such considerable attributes but when Klopp is provided with the players to fill the wide positions regularly Coutinho could start struggling to make the 1st XI, which would have been an impossible thought just a few months ago.