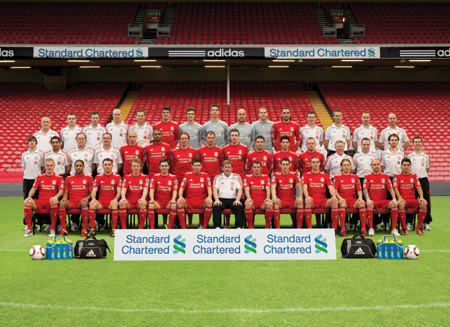 What Liverpool FC need (Part II) - The Centre Back.
We could sit here all day, and debate what areas of our current squad needs strengthening. We could also discuss potential targets, and how realistic a chance of a certain team accepting a bid, and a certain player joining.
In fact, I have read many a debate on the the forums here (Anfield Index Forum), I've had many a discussion over a beer, and hear various shouts on the terraces at match days. In these discussions, I think there is a general consensus of what areas we desperately need, and most seem to agree. So, this 4 part series will concentrate on the following:
A centre back – (This post)

The format will be simple. I will analyse who we currently have, and why it does need strengthening. And then, I will look at options in the Premier League who could potentially step up. Now, these are not players I have selected. Also, these may not be the players that we sign. However, we have been strongly linked with all 4 "options" and there is no secret of our interest. We may sign them, we may not. I am certainly not saying we will.
Also, of the "Current Squad Options", I will only include players who have the position as their position (or played consistently in that role). Players like Wilson and Carragher wont be included at left back, for example.
Anyway, the boring stuff out the way, lets continue at the back, but move to centre back this time. An area which we have 5 full internationals, and a good selection of youth prospects. So, why do we need a new centre back?
Let me explain…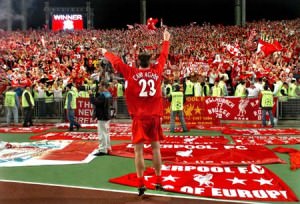 Jamie Carragher (Age 33)
You say Jamie Carragher, you think Liverpool. He is Liverpool, and epitomises what being a Liverpool player his. Now, that isn't because he is a local lad (which certainly helps), but because of his attitude, his passion, and his determination.
Lets re-wind back briefly though, to 2003/04 (and his seasons prior to the arrival of Benitez). Carragher was predominantly played as a full back (either left or right), and rarely played at centre back. That duty was given to Henchoz, or even Biscan, who would partner the outstanding Hyypia.  But it was Rafa Benitez, who switched Carragher to a centre back (on a more regular basis), and in 2004/2005, there was very few central defenders as good as him.
His heroic performances, week in week out (especially in the Champions League), were just all action Carragher. All at his very, very, best. In 04/05, Carragher was aged 26 (turned 27 in January 2005), and it is usually at that age, players peak. Carragher however, was just starting.
When Hyypia aged, it was Carragher who became the leader of the defence. And, everything felt better with him there. We had an inexperienced Daniel Agger and Skrtel (both I will come on to later), but Carragher more often than not, started.
In fact, since 04/05, Carragher has played 50+ games a season. This season, he has featured in most games he was fit for (rarely on the bench, unless rested for League Cup/Europa League), and again, it shows how important he is, and has been.
So why do we need a Centre Back? Well, Carragher is now 33. I am far from writing him off, but since his debut way back in 96/97, Carragher has played an astonishing 663 games for Liverpool. An average of 44 a season. Now, that will take it's toll on any player, especially one like Carragher.
But away from age, we know he is approaching the twilight of his career. What will he offer us (in a playing sense) as one of our centre back options? What are his strengths, and weaknesses?
Before I look at stats and choose a game t0 study, let me say there are few to choose from. That is because, since Dalglish took over, Carragher has played at full back much of the time. He also was injured for a period too. I don't want to look as far back as Hodgson, because our playing style has change significantly since then. I also wont be looking at Carragher (or other defenders) when they played in a back 3, as this was a specialist formation (for a select few games). I very much doubt this will become the norm.
Anyway, lets look at Arsenal (A) first off:
The left chalkboard is his passing. Now, there is an infamous "Carra hoof" which we often dread to see. However, I think it is fair to say, he has curbed this somewhat under Dalglish. And his passing against Arsenal, shows that. 16/19 passes completed is excellent (84%). (Note: There is a difference between a hoof pass, and a clearance, which is shown on the second chalkboard).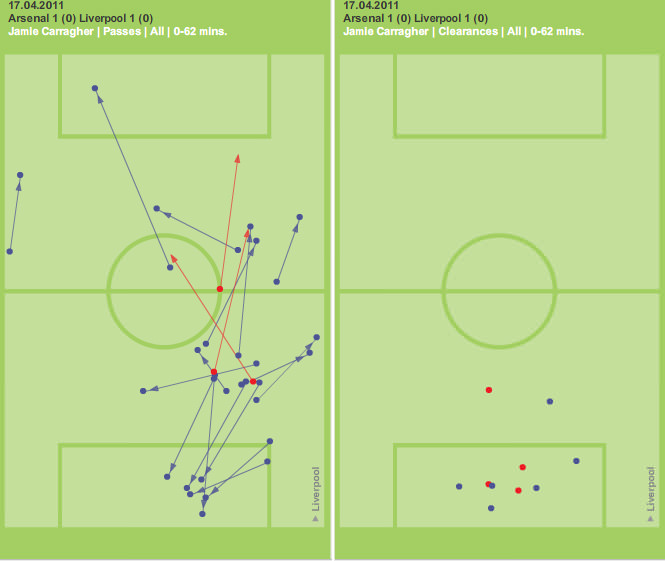 Carragher V Arsenal (A) – Passing and Clearances.
The right chalkboard, is his clearances. This shows you the type of defender Carragher is. No nonsense, if in doubt, get rid. 10 clearance attempts (5 with his head, 5 with his feet), with 6 successful (3 with his head, 3 with his feet), shows how much he got stuck in. And remember, he only played 62 minutes, until his unfortunate clash of heads.
Of his tackling and duels, well, he didn't have many of them. This is because many of the attacks came down the left hand side (Robinson/Aurelio, and Skrtel's side). In fact, he had no tackles. No interceptions. And won none out of 3 duels. But that doesn't mean to say he defended badly, do you remember him being beaten at all? I don't. We just didn't get attacked down the middle, so much.
Anyway, a pretty solid away performance, in stats. But forget stats for a second. The way he helped those two young lads settle in too, can't be measured by Opta. I bet he played a huge part in settling both their nerves, in a massive, massive game. A big well done.
I also looked at the Manchester City (Home) game. Here, he had a similar pass completion of 84%.  He had 1/2 successful clearances. And, again no tackles, no won possession duels, and no blocks. Again, not really a slant on him per say (as we didn't do much defending). Now I am sure, it doesn't take stats to tell you Carragher will make match winning tackles, rarely gives away dangerous free kicks and penalties, and will get stuck in when asked too. Unfortunately, due to his injury absence, and injuries elsewhere, he hasn't really been "tested" at centre back for sometime to show this.
Carragher still has a lot to offer this club, and he can teach our young up and coming defenders (more on that later). His knowledge and experience will be invaluable. Not only that, whoever we sign, they will have a tough task kicking Carragher out of the side.
But I think he will, and should, slowly start to take a step back. Use him in the big games, so he isn't making 50+ starts per season. He showed against Chelsea (which was a back 3 performance, so I wont be looking at in detail), that he has still got it, defensively. He was, outstanding.  However, asking him to do that week in, week out, I am not sure he can next season or beyond, and we need to look forward.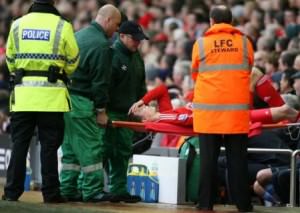 Daniel Agger (Age 26)
Daniel Agger. Without doubt, one of the best "footballers" I have ever seen. By that, I mean the way he plays the game, his ability on the ball for a defender, and his general all around play, is a joy to watch. There are few like him in our League, and World Football. It takes a special player, to make defending look so effortless. He isn't a "Carragher", and while he can be the last ditch tackle hero, you will rarely see him launching the ball out of defence. Agger just seems to be right place, right time, and deals with the issue in a clean and tidy manner. Then, he will run the full length of the pitch and make something happen, at the other end. That is Daniel Agger.
Now, this stat and chalk board is from 2008/2009. It is from a few seasons back, I know (and I have posted it on the forums here), however, it raises the reason why I think Agger is almost unique. This is the original post, below:
"Even with his injury problems, I wouldn't swap him. Defenders of his type are few and far between.
After reading the article about the Sunderland game, and "How it was won", I remembered one of my favourite Agger moments. Not his wonder strike, and first goal. It wasn't his goal at Anfield against Chelsea, which was, immense.
It was against Wigan. Agger had just returned back from an injury lay off, to replace Skrtel. We were playing Wigan, who had Amir Zaki. At the time, he was on a real hot streak, and seemed to be almost unplayable (didn't last long, mind). Agger was caught in possession on the edge of the box (shown below) and Zaki nicked the ball, to tap in. 1-0.
However, only 8 minutes later, Agger did what he does best. He got his head up, didn't let it deter him (we were 1-0 down at this point). From a throw in, and a couple of passes around the back, he ran near the full length of the pitch, playing a one-two with Dossena on the edge of 18 yard box. He broke into the box, received the ball back, and set up Kuyt to make it 1-1.
Kuyt I vividly remember running off to celebrate, but then realising he had to go to Agger. Every player got around him, after his mistake earlier, they fully appreciated what he just did. We went onto win the game 3-2."
Now as impressive as that moment was, we all know why his position is being questioned. As the opening picture suggests, Agger has his injury problems.
Since his arrival 2005/2006, (midway through the season, mind), he has played 93 league games. If we assume he wont play again this season (due to injury, unfortunately), he has been with us for 5.5 seasons. So, averaging  just 17 league appearances a season. That is, less than half a seasons worth of league games.
Only twice,  has he played more than 20 league games in a season. In 06/07 (27), and 08/09 (23). So, in his best season (appearance wise) he played just 71% of league games. Now, to be fair to him, in both of those seasons, he played 12 European games too (more than double the amount he played in other seasons). This suggests to me, maybe he was "rested" for the bigger games in Europe. But, can we afford this? A player who is just 26, who should be peaking now, is spending too much time on the treatment table. This is no good for anyone.
Anyway, when he is on the pitch, what does he give us? Well, an  interesting statistic that was doing the rounds a few weeks back was this (Note: This is as of 22/03/2011).
With Agger Starting: P6 W6 GS 10 GC 0 PTS 18
Without Agger Starting: P6 W1 D3 L2 GS 5 GC 6 PTS 6
Now, there are two ways to look at this.
The first being, how good is Agger? I mean, for those 6 games, we never conceded a goal. Clearly, he is contributing to our clean sheets, as he is a centre back. We also, won all 6 games. Clean sheets help win games, and it makes it a lot easier if you only have to score one to win.
The second, how much do we miss him when he is not there? Or, how much does not having Agger in our side, upset our defence? We average a goal conceded every game, and this made it more difficult for us to pick up points. And overall, the team suffered.
Myself personally, I think he is brilliant. Even with his injury problems, I think he is a luxury we need to keep. You don't see a team selling their best players, even if they have injury problems. Because when they are available, they are invaluable (look at Rio Ferdinand at United as a good example).
However, if we can somehow find a "Daniel Agger" type defender, for a fair realistic price, who can do what he does, and stay fit? Then unfortunately, it is a no brain-er. However, like I said at the start, these players really are few and far between. And if you do find one, finding one for under £6million (Agger's fee)? You will find it very, very, difficult.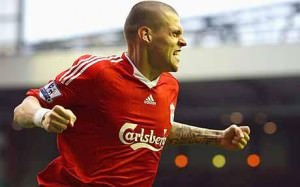 Martin Skrtel (Age 26)
Skrtel is our only outfield player, to play every single Premier League minute, this season. That in itself, is a fantastic achievement. But how has he done? Well, like much of our defence, he has improved under Dalglish. The players haven't changed, but the tactics have of course. And as before, I wont be looking at his performances when Hodgson was manager, and also, wont be looking at him, as part of a back 3.
However, with him playing in every game, I have more games to consider. So I will use the "random selection" method here.
The game I am looking at, will be at home. A tough game against Fulham, which we won, 1-0. So how did Skrtel contribute to the clean sheet?
The answer is, very well.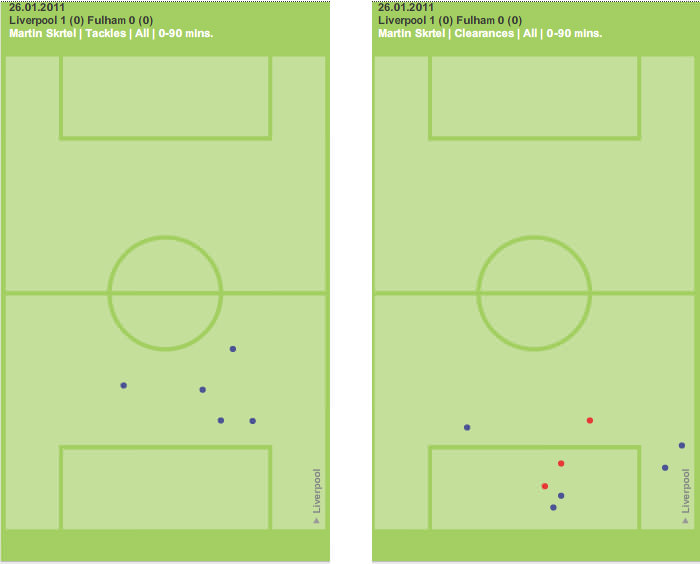 The left chalkboard, is Skrtel's Aerial Duels. Won 5/5. The right chalkboard, is his clearances. 5/8 successful.
Of his clearances, only one was with his head. The others, were with his feet. But he won 5/5 of his Aerial Duels. This in itself, tells a story.
You only have to look at him, to see Skrtel is a "no nonsense" style defender. Similar in some ways, to Carragher. He gets stuck in, and plays a "safety first" game. However, to be fair, he can knock it around OK too. He isn't just all about hoof and clear. As his 81% pass completion shows.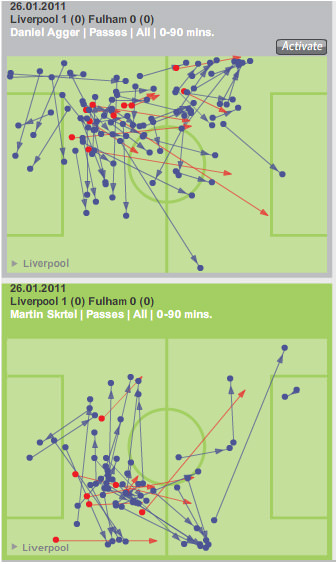 Chalkboard to show Agger and Skrtel's passing V Fulham at Home
The chalkboard shows both Agger, and Skrtel's passing range. Unlike Agger, Skrtel is less likely to venture forward. Of Skrtel's completed passes, 35% came in the attacking half. With Agger, it was 41%. However, as Agger completed more passes, this doesn't tell the full story. Agger had 21 completed passes in the attacking half, with 8 of those in the final third. Skrtel had 12 completed passes in the attacking half, with 4 in the final third.
This, in theory, means they compliment each other well.  It is no good having two defenders that bomb forward. Equally, if we want to play a progressive style of football, we don't want to play two that will sit back. And, as was pointed out earlier, in those 6 games that Agger started, there was no goals conceded. By default, Skrtel played in all these 6 games too (as he has played in every single league game this season, remember). So, they are forming a pretty handy partnership.
I had my doubts about Skrtel at first, I remember his debut against Havant and Waterlooville, and he was appalling. But soon enough, he started to improve. He slowly became "our Vidic type defender". Now, while his form earlier this season had dipped (as had many others), he has improved greatly under Dalglish.
If we can find him a partner who can stay fit, and play football, then maybe we will have our future centre back pairing? Also, a bit of healthy competition, wont do him any harm.
Other Options
As before, I have grouped the other options together. This is because they are either inexperienced at centre back, too young, or surplus to requirements. Starting with the obvious, Kyrgiakos. Full credit to him, for the price we paid, he has done a decent job at filling when we needed him most. He also has chipped in with a few key goals for us. Under Hodgson, his type of defending looked "better". But, under Dalglish, we have started to see his limitations. He is 31 (32 at the start of next season), and assuming Carragher will stay, the Greek may well be surplus to requirements.
The other international (for those that are wondering), is Danny Wilson. Yet to really have a real go at centre back, and mainly played at Left Back. To gain international recognition, to play consistently well for Rangers, and to feature in the Champions League, has certainly helped his development.  However, we are yet to see the best of Danny Wilson, that is for sure. But, he is only 19 years of age. Which, for a developing centre back, is very young. He may come good in the future, but we need a new first team option, now.
Similar can be said of Daniel Ayala, who has impressed on loan in the Championship. He has featured a few times for us, making 5 league appearances last season. The experience on loan will do him good, and he will come back a better player. But again, I am yet to see the best of him. And, again, I still think we need another centre back.
Finally, Martin Kelly. Many say his future is at Centre Back. He may become the new "Carragher" or "Skrtel". He can play a bit too, as he has shown at full back, so maybe he could even play the Agger role? But, again, he has yet to play at Centre back. And while he is doing such a good job at right back, it may not be the right time to move him across. I have no doubt, he will eventually move to the centre. But, for now, he is a right back.
So. We have 5 international centre backs. We have a selection of youth players for the future too. I'd say currently, we have 4 "starting centre backs" who have played there, consistently for us in recent years. However, two are approaching the twilight of their careers. One struggles to stay fit for a season. And that just leaves Skrtel. So we really do need a new centre back option.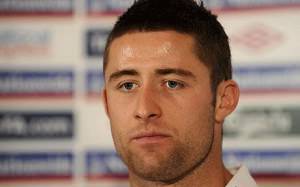 Gary Cahill, is he the answer?
Now, as before with Enrique, I am certainly not saying we will sign Cahill. The reason I have selected him as the player to look at, is due to us being heavily linked with him. Again, like Enrique, we wont be the only team interested. And, again, he wont come cheap. But why is he being linked with so many clubs? What does he offer? Could he partner Skrtel, and form a future partnership? Could he partner Agger, if he can stay fit?
First thing to say about Cahill, is that he has really come of age at Bolton. Since he signed in the January window of 2008, he has played 105 times for them. That is 105 Premier League games, in 3.5 seasons (and Bolton have 6 left to play this season). Assuming he plays in the last 6 games (likely), he will average 32 Premier League games a season. This shows, that he is rarely injured, and more often than not, available to play. So, he ticks the "not injured" box.
Secondly, his style of play. I don't have any statistics to start with, but for anyone that saw him against Ghana (for England), will see the qualities he has. He was calm and composed throughout the whole game, he ventured forward when he could, and was the ball playing centre back, alongside the more rugged Jagielka.
Week in week out for Bolton though, he tends to partner Zat Knight. Again, the "bigger" more "no nonsense" style defender. Now, under Owen Coyle, Bolton have received excellent recognition for their style of football. However, they do have Kevin Davies up top, so the temptation to look long early is there. So, as before, I will look at a game against ourselves this season, and see how Cahill performed. I will also compare him against his partner, Knight, to show that Cahill is the "ball player".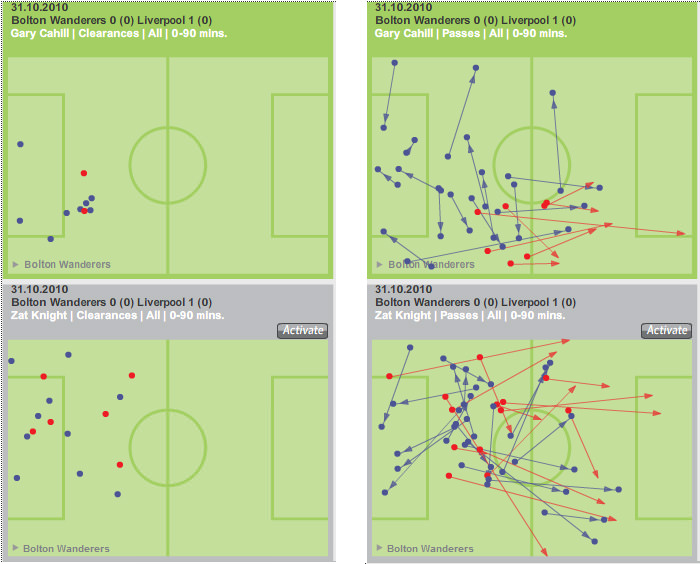 Cahill (Top) and Knight (Bottom). Clearances (Left), Passes (Right).
So, their clearances. Both players were under the pressure, for much of the game, so there is no surprise to see many clearances from both. Cahill, while he cleared the ball less, had a much better succcess rate. (Cahill 8/10 succesful 80% success rate, Knight 10/14 succesful 71% success rate). This is what I would expect from a "defensive partnership" of this type. Cahill, being the better "footballer", would likely be more succesful with his clearances. He would also play the ball out of defence more (instead of clearing it). On the other hand, Knight being the no nonsense defender, would look to clear the ball first, look for the pass second.
Their passing also tells a similar story. Again, Cahill had a better pass completition (Cahill 70%, Knight 59%). But look at the chalkboard. It was Knight who went for the long ball more, where as Cahill preferred the short pass.
Now, if we bare in mind he is playing for Bolton (who are having a great season, but still, they aren't a "Top 4" side, where we want to be), Cahill isn't doing a bad job as a ball playing defender. He clearly can play, isn't tempted to go long all the time, and so far, ticks the box of the "ball playing defender". So, in theory, he could partner Skrtel.
But what about Agger? Could he partner him too? Well, lets have a look at his tackling and duel statistics. For this, I will use an embedded chalkboard.
Now,  as I have pointed out before. The chalkboard couples tackles and duels together. Also, I think their definitions differ slightly to the Opta Stats. So, look at the chalkboard, and it looks very impressive, with 7/7 duels (aerial/possession/tackles). His AnfieldIndex Stats says the following:
– 1/1 Tackle won (100%)
– 7/11 possession duels won (63%)
– 5/5 aerial duels won (100%)
Still, very impressive isn't it.
So, against us at the Reebok, he overall had a fine game.
I will have to point out though, it was Cahill that was caught out for our winning goal. I am sure you remember it. Maxi burst into the box, and Torres flicked it through the defenders legs. That defender, was Cahill. However, it would be very harsh to criticise what was, bar a moment of brilliance by Torres, a fine defensive display in my eyes (and I was there to see it).
So, Gary Cahill. Yes, he could be the answer. He wont be cheap, no. And we will certainly not be the only team looking at him. But he has demonstrated to me, he has all the attributes to be the answer, and could potentially become one half of our future centre back pairing. And to be fair, I feel he could comfortably partner Carragher, Skrtel, or Agger.
Summary
As my twitter followers pointed out however, he may not be the player we sign. Scott Dann is another name who has been heavily linked. Shawcross is a player we have looked at in the past. And I am sure there are many who aren't based in the Premier League too.
With the addition of a ball playing centre back (whoever that may be), who could also do a more "hands on" style defending if needed, I think we will be set up nicely. Agger, Skrtel, and the *New Signing* would be the regular starters. With Carragher as the back up. Over time, Kelly may move into the centre too. And not forgetting the youth options we have in reserve, and in our academy.
So, all in all, a new centre back, would give our squad a massive, massive boost. I'd take Gary Cahill.
This is Part 2 of 4. I will try to release each part over the coming week. The next post will concenctrate on our potential need for a new central midfield player.