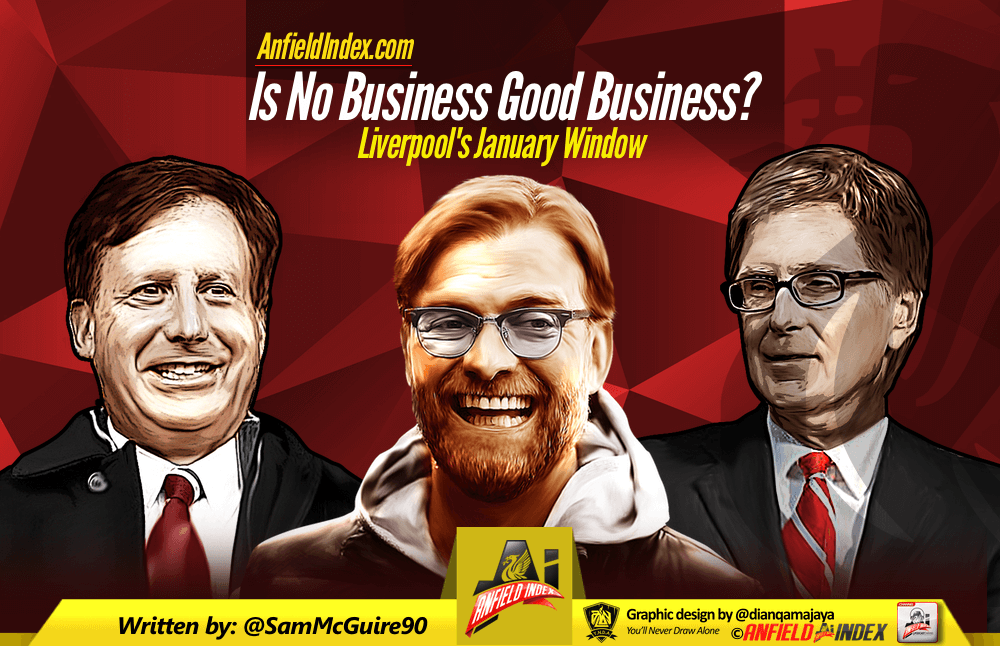 Is No Business Good Business? Liverpool's January Window
"These are our new signings"
– Jurgen Klopp as he prepares to welcome back Martin Skrtel, Daniel Sturridge, Philippe Coutinho and Divock Origi back to training this week.
Frustration was rife on social media as it dawned on Liverpool fans that there wouldn't be a surprise last minute signing. No, Alex Teixeira wasn't going to be leaning on signs all around Melwood in a Liverpool shirt. You guessed it, Saido Berahino wasn't going to be talking about where he watched the Champions League final in 2005 as Claire Rourke interviewed him.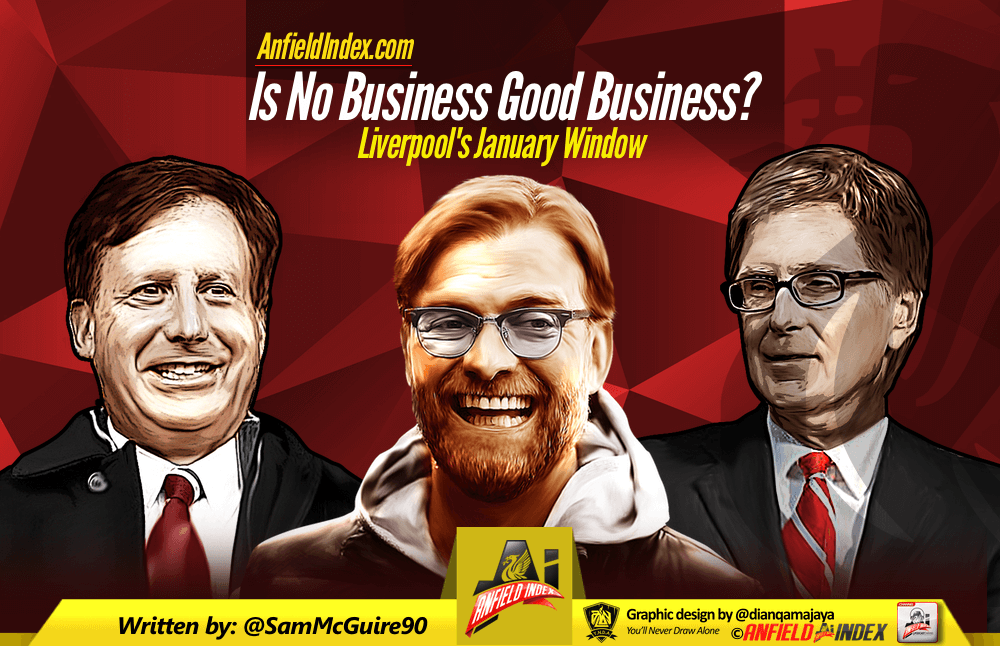 It's eerily similar to the January window of 2013/2014 season. Liverpool looked set to sign Yehven Konoplyanka only to see the Ukrainian club move the goalposts as the window was coming to an end. Sounds familiar, right?
"What I do know is that we've got a group here that is fighting and if no-one comes in, that will galvanise us even more and we'll really focus in on the players that we have."
– Brendan Rodgers speaking towards the end of January 2014.
Can history repeat itself? Can Liverpool go on a 12 match winning run and climb  up the table using January disappointment to fuel this rise? It's unlikely due to a few factors.
In 2013/14 Liverpool weren't in Europe and by the time the January window closed the club were already out of the League Cup. On January 29th The Reds sat in 4th position with 46 points from their 23 games and an impressive +29 goal difference. Luis Suarez and Daniel Sturridge were in the form of their lives and injuries were a rarity.
This season couldn't be any more different. Liverpool currently sit 7th in the league with 34 points and a -2 goal difference. The squad has been annihilated with injuries for the entirety of the first half of the season and Liverpool don't have a strike force. When Daniel Sturridge returns there's always going to be a question mark over when he'll pick up an injury. Watching big summer signing Christian Benteke in the Liverpool line up is like watching a baby try to fit a square into an oval shaped hole.
Not only this but they're currently challenging for 4th spot and hopefully will be until it's mathematically impossible. The club are also into the next round of the Europa League, have a replay to deal with in the FA Cup and are through to the Europa League final.
In 2013/14 when the transfer window shut Liverpool had played 27 games in all competitions. They played 43 matches in that entire season.
This season up to January 31st Liverpool have already played 37 games. If Liverpool get to the finals of the Europa League and the FA Cup then they could end up playing a minimum of 67 games. If they're to lose the FA Cup replay and get knocked out by Augsburg in the round of 32, the club still would've played 56 games this season, 13 more than 2013/2014.
Of course Liverpool plan for these long expeditions in Cup competitions but it wasn't Jurgen Klopp at the helm then. Klopp's effectively having the team do a pre season for him in the middle of the season whilst simultaneously deciding whether they're good enough for Liverpool and having the team compete on four fronts.
In 13/14 our rivals at the time didn't seem to strengthen. Fast forward two years and our 'rivals' aren't who they once were. West Ham currently lie two points ahead us in the table and have strengthened their squad with the signings of Emmnauel Emenike and Sam Byram. They're out of Europe and the League Cup so only have to concentrate on the league and the FA Cup.
Southampton and Stoke are a single point behind Liverpool and both have made one good signing each. Southampton signed Charlie Austin, who scored the winner against Man United on his debut, for around the £5 million mark. Stoke have signed dominant midfielder Gianelli Imbula from Porto for £18 million.
Many will argue none of these four players improve the Liverpool squad, some may argue Imbula and Byram would've been good squad additions, but it's not about individually looking at players in a squad when comparing them, it's about looking at them as a collective. It's a squad game.
West Ham have had issues with strikers this season picking up injuries. They identified this and signed Emenike. They Hammers have been using James Tomkins as a right-back after being unimpressed with Carl Jenkinson so the addition of Byram strengthens them in that area.
Southampton have been lacking in the goals department so buy a striker who guarantees you 15 per season for a knock down price. It's a no brainer for a mid table club.
Stoke seem to be building a real life Football Manager team. Imbula joins Shaqiri, Arnautovic, Affelay and Bojan as Mark Hughes looks to turn Stoke into a desirable European destination for players. He's slowly upgrading the squad and midfield has been a weak part off the time. The addition of Imbula gives them some more needed presence there.
Teams are making the most of their current positions.
Liverpool are supposedly biding their time and waiting for the summer when the clubs are more receptive to selling players, because of course you never get ripped off in that transfer window do you? *sweeps Benteke and Lovren prices under a rug*.
It's ok though as like many fans seem to be holding onto on social media, Liverpool will have an extremely large transfer budget in the summer and It will obviously be so much easier to sign players, what with the Copa America and the European Championships being played…
Will this be yet another window Liverpool fans look back on and resent?