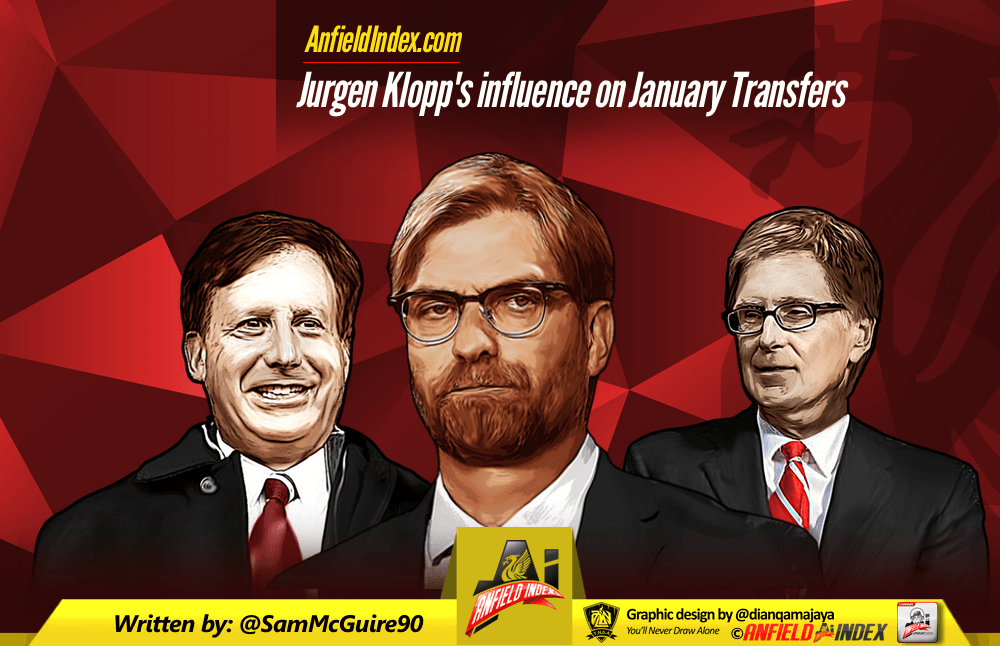 Jurgen Klopp's influence on January Transfers

Liverpool spend a week negotiating with Shakhtar Donetsk for Alex Teixeira and eventually miss out. Same shit, different year, right? Apparently not it seems.
If rumours are to be believed it was Reds boss Jurgen Klopp who rejected the Alex Teixeira deal due to the fact it's his belief the player isn't worth the reported £38 million, this after Fenway Sports Group had sanctioned the deal.  Of course such rumours can't really be verified but for a moment imagine it's true and Jurgen Klopp, as he stated in his first press conference, did have final say on the deal.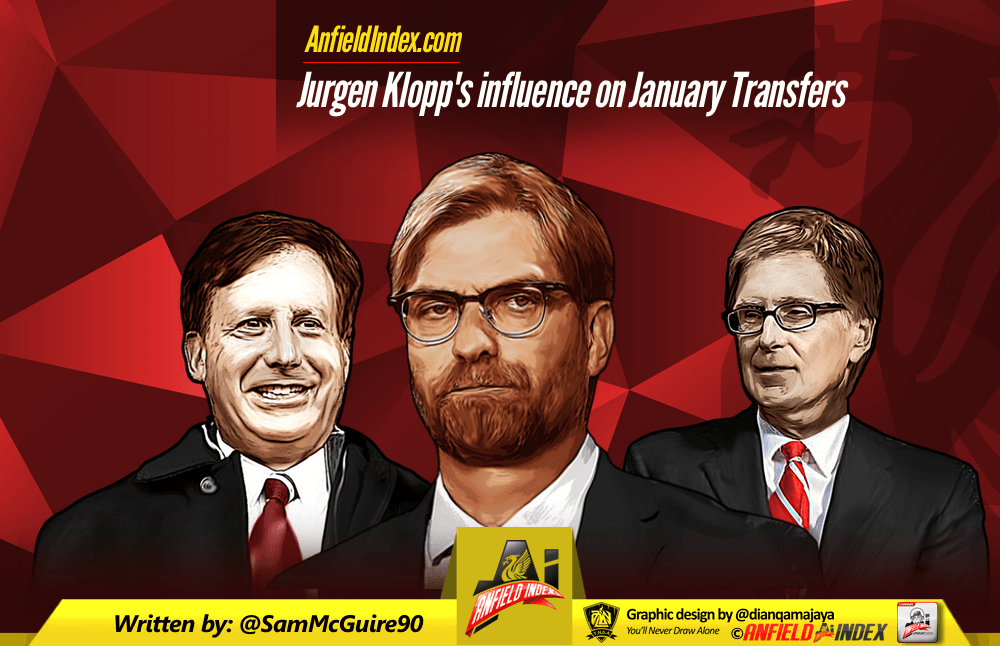 Firstly it'd be a stark contrast to how transfers were seemingly done under Brendan Rodgers. The flip a coin approach seemed to set Liverpool back every single transfer window. The Transfer Committee and Brendan would flick a coin and if Brendan called it right he'd get to pick the first transfer and vice versa. That may explain why the last window under Rodgers saw The Reds sign Roberto Firmino and Christian Benteke. Talk about a clash of styles.
Moving on to Jurgen Klopp though, If your owners are backing a deal then why would you say no? It's a bit like when you're a child and your parents say "Yeah It's your Christmas money, you can have this toy but then it means you can't get those other one." Even as a kid you're programmed to weigh up what's value for money and what isn't. Yes you may be able to get this Teenage Mutant Ninja Turtle transformer van but if you didn't you could get two toys instead. Is that one toy really worth two? Is Alex Teixeira really worth two players? For £38 million you could realistically get two starters for Liverpool from a European League.
Have FSG given Klopp a rough estimate of a budget he's got at his disposal? Dipping into it in January may mean there's not as much to spend in the summer. Can Klopp really justify spending the majority of his budget in January meaning the club would have to sell to buy in summer? Liverpool fans will be waiting for the window to open in July with bated breath.
Another explanation behind Klopp pulling out of the deal may be simply because he feels Alex Teixeira isn't worth the fee Shaktar wanted and signing him for that sets a bad precedent. Liverpool fans are used to getting bullied by clubs when it comes to buying players and this from Klopp may be a sign of authority that Liverpool no longer get taken for a ride when negotiating tactics. In the past Liverpool have relented and paid the fee the selling club wanted (see Benteke for details) but not this time. A bullish Liverpool in the transfer market with a manager many players want to play for. It's a good combination.
Alternatively Klopp may have just felt although Teixeira would've been a good signing he already has enough quality returning from injury with the likes of Divock Origi, Philippe Coutinho and Daniel Sturridge. Buying when you have an abundance of players already makes it harder to sell some of these players in the summer, that is of course if they're more interested in picking up a decent wage than they are playing football (see Jose Enrique). Many may imply this lacks ambition but a manager backing his squad shouldn't be seen as a bad thing should it? Especially when you consider the fact Jurgen Klopp still hasn't been able to field arguably his strongest XI at any time. Liverpool fans are still yet to see Daniel Sturridge, Phil Coutinho and Roberto Firmino take to the field together for a single minute of play. Those three could be special…if fans ever get to see them.
However, could the two clubs just not have been able to come to an agreement? Is the Klopp twist just a way for the German to endear himself to the fans even more? (If that's even possible). In the money orientated world of football, greed is viewed as the norm and when a manager is offered a player it's not often they turn them down and mention him not being worth the money. Klopp is one of us already and such statements will only enhance his standing amongst Reds fans (not that he really needs it).
If Jurgen Klopp has had a say in the Teixeira deal then It's a positive moving forward as it does imply both he and the transfer committee can work together. The TC brought Teixeira to the table, he clearly ticked the boxes of what Klopp wanted in a player and negotiations began. Just because the deal didn't happen doesn't mean there's been an issue between manager and TC like some journalists would have you believe.