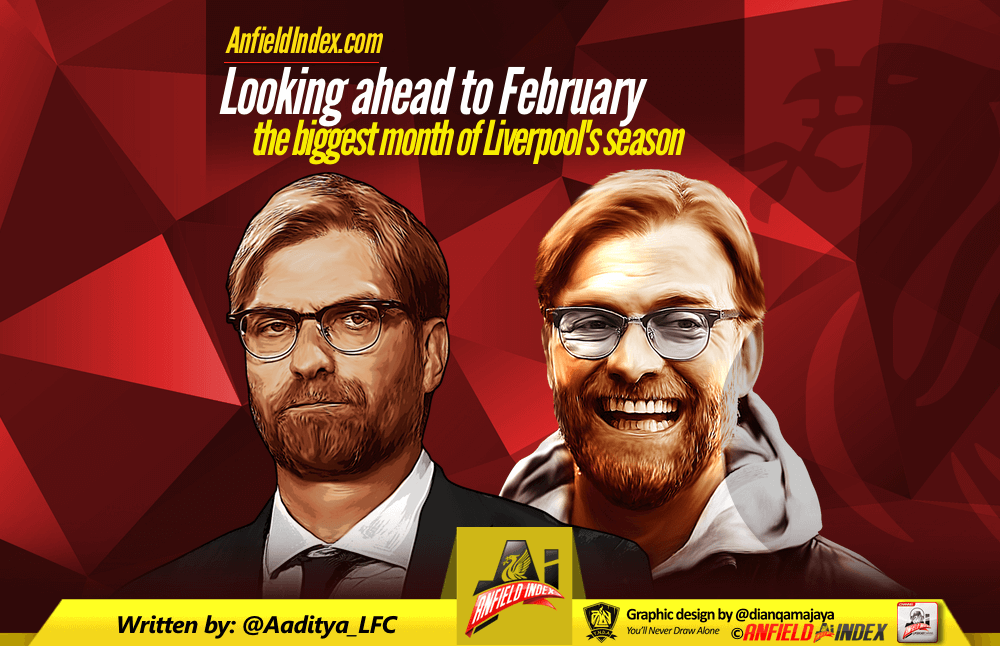 Looking ahead to February - the biggest month of Liverpool's season

The January transfer window is over. Disappointingly for some, Liverpool ended up with Steven Caulker as the only addition to a squad that many believed needed more strengthening than what Ian Ayre and co. have managed.
But there is very little to time to nurse those wounds, if there are any. The upcoming month is huge in the context of the entire season, and how Jurgen Klopp plans to shape the club in his tenure. 3 games in the Premier League, a Europa League knockout tie, an FA Cup 4th Round replay at Upton Park and a visit to Wembley for the Capital One Cup final are lined up.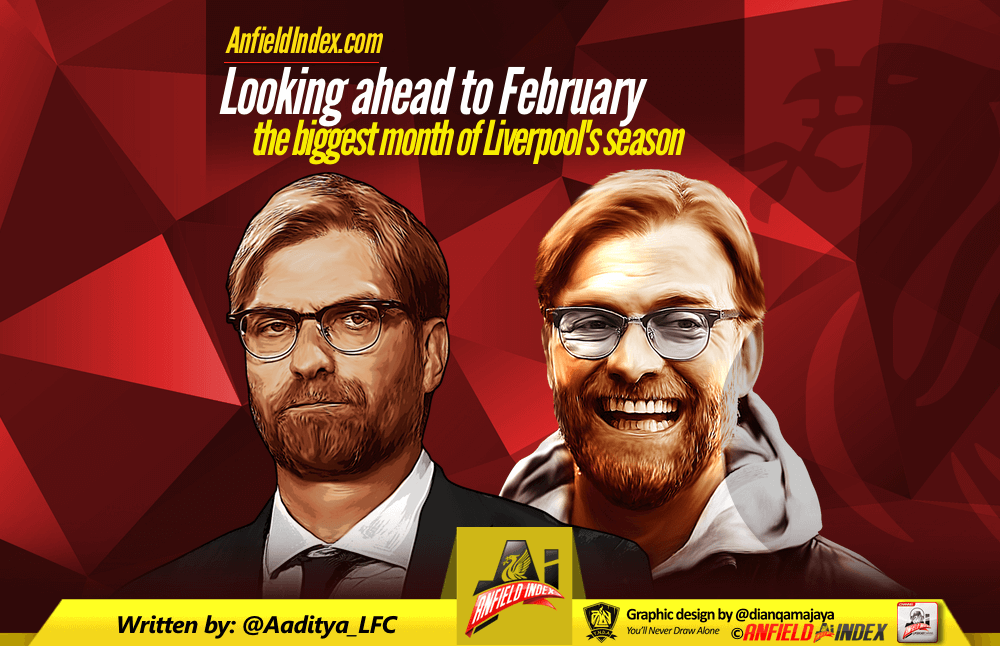 For the Reds, the mantra has to be very simple – perform or perish. And perish, quite literally, in the larger picture of how the season shapes up.
Importantly for Klopp, it looks slightly better on the injury front now, than it was a month ago. Coutinho is due to return to action very soon. Daniel Sturridge and Divock Origi should be back in full training this week, and Dejan Lovren has already made comeback from his hamstring problem. Also, with Cameron Brannagan and Joao Teixeira impressing in their cup appearances, the German gaffer appears to have a reasonable number of options. That being said, whether he chooses to use all of them, is a completely different question.
Why this month is particularly more important is because of the opposition that we face, in many ways. After the loss to Leicester, our next two Premier League games are against Sunderland and Aston Villa – the bottom two sides in the league. Having suffered a loss at the King Power Liverpool will be looking to bounce back with a couple of wins against Sunderland and Aston Villa.
The Europa League sees us playing Augsburg, a side who are 12th in the Bundesliga, and one that Klopp should be familiar with. For all that is spoken about it, I see the Europa League as an important competition – especially with it offering us an alternate route into next season's Champions League. My only concern about the Augsburg tie is that the second leg is three days before the cup final, and it could be one that the players find difficult to focus on.
Unarguably the biggest match for us this month will be the last one we play. A visit to Anfield South has always been special for this club, and although Manchester City will be stern opponents, they are not invincible, as we showed on that November evening in Manchester. For all the issues clouding the club, winning a trophy within five months of Klopp taking over will be a huge shot in the arm for everyone involved with the club, not least the fans, some of whom are beginning to get skeptical about FSG's model – especially their management of the ticket pricing at Anfield.
Such a big month undoubtedly needs the big players to step up. Both the captain and vice-captain have not been where they could, and Jordan Henderson and James Milner will both know that they need to step up and be counted – especially with this squad crying out for a leader on the pitch. Obviously, we'd all love for Roberto Firmino to carry his form from the last month forward, but he needs assistance from Adam Lallana and Coutinho, Sturridge and Origi, who're all slated to return from their respective injuries at some point during the month,
The stats show that Lovren and Mamadou Sakho are at their best when they're playing alongside each other. The pair were bought with the vision of them being the long-standing centre-back partnership for a few years to come. But, that cannot be said on the basis of their performances for the club so far. Although Kolo Toure has stepped in quite decently in the time that Lovren has been injured, we desperately need those the Croat and Sakho to forge a strong partnership, and be miserly.
At the beginning of the month, there was hope which took a bit of hit against Leicester. At the end of February, there could either be elation or there could be despair. Here's hoping for elation.