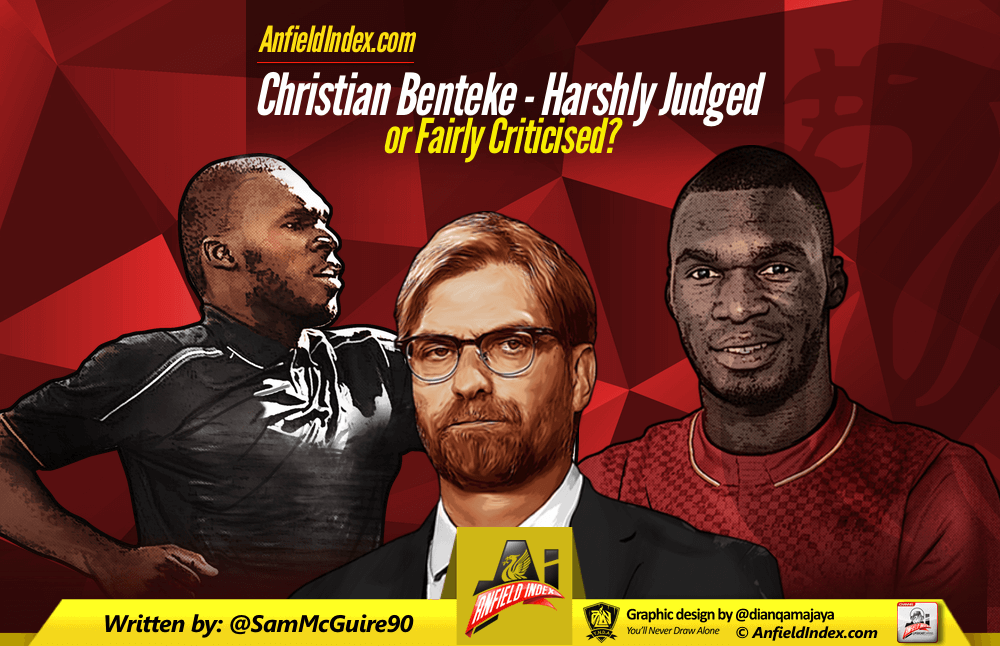 Christian Benteke - Harshly Judged or Fairly Criticised?
The story of Christian Benteke at Liverpool is that of a sorry tale about a misfit. He's our Buddy the Elf to Liverpool's elves. He stands out and not in a good way. When he gets involved the other players seem to have to increase their workload to accommodate him. It may not be Christmas but it's still winter so you're allowed to watched Elf.
Signed for big money, £32.5 million, the pressure to fire Liverpool into the Champions League was placed firmly on his shoulders from day one.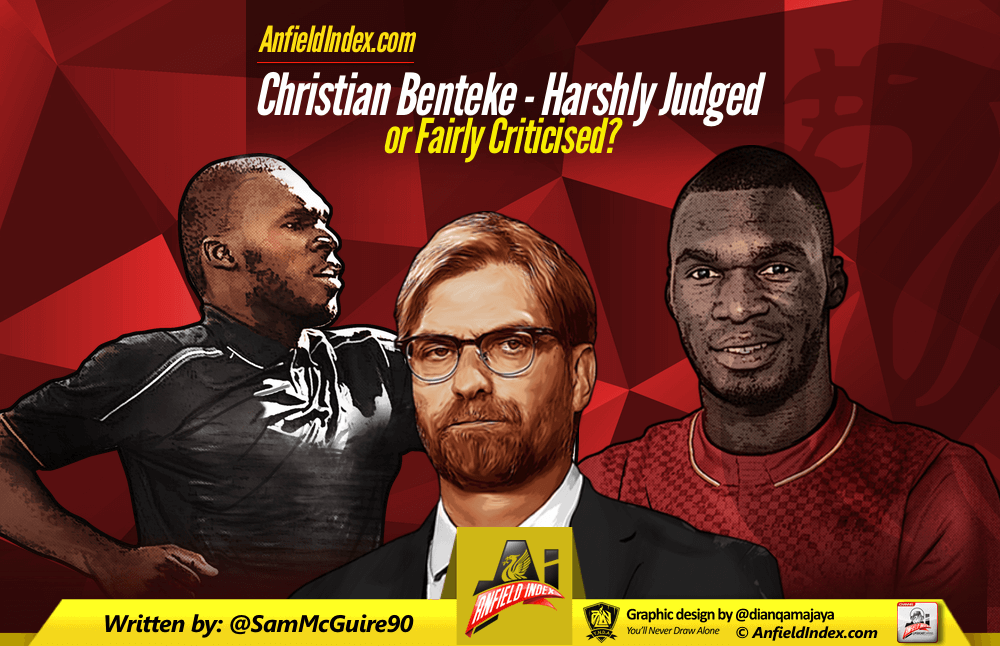 Throughout the 2014/15 season it was abundantly clear that Liverpool lacked goals having sold Luis Suarez and having to play the majority of games without the injured Daniel Sturridge. The Reds needed a reliable striker, one that almost certainly guaranteed goals. Brendan Rodgers seemed set on bringing the Aston Villa forward, and his record of 42 goals in three seasons, to Anfield.
Many, your writer included, were vocally against the signing of Benteke. The consensus was although he scores goals, his style isn't one you'd associate with Liverpool and if you don't build around him it would be difficult for him to replicate his Villa form so you'd effectively be buying a striker that excels in a certain system and using him in a completely different way. The debate over history versus form can be read here.
According to reports Brendan Rodgers had to convince the recruitment team and the owners that Benteke was worth the fuss, whether or not that's true remains to be seen but negotiations dragged on before Liverpool activated the release clause and got their man.
A superb debut goal in a pre season friendly seemed to perk a lot of fans up, maybe he wasn't a lumbering target man that many had painted him as. In the second Premier League game of the season he netted the winner in a 1-0 win against Bournemouth before giving Liverpool fans arguably his best performance in Red to date against Arsenal at the Emirates. However, many fans remember the performance against Arsenal for the sitter he missed, well the sitter he allowed Petr Cech to save. It's been the story of his season so far. A good performance is often overshadowed because of a guilt edged chance being missed. In total he's missed 15 clear cut chances this season and only converted 3, that's some record.
You wouldn't guess it but of the 34 points Liverpool have won this season Benteke's goals have directly contributed to the team winning 10 points. He's been the match winner in three tight games. He's scored six Premier League goals in 1188 minutes (this written before the Leicester game) and he's got two assists to his name. Meaning he's directly involved in a goal every 148 minutes, and this whilst he's been in and out of the team and had a couple of knocks.
Those numbers in isolation sound impressive for someone in their debut season at the club, right? Stats aren't the be all and end all when judging a player and it's clear to see that patience with the Liverpool number 9 seems to be running out after a number of tepid performances over the past few weeks. Twice against Exeter, inferior opposition that he should really be bullying, he failed to scored and he's now goalless in 450 minutes of play. This run follows on from the two consecutive winners he hit over the Christmas period. When he should have been in a confident mood he's not built on momentum.
Is Benteke underperforming or if he being unfairly criticised?
Using the Squawka comparsion matrix it's easy to compare Benteke's three and a half seasons in the Premier League.
What we're seeing at Liverpool now is Christian Benteke.
Accused of being a hindrance in an attacking sense it's interesting to view the chances created stat. If you average his three and a half seasons so far it works out at 1.65 chances created per 90 so this season he's better than average in that respect.
Guilty of missing many clear cut chances he's still average 0.45 goals per 90 minutes at Liverpool and his Premier League average is 0.49 so he's not that much below his career average.
This season at Liverpool he's averaging more shots per 90 than he did do at Villa but he's scoring less goals. His Premier League average per 90 is 3.1 shots and at Liverpool he's averaging 3.4. What would be more telling would be to look at where he's taking the shots from with Liverpool.
A hot topic of debate when it comes to Benteke is his aerial prowess. Many believe for somebody of his stature he should be winning a lot more than he does, his career average is 56.47% of aerial duels won per 90 and at Liverpool he's winning 57.84% of them.
Built up as a target man you can build your play around and retain possession it's disappointing to see he averages just the 67% pass success rate per 90 this season but as fans pointed out in the summer it's never been a strength of his, his career average in the league is 65%,
Benteke is doing what it says on the tin.
He's literally brought his Aston Villa form to Liverpool only for people to realise maybe it's not good enough after all and a history of goals isn't the be all and end all. Fans should have really tempered their expectations in the summer, just because his fee was £32.5 million doesn't mean he's an elite striker, yet. He's doing exactly what he was bought for.  Can you criticise the player for not upping his game despite playing alongside better players? Perhaps, but you can't say he's underperforming, because he's not. Would he be better suited in a team that plays to his strengths? Without a doubt.
You've got to feel sorry for him. He's delivering what he was signed for and being criticised for not being something he clearly isn't. Is that his fault? Would a move be better for him or could he turn it around under Jurgen Klopp, who has recently labelled him as the perfect striker?