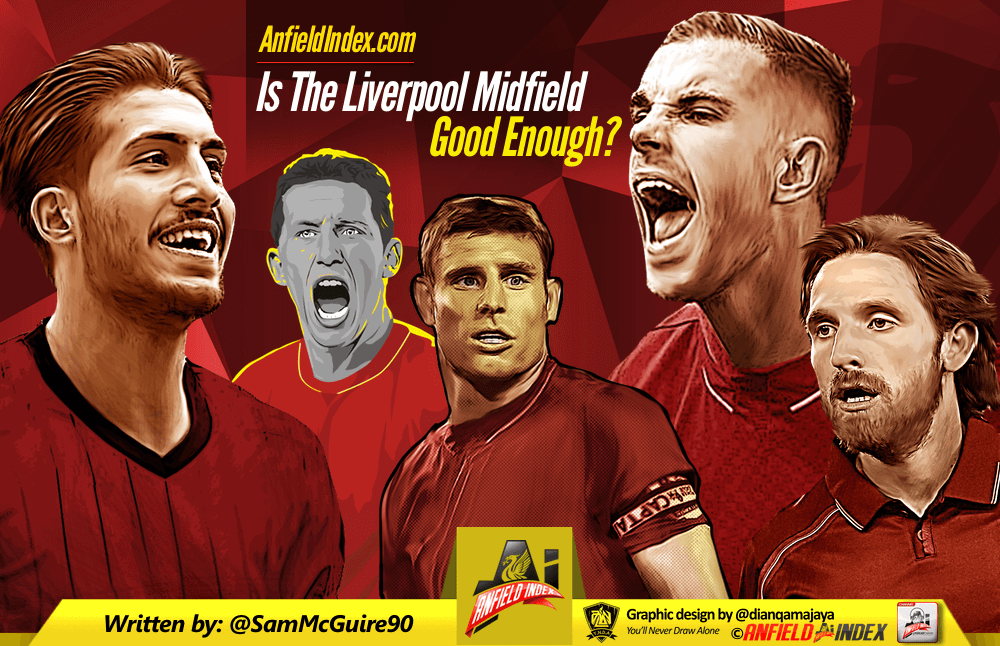 Is The Liverpool Midfield Good Enough?

No. The end.
The Liverpool midfield is one area of the team that is difficult to judge. Individually many fans would say the players have enough about them to warrant a place in the Liverpool squad but it's as a collective that questions are asked, and rightly so.
Jordan Henderson, James Milner, Joe Allen, Lucas and Emre Can currently make up the central midfield options that Jurgen Klopp currently has at his disposal. We're yet to see Philppe Coutinho play there but he's an alternative if the German wanted to do down that route.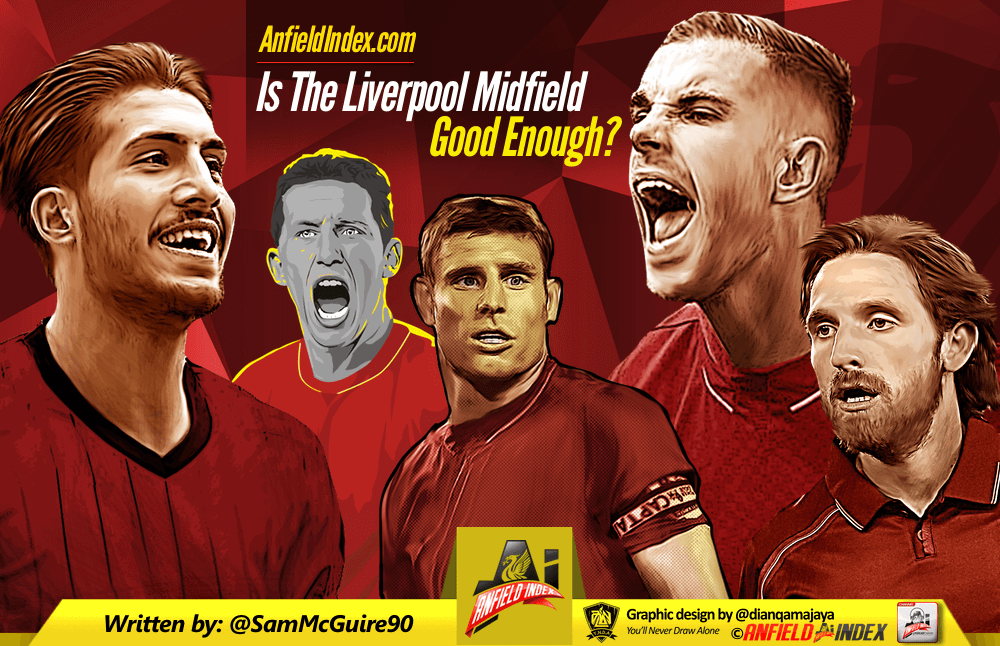 Looking at these options individually we'll start with current captain Jordan Henderson. The 25 year old has had a stop start season down to the heel injury he picked up in only the second game of the season. He's been desperately unlucky, this was supposed to be the season he really pushed on and stepped out of the Steven Gerrard shadow.
His strengths are abundantly clear. The number 14 has had a huge impact on Liverpool over the past few seasons in terms of output, chipping in with an impressive amount of goals and assists. He showed in the 13/14 season just how good he can be when the team are attacking in transition and he's a creative force with movement ahead of him. In a high press Jurgen Klopp side you'd imagine Henderson to be one of the first names on the team sheet….but this isn't  a high pressing, counter attacking Jurgen Klopp side, yet.
Vice captain James Milner shares some similarities with Jordan Henderson. Both are high energy midfielders suited  to a high pressing, counter attacking side. Many argue James Milner isn't a centre midfielder but he's been playing there so he qualifies. His output in terms of goals and assists is impressive in a low scoring Liverpool side on paper.
Lucas offers incisive passes. Some of his passes into the half space are crisp and to the point and it means the attacking players get the ball in attacking areas. Of course he's also synonymous with tackling, his two listed strengths aren't ones you'd associate with your stereotypical defensive midfielder.
The bearded wonder Joe Allen has impressed since the appointment of Klopp. The Welsh midfielder's clever positioning, high pressing, ball recycling and use of the ball have really caught the eye in the cup runs, throw into the mix the fact he's started to score goals and you've got an all rounder. If only he was 6 inches taller.
Emre Can, the German is at a crossroads in his young career. What type of midfielder he is it yet to be determined and his role seems to differ depending on who he's partnered beside. He has a variety of strengths that he can offer the team; he's a good defensive shield and he offers a lot of protection down the left hand side, he's creative on the ball, he drives the team forward and he's not afraid to try to be different. He'll try to push a pass instead of looking to pass it backwards.
In an ideal world Emre Can's game time would be managed much better and he wouldn't be playing nearly every single game, he's still only 21 and people forget this. Similarily, Lucas wouldn't be starting as many matches. As an alternative for the last 25 minutes he's fine when you're looking to see out a game. Should these two be regular starters for Liverpool? No. However due to the fact previous managers neglected the midfield, an area that's arguably the most important one on the pitch, this is what we're having to do.
As a collective the best comparison for the Liverpool midfield is when you'd be looking through your friends sticker collection saying "got, got, got, need". It's all about samey when looking at the Liverpool midfield options. There are no specialist players, no clear roles.
There's no balance to the trio that's usually selected, how can there be when at heart they're practically all box to box midfielders? Versatility is good in the modern game but sometimes you need specialist players. A specialist defensive midfielder who just breaks the play up and gives the ball to the better players. A deep lying playmaker like Alonso who isn't fussed about supporting the attack, they're just as equipped to spring a counter attack as they are to play a perfect pass through a perfect defensive line.
You don't see the styles of the current starters really complimenting one another, not like there is when you watch the Liverpool cup midfield; Allen, Brannagan and Stewart in the cup games. Granted it's against lesser opposition but their roles are clearly defined. Stewart is the destroyer in front of the defence and ball recycler, Joe Allen acts as the box to box midfielder and Cameron Brannagan acts as the orchestrator. It's a good mix of styles.
The Liverpool midfield needs addressing and I'm sure it's at the top of Klopp's list, he knows winning the midfield battle is key to winning games and sorting the midfield is probably the easiest task he has. Fans may get offended when they hear the Liverpool midfield isn't good enough because their favourite player may be part of that midfield, but as a unit it's really not.