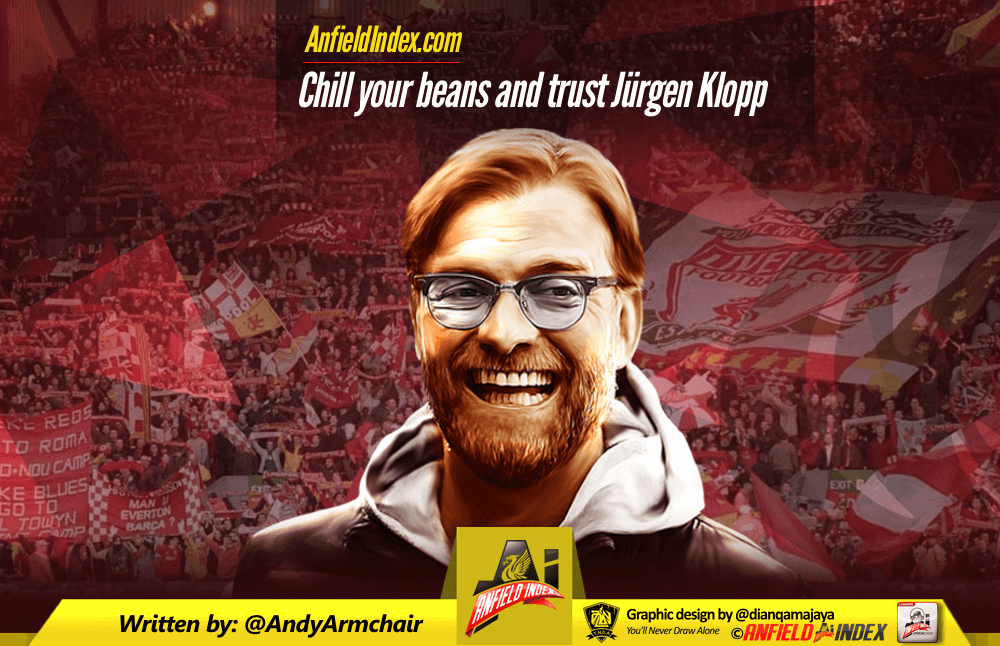 Chill your beans and trust Jürgen Klopp
The climax of a transfer window can only guarantee two things: unimaginable hype from Sky Sports News and people losing their minds on social media. For some Liverpool fans, the frustration at not securing the services of a new attacking player was all too much.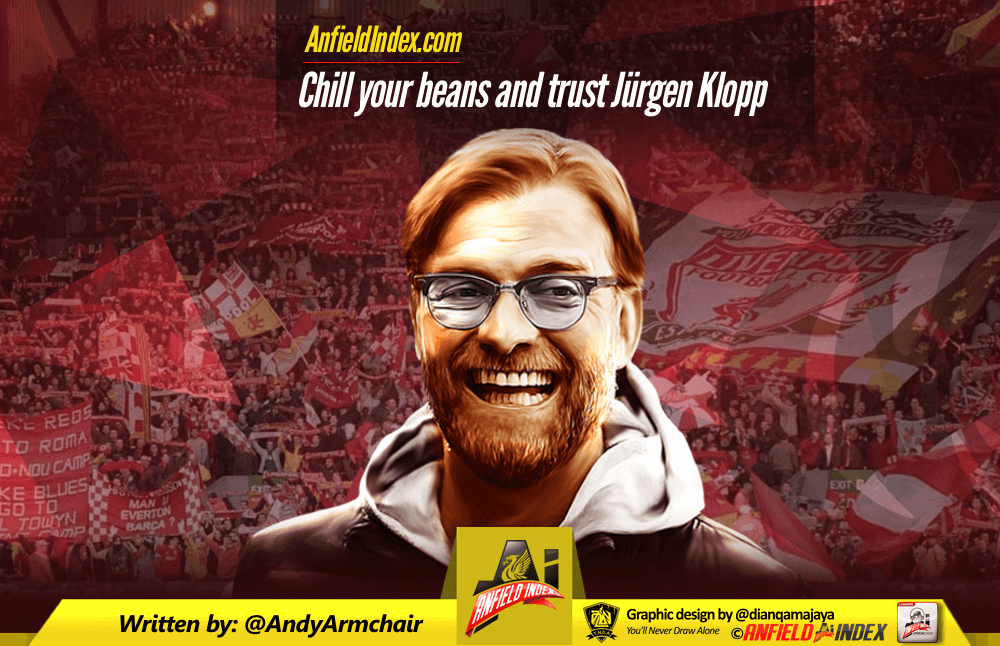 The hunger for success is undoubted and shared by this writer, but if anyone seriously believes that sustainable success can be bought overnight with one or two big signings, then they are kidding themselves. Let's get this one out of the way right now, the 2013/14 season was a fantastic, exhilarating and emotional journey for all involved with Liverpool; it was an incredible rollercoaster of some great highs, but ultimately the low of it not yielding a trophy; sadly, it was not sustainable. That may be a statement that divides opinion, but the hell for leather, kamikaze football was not a sustainable blueprint for success. It was amazing to watch at times, but the gung-ho approach relied too heavily on simply outscoring opponents. There was no solid base or defensive foundation, no intricately detailed tactical approach; but a hassle, harry and all-out attack to try and blow the opposition away, led by one of the very best footballers in the world and, to my mind, the best number 9 in the game today. An amiable approach though it was, without the solid foundation and tactical support, like a spectacular firework, it had a short life span.
Let's face facts, Liverpool are simply not going to blow everyone out of the water financially, so properly structured sustainable success is the only way forward. Now, as much as I would personally have liked to see Liverpool go out and sign a new goalkeeper, defensive midfielder and striker in the January Transfer Window, I understand and appreciate that Jürgen Klopp wants to fully evaluate every player at his disposal. He wants to give everyone at the club a fair chance to be a part of the future, to fight for their place, to prove they should be a part of his long term plans, because I believe Klopp is here for just that – the long term. That takes strategic planning, not knee-jerk reactionary shopping sprees. What if there are players who have not impressed previously, but Klopp is able to get more out of and make them a valuable asset? Without fully evaluating every player he has available, how can he put the necessary plans in place and make the right changes, and not just changes for the sake of changes.
Yes, Liverpool made a bid for Shakhtar Donetsk's Alex Teixeira, but the bid was rejected and Klopp was unwilling to meet Shakhtar's valuation of the player. To some, this was Liverpool lacking ambition and to many, a source of frustration that Liverpool would not pay what Shakhtar demanded. Personally, I don't see it as a lack of ambition, more the club and Klopp showing that they will not be bullied in the transfer market and will not be held to ransom. For me, that is a positive to take into the summer. Ask yourself this, if Liverpool had simply paid whatever Shakhtar wanted, what do you think other clubs would do this summer when Liverpool enquire about one of their players?
It's only right that fans were upset at how the club had its pants pulled down by Southampton and Aston Villa in terms of transfer fees over the past couple of years, but for some of those same people to then be annoyed that the club would not roll over and allow its belly to be tickled by Shakhtar is an odd one. We should be encouraged by their resolve, not infuriated by it. If Klopp likes Alex Teixeira but does not believe he is worth the price being quoted, then I trust his judgement. I'd prefer a manager to have the balls to walk away from a deal, rather than drastically overpay. It shows to me that Klopp has the clubs best interests at heart, to be frugal with deals, rather than spend frivolously. After all, a popular bode of contention is our recent over-paying whilst many other clubs have got better value deals.
This is how that process works; sometimes you miss out on targets because you are unwilling to meet an asking price you believe to be unjustifiably high. You quickly establish a reputation that you are not a pushover or an easy source for extra revenue. That doesn't mean deals can't be done, it just means you are smarter at doing them. Missing out on a signing may be disappointing, but it's not the end of the world. It might even be for the best, in the long term, although that might be tough to accept at times; especially when results are going awry.
It is worth remembering that Liverpool made their biggest signing of the season in October, when they appointed Jürgen Klopp. That was the signing to impact the entire direction and future of the club. So, sit tight, chill your beans and trust Jürgen Klopp, he's got this.