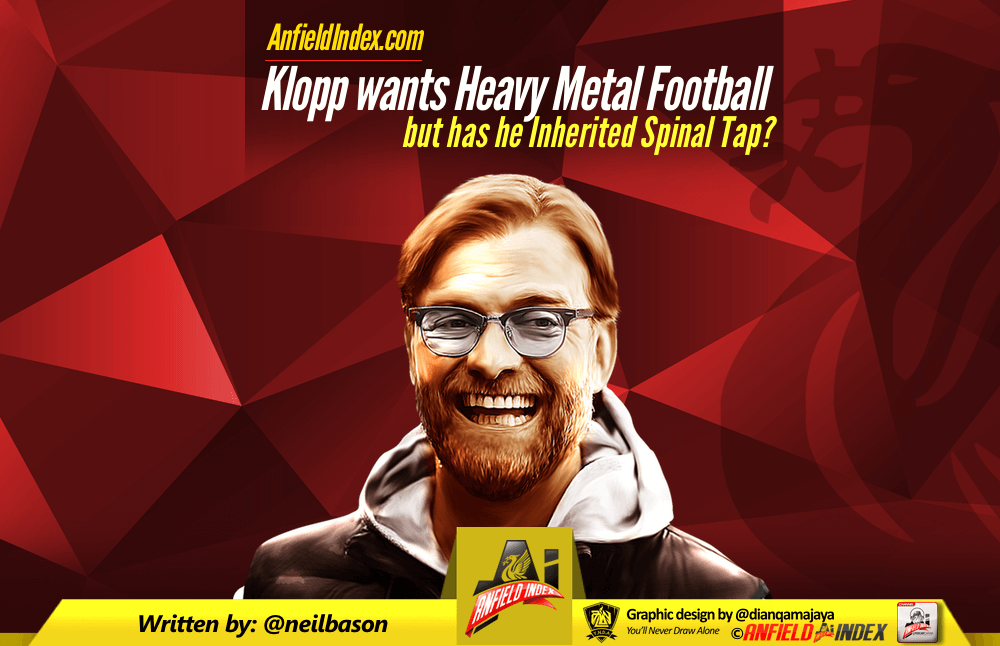 Klopp wants Heavy Metal Football but has he Inherited Spinal Tap?

When it comes to Liverpool Football Club, I'm forever the optimist. A glass half full sort of person clinging to an undying faith that the football powerhouse we once were, we will be again. One day. Hopefully. Okay, I'm mostly the optimist.
But there are times when it's necessary to take a step back, drop the rose tinted's and survey the current landscape for what it is. Times when being a realist offers a bigger, and unfortunately at this moment in time, far bleaker picture of the current state of the Liverpool squad inherited by Jurgen Klopp.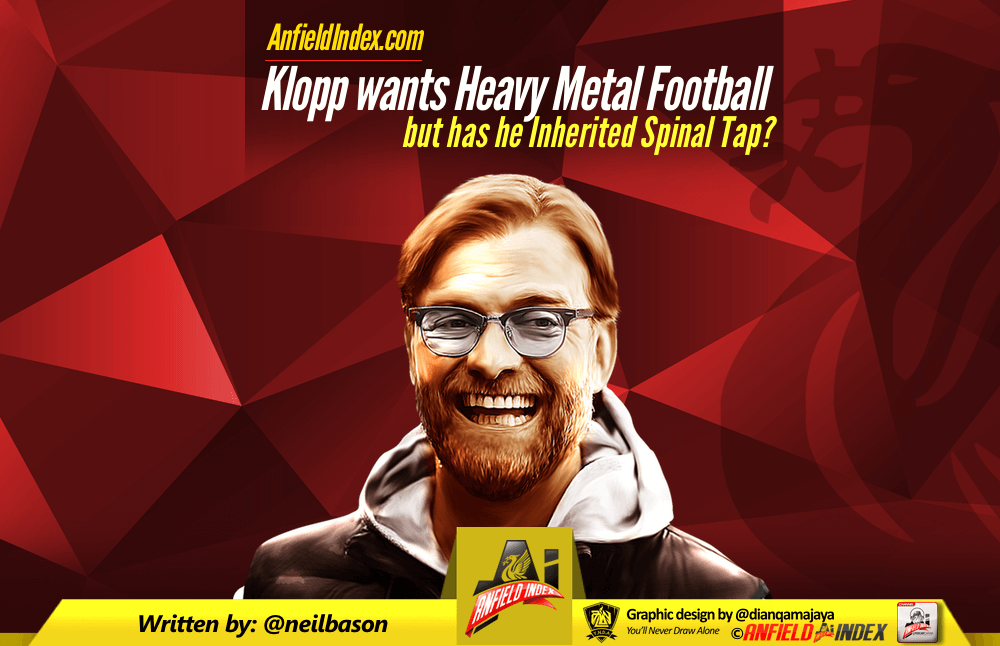 When Klopp strolled in, emanating cool and bursting with charisma, he lifted the atmosphere at the club instantly. My, mostly, eternal optimist rejoiced, the fans were bouncing as if they've got a free Gala Casino bonus and the good times were surely only a few short years away. We could once again begin preparing ourselves for exciting football at Anfield, and a bright, silver, future. We had seen his Dortmund side play, enjoyed the Klopp captioned, "Heavy Metal football", heard the wall of noise from fans wrapped up in the proud, passionate players adorned in their famous yellow and black, and witnessed success. The man who masterminded this was now Liverpool manager. The good times were surely back!
But, what he probably hadn't realised upon his arrival at that first press conference, what I hadn't realised, and what many others had likely missed, was that in terms of heavy metal football, Jurgen Klopp had just inherited Spinal Tap.
In his time at Dortmund, Klopp, spoke of, "…taking passion to its limits…" he's echoed those sentiments in these first few months at Liverpool, but, unfortunately when he arrived at the club, the passion on the pitch had either already left or was nursing long term injury.
The focus and dedication of Carragher was gone, Suarez packed up his insatiable appetite for glory and a fight and left for sunnier climes, and Gerrard, the heartbeat for so long and talisman on so many occasions was no more a Liverpool player. Three that epitomise the mentality treasured by Liverpool's new manager, already gone long before he arrived.
What was left behind was a squad that had seemingly lost direction and purpose under Brendan Rodgers. A squad that appeared to have the mental strength of a Care Bear. Players that let their heads drop, players that crumbled under pressure and looked resigned to the fact that when they had been pipped to the title by City, they had lost a lot more than just number nineteen, they had lost their belief.
Initially under Klopp we enjoyed something of a honeymoon period as is often the case when new managers step in. He claimed he'd turn us from doubters to believers, and he did. Draws became wins, players such as Lucas, Moreno and Can seemed invigorated and grasped the new lease of life offered by a new manager, and, for about a week in November, we even mentioned a title challenge. What a week that was.
But now we're in February, talk of even mounting a challenge on the top four is fading, players have reverted to type and Klopp cuts a frequently frustrated man, animated and pacing the touchline as the players fail to meet his expectations. Now it's time to cast a stark light on the current squad, and honestly it isn't a pretty sight.
For myself we have a first team made up largely of players who by rights and ability should be bit part players at best, not first team regulars. In seasons gone by many would have got a game via fleeting appearances from the bench rather than leading the side from kick off.
And I'm riddled with questions lately.
For example;
Is Jordan Henderson ever going to become the player we hope he can be? Does he offer anything other than a decent work rate and the odd tackle? And can he break his current obsession with knocking a fifty yard cross field ball, that sometimes, finds one of our own and, sometimes, that one is a player and not a fan in the stands. For all his undoubted energy and exuberance on the pitch, any end product from him is pretty rare, a couple of goals, couple of assists, it's just not enough for a player who is considered the new heartbeat of a working midfield. I like Henderson as a player, and we all knew he could never replace Gerrard man for man, it wasn't even a real consideration, but he's currently a million miles away from offering even a fraction of what our former skipper did. I'd suggest the captain's armband might even be too big a burden for him based on current form which has dipped post injury. Maybe let him concentrate on his own performance first and let another be burdened with driving the team.
Lallana falls into the bracket of lots of work chasing players down, a few Cruyff turns too many, but little end product from a talent who should be bursting into opposition penalty boxes up and down the land. I love a player willing to work for the team, and Lallana definitely puts a shift in, but that's not his main purpose. I'm sure he wasn't bought as a hounding, up and down runner, I'm sure he was bought as a creator who'd weigh in with a few goals of his own, and as with many at the minute he isn't cutting it.
Emre Can looked good for a few weeks but has dipped back into being a lad who insists on playing a continental pace in the English game and was last seen scrambling to make amends for another error. Across 90 minutes I've rarely seen a player drift between moments of brilliance and moments of madness so freely. He's a long, long way yet from running the midfield for us, if he ever reaches that point at all, but, is he even a player who has something to offer under Jurgen Klopp's high tempo footballing philosophy? Because of late he looks like a player in the twilight of his career rather than at the beginning. Can has shown he has all the ingredients to be a class act for Liverpool but its vital when playing such a pivotal role that he is on song more often than not and that he understands the consequences of dawdling on the ball in the Premier League.
I also constantly question how effective Firmino is actually proving in his current role? Or any previous role? Because I find him a frequent frustration who only seems willing to take players on with little flicks and taps in a five yard radius that generally ends with them nicking the ball, as opposed to running at them with pace and actually making things happen. The difference between Firmino and Coutinho is huge and is in the expectation. As inconsistent as he can be, when Coutinho is on the ball I expect something to happen, when Firmino is on the ball I don't. It's early days for Firmino but at present I'm simply not seeing it at all.
And then there's Alberto Moreno. Is Alberto aware that if he managed to defend a little better he wouldn't have to rely on his pace to get him out of trouble? Just get the basics right first as a full back and go from there. The last thing Brendan Rodgers got right was the realisation that Moreno has no place in the Liverpool first team. It's harsh perhaps but there's no room for passengers when the club is floundering as it currently is and has been for a long while. We've better defensive options currently waiting to get the nod, and with Moreno's attacking prowess seemingly diminished this season, the time is now to make the change.
This is only a snapshot of my current thinking with this group of players, I've picked out a few who frustrate but most could, and should, be under the spotlight. There are so many issues at present that run right through the team. The lack of pace and drive in the middle, the absence of any cutting edge up front and a defence prone to, let's say, the odd mistake. But, this is already long enough and I'm trying not to outstay my welcome. I would love nothing more than this group to prove me wrong, to prove so many of us wrong, and I suspect at present, to prove Jurgen Klopp wrong, but despite my, usual, ingrained optimism I have serious doubts that is a possibility. Nobody can make an average player great, and nobody can make a team of average players much more than the sum of their parts. And right now we are deeply average.
The returning players could make a difference. No doubt a fully firing Daniel Sturridge would prove an inspiration, or a consistent Coutinho, and at least we have the Summer. And the Summer of 2016 needs to be memorable for Liverpool.
Although my writing here is borne of frustration it can't be denied that the job facing Jurgen Klopp right now is immense. This isn't an easy fix. Young players aside, I'd question whether I've ever seen a weaker Liverpool squad, or one so devoid of players willing to take a risk and drag others with them. For our manager, he's currently got a valid 'get out of jail free' card, in that this isn't his group of players. That's fair enough, and as fans we're currently in that weird transitional phase where bad results and performances are now down to the players rather than Brendan Rodgers, but come July that begins to change and Jurgen Klopp better hope for a fruitful FSG backed transfer window or this brand of heavy metal football is going to keep hitting the bum notes.