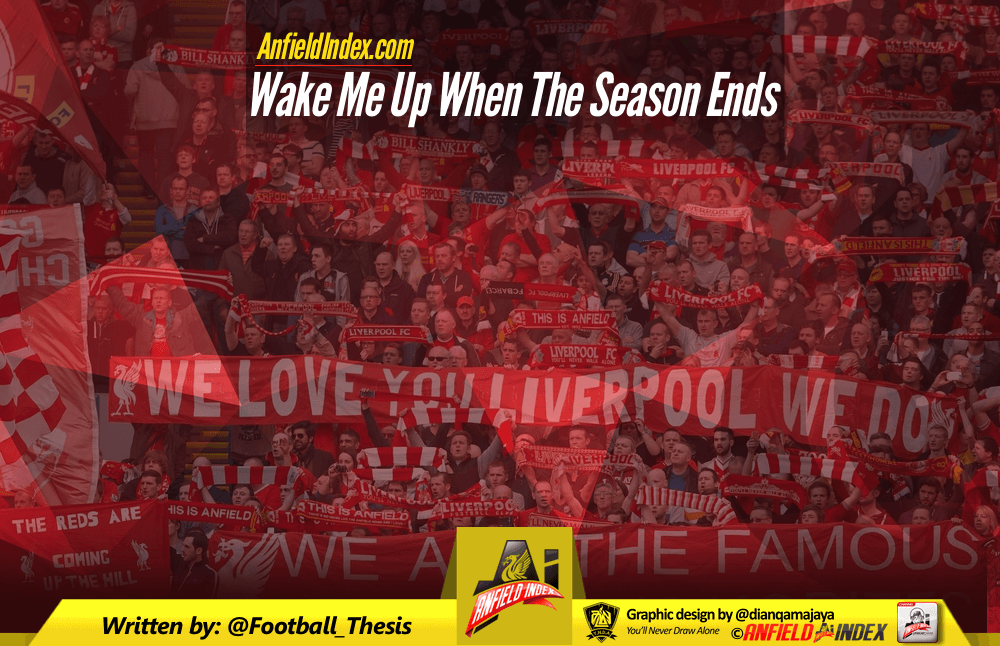 Wake Me Up When The Season Ends
What a season this has been and I don't mean for good reasons. The highlight this season has undoubtedly been Jurgen Klopp's arrival at Anfield, but other than that it has been a season to forget for the Reds.
Every time we as fans seem to get a little bit excited, we come crashing down to earth. It's been the story of the season. A season I, for one, can't wait to be over.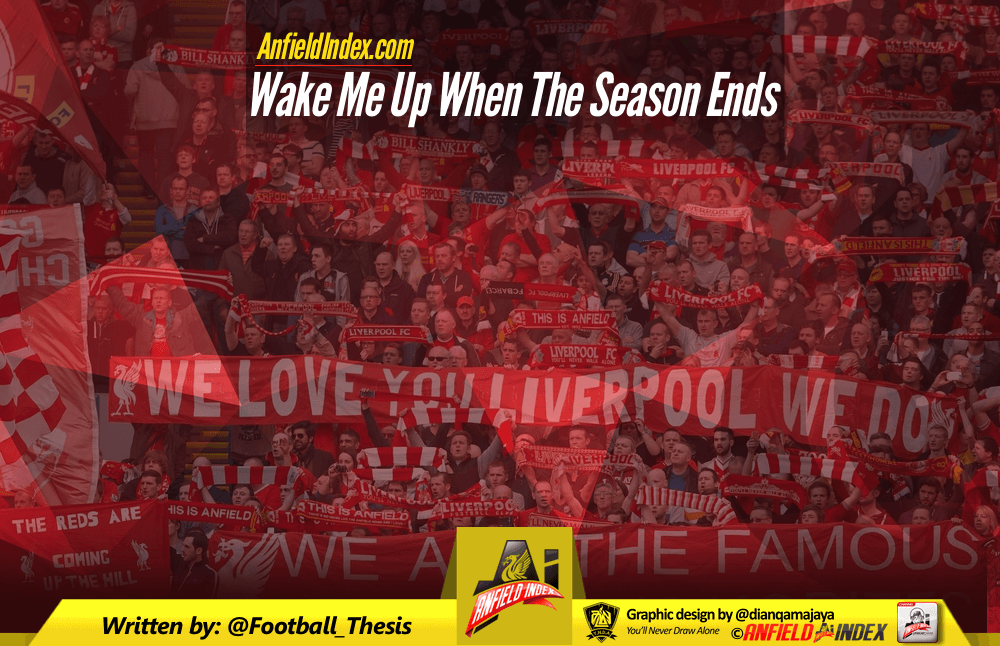 Form

If you look in the dictionary for the word inconsistent, then I'm sure a picture of this Liverpool team would be staring right back at you. No other words can sum up Liverpool's 2015/16 season other than inconsistent.
It all started under Brendan Rodgers (sorry for reminding you). Throughout August and September, Liverpool struggled to get any sort of form going. The side struggled to victory against the likes of Stoke and Bournemouth were followed by lacklustre losses to West Ham and Manchester United (again, sorry to remind you).
It cost Rodgers his job, but if anything the form has been ever more inconsistent under his German replacement Jurgen Klopp. Emphatic wins against Chelsea and Manchester City were followed up by awful losses to Crystal Palace, Newcastle, Watford and now Leicester.
Liverpool have never got going. I don't blame Klopp for this, he is doing his best with Rodgers' dire squad. He is getting used to English football, his players and the crowded fixture schedule. Wins against the big teams and a 6-1 win against Southampton show glimpses of what Klopp's Liverpool can do.
Players
Where to even start. Is Liverpool's squad good enough to be challenging for the top 4 and beyond this season? I think you'll struggle to find a Liverpool fan who would argue that it is, let alone a neutral.
Too many in our squad are not good enough. Every time Liverpool face a set-piece, I want to turn off the telly and go to sleep until the season is over. To get anywhere in football, you need a top class goalkeeper. Simon Mignolet is a mid-table keeper at best, so why do the Liverpool hierarchy insist on continuing with him? I'll never know.
I could rant on about every single player in this Liverpool squad and where they are going wrong. It'd be a long list. To put it simply, every single member of the squad is far too inconsistent, makes too many mistakes and aren't mentally strong enough to drive the team forward. Remember Steven Gerrard? You don't know what you've got 'till it's gone, as they say.
Transfers
Every man and his dog in the country knows that Liverpool needed reinforcing in the January transfer window. After Klopp's appointment, Subotic, Reus, Aubameyang and more global stars were linked to the Reds. Who did we get? Steven Caulker.
Yes, January can be difficult to get in who you want, but let's not forget Liverpool have brought in Coutinho, Daniel Sturridge and Maxi Rodriguez in past winter windows. It's not impossible.
Throughout January, I and many other Liverpool fans got excited with every single player we were linked with. Alex Teixeira looked a dead certainty to join, but I think Liverpool were right to pass on a deal this window. The price mentioned is far too much, but should be revisited during the summer window.
The January window was one to forget for everyone involved with Liverpool. Promised much and delivered nothing, the story of Liverpool in recent times.
Wake Me Up When The Season Ends
On paper, this Liverpool season still has some promise. A League Cup Final, still in the FA Cup and Europa League, all with an outside chance of top 4. This is Liverpool, though, and we'll probably lose the Cup Final, get knocked out of both the FA Cup and Europa League and miss out on Europe all together. You wouldn't put it past us, would you?
We have Jurgen Klopp as our manager, though. Probably the most charismatic, inspiring and passionate managers in the modern game. He's proven what he can do at Dortmund and I cannot wait to see what he can do with Liverpool.
This season, though, is building blocks. He is getting the players used to his demanding style of play, without being able to add the players he wants. No doubt the summer will see us linked to every player under the sun, but I am excited to see Klopp transform this squad. We already have Marko Grujic, who looks an exciting prospect, whilst I'm sure that Klopp and his team will be scouring Europe for the next Robert Lewandowski.
For now, though, this season is exhausting for Liverpool fans. We get excited, we get knocked down a peg and repeat. The future, though, is promising under Klopp, but I would very much like to fast-forward to next season.
In the words of Green Day, wake me up when September the season ends.