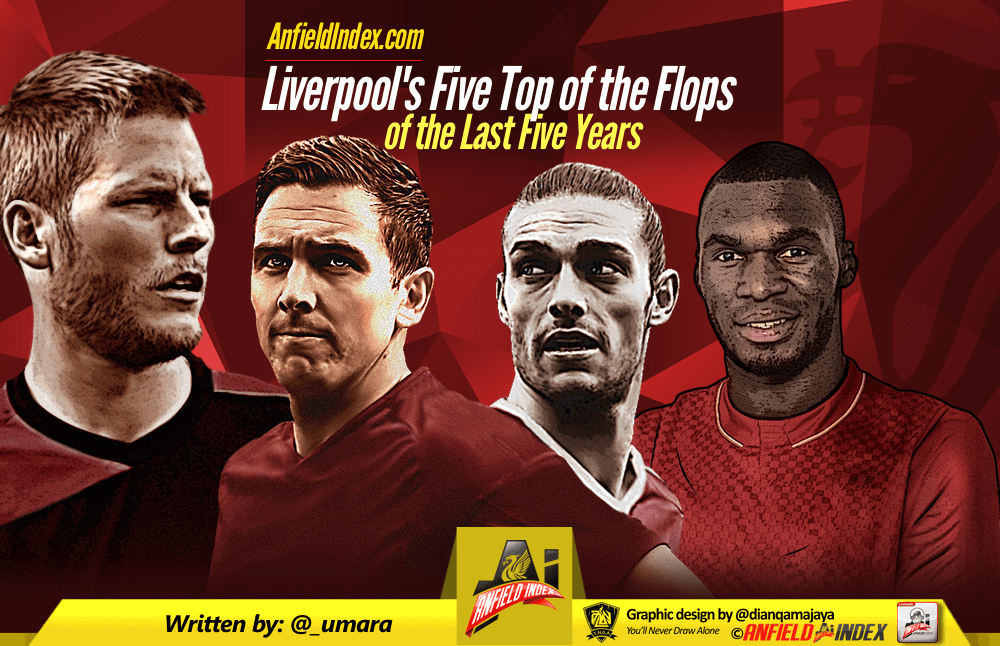 Liverpool's Five Top of the Flops of the Last Five Years
Anfield Index is five years old!
It's that strange age when the adorable toddler you once knew begins to get a little less cute and little more annoying. The 8am tantrums begin when getting ready for school. Incessant questions on absolutely everything in the entire universe. Questions of which you quite clearly have all the answers to. BUT Anfield Index isn't a child, it's an institution; a medium for Liverpool fans the world over to discuss, share, provide, debate, vent and enjoy. And to celebrate our fifth birthday, we are running with the number five theme. Whilst discussing some ideas, some idiot came up with the bright idea of writing about Liverpool's five worst signings. That someone would be me. It was actually a joke because, as we all know, it's extremely difficult to narrow this list down to just five. In fact, it's a nigh on impossible task. Fellow writer and brother in arms, Tim Johnstone, suggested that I narrow the window down to the last five years. Made sense. So, I delved into the more recent questionable incomings and rather quickly realised it actually didn't help a jot. Liverpool's transfer business has been contentious at best. Thanks for trying though, Tim!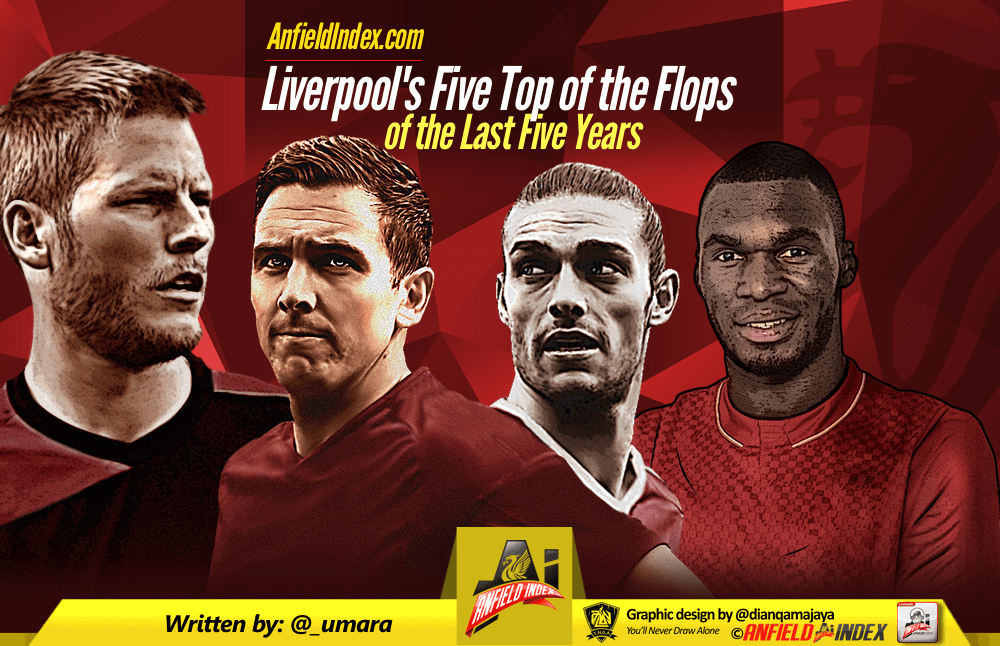 Out of sheer morbid curiosity, I then turned to the somewhat unorthodox tactic of asking the question on social media to see where the consensus lay and whether they were consistent with my own shouts. And, as I'm sure you'll have guessed, I found that a few names cropped up again and again and just couldn't be denied. In no particular order, let's take a closer look.
ANDY CARROLL
Yes, l know. Boring! But you simply can't deflect any attention away from this guy. We all know transfer fees are absolutely nothing to do with players so none of that is a reflection on them. It does, however, tell you much about the club and their dealings. In January 2011, Liverpool had soiled themselves because star striker, Fernando Torres, had just stuck the proverbial dagger through Steven Gerrard's heart by forcing a move to Chelsea, of all clubs.
He needed to be replaced. And he was. But we'll come back to that later.
Newcastle United knew that Liverpool desperately needed a goal scorer and decided to extort what they could from the Merseyside club, currently in mourning over the unforgivable Judas-ness of Fernando, hence they tried their luck.
"£35 million," they said.
"OK," we said.
And that was that. It wasn't extortion at all really. Probably the easiest piece of business that Newcastle have ever done and ever will do. Carroll wasn't even prolific in front of goal. He'd had one decent campaign in 2009/10 where he scored 17 goals in 39 appearances. Hardly mind-blowing. A run of 11 goals in 19 games was enough for Liverpool to monstrously overpay. One great thing that Andy did manage was scoring the winning goal against Everton that put Liverpool through to the FA Cup final in 2012. Let's remember that moment.
Back to replacing Fernando. We did. In the form of a certain Uruguayan. We just didn't know it then. Transfer window, January 2011, wasn't all bad. But, boy did we bloody try!
STEWART DOWNING
When Liverpool agreed to pay £20 million for a 26 year old attacking midfielder in the summer of 2011, you would think we had some player on our hands. £20 million is a lot of money to be throwing about willy nilly. This guy must have a ton of goals or assists in him, right? A wonder kid that everyone was raving about? The saviour of Liverpool Football Club?! Im sorry, I'm getting rather carried away with myself. Having none of the above traits,
Stewart Downing came from Aston Villa with much promise and high hopes.  The season prior to joining us, he had scored 7 goals and had 9 assists for the midlands side. But does that really justify the £20 million fee? Having said that, I'm sure the we would've overlooked all of this if Downing had actually given us all something to shout about; proved us wrong. I do like a player who proves us wrong. Despite trying, he couldn't manage a single league goal or assist in 2011/2012. The longer the drought went on his confidence was eroded bit by bit. He had even stopped making runs into the penalty box. Whenever he had the ball, fans resigned themselves to him either hitting the woodwork (which he was brilliant at) or nothing ever materialising from it. His poor form continued and even a change of manager couldn't help extract his potential. After two miserable years at Anfield, he was offloaded in the summer of 2013 for the measly amount of just £5 million. We wish it could have been different for the Middlesbrough man but it all went Downing when he joined the Reds. Ok, I apologise for that awful 'joke'.
CHARLIE ADAM
Moving swiftly on, you'll be glad to hear that no such puns can be made with this man's name. Charlie Adam joined Liverpool in July 2011 for £6.75 million from Blackpool. I'm not quite sure what warranted Kenny Dalglish's interest in the midfielder. It must have had something to do with his 19 and 13 goals in the two previous seasons respectively. But the Scot only managed two goals in his entire Liverpool career which lasted just a full season. Add to the lack of goals, his lack of creativity in the middle of the park, laboured movement and poor vision and you have yourself a colossal flop. Whilst the money paid wasn't a huge amount, his time at Merseyside has never been remembered with fondness. In fact, he has often made LFC fans' flop lists. Two goals and a missed penalty in the Carling Cup final later, Adam left Liverpool for stoke City for about £4m, which wasn't too bad considering the performances he churned out. We have to thank Brendan Rodgers for his exit as, according to Adam himself, the new manager told him that he wouldn't be playing much football at LFC. Well done, Brendan.
CHRISTIAN BENTEKE
After much thought and internal conflict, I bit the bullet and decided to add Christian Benteke to my list. I didn't want to, purely for that fact that he was only signed in the summer and I'm a big advocate of giving new players time to adjust. Unlike some, I had no issues with the Belgian joining us but I was concerned regarding the fee. To me, £32.5 million should be spent on top class players and although Benteke has clocked up some impressive goalscoring statistics, he didn't warrant that kind of money. Another argument was that he wouldn't fit into the style of football that Liverpool play. Sadly, that's been all too apparent with his positioning, movement, pace and vision all desperately lacking. I'd be the first to afford him a little latitude had I seen any glimpses of hope that he would fit into the team but, unfortunately, that hasn't been the case. It also startled me that even the academy youngsters (against Exeter) didn't seem to want to pass the ball to him, despite him being one of the most senior players and their captain for the night. Although he has shown the desire to work harder, the team has looked better when he hasn't been included in the team. So much so, that Klopp has opted to play Roberto Firmino upfront over the much maligned striker. There would be nothing I would love more than for Big Ben to prove me mad everyone else wrong. I will happily write another article retracting my statement of he does and that's quite something coming from someone who still has faith in Adam Lallana and Dejan Lovren! For now, Christian Benteke's future at Liverpool doesn't seem too bright.
ADAM BOGDAN
This is strange and utterly underwhelming transfer had me thinking whether or not it should make the cut. He didn't cost the club any money so could he be considered a flop? The thought process behind this transfer was odd to say the least. It seemed that he was bought in after a good display against us for his former club, Bolton. If anyone knows of any other reason, please feel free to let me know because I'm stumped. What we needed was an upgrade on current, error-prone number one, Simon Mignolet, instead we brought in someone who wasn't even an adequate understudy. Although Bogdan did have some good performances in the early rounds of the Capital One Cup, that was quickly forgotten when he replaced Mignolet in the league against Watford and Exeter in the FA Cup. Both matches saw the Hungarian make a few huge clangers which ultimately cost his team those games. So unimpressed was Jurgen Klopp that he promptly recalled third choice goalkeeper, Danny Ward, back from loan at Aberdeen, and we haven't seen Adam Bogdan on the bench since. What Brendan Rodgers was thinking when he signed the goalkeeper is a mystery. I actually feel desperately sorry for the guy. Adam, not Brendan.
Those are the five that made my Top of the Flops list. You may agree, you may not.
It was impossible to compile a five that everyone would be happy with. Some honourable mentions should go to the likes of Jose Enrique, Fabio Borini, Iago Aspas and James Milner. All equally as bad as each other. Mario Balotelli was a popular name on social media, but I feel he wasn't given a fair chance under Rodgers hence he didn't make my list. Rickie Lambert was another. Simon Mignolet wouldn't make my top worst signings either as he could hang around as a good second choice, but there's no doubt he needs to be upgraded. Despite constant calls for Dejan Lovren and Adam Lallana to be added, I believe there is still hope for them. At least as good squad players if not more. Let the abuse in the comments section flow…
I'd just like to add that in no way do I think that any of the above players are atrocious. Well, maybe one or two. But rather victims of circumstance. Mid-table clubs cashed in on players and we were more than happy to provide. Most of them probably couldn't believe their luck. And who could blame them. Liverpool may not have the successes of the past but it's still a great institution that many players would give their left nut to play for. And, I hate to say it, as long as we're willing to pay, there'll surely be one or two more Carroll's and Downing's waiting in the wings yet. Hopefully, Klopp won't bring in anymore flops.
(Happy 5th birthday, Anfield Index!)
Have a listen to our two special podcasts featuring John Barnes!
AIPodcast 100 featuring John Barnes talking current LFC Squad and Klopp!

Your browser does not support the audio element.
Right Click Save As Link here to Download!
AIPodcast 101 featuring John Barnes talking his career!

Your browser does not support the audio element.
Right Click Save As Link here to Download!