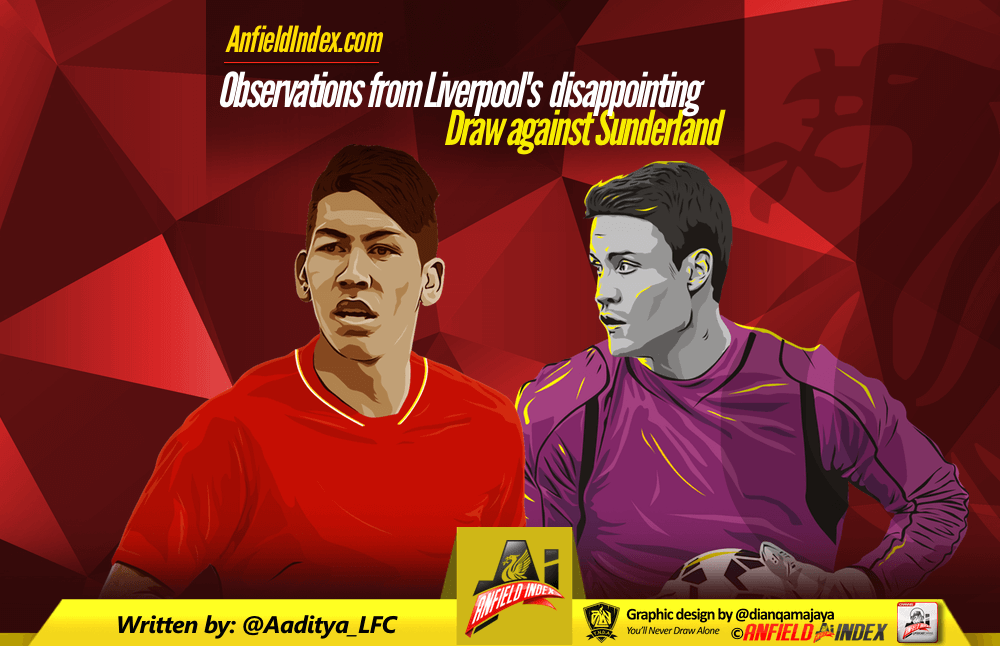 Observations from another disappointing Liverpool performance
On an important day at Anfield, when the powers that be were made aware of everyone's unhappiness, Liverpool added to the frustration as a seemingly routine victory slipped away in the last ten minutes, with more dreadful defending.
Against a team that lie 19th in the league, Liverpool should have been strolling to victory, and they were until some utter brain freezes in the last 10 minutes ensured that the Black Cats took away a precious point in their fight for survival.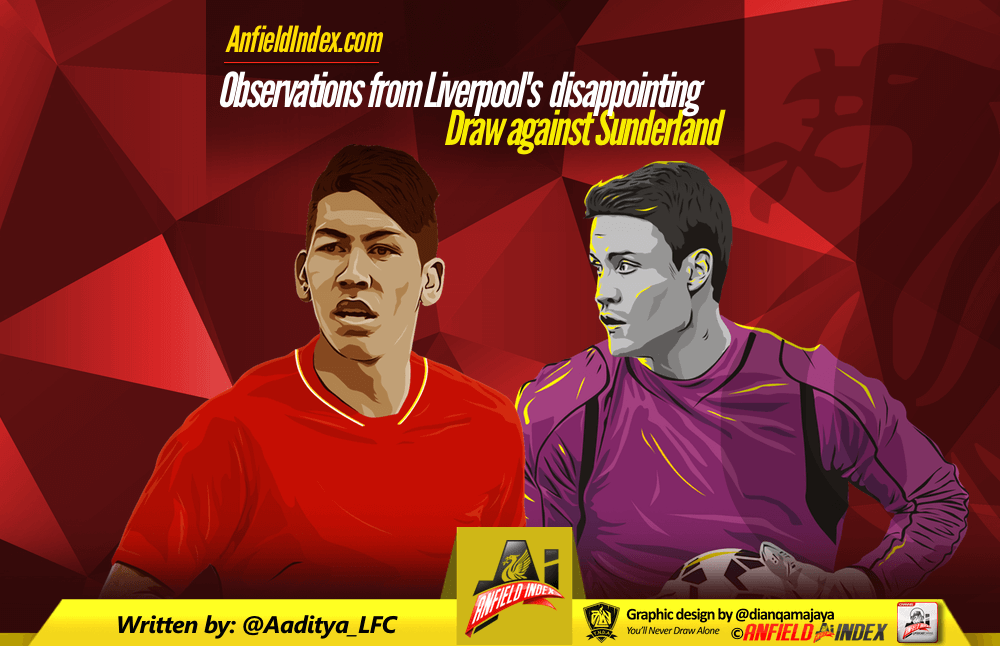 Simon Mignolet's 'Mr. Nasty' is this? When he made that statement, the only reaction I had

was

that I'd hope I'd see some of that on the pitch. But, no. What we saw from Mignolet was what we've been lamenting all season. He had nothing to do for 80 minutes. And then what seemed an innocuous free-kick from Adam Johnson crept in at Mignolet's near post, off the Belgian's palm. There cannot be a word other than innocuous to describe that free-kick and it was inexplicable for a first choice Premier League goalkeeper to have let that in.
Roberto

Firmino

is showing encouraging signs. He breathed life into the game after the first-half lullaby. A well-taken header from James Milner's cross, and a display of endeavour that set up Adam

Lallana

ensured that we were 2-0 up and cruising. But even in the first half, the Brazilian seemed to be the only one who wanted to make things happen.
How slow is our attacking play? Even things as simple as a cross-field pass, out players float it out, instead of fizzing it across, as we were so used to seeing Steven Gerrard do. There is absolutely no momentum to what we do going forward. Our decision making in the final third is utterly shocking. The likes of Henderson and

Ibe

continually got into good positions only to take an age to decide what to do next, and lose possession, or get us to rebuild from the back again.
Alberto Moreno. His attacking endeavour cannot be questioned although the quality is almost always lacking. But his defensive naivety is more concerning than anything else. He constantly jumps into tackles, makes rash decisions, and generally doesn't finish a game without slicing down an opposition player at least twice.
More injuries. We were forced into two first-half substitutions as both

Dejan

Lovren and Joe Allen pulled up with injuries. The curse doesn't seem to be ending. And it is happening to important players as well. For all the criticism against him, Lovren is our best centre-back right now, and Allen has been the most forceful of our midfielders. This would be particularly harsh on Allen, if it is anything too serious, as the Welshman was in the middle of his best spell of form in a red shirt.
#WalkOutOn77. Ultimately, the turn of events on the pitch has, in my view, enhanced the impact that the protest should have on the hierarchy at the club. We're playing some really poor football, and to expect the fans to shell out more money to watch this is ridiculous.

Fenway

Sports Group, were you watching – both the protest and the football?