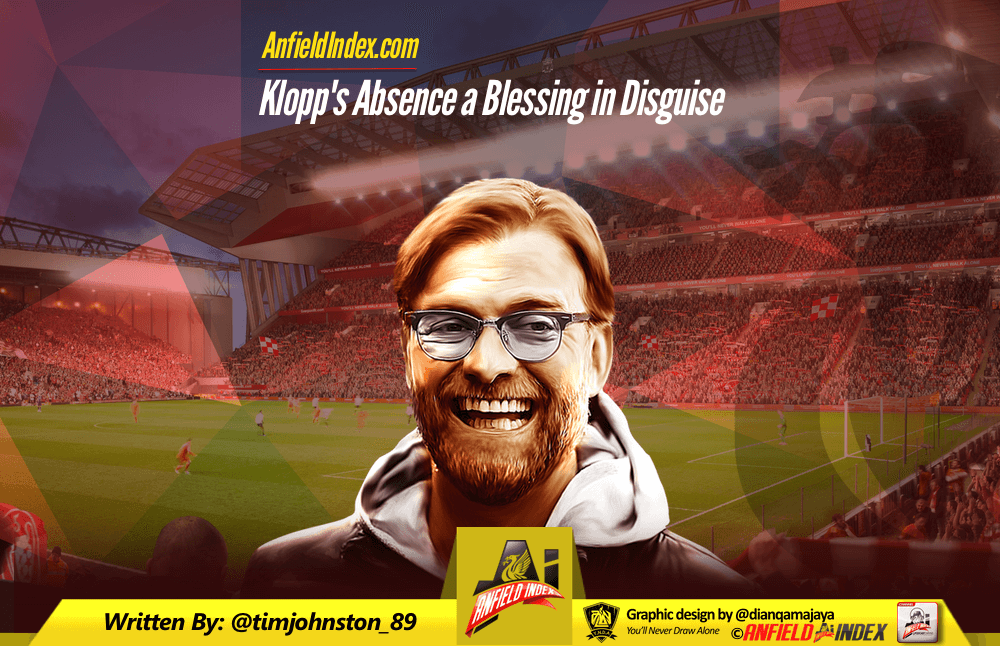 Klopp's Absence a Blessing in Disguise

Hopeless: "Impossible to accomplish, solve, resolve, etc."
Saturday's game against Sunderland raised a number of issues. But no new ones.
What many of us thought was an under-rated and under-valued squad – abused and suppressed by Rodgers' ignorance and personal insecurities – has turned-out to be farce.
Of course, many of our problems were exacerbated by Rodgers' approach. We became an experiment for a promising, young manager, ready for the next step; but not one quite as big as Liverpool Football Club.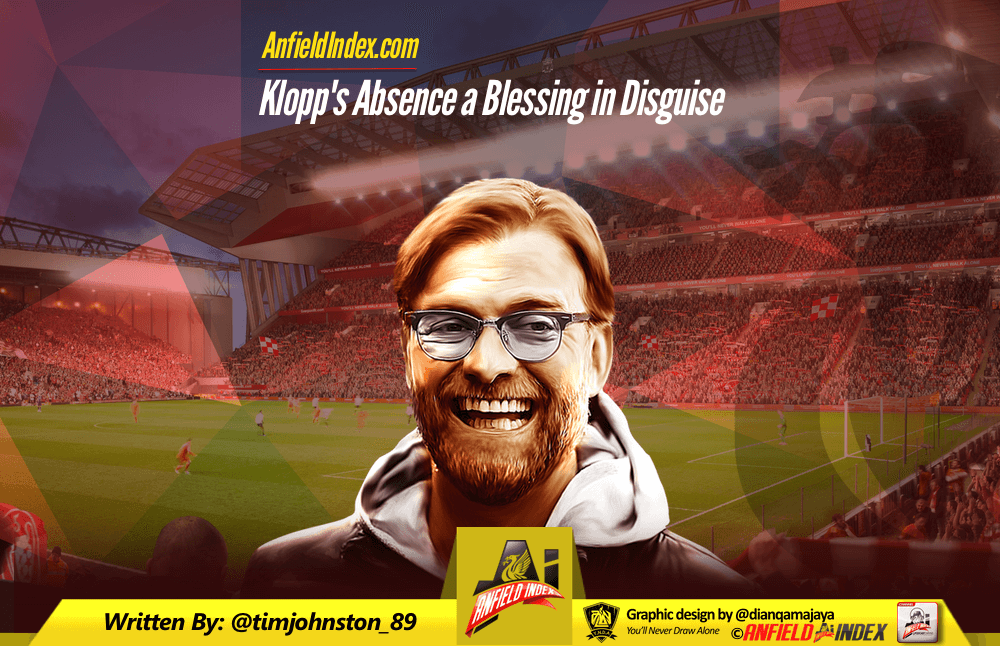 Players were plunged into a malaise of training methods and in-game tactical changes which exaggerated inconsistencies in an already young and inexperienced squad; failing to win anything in over three years, and never advancing to a final.
Now, despite inheriting these difficulties, Jurgen Klopp has managed to maintain a strong presence in all competitions, despite an abysmal league performance of just 1.4 points per game.
Walkout was not to blame
Protests are last resorts.
Anger about increasing ticket-prices and a seeming lack of regard for fans' concerns forced a mass walk-out in the 77th minute.
With a 2-0 lead, victory seemed assured.
Yet, as the stadium emptied, so did our heads.
After Moreno jumped into another rash challenge (conceding a yellow card and a free-kick); Mignolet set his wall too far to the left and refused to keep-out a tame effort on-goal from Sunderland's Adam Johnson.
As stats-junkies were quick to point out; Mignolet has now, single-handedly, cost Liverpool 15 points this season.
It is now increasingly difficult to see how Mignolet can last the next five days as first-choice, let alone the next five years.
At 2-1 up, Lucas was substituted-on for Jordan Henderson.
True to form, Lucas' inability to track runners, make timely challenges and lack of positional awareness threw Liverpool into disarray as the team-dynamic was thrown under the bus. Confusion ensued and a mix-up on the edge of the penalty area handed Sunderland the equaliser for 2-2.
Mamadou Sakho will take the brunt of the blame (and rightly so), but this is just a small part of a huge problem; particularly among senior players.
"Switching-off" has become synonymous with a team that, two weeks ago, struck-back to win 5-4 at Carrow Road.
Inconsistency, laziness and immaturity have cast Liverpool into mid-table mediocrity.
The truth is that, had fans stayed on Saturday, the same result could have been expected.
As one fan aptly tweeted: "Paying premium prices for a mid-table team" really is sadistic.
£77 for title-challenges? Maybe. £77 for conceding first attempts on target and mediocre players? Definitely not.
The players had a responsibility. They needed to show fans that – in the absence of responsible ownership – the team was with them. Yet all they did was provide another point of protest for an already disillusioned fan-base.
Future uncertainties abound, with rumours of the club looking to sell. But it is the present that is perhaps most troubling for Liverpool fans.
Summer cannot come quick enough
Jurgen Klopp will – by now – know the areas of the squad he needs to fix. There is too much inconsistency, too much stupidity, too little quality and in-game intelligence.
A full clear-out of the defence and midfield was seen as radical a few months ago. Today, it seems to be the best option at fixing a number of issues we face.
A lack of understanding, trust and respect permeates the back-line, with all team combinations seemingly incapable of preventing collapse.
That Klopp was unconscious for most of Saturday's match is a blessing – an appendicitis preferable to a squad overhaul any day of the week.
To see the team collapse in Klopp's absence reveals much more about player mentality than being able to come-back from 3-1 when present.
If Liverpool fans are the 12th man, Klopp is the 13th. He embodies our anger, he embodies our joy, he embodies our passion. His presence is there to be felt.
But if the 11 men on the pitch don't embody these necessities then these capitulations will continue, and mid-table will become our permanent residence.
So, Liverpool should count themselves lucky. Saturday's walk-out could have been worse. It could have been about the £300m+ wasted on transfers. It could have been about allowing Rodgers free-reign and not imposing a Director of Football. It could have been about not making tickets accessible or the politics of banners on the Kop. It could have been about a lot of things. But it wasn't. It was for a handful of price rises at £77 a ticket.
Liverpool has systemic issues that need resolving – and soon.
This summer could be our most transformative period in recent history.
Luckily, we have a manager who won't waste it. And, for that, we should be grateful.