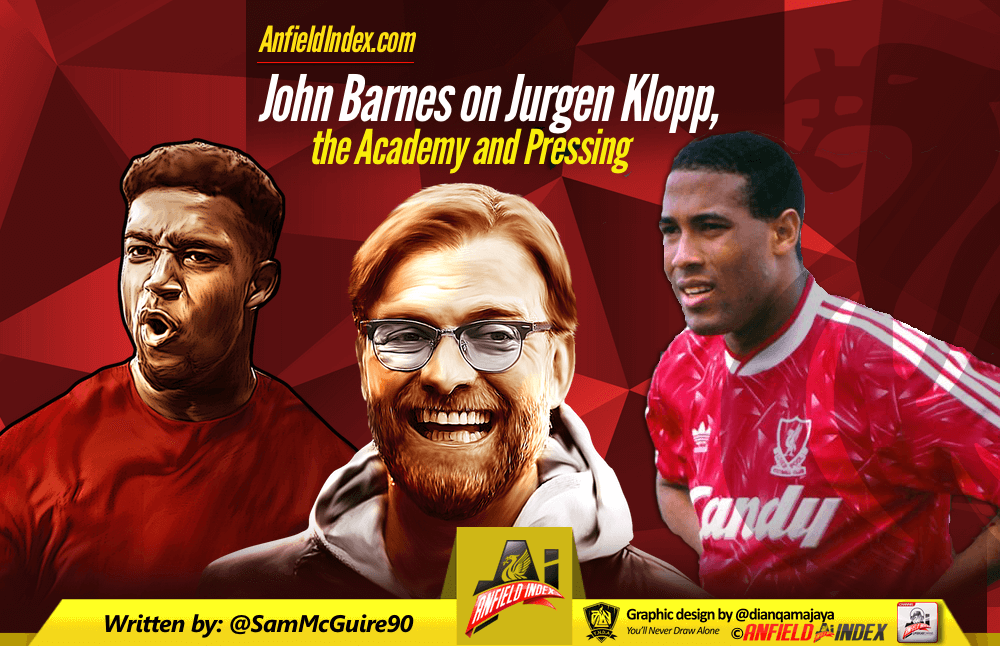 John Barnes on Jurgen Klopp, the Academy and Pressing
Anfield Index recently celebrated the 100th episode of their main podcast, which also happened to coincide with the website's fifth birthday. A double celebration meant the pressure was on Gags to deliver a guest for the event, and like always he didn't disappoint. John Barnes appeared on episode 100 and episode 101, both are must listens for Reds fans of any age.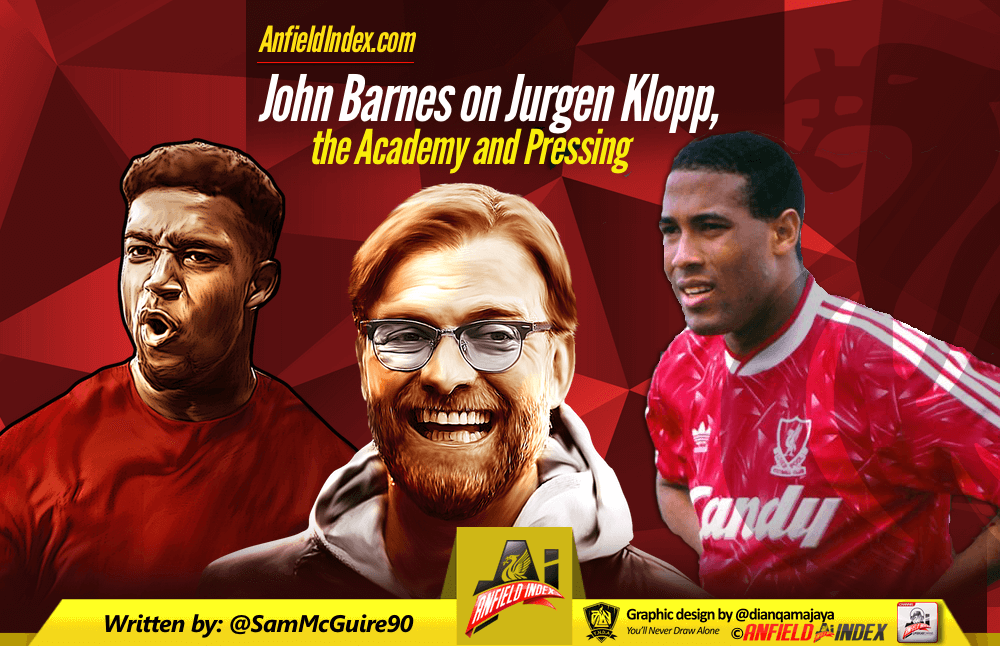 For people of a certain age John Barnes was their Luis Suarez and Steven Gerrard bundled into one. A game changer. A match winner. An entertainer. My Dad used to say he'd come away from matches with bruises having pinched himself to be sure what he'd witnessed was real.

You often hear ex-pros in the media being interviewed and giving the generic answers that just seem to fall in line with the media agenda at that given time, but Barnes' interview was one of the more honest ones that you'll hear in a long time.
Barnes on Klopp's appointment:
"(Klopp) is a fantastic manager. You can see what he did in his time at Dortmund but he'll need time (with Liverpool). Fans need to accept that it wasn't all Brendan Rodgers' fault (the state the club are currently in). We need better players because if they're expecting us to start winning matches and the league then this is a bit of a wakeup call for them."
Barnes on Liverpool's potential summer business:
"He (Klopp) needs our backing. If he signs players we've never heard of then we as fans need to trust him enough to know that he knows the players that he can instil confidence in to meet his demands and implement his strategies. This may have not been the case with previous managers, when a signing was made that fans didn't know about there would be question marks over the ambition of the club; this can't happen with Klopp."
Barnes on the academy:
"Jordon Ibe is probably our brightest prospect."

(When asked about Sheyi Ojo being labelled as the next John Barnes) "Because he's black? Any black player at Liverpool seems to get that tag. He's a talented boy but let him be Ojo instead of the next Barnes. I left Liverpool in 1997."

"Youngsters in a winning team helps. Coming into a team as a young player to carry them to the next level is unfair on them unless they're the next Steven Gerrard or Wayne Rooney. We haven't got any of those. You need experienced players to take the club to the next level and the young players to come in and play with no fear and no pressure. This will benefit and develop them."
Barnes on the changes since Klopp's been appointed:
"Whilst the team are sprinting 33% more they're not winning anymore matches. They've currently got the wrong players to implement the style. They're pressing more but they're not all ball winners. We can't really judge Klopp until he's got his own players. Take Lucas for example, Lucas is pressing more but that's not what Lucas does. It's right for Klopp and the team but not right for Lucas."
It's refreshing to hear an ex-pro speak in such a way and going against the grain of what the media are saying. Jurgen Klopp needs time to make this Liverpool side his own, and although he has an increased budget from his days at Dortmund fans shouldn't necessarily be expecting marquee signings.
His thoughts on the academy are encouraging, they differ dramatically to others in the media who seem to think clubs should build teams around these young stars as opposed to integrating them into an already successful side.
The club may have a talented academy but heaping too much pressure on them has been the problem for the past two decades. Case in point Raheem Sterling. During the 13/14 season he was allowed to play with no fear and pressure, he was just expressing himself alongside Luis Suarez and Daniel Sturridge and look how effective he was? As soon as the support from the experienced players disappeared all the pressure was on Sterling and fans' support started to fade. If the team is successful and not overly reliant on these youngsters then the club could bed in more of their academy players and although we may not see the next Gerrard we could have another Carragher or two on our hands.
Whatever you take from these interviews with Barnes you've got to be asking yourself how he isn't involved with the club in some capacity or at least a pundit in England.
Have a listen to our two special podcasts featuring John Barnes!
AIPodcast 100 featuring John Barnes talking current LFC Squad and Klopp!

Your browser does not support the audio element.
Right Click Save As Link here to Download!
AIPodcast 101 featuring John Barnes talking his career!

Your browser does not support the audio element.
Right Click Save As Link here to Download!