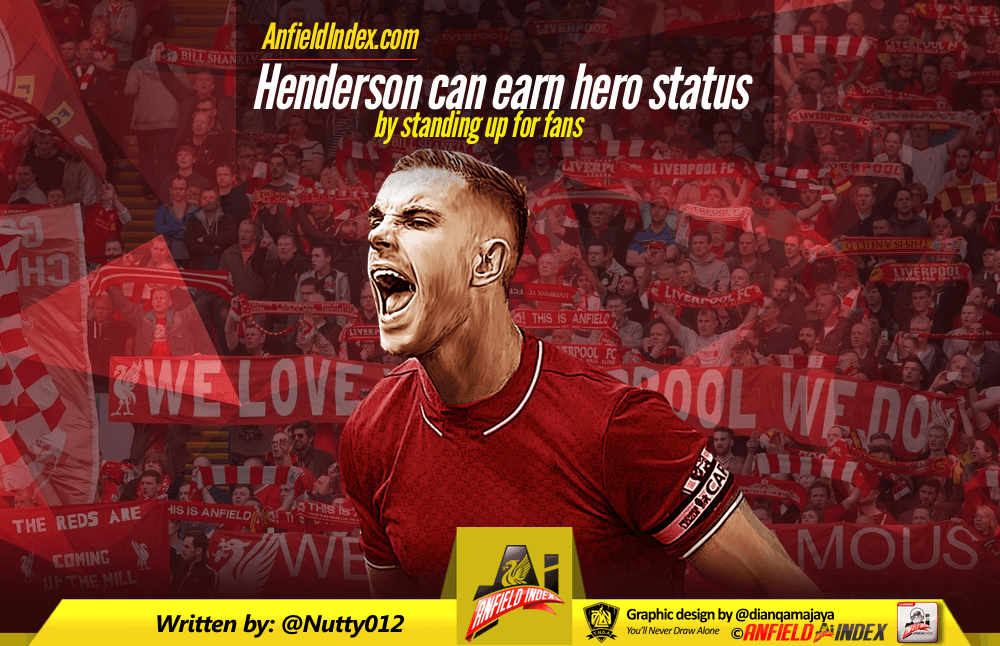 Henderson can earn hero status by standing up for fans
Given the timing of Liverpool's capitulation against West Ham and the walkout of thousands of fans, it was inevitable that links were going to be drawn. After being 2-0 to the good and in complete control, to a walkout of thousands of fans and the subsequent omnishambles that we have come to expect of Liverpool's defence and goalkeeper, and there was a ready-made excuse for the terrible performance.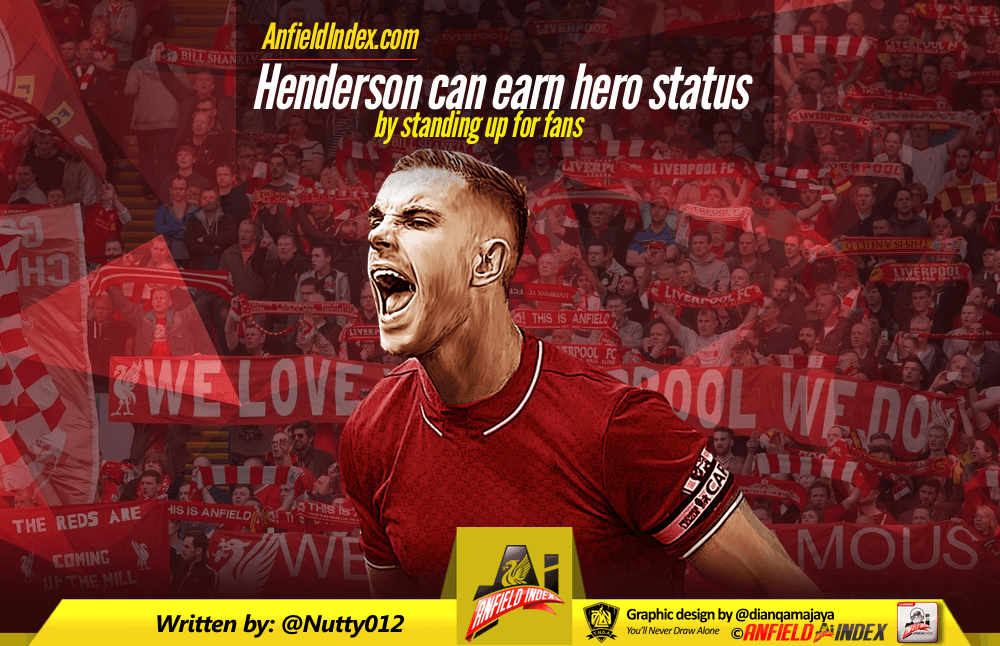 But when Liverpool's club captain, Jordan Henderson, was fielding answers to questions concerning the walkout, he rightly refused to shift the blame. He said the last ten minutes "wasn't good enough", and perhaps rightly put some pressure on the defence and Mignolet in particular by pointing out that "they only had those two chances and they have scored [both]". The fault clearly lies with the long-time incompetent defensive abilities of the team, and he absolves the fans of any responsibility with the result.

However, one can't help but feel that Henderson was dancing round the issue of the walkout itself. He is a professional player, and players are rightly paid to worry about results. But out of all the paid employees at a football club, football players occupy a particularly unique place in the club, in terms of the relationship between the corporation itself and the fans, which together compromise the totality of the club.
No footballers have had any corporate training, almost no footballers have attended university to study, players couldn't have more different backgrounds or live more different lifestyles from the suits who run the club. Footballers are, for the most part, simply football lovers like fans,  but who happen to have the ability to play football for the club we all dream of playing. As such, these players are the most important employees in the whole of the club, and do more than any other employees to define its identity.
It is no surprise that footballers are not expected by management to engage in issues like ticket pricing because that's not what they are trained or paid to do. However, I believe that if Liverpool fans are going to get anywhere with the current administration in terms of reducing ticket prices, and addressing more general issues with the commoditisation of fans, then the players themselves can have a huge role to play. As with organising any similar protests, solidarity is vitally important, and solidarity between the players as fans, and the actual Liverpool supporters, could have huge tangible consequences in our fight for fairness.
For a moment, just think back to March 1997. The Liverpool docks dispute had polarised the local honest workers and their big corporate employers. Seeing Robbie Fowler pull up his jersey to reveal a pro-dockers t-shirt during a European game – a move which earned him a £9000 fine – is inspiring to locals and supporters. Knowing that your heroes, knowing that the individuals who give you a reason to love football, also feel your pain and empathise with you, is inspiring for fans, and is worrying for those trying to abuse the fans.
This is why I believe that Jordan Henderson is the perfect man to get onside about the ticket dispute. It is a win-win situation. For Liverpool fans, we get to have perhaps the most influential, or at least recognisable, employee at the club put an immense amount of pressure on the corporate administration that increasingly looks like it couldn't care less about the people that have been there throughout its history.
Personally, Henderson could endear himself no better to Liverpool fans. He is no scouser, but as a man from the North-East he shares a similar cultural history to many Liverpool Liverpool fans. And, despite currently performing below expectations, big goals against the likes of Manchester City, and incidents like him squaring up to Diego Costa, managed to radically change Liverpool fans' impression of him. But replacing Steven Gerrard as captain is such a big ask that fans rightly are yet to fully embrace Henderson as much as Gerrard. Therefore, there is no better way for Henderson to earn this unquestionable support as the rightful club captain than if he were to stand up to our abusive owners and administration, and in doing so, make himself a hero to young working class Scousers.
There is almost nothing that Ayre and FSG can do if Henderson did stand up to them; they cannot remove his captaincy, and they cannot or attempt to get him dropped. The owners making decisions about a captain based off solely financial grounds, and nothing to do with footballing success, is about as damning a behaviour as there is. Their position at the club would become completely untenable with such behaviour.
It is perhaps ambitious to reach out to Henderson and get his support, but I would argue that if it were achieved, it could be the best next step. It will cause a different type of internal pressure to the fan action that one fears might be so easily ignored by FSG, sitting comfortably and blissfully ignorant an ocean away in Boston. The criticism of the club captain should seriously hit home and mean something. Just like the in the Liverpool dock disputes, the support of key public figures will be vitally important. Not only is Henderson one such figure, but he is also probably the most untouchable employee at the club, and so he is in a unique place to apply pressure on his superiors. Football without fans is nothing, and Jordan Henderson has the perfect opportunity to show that he is still one of those fans.