The latest Simon Mignolet horror show that gifted Sunderland a way back into a match they had been comfortably second best in, was for most Liverpool fans the final straw in the Belgian's chequered Reds career.
Well, to be fair it was more like the final straw in a long line of final straws previous. In a season that has seen the generally hit and miss goalkeeping performances of Mignolet gradually descend to the point where he misses pretty much everything coming his way, and where his distribution appears to have regressed rather than developed, Liverpool fans are demanding change.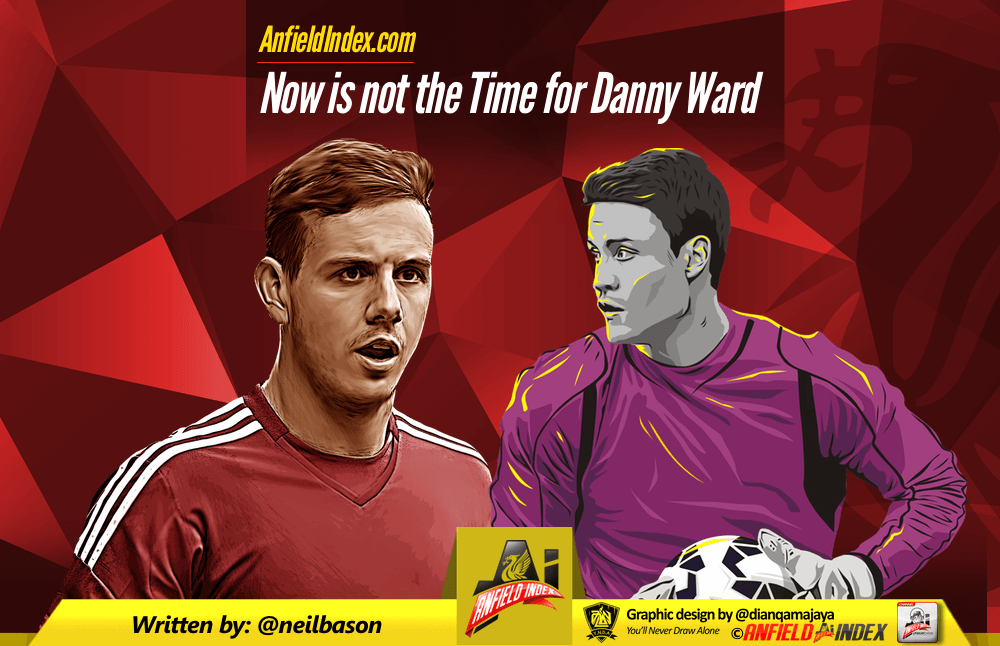 With Adam Bogdan having killed off everyone's confidence in him, and probably his short lived time at Liverpool, with dreadful mistakes against Watford and Exeter City, the only obvious choice to don the gloves is Danny Ward.
Ward, 22, impressed the locals during a solid stint on loan at Aberdeen, pulling twelve clean sheets in his twenty-two appearances. Numbers our own number one would kill for right now. The manager showed faith by recalling him from the loan and then moving him to the number two role ahead of Bogdan.
Speaking on his return to the club, Ward said, "I think the manager is just expecting me to come back and obviously challenge with Simon and Adam and train as hard as I can, like I have done ever since I signed for Liverpool, and hopefully I will catch the eye."
Based upon recent events it would seem that to currently challenge for the keeper's role in the starting line-up is probably easier than it ever has been;
"Can you save a shot?"
"Yep."
"Okay, but can you kick a ball straight?"
"Usually."
"You're in!"
But I do have concerns over throwing Ward in that are stronger than Simon Mignolet's hands facing free kicks.
For all the mistakes made by our current number one, and there have been many in a mistake laden season, if I was to put a case forward for the defence of our keeper, it would be that he has had little defence. Playing behind players so prone to slips can't be easy. In a perfect world the keeper trusts the defender and the trust is reciprocated, harmony at its finest. What we have currently is a back four who are riddled with mistakes and resemble four individuals as opposed to one solid, functioning unit. Yet we're calling to throw a young keeper, yet to make a first team appearance, into the midst of this frequently shambolic defending. This worries me.
I did recently call for Klopp to throw the kids in to the mix for the remainder of the season. Built around my belief that we've a busy summer in the transfer market ahead, I see nothing but plusses from blooding the youngsters for a prolonged run. But these are the outfield players I'm talking about. Players that can be carried when the going gets tough by the more experienced pro's around them, players who won't be under the constant glare of the spotlight currently afforded to anyone stepping between the sticks for Liverpool, and players who can be taken out of the action if the signs point to a player needing a release from the pressure.
Should he be thrown in, Danny Ward will be in a completely different place. For a kick off, in the interests of not killing a keeper's confidence, Klopp can't really sub the lad off if he starts floundering as he could with a Brannagan or Ojo. Secondly, the keeper as we know is often considered a lonely job on the football pitch, mistakes almost always prove to come at the greatest cost and a poor performance never goes under the radar. To throw Danny Ward into the mix of this current Liverpool side is a move that, as we've witnessed with Adam Bogdan, could actually destroy him as a keeper.
As much as I'm sure Danny Ward would relish the opportunity of making that first appearance for the Reds and taking the reins, as many fans have asked for, as the new first choice keeper, I don't think this is the season to do it. Playing behind the current ever changing back four is a poisoned chalice presently, and the time for Ward to step up has to be behind a defence, and a team, built by Klopp.