It's not a great time to be a Liverpool supporter right now. The league campaign – what, for many, gives the season it's real wings – is in danger of spiralling into a damage limitation exercise. It can be grim watching the Reds; a chronic lack of pace, a blunt object seemingly incapable of finding the net and giving us goals, the currency of joy and a huge reason we go to a game. It's grim, make no mistake. January was a bewildering and depressing litany of poor results coupled with transfer hopes raised and dashed. This month has seen division in the fanbase once again, factions formed on either side of a white hot divide; the question of ticket prices and whether to make a stand striking at the very heart of what it means to be a fan of any side.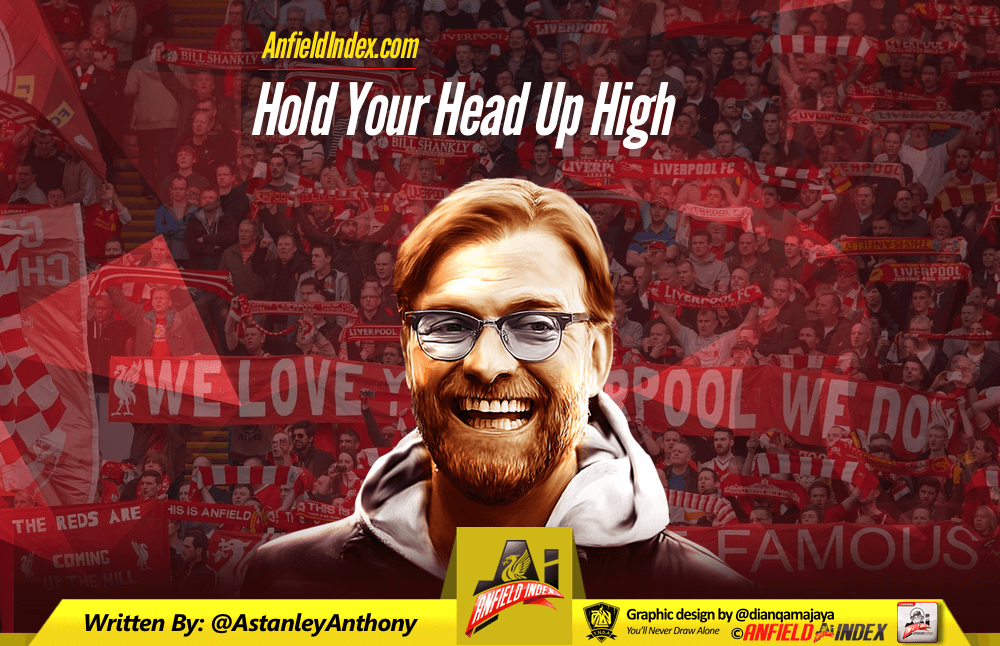 But the reality is we're still a very lucky bunch. We support Liverpool Football Club.

Whatever it was that first sowed the seed in your heart, whether it was geographical location or parental allegiance, whether it was Istanbul or another momentous occasion, whether it was Shanklyesque socialism and the dogma of politics, of being proudly detached from the rest of the country. It could even have been the magical rides of Houllier's treble winners or Rafa's monolithic 08/09 side that was responsible for you supporting the club. Or it could be something infinitely more prosaic. Whatever the reason, whatever first ignited the fervour, you should be very, very thankful.
Because there is no other club in world football that can match the club we support. There is no other club that juxtaposes years of magical success with underdog status. Who else craves that league title like we do?
Ask yourself who you'd rather was the source of your passion, indeed, would it even be passion if you had, by a contrivance of fate, been, for example, a Chelsea supporter? Or a Manchester City supporter?
I don't mind City at all, personally. I don't begrudge them their lottery win and they seem a fairly inoffensive bunch. They're always up there as favourites for the Premier League title and good luck to them. Am I envious of them and their fans? Absolutely not. They're not a unique club; they're not royalty, footballing blue bloods. They've bought a seat at the biggest table but they know they don't have a history, a glorious legacy that at one time was the dynamic driving force that united a city of teeming millions, and beyond. A marriage made in a shimmering nirvana, forged in links of sport, culture, music and more. They bop to 'Blue Moon' for Christ's sake. Does that send shivers down your spine? Does that tune inspire dread and envy, masked, as it invariably is, by mirth and glee by rival fans, as they mock the scousers and their sense of entitlement? They mock us out of fear; they know we'll awake one day.
You're probably frustrated – deeply so – at the failings of the club. Of the damage done a decade ago by a pair of cowboys from the States; of the sense of a step forward perennially followed by taking a step back; of disastrous transfer windows. You'll get no argument here – I'm irritated and exasperated over the slings and arrows of outrageous fortune that have come our way, much of it self-inflicted. I'm incensed that vast swathes of cash has been spent on mediocrity and that our transfer policy has ultimately resulted in team that actually looks frightened at the prospect of shooting at goal. This vicious circle, this self-perpetuating toothless cycle that we're in has me dismayed.
But nearly all football supporters are, if not in a bewildering tirade of dismay, never very far from it. We're all – no matter our club – teetering just above a precipice of angst and torment. There are 92 professional clubs in England alone. There are Christ knows how many semi-professional clubs on top of these. All inspire a following; all have a loyal cadre of supporters.
How many can actually win a trophy in any given year?
It's unlikely, but there could exist a parallel universe where you who are reading this, wherever you call home, were charmed by Manchester United's 1999 epic comeback. Enchanted by their escapades in Barcelona to such a degree that they had you, they had their claws in your soul. Or your parents may have hailed from Birmingham and you grew up as an Aston Villa fan, weaned on tales of their gloriously unlikely European Cup victory in the early 80s.
Imagine, just imagine, never knowing how it felt when Coutinho swivelled and scored against Joe Hart, giving us the lead, making us favourites for the title. For that elusive Premier League.
Is it possible to get blasé about gathering titles, what was once our bread and butter, to paraphrase Shankly? Older readers will be able to answer this but would the passion we feel for our club be so all-encompassing, so furious, so total, if we were in the midst of a purple patch of Premier Leagues? Is the very fact that we slipped off our perch and are clambering desperately to cling on, as much bigger birds of prey circle and hover ominously, the engine that drives our zeal? Desperation is often a powerful aphrodisiac and everyone reading this is desperate for the Reds to overcome the odds stacked against them and reclaim what was once ours. Don't claim that any Manchester United fans enjoyed any of their title winning seasons – with the possible exception of 1992-93 – the way we enjoyed 13-14. We defied everything that season and, sure, Leicester City may be conjuring the unlikely right now but there is one crucial difference: they won't do so again.
Liverpool Football Club will. Remember that right now, Liverpool Football Club will, in the near future, challenge for the league.
It's writ large in our recent DNA, it's why we can never be discounted at the start of any given campaign. Given the right set of circumstances, our club can accomplish what should be impossible.
Because we are Liverpool Football Club. We're dining at a table that decades ago we would have cast withering, disparaging glances of disapproval at, but that's fine. Football and the evolving nature of the game is, by its very nature, capricious. As capricious as fate; that fate which marked you as a Liverpool supporter.
But through all the disappointments, all the failings, all the invectives of anguish, even the apathy which may rear its head occasionally, remember how it felt when John Barnes, with a casual flick of his gifted left boot, kicked a banana off a football pitch. Or remember Bruce Grobelaar's antics in Rome and his spiritual successor's carry on in a penalty shootout at the Ataturk Stadium. Think back to when Steven Gerrard flirted with Chelsea but ultimately, for all the allure of Special Ones and probable titles, could not leave our club. All the memories he then gave us. Remember God and Shaggy, remember Owen and Carragher. Remember John Aldridge, a fan plucked from the Kop, standing forlornly, hands on hips and tears in his eyes, as he stared into a future where he hadn't just seen Dave Beasant save his penalty. Remember how it felt when Smicer's shot – somehow – got past Dida's outstretched glove and nestled in the corner. Remember Torres. Just dwell on some of the moments we shared with the golden haired Achilles scoring from everywhere. Remember Suarez and Norwich City. All of the games against Norwich City. All of the mad, impossible goals. Remember the heroes we've had, too many to name, memories, decades of them, too precious to tarnish with mere words; immortal figures that transcend any language. Remember Houllier's face when Gary Mac's forty five yard free kick crept in and then remember when the French manager returned from an aortic dissection as we beat Roma.
Remember how we grappled with the tragedy of Hillsborough and the haggard and drawn faces of the players, of Kenny and what this abomination did to him. Remember the injustice, the lies, that tabloid. Remember all the campaigns, all the sorrow. Remember the twenty fifth anniversary at a sun drenched Anfield, as hairs everywhere stood up, as Brendan Rodgers mouthed the words to You'll Never Walk Alone, as gigantic flags waved in the gentle breeze, as fists were pumped, literally and metaphorically, throughout the world.
Remember what it's like to support this wonderful club. Remember the magic, drawn on a tapestry of triumph and tragedy, of hope and despair. Don't cast envious eyes at Leicester City and what they are doing right now. Don't look at this as an indulgent paean to wallowing in the past. Rejoice in the knowledge that you support a football club where magic can happen. Celebrate the knowledge that the Foxes improbable story has supplied a blueprint that Jurgen Klopp can capitalise on, that the German can add to his already formidable managerial prowess. We are simultaneously a giant and an underdog; Goliath dressed in the attire of David.
Remember that and remember that anything is possible in the future. The clouds might look grim and foreboding now but we all know the one about the golden sky.