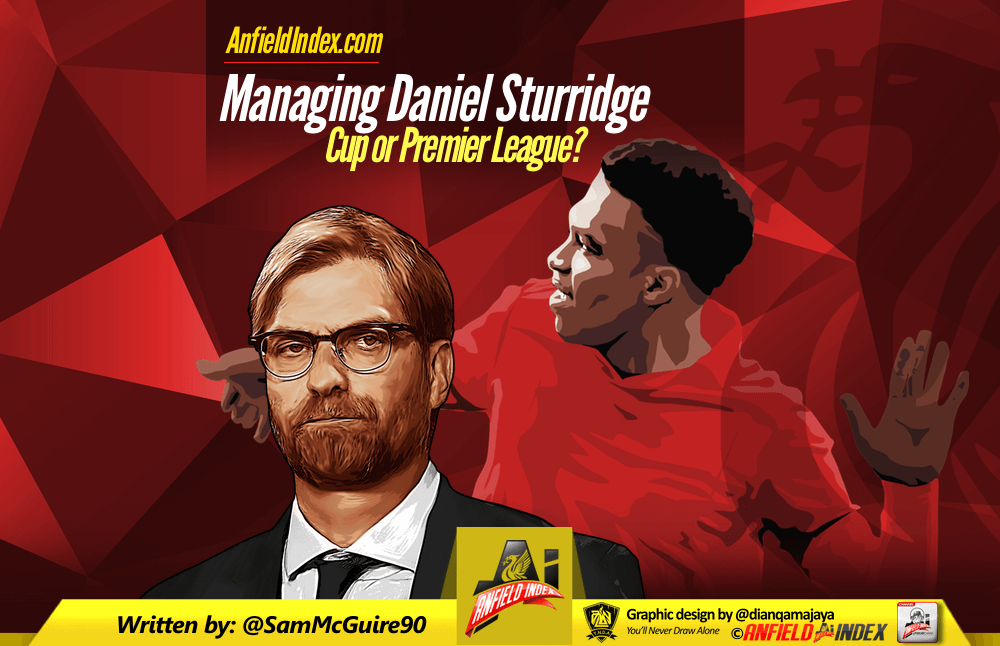 Managing Daniel Sturridge - Cup or Premier League?
Daniel Sturridge's return to the Liverpool bench against Sunderland caught everybody off guard. In the pre-match press conference a day earlier Jurgen Klopp implied if everything went well then the earliest time fans would get a glimpse of their hit-man would be against West Ham in the FA Cup.
The disappointing 2-2 draw, in which Sturridge didn't make it off the bench, all but ended Liverpool's interest in challenging for the top 4 this season. The Reds currently sit in 9th position in the table a whole 12 points and 25 goals away from Manchester City in 4th spot. It's not mathematically impossible but there's probably more chance of Luis Suarez making a return to Anfield in the summer than there is of Liverpool finishing 4th.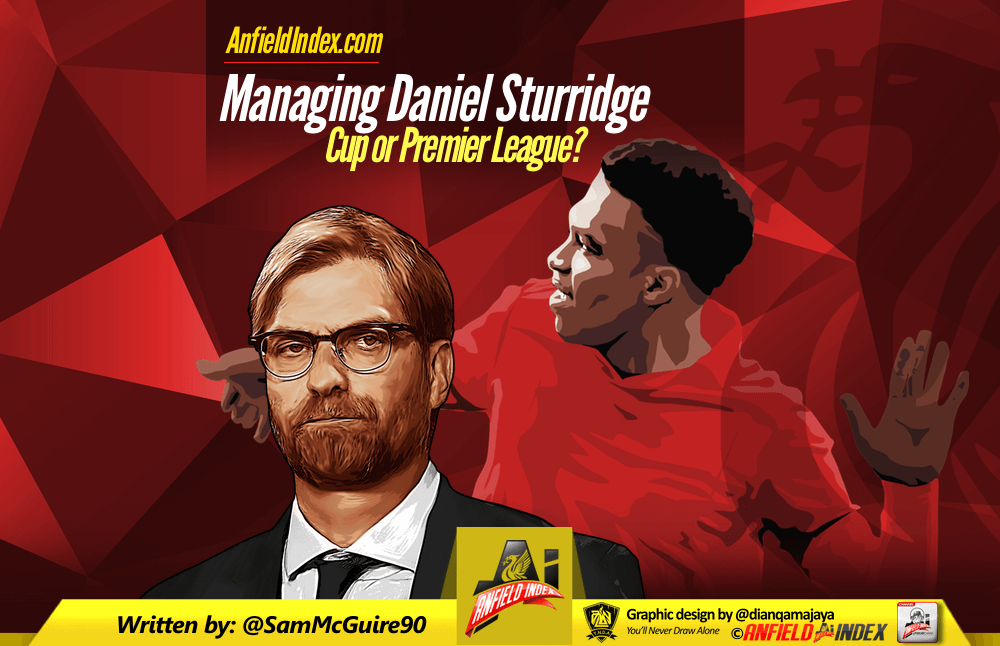 Fear not, just because Champions League qualification through the league looks dead doesn't mean Liverpool's hopes of playing in Europe's elite competition are over. There's still the hope of winning the Europa League. Liverpool are still in contention to win a cup treble and repeat the heroics of the 2000/01 season. With this in mind, is it time Jurgen Klopp starts to use Daniel Sturridge like my Mum uses her best cutlery?
I can't remember how old I was but it was Christmas Day, all the presents had been opened, I wanted to go and mess with my toys but I had to socialise with family before we all sat down for dinner. Pros and cons of Christmas when you're a kid. What caught my eye was a briefcase that had randomly appeared beside the dining room table. Was this a surprise present for me? Was it a briefcase full of money? No. It was a briefcase full of cutlery.
For every special occasion this briefcase would make an appearance and then be put away again in a secret place, because having sharp knives in our house is considered a luxury. My mantra throughout the year is no knife is better than a blunt knife.
I know this isn't just a McGuire tradition either, my girlfriend's Mum got the Jamie Oliver cutlery out this Christmas and I've not seen it since.
To give this season the best chance of being successful should Klopp use Sturridge for the special occasions? Should Jurgen turn Daniel Sturridge into the cup striker, more specifically, the Europa League striker?
Liverpool currently have one League Cup final to play, potentially nine matches in the Europa League if they make it to the final and a minimum of 5 FA Cup games granted they make it to the final with no replays. This is of course best case scenario but there are potentially 15 matches there for Sturridge to play in. That's a lot of game time for a player that's missed nearly the entirety of the season so far.
These games seem ideal to use Sturridge in. The team won't be up against teams sitting deep, the striker won't be having to press as much as we've seen in certain games this season as Liverpool will be playing on the break. Knockout competitions suit Jurgen Klopp's style of play, so many, if not all, opponents will come to play football and attack meaning Liverpool can be more opportunistic and repeat the performances that saw them dismantle Southampton 6-1 with a superb display of counter attacking football lead by Daniel Sturridge.  Special occasions deserve the special cutlery.
Divock Origi Factor
If Liverpool are to use Daniel Sturridge as their cup striker for the remainder of the season then Divock Origi will play a key role. Liverpool will have to play a system that suits Sturridge consistently even though he won't be playing regularly. The closest striker to Sturridge in terms of style is Origi, so it makes sense to utilise the Belgian International in the matches that Sturridge doesn't play.
Set it up so the team are familiar with playing with that sort of striker, the sort who want to get in behind, will play on the shoulder of the last defender and will drift into the channels whilst creating space for those around him, as opposed to what they've been playing behind this season which has been a statuesque Christian Benteke and the impressive but unorthodox Roberto Firmino, who I believe will be even better alongside Sturridge.
Sturridge is the game changer, the match winner and the genuine world class player that Liverpool can currently boast. There's a cliche that all games are big games but with how the current season has progressed it's safe to say the big games are now the cup games. That's not to say Liverpool can't start him in the league against the likes of Chelsea and Spurs, maybe give him a special run out against Everton because he likes to let the bluenoses know what time it is. Unleash the dancing man, but use him effectively. Klopp needs to roll up to Europa League matches with his Daniel Sturridge briefcase.