Jürgen Klopp's debut season has brought a lot of positives so far, one of those being the use of Liverpool's young players. He started this process by bringing back many of Liverpool's promising loaned out players, now he has been using a team in the FA Cup composed of mostly inexperienced players with of few first team players. Many of them have stood out for their good performances, but one player who has stood out above the rest is Cameron Brannagan. He has been used in the Europa League, FA Cup and the League Cup so far this season usually playing as one of the two deepest sitting midfielders where he has impressed.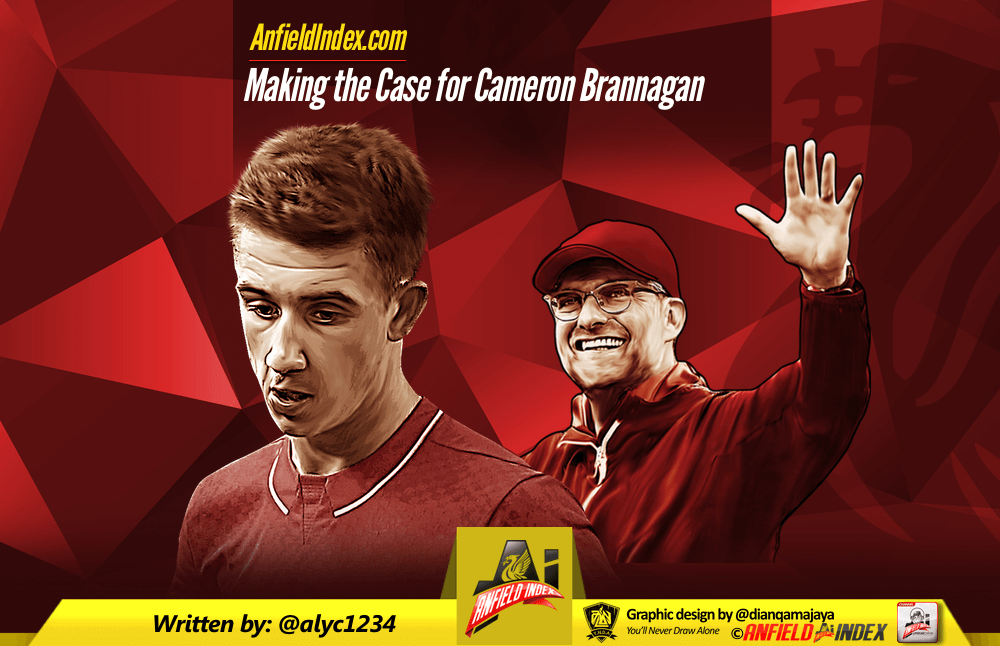 While Brannagan is not a first team player as of yet, he should be the first considered whenever players like Can, Henderson, or Allen are not starting. Players like Milner and Lucas who do not seem to have a place in the squad looking forward should not be taking away minutes from Brannagan. He has more to his game than what Lucas or Milner offer individually in his set piece ability, runs from the midfield going forward, defensive stability, and crossing. Liverpool should look to develop Brannagan and give him games whenever possible so that he is able to accustom to first team play. In Liverpool's current set up, Brannagan would be perfect in replacing Can so that he is given time to rest. Brannagan is able to make the marauding runs forward that Can does, but what he does differently is that he usually looks to set up a player rather than going for a shot. Other similar traits to Can is his ability to move the ball from the defence, not easily dispossessed, and a decent shot from distance. He is also defensively stable and tracks back so he won't allow the opposition to run through the area he is in.

While looking at his games so far this season, it is easy to spot how much he progresses after every game. Mistakes or low points in his game in his first few matches are almost completely gone looking at the last match he played. He is quickly adapting to the style that Liverpool is currently playing under Klopp, which is why he should be in the squad every week, whether it be in the starting line up or on the bench. Some may argue that it's too soon for him to be in the team, but he is more suited than some of the current first team midfielders and he could very well benefit from being exposed to first team football. Dele Alli is a recent examples of a young player who was put into the first team and has proven himself in the Premier League. Brannagan is a similar type of player and has shown that he does not crumble when given his chance in the senior squad, but instead thrived and played like he has been a first team player for years. However do you think that Brannagan can make his way into the first team? Why not have a punt on that by betting here.
Brannagan seems to be a player that will be at Liverpool in the long run and should be given the platform to launch his career this season so that he can have his first full season soon. Brannagan could easily become a player Liverpool could use next season, in a squad player role, who can start league games if needed. He possesses the talent to thrive under Klopp's Liverpool and should be given the chance to show what he can do to earn a spot next season in Klopp's first full season. This is especially true since Klopp will look to challenge on all fronts and will need as many first team quality players in order to have a successful season.