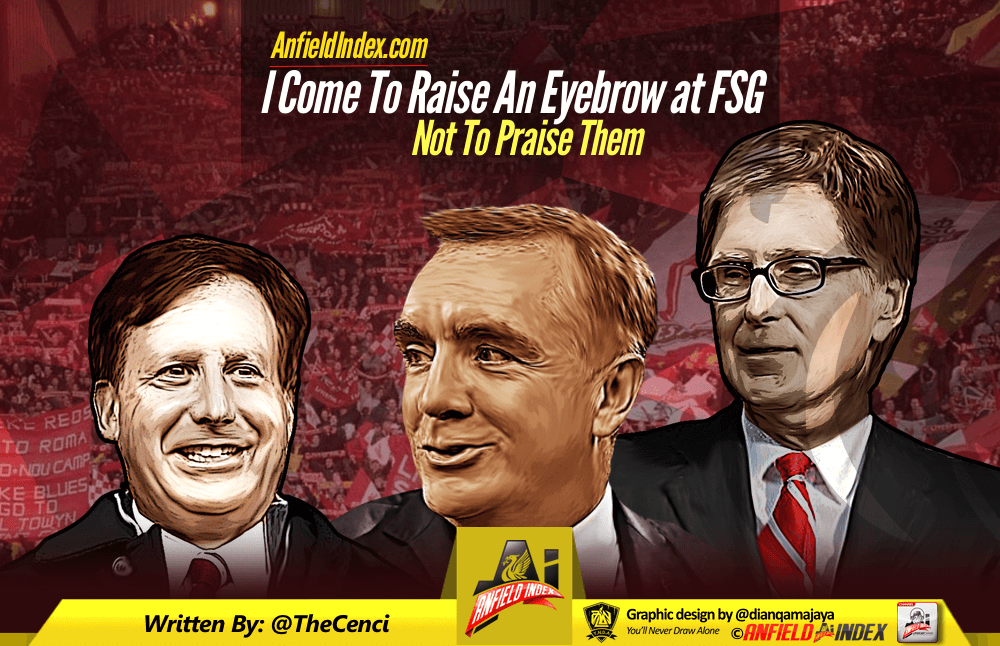 I Come To Raise An Eyebrow at FSG, Not To Praise Them
You know when you're at a party or in a pub and your mates start talking enthusiastically about a mutual friend? About how funny he/she is etc. or how wise maybe, but you can't help but feel that, when it comes to it, they're not all that? Well, that was my Wednesday night.
Following the club statement, signed by John Henry, Tom Werner and Mike Gordon, Twitter has been awash with love and respect for FSG. Climbing down and apologising over an issue isn't easy and many leapt to praise them for their honesty and how their willingness to listen to the fans. Some even called for public applause for them in the 77th minute of the Augsburg home leg. Not me though. I just wondered why the others didn't notice that their brilliant new mate smells faintly of pickled onions and has a revolting way of eating asparagus.
This is a very touchy subject. If my timeline was anything to go by last night there are many people vehemently opposed to even the smallest raised finger of dissent towards FSG so it's key at this point to highlight the difference between a refusal to praise and outright criticism. They are two entirely different things so while I'm not keen to start my own FSG street party just yet, it does not necessarily follow that I want them horsewhipped on the Town Hall steps.
I come to raise an eyebrow at people who love them for this, not to praise them.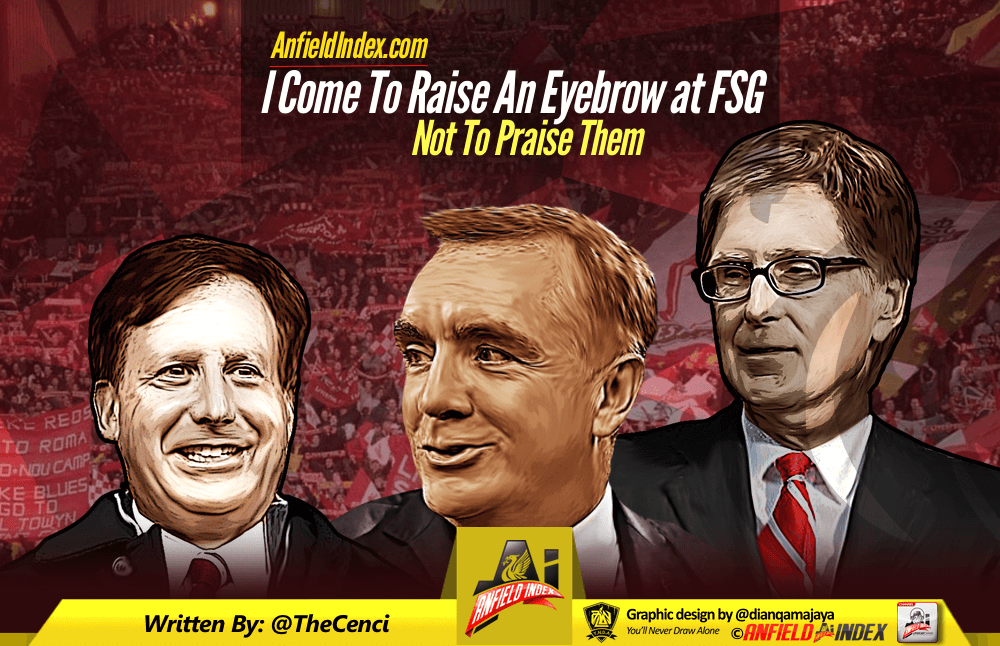 Firstly, I'd like to say that the owners do deserve some kudos for the apology. That took some doing. Maybe my praise is not quite as gushing as many would have it, but they could have just released a PR statement without adding the sentiment of regret. That was a well-received gesture. But, for me, it ends there.
Stop throwing things at me.
Here is my biggest crux. There's been a lot of talk of the owners 'listening and engaging' with the three supporter bodies and the fans when they didn't have to and I can't argue with that. They've listened and engaged all right. They've certainly done that. Both listened and, indeed, engaged. The thing is, they've been doing it for thirteen months – not since Saturday. The Spirit of Shankly, Spion Kop 1906 and the Supporters Committee have been in long and protracted discussions on this and many other issues since late 2014. Hours and hours of lengthy meetings with proposals and counter-proposals with granular increments towards a hopefully, mutually beneficial outcome. Thirteen. Months. Thirteen months of listening and engaging.
Then they ran off and priced out thousands of fans anyway.
If that's listening and engaging then we need to find new definitions as those words have lost their original meaning. Maybe we could attribute the words 'lip service' to them instead.
Let's throw Ian Ayre's frankly bizarre interview and 'be careful what you wish for' statement here. As late as Friday that was the company line. Any protest was described by Ayre as 'staggering'. We listened, we engaged, we stuck two fingers up.
Then Saturday came along.
I didn't go and I regret it. It was one of those moments when you can't quite believe what's going on. The You'll Never Walk Alone that preceded it was loud, raucous and defiant. That anthem is over-played now to the point that its actual meaning is lost, but it was particularly apt, as Jurgen would say, 'in this moment'. You'll never walk alone but if you push your luck with us then you just might end up doing just that as we're needed. We have power. We ARE the club. That will never change.
As sacrifices go it doesn't sound much, does it? Getting up, walking up or downstairs and heading away from the ground while the dying embers of the match fade out without you? Sounds easy, yeah?
It's anything but.
As I said, I didn't go to the Sunderland game but I was at West Ham on Tuesday. As the clock clicked to 77 minutes, I wondered if I too could leave this particular game early when it was so competitive and, in this case, good. I was still thinking about it on 79 minutes so I would have missed my cue. No, not easy at all. I would have walked but it would have had to be the last act, not the first. I frown at anyone leaving early for any game for any reason and I've never done it. Yes, that was hard for people, but such is the issue that it was deemed emotive enough to dig deep.
This isn't to criticise those who didn't. Some of my mates couldn't bring themselves to do it as it felt too alien to leave while there were lads in the pitch and these are people whose support and understanding of the issue is beyond compare. Calling them scabs or whatever is as crass as it is banal.
Also, the myth that the walkout affected the result should be dispelled forthwith. If the horrifying sight of men queueing to leave stops Simon Mignolet from throwing his cap onto a lame free kick or Mamadou Sakho from getting tight to his man then we really are in trouble.
That took guts and if there's credit to be dished out it's in that direction. Yet last night it was FSG who were taking equal plaudits.
I'll ask this. If 100 people had upped and gone on Saturday would there be a volte-face in Massachusetts? If not, why not? They only came up with those price increases because they believed they were mostly palatable to the average fan or, and feel free to argue, that the ill-used could be readily and easily replaced. It was the shock of the walkout and the accompanying bad PR that led them to this, not a sudden wave of philanthropy. They tried it on, got found out and backed down. Well played for apologising but applauding them in the ground is beyond ridiculous.
The £9 tickets and abandoning of the category system is a good and even laudable measure, but clapping them speaks of an acceptance and this isn't that at all. As Spirit of Shankly and Spion Kop 1906 have said, this isn't a panacea. This is only the first sentence, not the final word. We're still paying up to £59 for a ticket, the ground is still devoid of youth (couldn't move for them at West Ham which was a high and subsequently noisy allocation £20 game) and there are other issues which need addressing. If they'd reduced tickets to £30 I'd be seal clapping while standing on my seat. Hell, I might even buy a programme.
How has this been allowed to happen? I can't get past those thirteen months. How can you take so long in what must have been a collection of fairly arid meetings and just go ahead anyway. I thought that the UK staff had sent over the proposals off and Boston merely rubber-stamped them, but Jay McKenna – who has been tireless in his media work on this subject to the state that I'm thinking of asking to be his agent – told me on Twitter someone high up in Boston must have signed that off, you'd think. Is there then a huge disconnect between those in Chapel Street in Liverpool and Fenway in Boston? Remember when the club refused to allow the same groups the right to leaflet the ground in order to attract statements for the Hillsborough Independent Panel only for them to reverse that decision that same week? Is this a case of a decision in one office being vetoed by another?
If so, surely Fenway now have to come over and get their feet wet. They've come out of this with a lot of credit, but they can't keep putting themselves in a place where their only praise comes from correcting mistakes rather than offering strong leadership.
Anyway, it's sort of done now. There are still further issue on the table, but it's nice that the fans have fought and won. What's more important is that we keep highlighting issues and work towards an equitable system agreement for all parties. This goes right across the game too, not just us. Hopefully, we just knocked over the first domino. That alone is something quite remarkable and there's still much, much more to come.