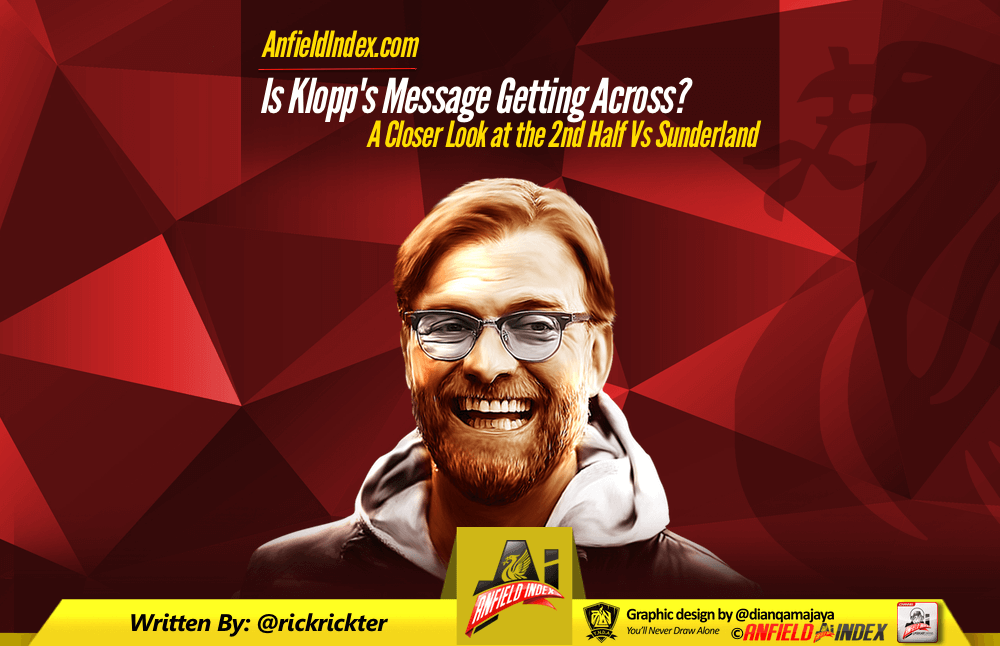 Is Klopp's Tactical Message Getting Across? A Closer Look at 2nd Half vs Sunderland

The headlines around the Sunderland game will deservedly be the walkout and the comeback, but I think those events have buried what are some very promising signs that Klopp's LFC revolution, at least tactically, is truly underway. At first glance I thought our performance vs. Sunderland was decent until it was shit. At second glance, at the second half, I saw a lot more, and a lot that was very good.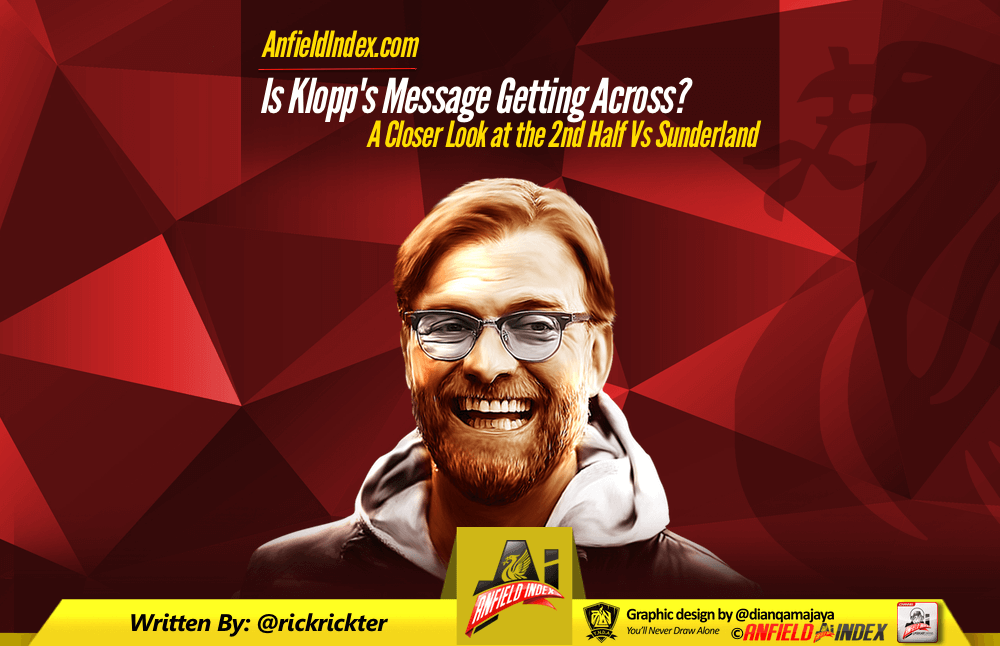 Can Liverpool make it into the Champions League? Find all the best odds at Ladbrokes.
There's an ongoing narrative, and one that I mostly subscribe to, that a good striker would change everything in this team. I think that's even more true now – I can't even count how many times I wrote down the note 'striker's instincts needed here' while analyzing this half of football – but I don't want to harp on about Sturridge, or even Origi or Ings and what we're missing. And I don't want to do that because I think there are quite a few positives developing under our noses.
Shortly before Rodgers was sacked I spent untold hours watching BVB games on YouTube…not highlights, the entire game, any game I could find. I wanted to compare Klopp's tactics to Brendan's, and wanted to know what it would mean if we could land Klopp.
Rodgers liked expansive football. That was great when we had pace, and individuals who could beat a man one on one, but it really hurt us towards the end. Too often players were isolated, caught out, and then we were punished in transition. We didn't have a great defense, but it was harsh to judge them because we were so open. Klopp's offensive style, as you might expect, is quite different…geared to turn what used to be our biggest weakness into a big opportunity.
One aspect of BVB's attack was a number of players, usually 4-5, occupying a small area of the pitch together. If we divide vertically into thirds, often 7-8 players could be found on the same side, in the same third. Attacking players moved together in diamonds, always offering each other outlets for quick interchanges and movement. This congestion is key – you're in the perfect position to press as a group and win the ball back, and then attack, if you lose it. That's what we missed under Brendan – at least that's what I thought when analyzing games towards the end – the ability to snuff out transitions quickly.
Despite the weaknesses of our forward players (as a group), who I've taken to thinking of as FML, (and not just because it's their initials) they're definitely starting to implement Klopp's style, and we saw positive attacking play in the 2nd half vs. Sunderland as a result.
Overall, the offensive movement was better. Bobby is electric, yes, but Ibe's presence added a lot, and I thought Milner, and especially Lallana, were much better in how they used space and worked with each other. There was one moment in particular, after we'd scored the 2nd goal…FML were in a very tight triangle on the right side. Milner looked to Lallana, then passed to Firmino, who one-touched it back to Milner as Lallana broke beyond the defense, receiving Milner's ball over the top. We had two men breaking into the box, but Adam couldn't pick them out and the moment was wasted. Neutrogena dripping down into his eyes maybe.
That was a very good piece of play – they moved well, sucked defenders in tight and opened up the space and then exploited it. Around that time I wrote this on my notepad: "Seeing big differences in shape and tactics to BR era. Klopp's tactics definitely being implemented…players should be doing the big switch of play more, think we'd see it if Hendo was fully fit. Little diamonds, players close together to create overloads with the option to spread the play out to Moreno or Clyne."
Not long after a similar situation developed down the left. Moreno, Henderson Milner and Emre (I think) were close together down the left side, making that little diamond. Bobby was in the center, more towards the left side. The movement pulled the defenders out of position, Hendo broke inside and played a big switch to Clyne, who brought it down and fired it in towards Firmino who broke towards goal. Again it was cut out, but it was another piece of play that would look very familiar to a Dortmund fan.
As I mentioned earlier, properly implementing this attacking style also has benefits in defense, specifically in the transitions. Throughout the game we snuffed out an admittedly not ambitious Sunderland side, again and again, in transition. But it was very clear that we need new personnel if this is going to be sustainable in the long term. There were a few moments we could've been punished…Defoe knocking it down to a driving Cattermole comes to mind…but were lucky to get away with it. Kolo should have been there more quickly, but he's Kolo, the guy is like 57 years old. We forgive him. But we do need a faster center back and a specialized defensive midfielder.
Now, let's get on to the goals, and a few criticisms / praises for individuals. Sakho is clearly not fit. I love the guy, but he's not on form, and I don't think he's fit. Before the free kick (seriously Mignolet, that wall?) – and might I add that I saw Milner asking Mignolet if he should hop on the end of the wall, and Mignolet telling him not to – Sakho has a chance to easily deal with the situation. I don't even think it's a foul from Albie, but Sakho should deal with it comfortably before the ball gets over there. He stands off, let's the ball bounce just outside the box and then be controlled, and then the situation develops.
For the second goal Sakho was also at fault, but like Moreno in the first the ball should never get to him. If I'm not being too harsh, Clyne needs to pinch in slightly and he can prevent the ball from getting to Kharzi first, and then Kolo stands off Kharzi and does very poorly to allow the ball to get in to Defoe. And then, of course, Sakho stands off of Defoe.
Two other instances of mistakes that could have led to goals stood out to me. In the first, Kolo makes a terrible clearance straight to van Aanholt and later over commits when the ball is played back to van Aanholt, and Ibe over commits chasing the clearance before doing poorly in tracking with van Aanholt. In the end he ignores Defoe and Kharzi and blasts it wide, but we were very lucky. Emre does poorly as well in my opinion – he should easily get over and cover the square ball to Kharzi, but jogs back and never goes for it. It was one of the most dangerous moments of the game, and again it was down to us not doing the most basic things correct. A simple clearance, and tracking runners.
The second instance has Milner losing a 50/50 header around the halfway line, the ball bouncing and Emre getting beaten too easily to another 50/50 header, and then they're on to us and get in the box, though no chance develops.
The half can basically be summed up with these words, some all too familiar: much improved team play and tactical implementation, terrible individual mistakes. Lallana personified this…he contributed to a number of excellent team moves, implementing Klopp's tactics well, and got his goal, but on an individual basis made wrong decision after wrong decision. Several times I wrote to myself that Lallana should have played Firmino in, or not done that extra cruyff turn. At one point he picked up the ball in the opposition half, acres of space open behind him, but was unaware of it…he ran back towards his own goal, then veered off and played a square ball out wide.
There's a lot that can't be fixed by the sustained presence of a striker, whether it's Sturridge or Origi. That won't fix individual mistakes, and it won't make tired players track every run they should. Whether that problem requires an overhaul or just excellent on-field leadership I'm not sure. What I am sure of is that, despite our problems, Klopp's system and tactics are starting to show, to good effect. Our attacking players coming back will help make things click, but even if we have to stick with FML for awhile I won't complain too much. For now I just want to keep seeing little diamonds and the occasional big switch of play.