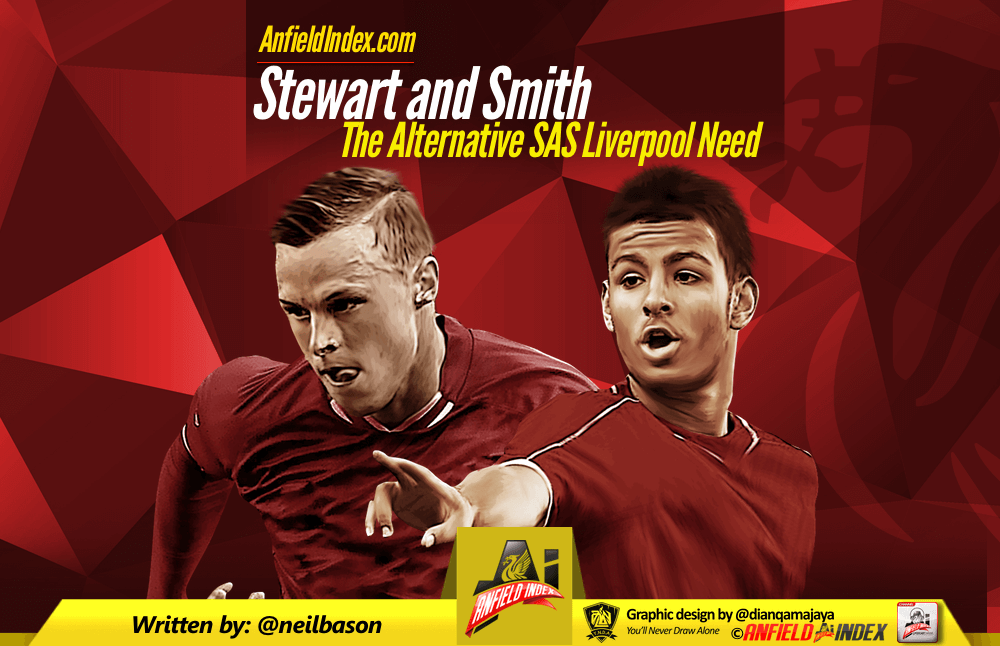 Stewart and Smith - The Alternative SAS Liverpool Need
I don't think it would be unfair to say that it's been a strange old season so far. For want of a better analogy, it has been a genuine rollercoaster ride, with high points quickly hitting the lows before zipping up back to the peaks again. It's one of those years where anything can happen, I suppose that even translates across the top division as a whole, but as a Liverpool fan it resonates clear and true.
One of the undoubted high points of the season lies at the talented feet of the club's up and coming players, and a lot has been said and written about these potential stars of tomorrow. But, bear with me, because I've got something to add and it centres on the two stand out performers in my eyes from those four magnificent FA Cup games, or the alternative SAS as I like to call them.
Stewart and Smith, Kevin and Brad, two lads who above all others grabbed that rare first team opportunity with both hands and held on for dear life via performances that didn't just threaten to match their senior pro counterparts, but in many ways eclipsed them. I can safely say Jurgen Klopp employed no Jedi mind tricks in convincing me that these are the boys we're looking for.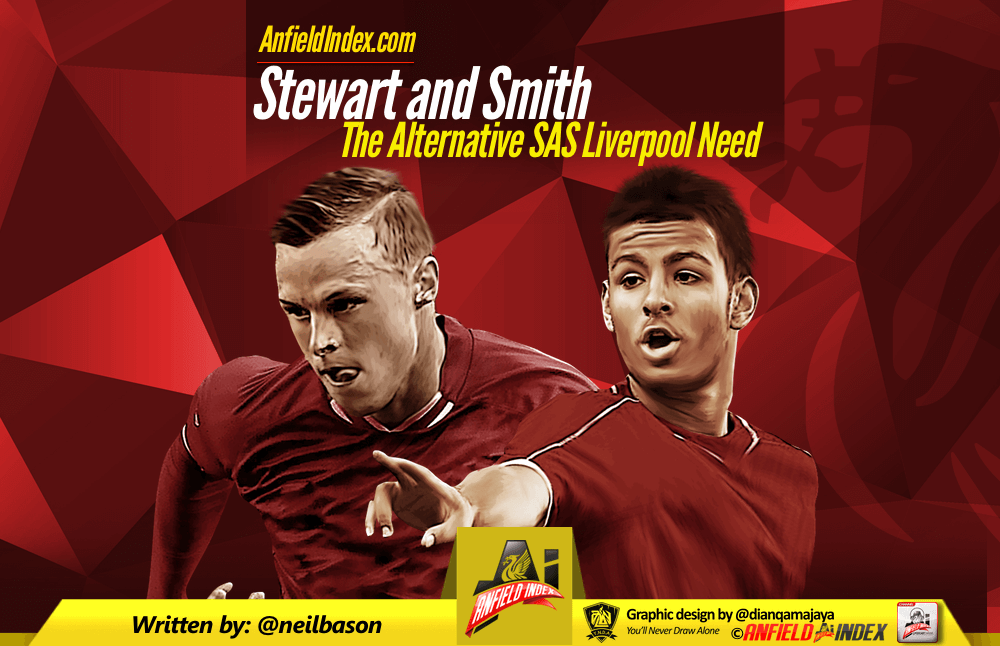 Brad Smith, Left-back, with added defensive qualities.
I've found myself moaning a lot more this season than many gone by, and the focus of my frustration has largely been centred upon Alberto Moreno. I've also spoken of Moreno's shortcomings as I see them and won't dig in again, but when we've a lad on the fringes with the talent both as an attacking full-back and as a solid defender that surpasses anything Moreno has shown in a long while, it rankles a tad.
Prior to the West Ham replay I'd been very impressed with Brad Smith as a defensive option for Liverpool. He showed he harbours a great engine, doesn't shirk a tackle and owns a sweet left foot with which to deliver danger from the wings into opposition penalty areas. But at Upton Park I had my eyes opened further when I noticed just how much of a powerful, physical presence Smith is on the pitch. The speed and power shown as he burst down the line throughout the game was impressive and in addition to his other attributes gives him a very healthy armoury to take to the battle for the starting left-back role.
Of course he isn't the finished product as pundits like to say, but for a 21-year-old, stepping into the top flight for a team whose defensive frailties have been under the spotlight constantly in an injury-ravaged season, he's looked pretty damned unflappable. He battled on through what appeared a niggle in the hamstring (that's the muscle top and rear of the leg if you hadn't heard of it yet this season) and still managed to produce comfortably one of the season's more accomplished left-back displays.
For myself it's time to get him into the first eleven on an ever more frequent basis. Mix it up with Moreno initially, until, if Smith continues as he's started, he makes the role his own for a long time to come.
Kevin Stewart, Midfielder, with added grit.
Of all the players that featured for Liverpool in the FA Cup run, Kevin Stewart is the one I most enjoyed watching. This in part comes from the fact that I wasn't sure what to expect from the rangy midfielder when he set foot on the pitch. We'd all heard how Brannagan was special, how Smith was ready for the first team, how quick and tricky Ojo was, but, and it's almost certainly my own fault for not digging, I knew almost nothing about Kevin Stewart.
I did the digging. Released by Tottenham at 20, uneventful loan spells in lower league football, bossing the midfield for Liverpool during a brief run in the cup. It's short and bittersweet, but for me the real Kevin Stewart story could be just about to begin.
Against Exeter City at Anfield he impressed me greatly. The reason he impressed me greatly was because he didn't make a particularly good start to the game. A few misplaced passes, caught in possession in his own half and looking a yard behind the early pace. Fifteen minutes later he was the focal point of a midfield that had taken control of the game. Breaking play, intelligent passing and phenomenal off the ball work rate were all shining through. To take knock-backs in football such as Stewart has hits the confidence and no doubt has a player questioning themselves. To have the strength of mind to not get rattled by poor starts and errors and to then take the game by the neck and flourish is a quality worth embracing.
I felt he saved his best for last in the cup run, as against a strong West Ham side in their own backyard he produced a performance of true class. The sort of midfield enforcer display we've lacked for a few years now. Dishing out tackles, taking tackles, breaking play up and using the ball to get us on the front foot far quicker than we've been used to at Liverpool over the past season and a half, and all from a player with the engine and determination to get him up and down the pitch all day long. He was almost a combination of the best bits of Henderson and Lucas rolled into one at West Ham, and at 22 years of age is in a great position to take the reins of a currently failing, one-paced midfield and stamp his mark. In a perfect world I'd love to see more of Stewart and Joe Allen together this season, although yet again injury might have scuppered that.
Players who have suffered the heartbreak of being released by a club sometimes leave with a resolute desire to take every second chance that comes their way. I'd say that right now Kevin Stewart is taking his, and I can only hope that now the run is over, he still gets the chance to take it.
We've had a problem at left-back since Riise left us, many would say long before he left us, Joe Gomez looked outstanding before injury, Moreno hasn't really since, while our midfield has lacked any genuine bite since Steven Gerrard left his prime. As I see it the possible solutions are already at the club in the guise of the alternative SAS and now is the time to let them play.