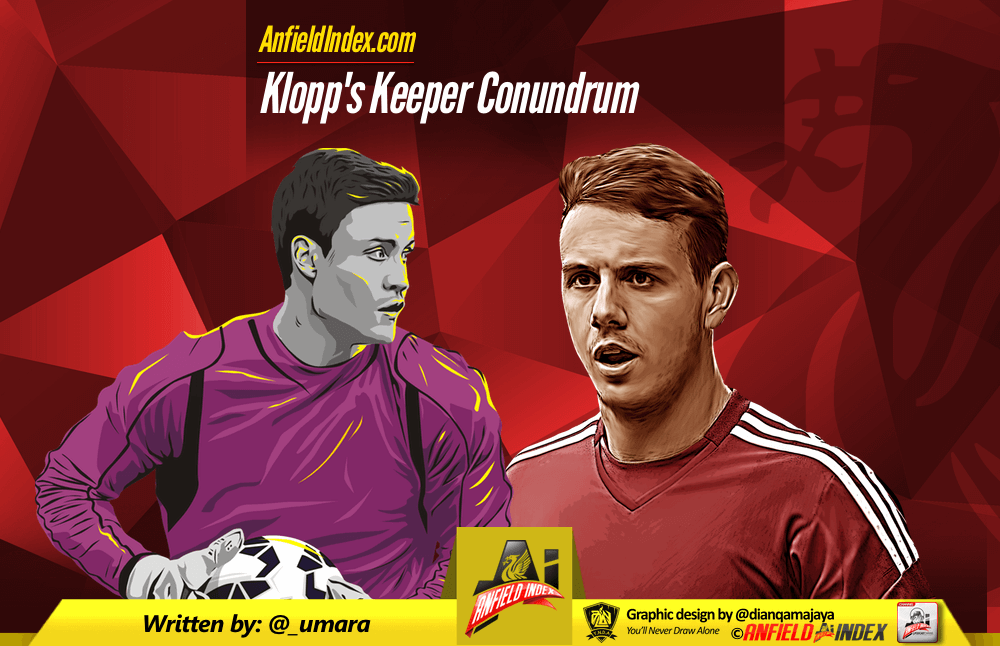 Klopp's Keeper Conundrum

Football fans are the masters of kicking players when they're down. You would think that when someone is in dire need of our support and love, we would shower them with comfort and reassurance, messages of positive praise or maybe some motivational quotes to boost their already dwindled confidence. But what do we do instead? Criticise. And I don't mean the constructive kind. The main objective is to lambaste, pillory, berate, abuse, mock, insult, vilify and nothing else. We all do it in some form; some more extreme than others.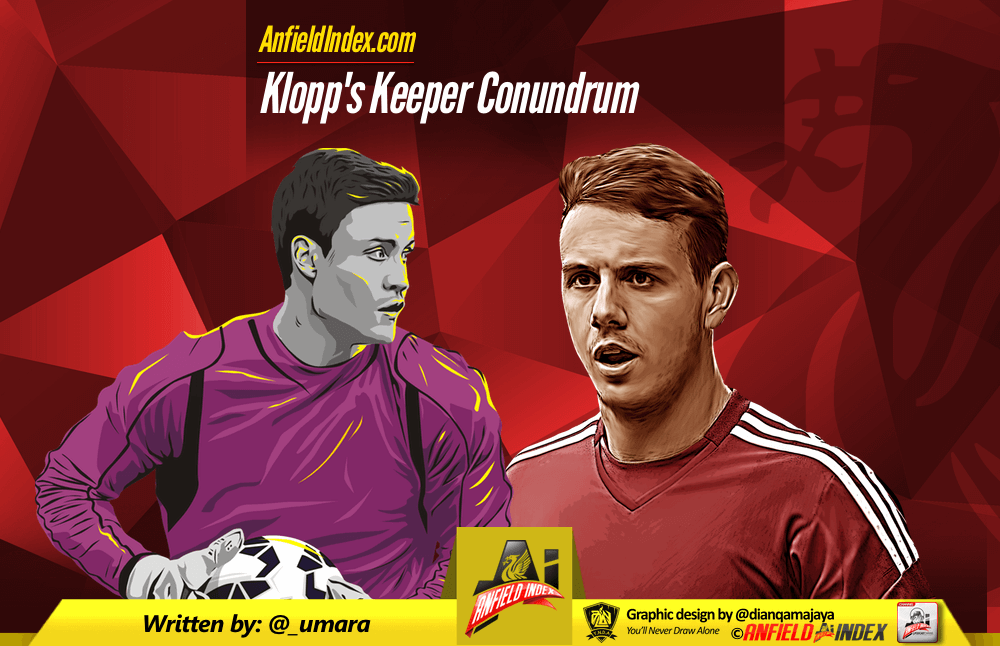 Most players, at some point in their careers,  have suffered at our hands, mainly thanks to social media. One such man who is going through these trials and tribulations at present is our number one, Simon Mignolet.
But should he even be our number one? Many think not. He joined us in the summer of 2013 for £9 million from Sunderland, with Brendan Rodgers hailing him as one of the best keepers in the Premier League. But then this was the man who nicknamed Joe Allen, "the Welsh Xavi"…
However, the Belgian made his debut at Anfield against Stoke City in the first game of the unforgettable 2013/14 season. Liverpool led the game 1-0, Stoke were awarded a penalty in the 89th minute, which saw Mignolet become the instant hero with a fabulous save. He had immediately taken to our hearts and salvaged two crucial points. Would he become a goalkeeper worthy of Liverpool Football Club? Some thought so.
Renowned for his shot-stopping, Mignolet showed glimpses that could possibly support that thought. His instinctive saves in reflex situations can sometimes rival the best that the Premier League has to offer. This was evident in a great run in the second half of the 2014/15 season, which saw Liverpool pick up momentum and a fair few points. This came after a poor run of form when then boss, Brendan Rodgers, dropped the Belgian "indefinitely" after fifteen consecutive starts. Only an injury to replacement, Brad Jones, saw Mignolet drafted back in sooner than expected and he demonstrated great mental strength to come back from adversity and redeem himself. Amazingly, despite the dire start to the season, he only narrowly missed out on winning the Golden Glove. Over his time at Liverpool, he has had some standout performances as the Reds' number one, among them the aforementioned Stoke game for the penalty save alone to the recent League Cup semi-final penalty shoot-out against Stoke, where he sent Liverpool to the final and back in with a chance to win some much overdue silverware. And Mignolet has had many more top-notch games in between.
But it's evident that to be a successful goalkeeper at the top level of Premier League football, a myriad of attributes are required rather than one or two excellent ones. And, crucially, Liverpool cannot rely on Mignolet in all departments. We all know that many of his substandard showings have been down to the fact that he does not take command of his box, he is indecisive and he lacks the vision to distribute the ball quickly. A recent, shocking statistic has shown that this season alone, errors by the goalkeeper have cost Liverpool fifteen points. That's a massive deduction for a club that of Liverpool's stature would have seen them sitting comfortably in the top four, had those errors been at least minimised. They have mainly stemmed from woeful tentativeness when dealing with crosses or corners, and, all too often, basic errors such as not covering certain areas of the goalmouth adequately, as was the case in the recent abysmal outing against Sunderland. His hesitancy and subsequent lack of confidence permeates the back four. When defenders cannot trust their goalkeeper, as a natural result, even small errors are exacerbated. Conversely, an argument could be made in favour of Mignolet due to the poor defence in front of him. After all, wearing the gloves behind substandard defenders would leave any goalkeeper exposed, wouldn't it? It's a vicious circle indeed because the team needs to work as a collective.
Maybe these straws could be clutched upon but the statistics make horrific reading for Mignolet. Fifteen dropped points due to individual errors is just too much to warrant a starting place. His errors leading to goals are more than any other keeper since he joined the Reds, two and a half years ago. Recently, Liverpool have consistently conceded goals with the opposition's first shot on target. None of these numbers fill the fans with any kind of hope for the future. Many are now calling for him to be dropped in favour of third choice keeper, Danny Ward, who was rather abruptly recalled from loan after second choice, Adam Bogdan, failed to impress Jurgen Klopp with a string of inept performances. The goalkeeping situation at Liverpool is one of uncertainty with Ward being somewhat of an unknown quantity. Despite this, it may be a risk that Klopp will have to take sooner rather than later with no reinforcement having been bought in the January transfer window.
The fact of the matter is that, unless Danny Ward overachieves, we are stuck with an erratic predicament between the sticks till the summer. Will Jurgen Klopp get rid of Simon Mignolet? Who knows. He did recently sign a five year deal, much to everyone's dismay. I believe he should stay as a back up keeper to whoever Klopp chooses to replace him with, and I feel he'll do a decent job too. Until then, we're all in for nervy time. But then again, what's new with Liverpool?