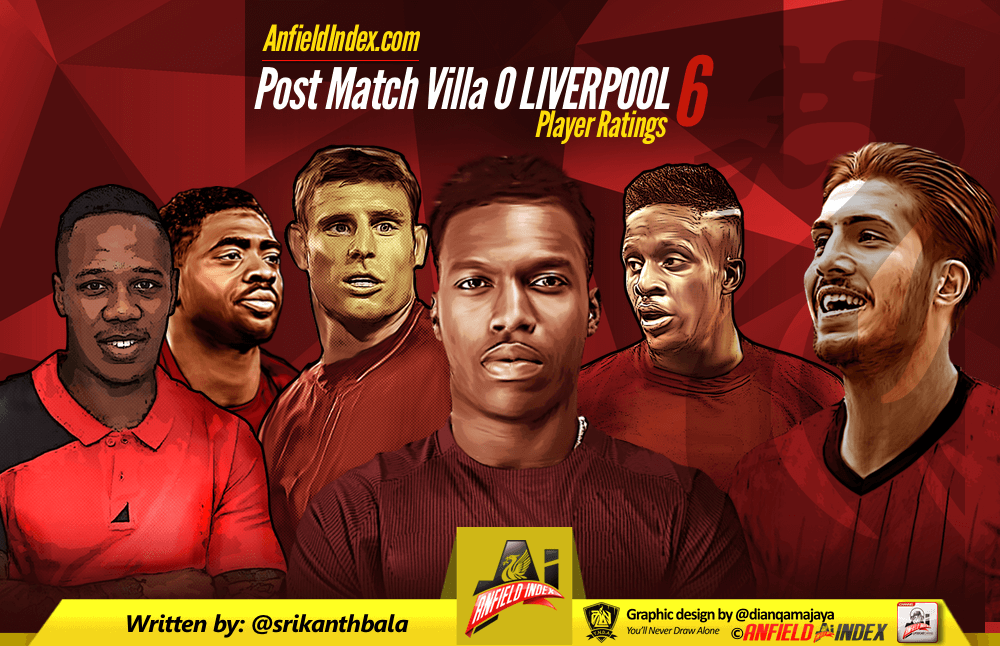 Aston Villa 0 Liverpool 6: Player Ratings
Liverpool and goals do not go together this season. Liverpool and goals do not seemingly like each other. Liverpool and mobility up top absolutely hate each other.
But everything changes when even Kolo scores.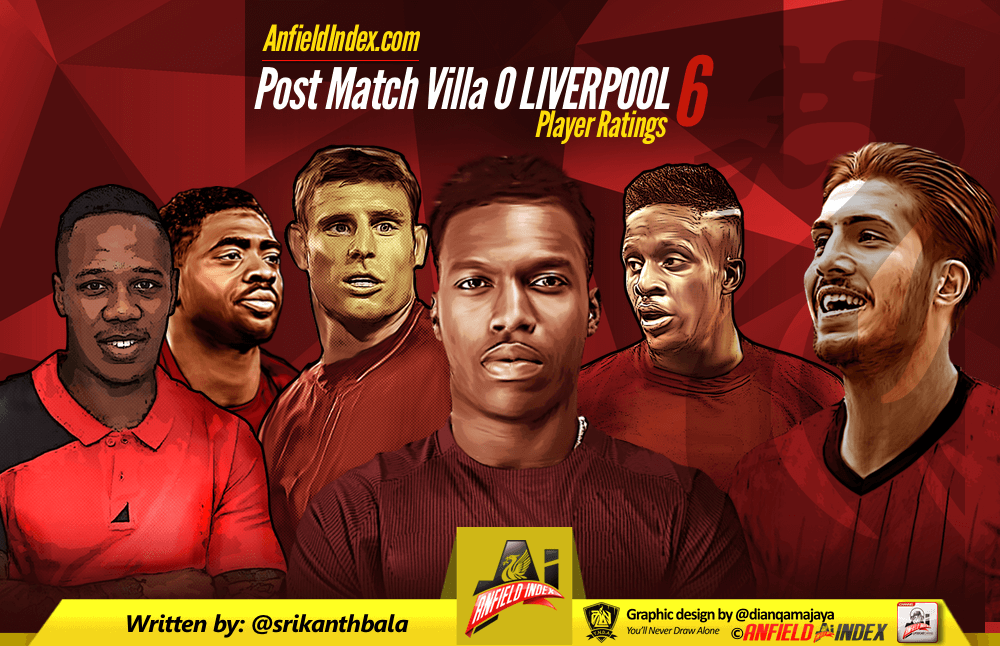 This is how the Reds fared today:
Simon Mignolet (6.5) – Relatively nothing much to do this game. The hardcore pessimists would say he had nothing much to make a mess of (a positive from this game) except for the chance from Sinclair which he could do nothing about. There were rare sights of Mignolet coming out to get the ball and bellowing to communicate with his defence.
Nathaniel Clyne (7.5) – He has made many an inward runs in games prior to this, so it was rewarding to see it come to fruition . A solid performance yet again with great end product for a change.
Kolo Toure (30) – Kolo does not score often. In fact, he has not scored one for a few years. But Kolo does what he wants, so he scores. A very good defensive performance, capped off a great day for the Ivorian.
Mamadou Sakho (6.5) – A good performance from Sakho after a sequence of below par ones. Villa offered relatively no threat so Sakho had an easier day in his primary task in defence.
Alberto Moreno (6.5) – Moreno had a solid game going forward, which is what we have come to expect from him. Delivered a couple of great balls into the box which on any other could have resulted in goals. Was tidy in defence, staying mostly close to his man whenever anyone tried to get inside of him.
Jordan Henderson (6.5) – The captain still seemed to be suffering from his injury, which is hampering his performance levels. Made a few of his trademark lung-busting runs through the middle but without much reward. Could do with a break.
Emre Can (8) – An excellent game from Can in the midfield role which he capped off with a well-executed finish. Liverpool have lacked goals from midfield and Can has been one of the culprits. Can definitely has goals in his arsenal, so hopefully we will see more in the seasons ahead.
James Milner (7) – One of Milner's better performances for Liverpool. Liverpool have been lacking in attacking set-pieces, so it was great to see Milner actually executing a great free-kick. Often moved into the right back spot whenever Clyne marauded forward. Never stopped running, but we already know that!
Philippe Coutinho (8.5) – A magical performance from the returning Brazilian. Some of his touches were jaw-dropping in terms of vision and execution. A great delivery for Sturridge's goal was bettered by the through-ball for Origi's goal, a kind of pass which took us back to St James Park in 2013. There was a spell in the second-half where every touch of his outshone the previous one. He hasn't looked this good for a while now, so fingers crossed!
Roberto Firmino (7.5) – A solid game from Firmino, keeping up his great performance levels this calendar year. His off-the-ball movement and one-touch lay-offs were great. Got the assist for Can's goal.
Daniel Sturridge (7.5) – Sturridge scoring goals has never been a cause for concern. Problem has been in getting him on the pitch often enough to score. So when he was named in the starting line up, predicting a goal from him was a safe bet. And he did not disappoint. It was so exciting to see mobility up front and how it affected the tempo of our game. Needs to stay fit.
Substitutes:
Divock Origi (7) – Talk about impact! Comes on, runs on to a great through-ball, scores and gets rewarded with a kiss from a fan. All on Valentine's day. Ran the channels excellently and looked to stretch the defense.
Kevin Stewart (6.5) – Tidy debut for Stewart. He looked to keep the game simple; which was basically get the ball and give the ball. Made some good tackles and marshalled his space well
Christian Benteke (5.5) – Liverpool scored half a dozen, but nothing much changed with Benteke. The tempo dropped once he came on but did not affect the attack much. His clock now is ticking.