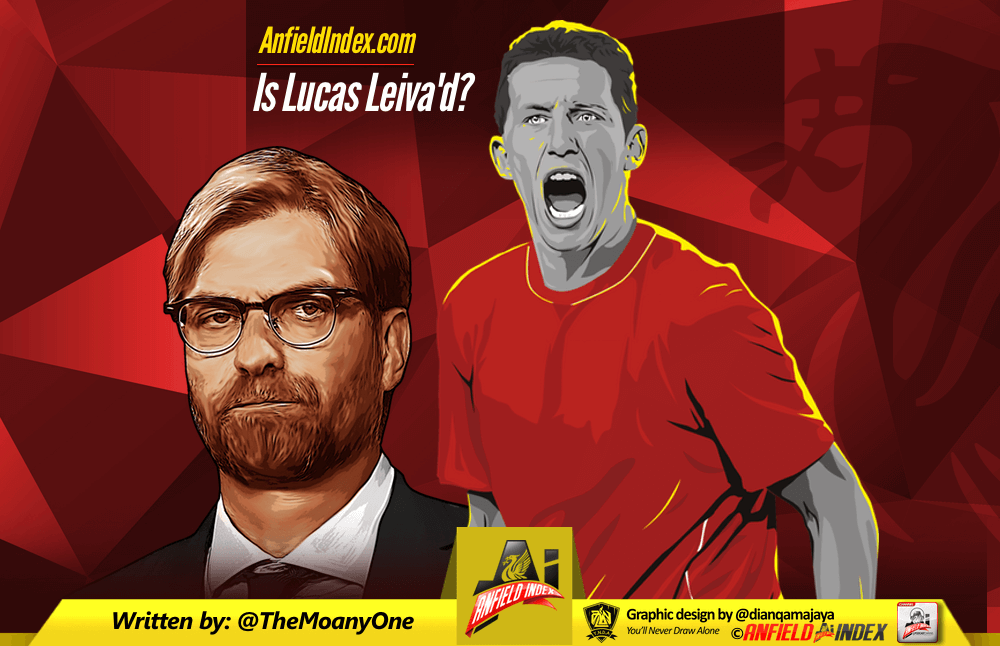 Is Lucas Leiva'd?

Liverpool's number twenty one Lucas Leiva, what can I say about him in this piece, that has not already been said about him already by numerous other writers over the past nine years? Everyone has an opinion on Lucas, some good, most bad and some indifferent. He has often bore the brunt from fans for the poor results Liverpool have suffered while he was in the team. He is for some fans Liverpool's scape goat. Liverpool have a shit game when Lucas is playing then it's his fault. Does he deserve the grief he gets from fans? For me yes, yes he does.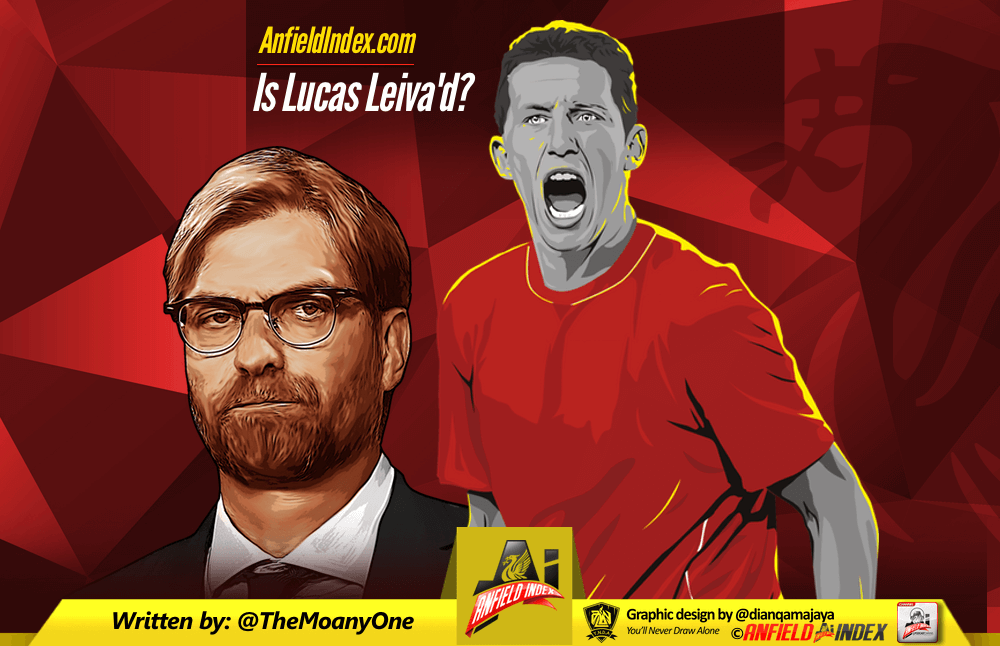 Lucas was brought to Liverpool by Rafa Benitez in 2007 from Brazilian team Grêmio. While playing for Grêmio he was deployed as a box to box midfielder and he was highly thought of by many European clubs. Grêmio were that convinced he was the next big thing, so when Liverpool came calling they did not stand in his way and wished him well on his European adventure. Rafa brought him to Liverpool to fill the box to box midfield role, something at the time he obviously felt Liverpool lacked, it's not like Liverpool did not have Steven Gerrard, Xabi Alonso or Javier Mascherano in midfield at that time and as with every new signing both Rafa and us fans had high hopes for Lucas. Lucas's stock rose amongst the Liverpool faithful when he became the first Brazilian player to score for Liverpool in 2008 when he scored a twenty five yard screamer to help Liverpool beat, at the time non league team Havant and Waterlooville in an FA Cup tie. But a number of poor performances from Lucas and these soon had the Liverpool fans on his back. Such was the abuse and animosity shown towards him, Rafa Benitez took the unusual step of coming out and defending Lucas to the fans on more than one occasion.
Since that wonder goal Lucas's career at Liverpool has slowly gone downhill. In the beginning fans were left wondering if the move to the Premier League was too big a move for him, if he was struggling with the physicality of the league, if he was struggling to adapt to the language barrier or struggling to come to terms with what Rafa Benitez expected of him. He started to make silly mistakes in dangerous positions, which invariably went on to cost Liverpool important points in important games, (his latest would be in this season's FA Cup replay against West Ham United).
Lucas like Martin Skrtel has somehow managed to be a senior figure in the plans of all the managers Liverpool have had since he joined in 2007. Managers such as Rafa Benitez,  Roy Hodgson, Kenny Daglish, Brendan Rodgers and most recently Jürgen Klopp have all trusted him in big games. Such was his influence on Brendan Rodgers that he wanted to build his team around him when he first took over as manager. And even now the thoughts of that makes me shudder. For me Liverpool have more deserving players of that accolade when Rodgers was in charge. Players like Jordan Henderson and Emre Can are midfield players Rodgers should have maybe built his Liverpool team around.
This season has been a strange season for Lucas. Under Rodgers at the start of the season he was still doing a Lucas, giving away silly fouls, lunging in to tackles and had us fans screaming in exasperation at him. Then Brendan Rodgers got sacked and Jürgen Klopp took over. For a while Lucas's performances increased, they increased so much that some fans were left wondering if Liverpool were only now seeing the real Lucas, the Lucas some fans knew he could be. Then the Klopp effect wore off and the Lucas of old returned, the Lucas who would lose the head in silly positions and looks surprised when he gives away a foul. Yes he has been played in a number of different positions since Klopp took over, centre midfield, defensive midfield and recently as a make shift centre back. A position I will admit I was surprised he could play in so well in.
He has played twenty times this season and with Lucas in the team, Liverpool have lost more (8) than they have won (6). Liverpool have conceded more than they have scored. Liverpool also have a number of up and coming midfield players who for me will be the reason that Lucas finally leaves Liverpool. Players like Cameron Branagan and Kevin Stewert are proving that they can do a job in the position that Lucas has made his own over the last number of seasons. With Klopp reportedly looking for a more modern defensive midfielder and Kevin Stewart impressing I am of the belief that Lucas won't make it ten years at Anfield and come May we will not have to suffer any more Lucas lead heartbreak.