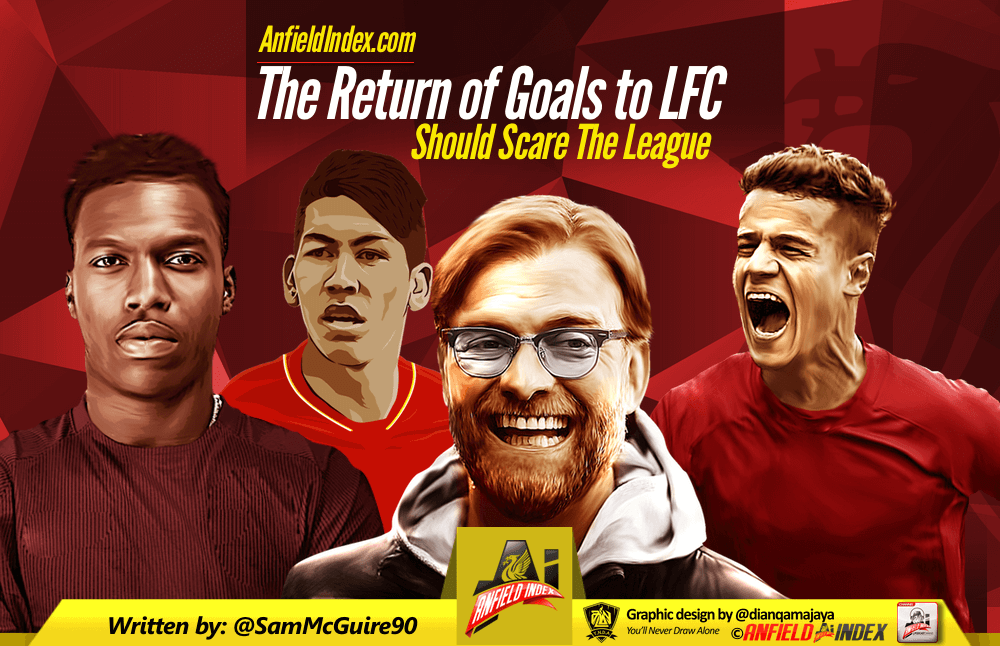 The Return of Goals to Liverpool Should Scare the League
For over six months Liverpool fans have been waiting to see Roberto Firmino, Philippe Coutinho and Daniel Sturridge take to the field together. That moment arrived on February 14th 2016 at Villa Park and that day would later come to be known as the Saint Valentine's Day Massacre, part two.
This time it wasn't six mob associates and a mechanic taking a hit, instead it was Aston Villa being hit for six goals with six different scorers getting in on the act. It may not have been the Daniel Sturridge show, a Philippe Coutinho inspired party or a Bobby Firmino master class but all three were integral to Liverpool racking up the goals that sent their goal difference into the positives for the season. It left many fans cursing the club's misfortune at not being able to field these three throughout the season and left them wondering what might have been had they played 20 Premier League games together.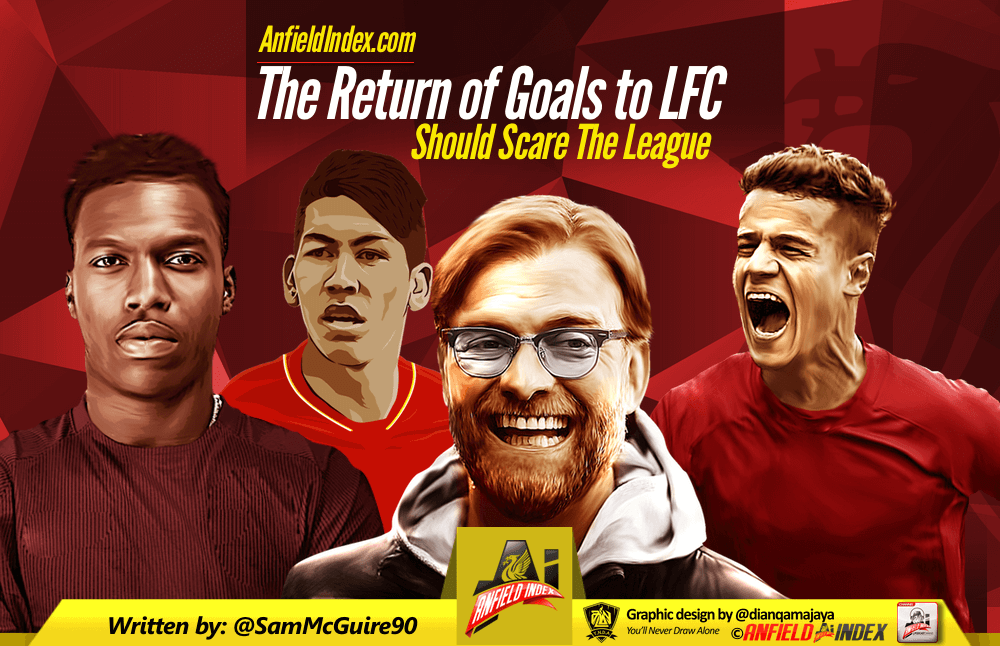 Don't dwell on the past, there's already enough resentment in many Liverpool fans without throwing that into the mix, just look forward to the future and the many possibilities now the influential three are able to finally play together.
It's rather apt that these three, Dan, Bob and Phil, will be remembered for the Saint Valentine's Day Massacre, as they're the three main antagonists in a real life horror movie. Opposition fans, and players, were more than likely sitting uncomfortably in their seats, peaking between their fingers and squirming as they watched Liverpool dismantle Villa with relative ease.
The three aforementioned players' presence is enough to play mind games with you. They're the Jason Voohrees in Friday the 13th, the Michael Myers in Halloween and the dodgy looking scarecrow in Jeepers Creepers. You know something will happen, you just don't know when. You're on tenterhooks throughout.
It reminded me of my recent venture into the *horror* side of gaming. There won't be any spoilers from me but I've been playing 'Until Dawn', in the company of my girlfriend. This is a rarity; a game that we can both play. I do however have to use the phrase 'play' loosely here as she spent a large part of it hiding whenever the music started to sound a little sinister. I was playing it like a game whilst she was acting it out like it was real life. She expected something bad to happen so sort of went into survival mode. This got me thinking about the way Villa performed against Liverpool, the bottom placed side were fearful of the front three. Fear makes you act differently, and it's this that Liverpool can use in their favour as the season advances.
Defenders and midfielders of the opposition will start second guessing themselves purely due to the fact the Liverpool front three bring so much uncertainty to the Liverpool side. It's emotional torture before the match has even started. 'Should I track the runs of Sturridge or stand by ground and not allow Coutinho the room to pick a pass or have a shot?', 'If I follow Sturridge into the channels then Firmino will make his way into the vacated space', 'If I close down Coutinho it leave Sturridge and Firmino with the opportunity to get in behind'. Opponents may psyche themselves out thinking about having to face those three.
Watch the third goal against Aston Villa; both Okore and Westwood track Sturridge's run from deep as he makes his way towards the Villa penalty area, this allows the unmarked Emre Can plenty of time and space on the edge of the area to pick his spot and rifle the ball home having received the pass from Firmino. The fifth goal too, Henderson takes a quick free-kick and the ball eventually ends up at the feet of Firmino about 22 yards from goal, he has history from that range so the Villa defence all attempt to stop him getting a shot away and he's good enough to pick a pass to Nathanial Clyne, who is near enough unopposed as he breaks into the Villa penalty area. His initial shot is saved but he's able to side foot the follow up in. On both occasions Villa had more men back than Liverpool had attacking but in both instances these players were drawn to the danger players thus leaving others unopposed and they were able to do the job.
People may put this down to it being against Villa but in the six games prior to this one they'd only conceded six times and they'd managed to keep three clean sheets. This was a compact side that ended the match chasing their own shadows, any sign of movement was enough for them to want to sit behind their sofa and wait for the ominous music to come to an end.
This performance against Villa should scare the rest of the Premier League. Liverpool aren't a one man team when it comes to scoring goals like many want you to believe, of the 12 they've scored in the last two Sturridge starts the number 15 has only scored three of those. Keep him, Coutinho and Firmino fit for the remaining 12 games of the season and an assault on the top 4 may not be out of the question. Liverpool's very own Jason, Freddy (Kruger) and Michael could still have a big say in the outcome of the season.