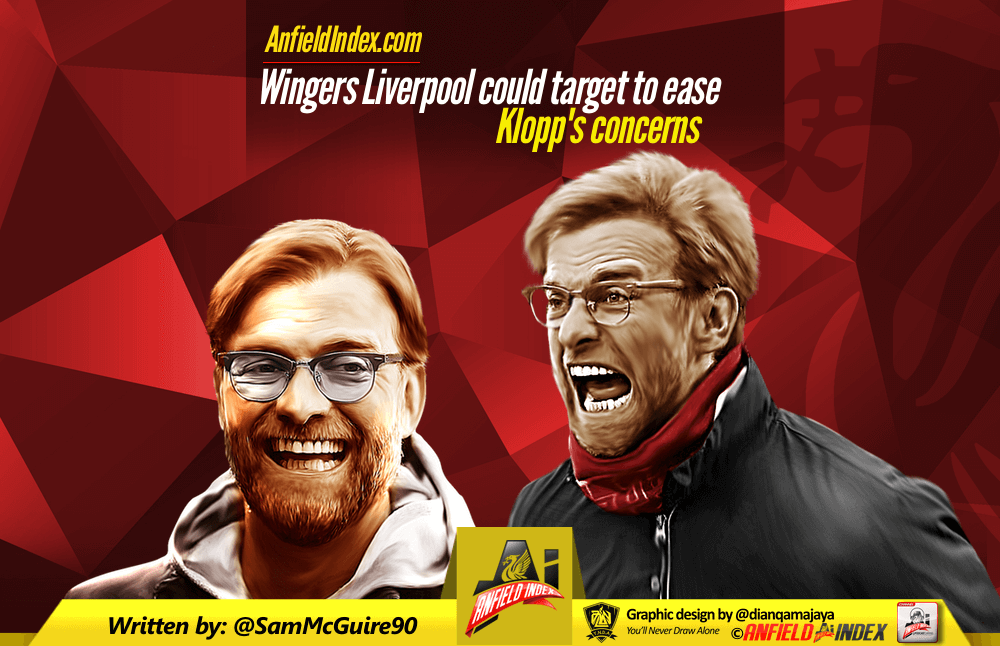 Wingers Liverpool could target to ease Klopp's concerns
"We have enough strikers – five with Roberto [Firmino] – but not too many wingers, just a few young ones with great potential."
Reds boss Jurgen Klopp gave fans the biggest Easter egg yet with regards to his summer transfer plans when he implied that Liverpool are a bit light in the winger department. It's not exactly a shock, Liverpool's only first team winger is Jordon Ibe, there's an obvious need for width in the squad but it's not a neccesity and because of this it's been pushed to the bottom of the list this season with so many other upgrades needed. For the manager to acknowledge this in public is encouraging for fans.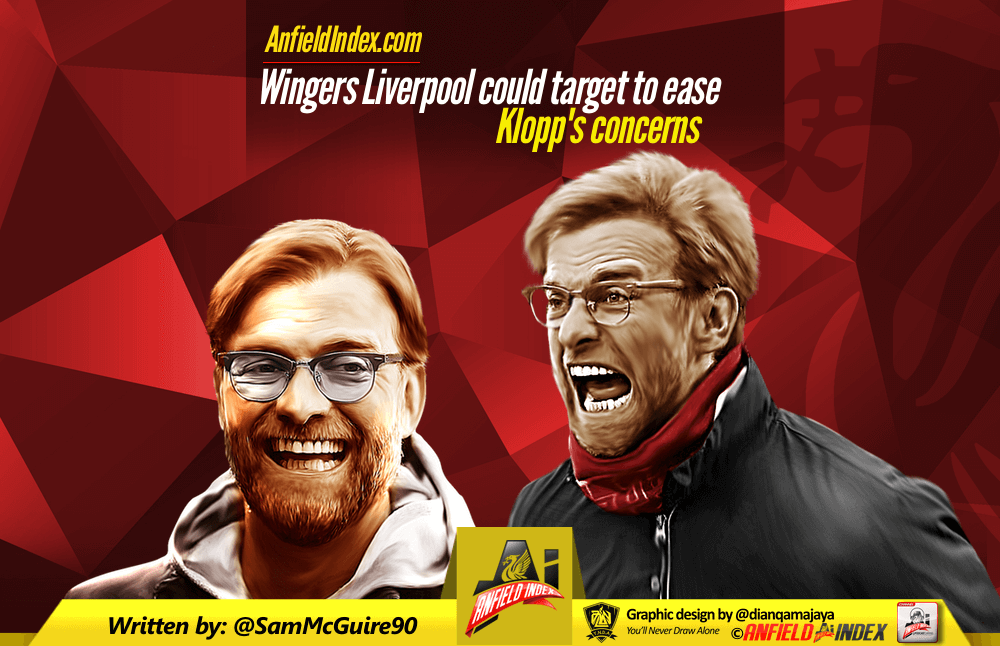 The academy is stocked with talent out wide, the likes of Sheyi Ojo, Ryan Kent and Harry Wilson have futures, but with inexperience comes inconsistency and Liverpool can't afford to be carrying so many inconsistent players whilst they're searching for success. With that in mind it's got many fans wondering who Liverpool may target.
The player of course will have to meet the requirements of a Klopp winger; they need pace, they need to be a goal scoring threat, they need to be productive without the ball, they need to be versatile and they need to be realistic.
The usual suspects of course would be the likes of Leroy Sane, Karim Bellerabi and Filipe Kostic (an article on the Serbian can be found here ). All ply their trade in the Bundesliga and all at some stage have been linked to Liverpool in the past. Special mentions go out to Stuggart's Timo Werner (a mini Marco Reus), Marseille's Georges-Kevin Nkoudou and Rennes' Paul-Georges Ntep.
So let's be realistic. Below are wingers that could qualify as a Klopp winger.
Sofiane Boufal
The current star of the Lille side. The 22 year old has been a bit of a revelation since signing for the club in January 2015 for a mere £2.5 million. The move came off the back of impressive performances for Ligue 2 side Angers and he's taken to Ligue 1 like a duck to water.
The winger, who is able to play anywhere behind the striker, has managed 10 goals and 9 assists in just 31 Ligue 1 games. Many don't consider the French league a competitive one but this sort of output is impressive. The right footed wide player isn't just all flair like some, he actually has an end product.
His stats per 90 make interesting reading since moving to Lille; 1.5 tackles, 0.4 Interceptions, 2.8 key passes, 4.2 dribbles and a 76% pass success rate.
Patrick Herrmann
Yes another Gladbach player. The explosive wide man hasn't really had a 2015/16 season due to a knee ligament injury but before this he was one of the most exciting wingers in the Bundesliga and had been capped by Germany.
Only just turned 25, he's still nowhere near his peak yet he was posting some impressive numbers during Gladbach's rise to prominence once again.
In his six seasons with the German club he's averaged 1.4 tackles per 90, 0.8 Interceptions, 0.9 key passes, 1.4 dribbles and 76% pass success rate. He's scored 39 goals and has 28 assists to his name in 180 games.
Gladbach have just signed Jonas Hoffman from Dortmund so may be tempted to cash in on Herrmann.
Lucas Moura 
The more Brazilians the merrier, right? Many may believe a move for Moura isn't realistic but there are reasons to have some faith. The £30 million signing from Brazilian side Sao Paulo hasn't really progressed as expected since his move to Paris-Saint Germain. The 23 year old isn't stagnating but lack of consistent game time is really hindering his development . Touted as a player to rival Neymar, the talent is clearly there, it just needs unlocking.
He's been at PSG since January 2013 but only has 7574 minutes to his name in this time, around 84 full matches of the 178 games that have been played since he was signed. It should be noted that he did miss 10 games with a thigh injury. Managing his game time is wise but using him as an impact sub for the likes of Javier Pastore and Ezequiel Lavezzi?
In his time with the French giants he's averaged 1 tackle and 0.7 interceptions per 90, 86% pass success rate and has 18 goals and 25 assists in Ligue 1 and Europe.
Liverpool's very own Lazar Markovic
https://www.youtube.com/watch?v=917N2zSaTqQ
The Reds paid £20 million for the Serbian flyer only 18 months ago. It can be argued he was treated unfairly by Brendan Rodgers so could Klopp be tempted into giving him another shot? He's got an abundance of pace, he's versatile, he's creative and he's only 21. He can be moulded.
He's impressed during his loan spell at Fenerbache, the fans seem to have taken to him despite his output not being the best in the eyes of many. During his spell in Turkey he's managed 2 goals and 2 assists, 1.2 key passes, 1.9 dribbles, 1.5 tackles and 1 interception per 90, in the 997 minutes he's featured in.
Making use of Markovic would save Liverpool money, but should they be penny pinching whilst looking to improve? Is he good enough? Who should Liverpool target?