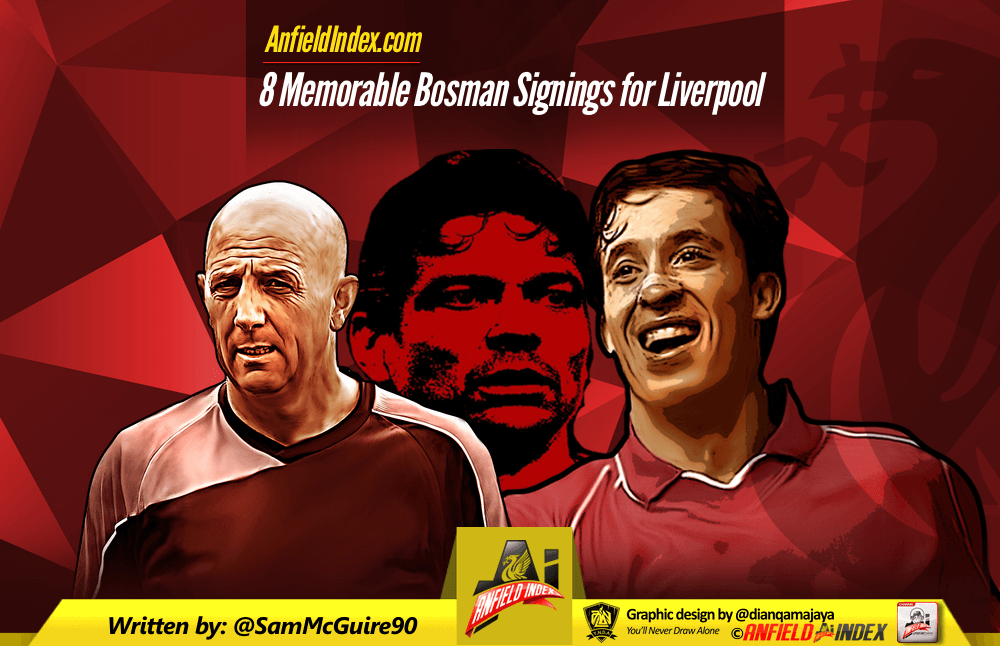 8 Memorable Bosman Signings for Liverpool
With confirmation of Joel Matip arriving in the summer on a free transfer earlier this week it got me thinking about previous Bosman transfers at Liverpool. It's almost instinctive to hear the words 'free transfer' and picture Joe Cole and Milan Jovanovic as a Liverpool fan but the club's history with Bosman deals isn't that bad, it's actually pretty good.
It may be controversial, you may not agree, but below are the top 8 most memorable Bosman deals Liverpool have completed.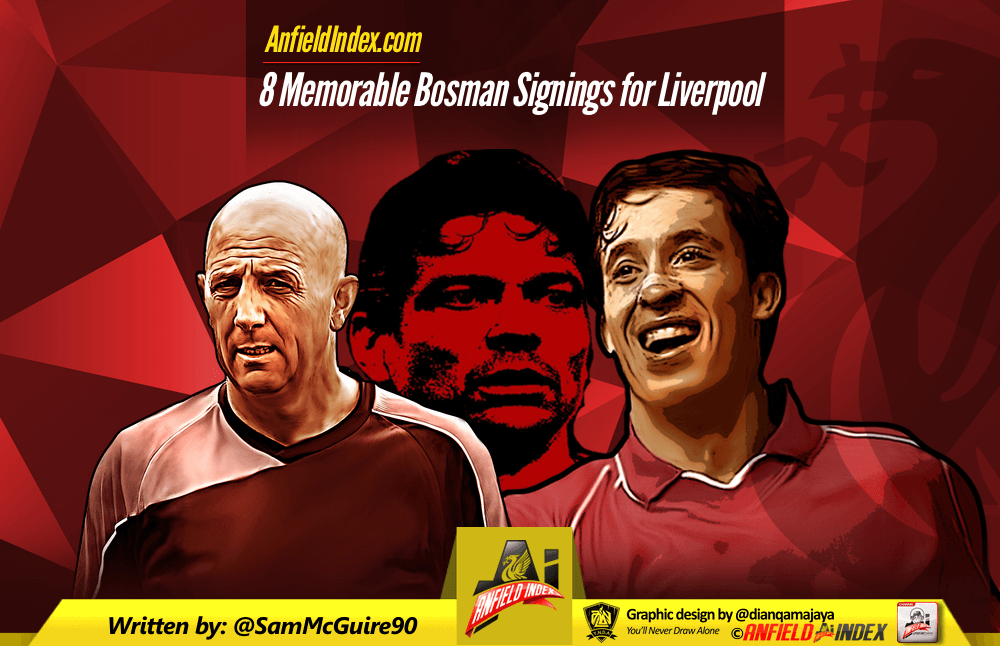 Jari Litmanen
The classy Finn arrived from Barcelona and then Liverpool manager Gerard Houllier stated he was the most exciting signing Liverpool have ever made. One memory that sticks out from his time at Anfield was the penalty he scored in the 2-0 win against Roma in Houllier's first game back in the dugout in 2002.
Litmanen was 30 when he arrived and sadly he didn't get to replicate his form from earlier on in his career. He managed to score 9 goals in 43 appearances for the club before moving back to Ajax.
Gary McAllister
Did a Bosman signing ever make more of a bigger impact than this guy?
The 35 year old arrived to add an experienced head to an inexperienced midfield yet went on to be an integral figure as Liverpool completed a cup treble. He made 49 appearances in his debut season with The Reds and finished with 7 goals, many of which were massive in the grand scheme of things.
A winner against Barcelona in the UEFA Cup semi-final. A 45 yard injury time winner against Everton at Goodison. Then in the UEFA Cup final against Alaves the 36 year old scored one and had a hand in three other goals. An inspired signing.
Maxi Rodriguez
https://www.youtube.com/watch?v=1QMYLfNQHnk
The Kop hero arrived on a free transfer from Atletico Madrid in the January of 2010 and stayed with the club until July 2012.
The Argentine wide man finished his Liverpool career with 17 goals in 72 games and will forever be remembered for those hat-tricks against Birmingham and Fulham in the 2010/2011 season and of course the two match winners against Chelsea separated by just the nine days.
Markus Babbel
The German full-back arrived from Bayern Munich in the summer of 2000 and he was instrumental in the treble winning season, not just defensively but offensively too. The right-back finished the season opening the scoring in the UEFA Cup final.
There's many who believe he's the best right-back The Reds have had in the past 30 years.
Craig Bellamy
Deadline day in 2011 and the Welshman returned to Liverpool. This was a different Bellamy to the one we'd all seen first time around, he seemed more focused and played a big part in Liverpool reaching two domestic cup finals. He scored the equaliser against City in the League Cup semi and grabbed the assist in the FA Cup semi that sent Liverpool through against Everton.
He finished the season with 9 goals in 33 games.
Kolo Toure
No words needed really. It's just Kolo Toure.
Fabio Aurelio
The Daniel Sturridge of defence. The Brazilian was potentially the best left-back in the history of club but he just wasn't ever fit. It's easy to forget just how good he was because appearances were so rare but this guy was the real deal.
To this day I'm still in shock at how perfectly executed that freekick against Chelsea was.
Robbie Fowler
God returns on a free.
His second spell at the club yielded 12 goals but it wasn't about that, it was just fun to see him back playing in red. He finally scored in the Champions League and even walked away with a runners up medal. Not quite the fairytale ending but still a successful free transfer.
Who was your favourite?