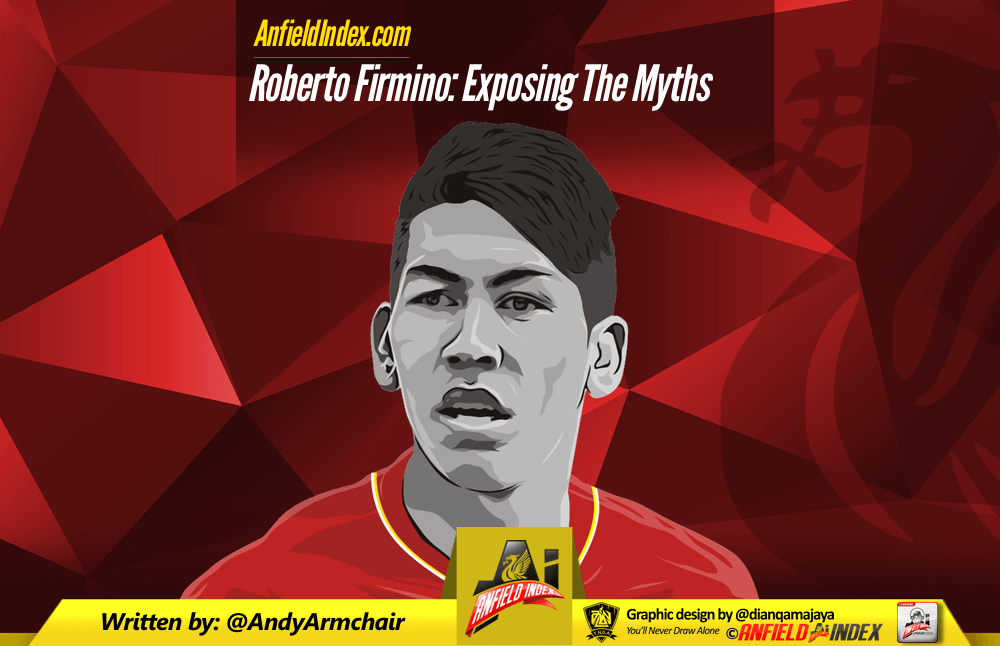 Roberto Firmino - Exposing The Myths
Social media blew up in response to an interview that BT Sport pundit and former Liverpool player Michael Owen gave to the Daily Mirror. In it, Owen was asked about current Reds star Roberto Firmino and his response was surprising; he said he was split on him and claimed that he'd played well against Manchester City and Chelsea earlier in the season, but didn't do it enough and was only giving one good performance in five or six games.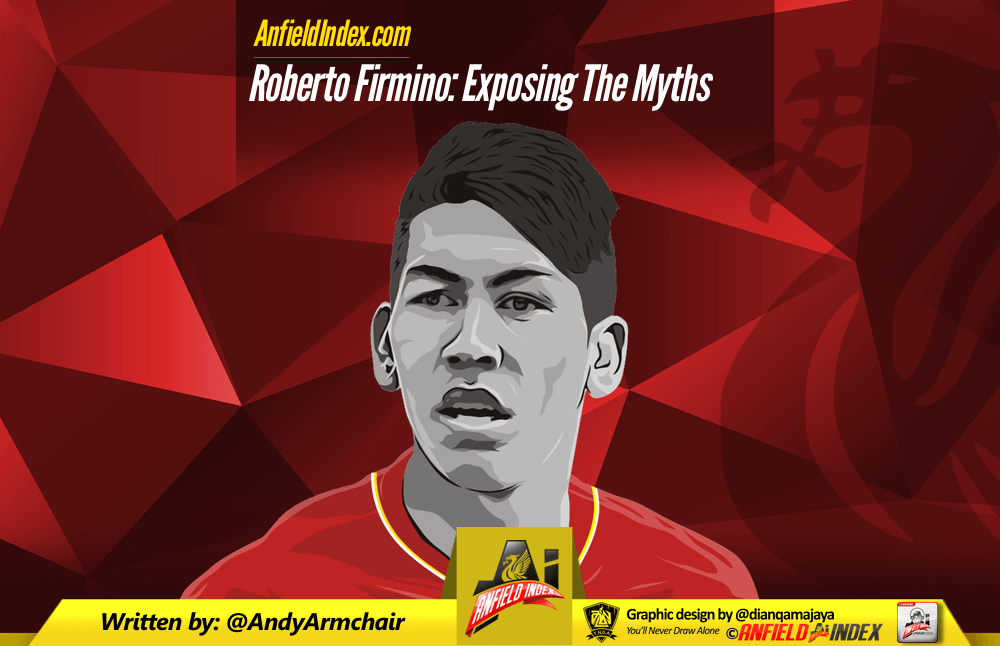 That, in itself, was a curious claim with the Brazilian registering five goals and three assists in his last six Premier League outings, scooping the January player of the month award along the way. Just for pure mathematics, Firmino has played 23 Premier League games this season, starting seventeen of them. One good game in five or six would equate to him having, at best, four good games this season. Owen himself quoted the Manchester City and Chelsea games, so I wonder which the other two games were. Perhaps against Arsenal in the 3-3 draw at Anfield where Firmino scored two and won the man of the match? Or maybe in the madness that was the 5-4 win away at Norwich where Firmino was the best player on the pitch, scored two and also got an assist? Was it in the 6-0 away win at Aston Villa, where Firmino played very well and got another assist? What about the 2-2 draw at home to Sunderland where he got a goal and an assist and was one of the few players to play well? Then there was his performance in the 1-0 home win against Leicester, where he set up the winner and we shouldn't forget his first Premier League start against Arsenal, where he put in a selfless, hard-working display for his team.
Michael Owen clearly isn't a mathematician.
Let me make this clear, Roberto Firmino has not been the model of consistency. You have to consider that this is his first season in England and he was often played out of position under Brendan Rodgers. So, yes, Firmino can improve his performance consistency level and it can be argues that he has already started to do that over the past couple of months, but Owen's claims of good performance in five or six are just plain ridiculous.
Owen went on to say that Firmino "gives the ball away too much". Okay as an attacking player who likes to dribble and attempt through balls and creative passes, he is bound to lose possession at times because not everything comes off. So, it got me thinking how he statistically compares with team mates.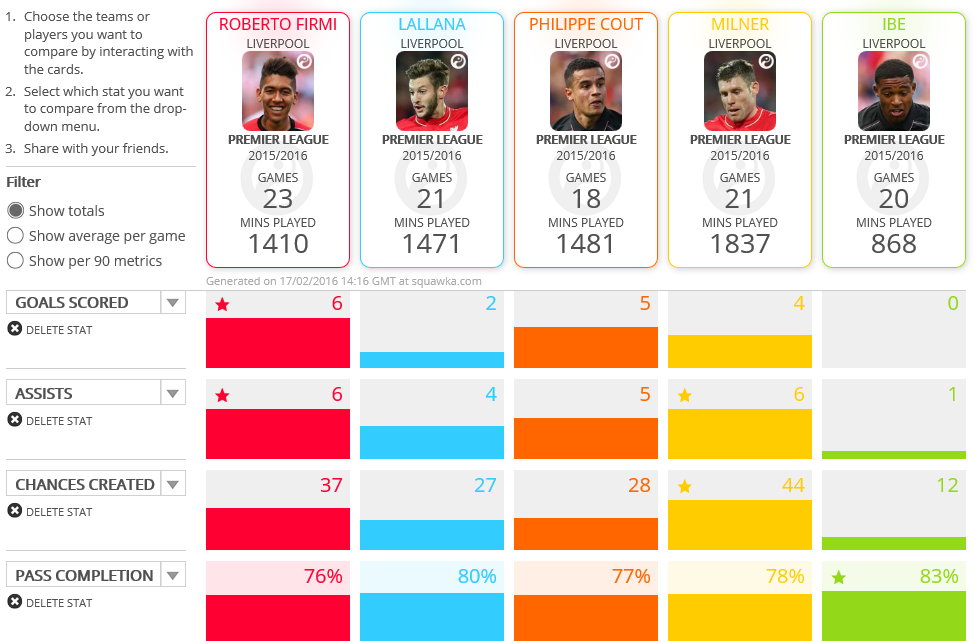 As expected, Firmino's Premier League goals and assists lead the way in comparison with fellow attacking midfielders at Liverpool. His chance creation is also good and James Milner's chance creation stats are increased by the fact that he is a regular free-kick and corner kick taker. On Michael Owen's assertion that Firmino gives the ball away too much, well 76% pass completion isn't fantastic, but is comparable and very similar to his team-mates, other than, perhaps surprisingly, Jordan Ibe. So that got me thinking as to how that compares to some of the leading names in the Premier League who play in a similar position.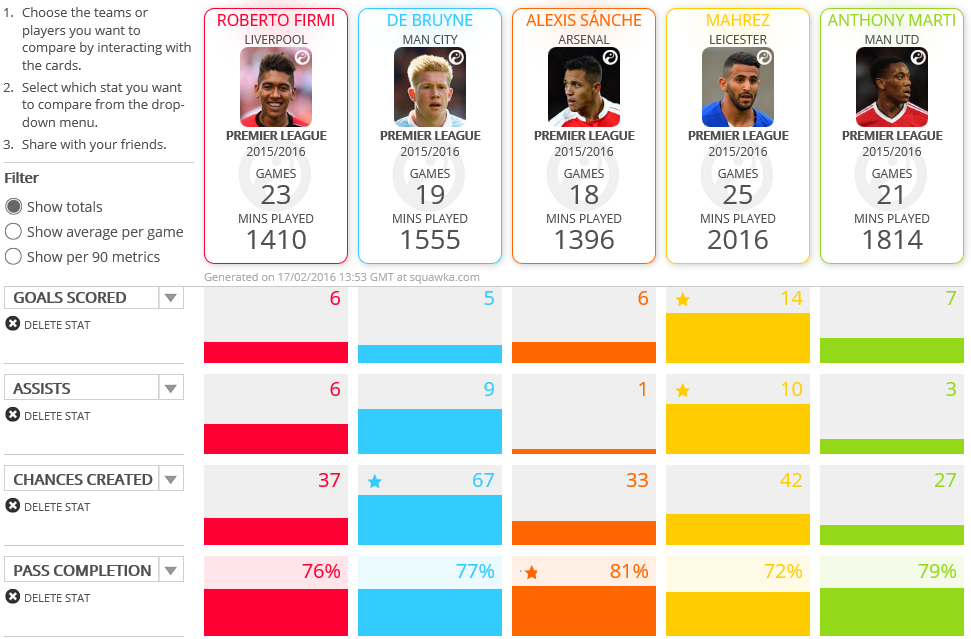 This again was rather telling as Firmino holds his own in this company too, although Riyad Mahrez is having an incredible season with goals and assists, which is rightly getting him plaudits. Interestingly though, Mahrez has the worst pass completion rate, but I don't seem to recall Owen saying he loses the ball too much. Kevin De Bruyne is another who has rightly been praised for his performances this season, but his pass completion rate is almost identical to Firmino, so is he wasteful too?
Owen wasn't finished, going on to add this pearl of wisdom: "Listen, if I gave the ball away in a game then for 10 minutes it would be frying my brain. The ball is precious, and I don't see that in Firmino's game at the moment. He gives the ball away and it's almost like 'oh well, that's the norm'."
Really? Firmino doesn't work to win the ball? Is Owen really trying to suggest Firmino doesn't pull his weight? I thought it was glaringly obvious that Firmino works his socks off, but what do the statistics say? I once again compared Firmino to his attacking midfield team mates at Liverpool to see how their per 90 minute metrics compared in this department.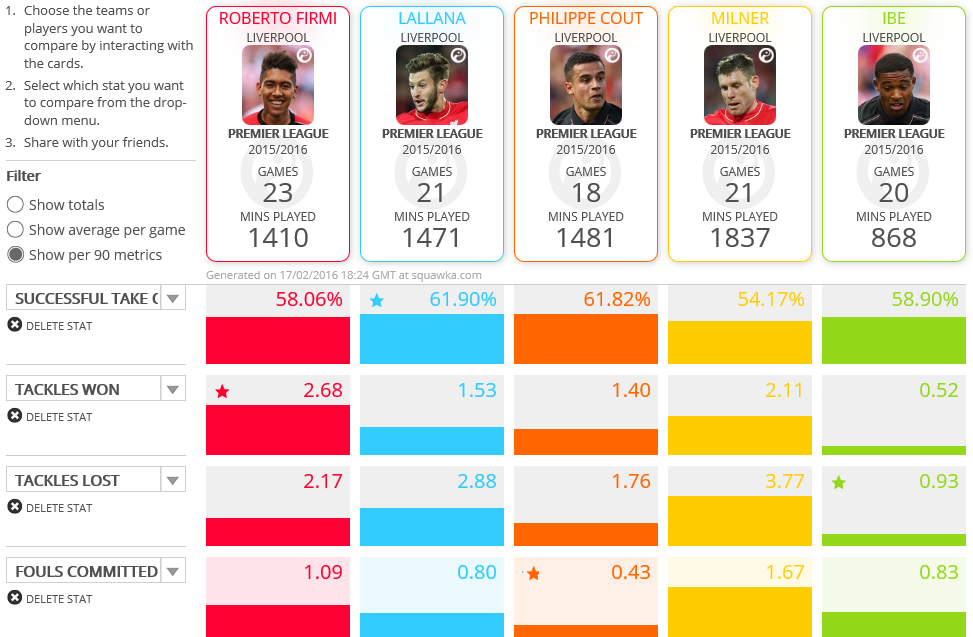 Like pass completion, there is not a great deal of difference in the successful take-ons between team mates, so if possession is lost, who works to regain it? If Firmino is blasé about losing the ball, aside from a ballistic Jürgen Klopp on the sidelines, surely he will barely register on the tackling stats. Unsurprisingly, that is not the case because apart from the fact that Klopp will not tolerate lazy players, Firmino's tackling statistics are more than a match for his team mates. That includes Adam Lallana and James Milner, two players who may have their critics and faults, but are both acknowledged for their work-rate.
For those of you who think I'm being pedantic, I'm merely dealing with the facts rather than unsubstantiated opinions, unlike Michael Owen. Statistics in football are sometimes ridiculed, usually by pundits attempting to pass off uninformed opinions as facts. The worrying part of it is that there will be people who accept these half-baked opinions as fact, thus myths are born and spread; it's important the idea that Firmino is an under-performing, wasteful, lazy player is dismissed with the contempt and ridicule it deserves.