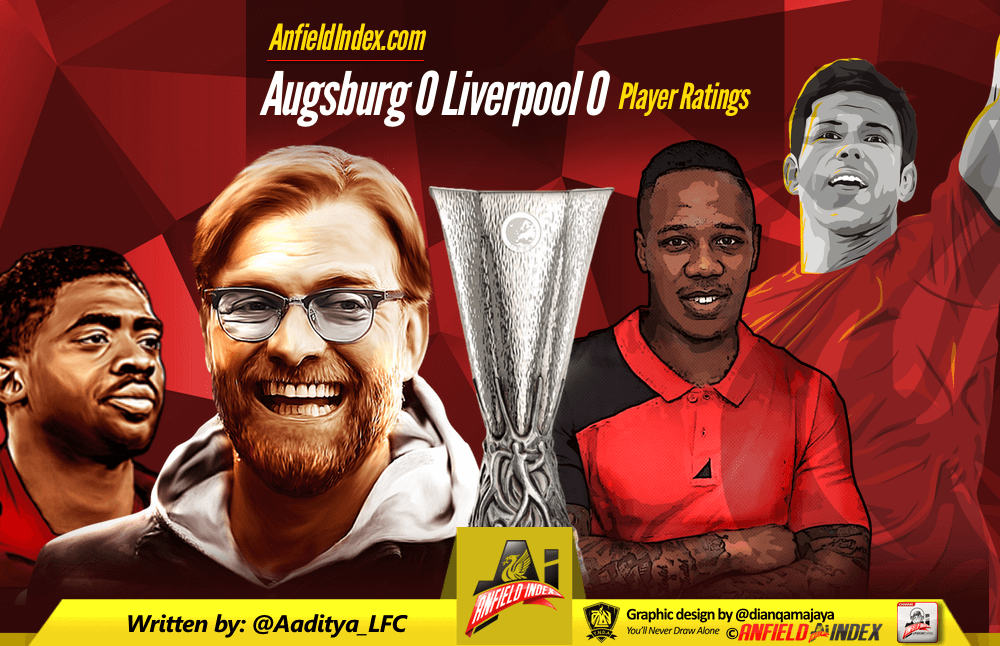 Augsburg 0-0 Liverpool - Player Ratings

Liverpool resumed their Europa League campaign with a goalless draw in the first leg of their round of 32 tie against Augsburg in Germany. The performance was nowhere near as competent as the one on Sunday, and in the end, the Reds had to be content with a share of the spoils. The tie is finely poised and there is everything to play for at Anfield in a week's time.
For Jurgen Klopp, this would definitely not have been what he had in mind when he decided to start with the trio of Daniel Sturridge, Roberto Firmino and Philippe Coutinho. With the Capital One Cup Final three days after the second leg at Anfield, Klopp would have loved to taken a goal or two back, but that was not to be. Here is how each player fared.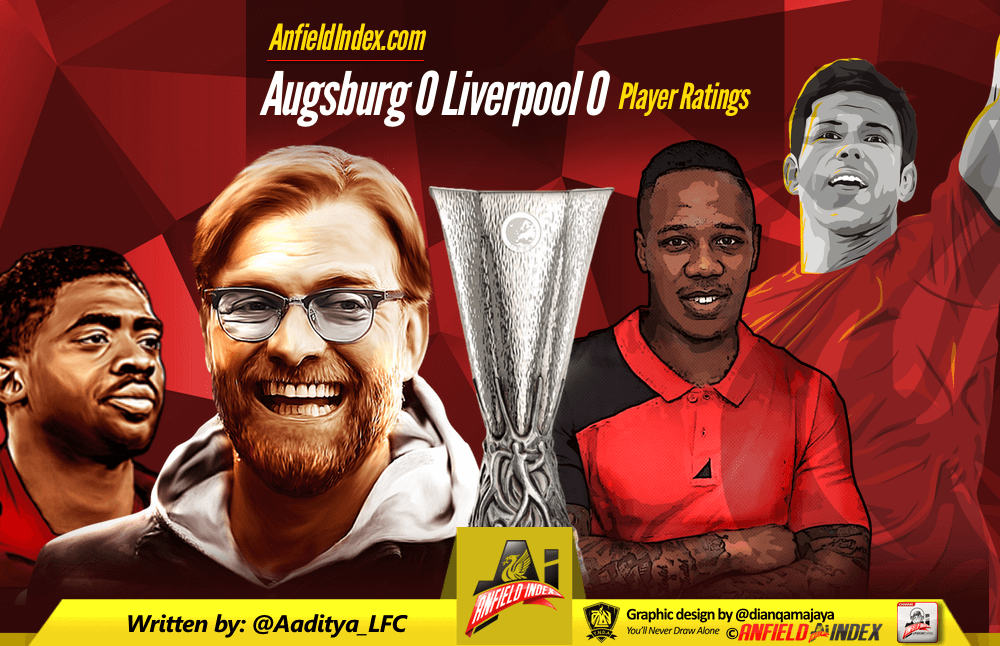 Simon Mignolet – 6
He had one save to make, which he did. But he was very lucky in the dying moments of the first-half when he spilled a cross that was a routine catch. He reacted to the loose ball faster than Tobias Werner. He will have much busier games, and will have to be more secure than he showed when he was actually tested today.
Nathaniel Clyne – 6.5
Defensively, Clyne did what he generally does – being solid and shutting down one flank for the opposition. Much of our attacking play early in the second-half came through the right wing, and Clyne played an integral part in that spell, where we fashioned our best opportunities of the match.
Kolo Toure – 6
After the high of the goal against Aston Villa at the weekend, this was much more unspectacular from Toure. He had a couple of nervous moments against Caiuby, but in general, he coped well with what Augsburg threw at him.
Mamadou Sakho – 6
What an enigma Sakho is. He touches both extremes of the pendulum during the course of every game we play, and that is not what a top centre-back should be like. In this game as well, he had a couple of brain farts, and was lucky that he was not punished.
Alberto Moreno – 6.5
Again, Moreno was abundantly involved in our attacking play, where he linked up rather nicely with Coutinho. He did get caught on the wrong side of the Augsburg attackers a couple of times but recovered in time.
Emre Can – 5
He looks visibly tired and could do with the week off that we have got until the second leg. There was no lack of effort from the young German but as the game wore on, his passes began to go astray. For me, he still needs to figure out what kind of midfielder he is.
Jordan Henderson – 6
A slightly better performance from the Liverpool captain than in recent games. Maybe it was the game plan we went out with, but no-one in the side really pressed enough. That meant that one of the most important aspects of Henderson's game was gone. His crossing was utterly woeful.
James Milner – 6
Like Henderson, he did cover a lot of ground, but there was just not enough quality when he got on the ball, although he did provide the pass to Sturridge for our best chance of the game. With the kind of level the team is at, I don't think it can carry two people who just cover ground with barely any quality on the ball.
Philippe Coutinho – 6
The little Brazilian was well marshalled by the Augsburg defence, especially Paul Verhaegh. Coutinho found it difficult to get into space, and that limited the impact he had on the game.
Roberto Firmino – 6.5
In my book, Firmino scored a few brownie points for being the one who actually showed some kind of effort and desire to get a positive result. He had a fair few neat touches, but the killer instinct was lacking.
Daniel Sturridge – 5
A fully fit Sturridge would have put that chance away in his sleep. But the truth is, this is a Sturridge who is just returning from injury. The only positive on the night for him was that he got seventy more minutes under his belt, and went off without an injury.
Substitutes
Divock Origi – N/A
Lightning didn't strike twice for Origi after he scored within a minute of coming on at Villa. Tonight he barely had an opportunity to make a positive impression.
Jordon Ibe – N/A
Like Origi, did nothing to positively impact the game, but no faults either. If only he had the intelligence to complement his technical ability..